When you are browsing the internet using browsers like Google Chrome, you sometimes need to download pictures, documents, and programs. At that time, if the download speed is very slow, people will be annoyed. This post will talk about how to speed up Google Chrome downloads in several different ways so as to improve efficiency.
It's one of the most annoying things to wait for a page to load after clicking a link or trying a URL into the address bar of browser. Since the internet helps to put everything at your fingertips, you expect that the information you need can be shown to you in a flash (or at least as soon as possible). But the facts often don't go as planned.
Chrome Download Speed Slow
Google Chrome (also known as Chrome) is one of the most popular browsers in the world. People like to use Chrome due to its fast information fetching, simple user interface, etc. In general, you can get what you want after typing a URL to the address bar or keywords to the search box in the middle of the page; and you can download things (photos, documents, tools) quickly. However, some people are bothered by Chrome downloading slow; they want to know how to speed up Chrome downloads effectively.
Tip:
Please don't worry;
MiniTool
will take good care of the things you download.
How to make Chrome download faster? There are a lot of measures you should take. I'll focus on displaying the methods for Chrome increase download speed clearly in the following content.
How to fix HTTP error 429 in Google Chrome?
*1. Tweak Chrome Advanced Settings
How can I increase download speed in Chrome by modifying the Advanced settings? It contains 2 steps.
One: navigate to Advanced settings.
Open Chrome in the same way you always do.
Click on the three dots button in the top right corner.
Choose Settings from the drop-down menu. (You can also open Settings page by typing chrome://settings into the address bar and pressing Enter.)
Scroll down to the bottom and click on the Advanced button.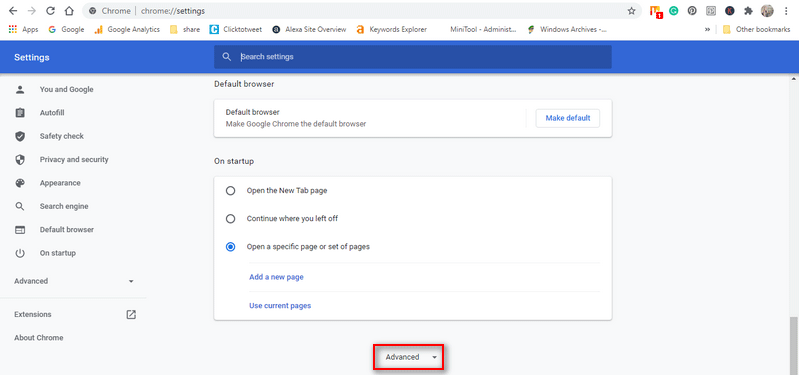 Two: tweak relevant options.
You may enable the following features:
Predict network actions to improve page load performance.
Send a 'Do Not Track' request with your browsing traffic.
Or disable these entries to fix Chrome download speed slow:
Use a web service to resolve navigation errors.
Use a prediction service to help complete searches and URLs typed in the address bar.
*2. Enable Parallel Downloading
Open Google Chrome.
Type chrome://flags into the address bar and hit Enter.
Type parallel downloading into the search flags box in Experiments window.
Select Enabled from the drop-down menu to replace Default.
Click on the Relaunch button in the prompt window to make changes take effect.
*3. Disable/Remove Unused Extensions
How to increase download speed in Chrome by disabling or removing extensions:
Open Chrome.
Type chrome://extensions into address bar and hit Enter.
Find the unused extensions from the list.
Toggle the switch to Off or click on the Remove button.
*4. Clear Browsing Data
Open Chrome.
Click on the three dots button.
Navigate to More tools option and select Clear browsing data.
Choose All time as the time range.
Check Cookies and other site data and Cached images and files.
Click on the Clear data button and wait.
How to recover Google Chrome history?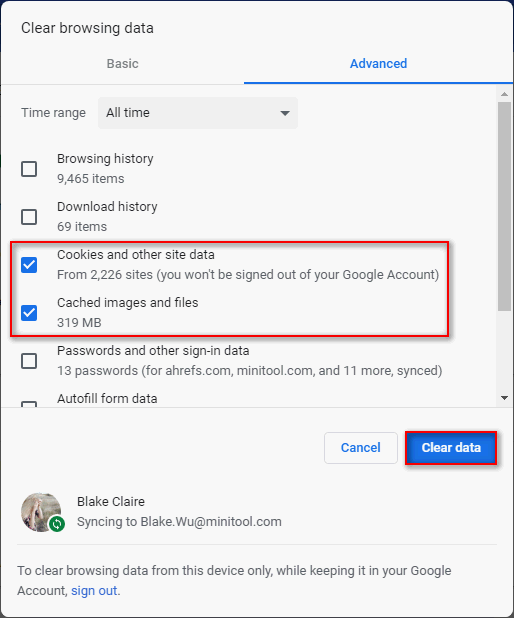 *5. Disable the Background Process
Open Chrome -> click on the three dots button -> choose Settings.
Scroll to the bottom to click Advanced.
Look for the Continue running background apps when Google Chrome is closed option under System.
Toggle the switch to Off.
Look for Use hardware acceleration when available and toggle its switch to Off.
Relaunch Google Chrome.

How do I make my Google Chrome download faster in other ways:
Change network settings.
Disable Image Content.
Scan for virus or malware. (Can you recover virus deleted files?)
Update Chrome to the latest version.
Add extensions designed for increasing download speed.
That's all about how to speed up Chrome downloads.