What Is Tiny11 – Windows 11 Tiny Edition
In terms of Windows 11, its system requirements are high since this system requires at least 4GB RAM, 64GB storage space, enabled TPM & Secure Boot, a high CPU (1 GHz or faster with 2 or more cores on a compatible 64-bit processor), etc. compared to any old Windows operating systems.
If you have an old or lower-end PC, Windows 11 is not a good option although you can bypass Windows 11 requirements to install since many issues like random crashes, blue screen errors, etc. could appear on the unsupported hardware.
Overview of Tiny11
If you want to run Windows 11 on your old computer with low RAM and disk space, Tiny11 appears in public.
It is a project from NTDev and Tiny11 is a Windows 11 tiny edition. This edition is based on Windows 11 Pro 22H2 and includes everything you need for a comfortable computing experience since this tool doesn't have the bloat and clutter of a standard Windows installation.
Tiny11 Requirements
In terms of Tiny11 requirements, a scant 8GB of storage and just 2GB of RAM are required and Windows 11 can run well. Even there is a crazy thing – someone can let Tiny11 run on 200MB of RAM but the running speed is very slow.
The operating system itself in Tiny11 takes up only 6.34GB while the rest is used by some rudimentary apps like Paint, Notepad, and Calculator. Besides, no TPM is required to install Tiny11. What's more, the Microsoft Store app is left intact, so you can run it to download and install some apps you need. And this Windows 11 tiny edition uses a local account by default but the option to set up an online account remains.
Due to the cut-down nature, many features you need are not included in Windows 11 Lite Edition/Tiny Edition – Tiny11. The operating system won't update automatically and you may notice future releases from NTDev. Note that Tiny11 isn't supported by the official Windows.
Even so, Tiny11 is an interesting tool for desktops and laptops that lack the hardware Windows 11 demands. And you can have a shot. See how to download Tiny11 ISO to install.
Related post: Tiny10 (Lightweight Windows 10) Download and Install from ISO
Tiny11 Download & Install
It is straightforward to download and install Windows 11 Tiny Edition. See the guide here.
Tiny11 Download
Where to download Tiny11? When searching for "Tiny ISO", "Windows 11 Tiny ISO download", or "Tiny 11 22H2 download" in Google Chrome, you can find a download link from Internet Archive. This website offers a Tiny11 ISO to you for download. When opening the link, click ISO IMAGE to get the ISO file of Windows 11 Tiny Edition.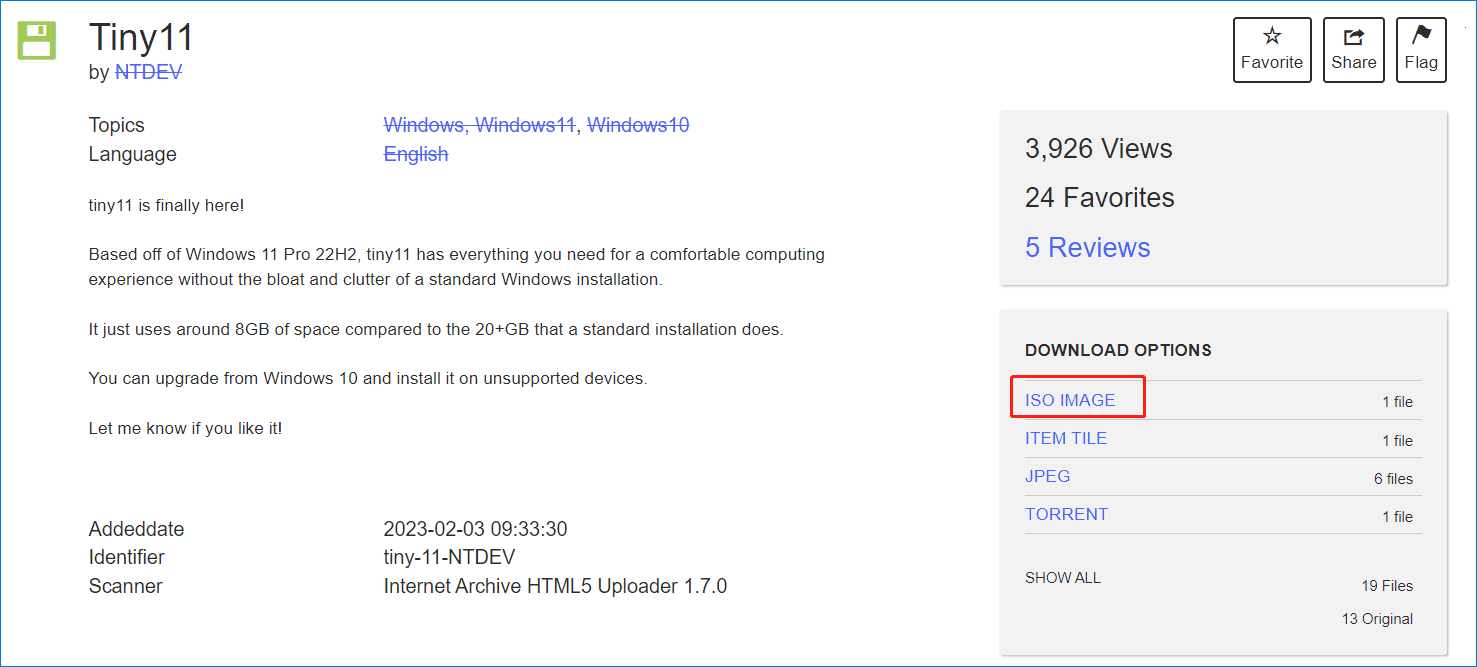 How to Install Tiny11
After getting the Tiny11 ISO, you can install this tiny edition of Windows 11 on your old PC. Follow these steps:
1. Download Rufus, launch it, connect a USB flash drive to your PC, and create a bootable USB drive.
2. Restart your PC to enter BIOS and change the boot order to let Windows run from the USB drive.
3. Then the setup appears. Choose a language, time format, and keyboard method.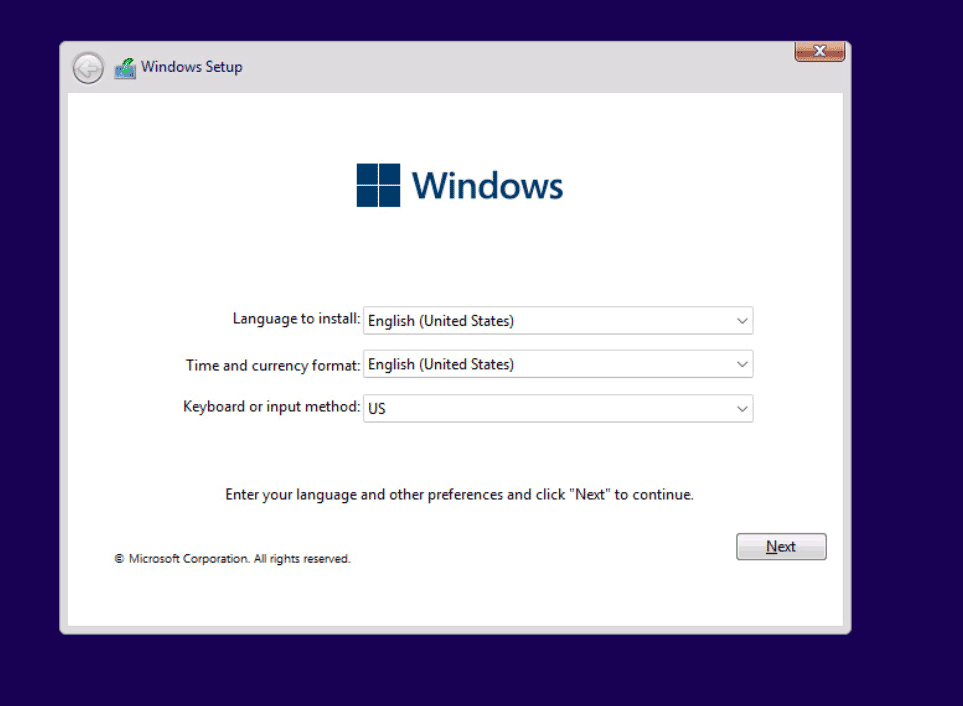 4. Accept the Microsoft Software license Terms.
5. Decide where to install Windows 11 Tiny Edition.
6. The installation process starts.
7. After finishing the installation, set up Windows 11 Lite Edition by following the on-screen instructions.
MiniTool ShadowMaker TrialClick to Download100%Clean & Safe
Bottom Line
Tiny11 is a Windows 11 lite edition that only requires less disk space and RAM. If you want to enjoy it on an unsupported old PC, follow the given steps to finish the Tiny11 download and use the ISO to install it. Since this edition is not supported officially, it is not secure enough and you had better install Windows 11 by getting an ISO file from Microsoft.