What does tvq-details-menu-100 mean? How do I fix TVQ details menu 100? To find answers to these two questions, you come to the right place. Here, MiniTool introduces much information about this error and its solutions.
What Is Netflix TVQ Details Menu 100?
Netflix is a famous and popular streaming service that allows you to watch shows you prefer. Like other streaming services, it doesn't always function correctly. When trying to launch the Netflix app to stream a movie, you may see the error message: "We're having trouble playing this title right now. Please try again later or select a different title. tvq-details-menu-100".
This error often happens on your Smart TV, PlayStation 4/5, Xbox 360, Roku, etc. It indicates there is a network connection issue. Besides, some other possible reasons can cause tvq-details-menu-100, for example, Netflix app glitches, the outdated app, a weak Wi-Fi signal, etc.
Fortunately, you can easily get rid of the issue, and let's see what you should do.
Tips:
In addition to tvq-details-menu-100, you may run into some other error codes like UI3010, NSES-404, M7111-1331-4027, M7702 1003, etc. and some issues like Netflix VPN not working or Netflix not go fullscreen. You can click the given links to find solutions or search for your issue to find methods in Google Chrome.
How to Fix tvq-details-menu-100
Restart Your Device
When encountering Netflix tvq-details-menu-100, the first thing you can do is to restart your device. In some cases, a simple reboot can help fix temporary issues. So, just have a shot.
Turn off your device.
Unplug the power cable and wait 2 or 3 minutes to let it fully discharge it.
Plug the power cable back.
Turn your device on and open Netflix to see if it works properly.
Restart Your Home Network
Sometimes your home network can trigger Netflix error code tvq-details-menu-100 and follow the steps below to do this task.
Turn off your device.
Unplug your router and modem from power and wait 30 seconds.
Plug in the modem and wait until no new indicator lights blink.
Plug in the router and wait until no new indicator lights blink.
Turn on your device and try Netflix again.
Sign out of Netflix and Sign in Back
This is another way to fix tvq-details-menu-100 that happens on Amazon Fire TV/Stick and Roku. See how to sign out of Netflix and log in again.
On Fire TV:
Go to the home screen and choose Settings.
Navigate to Applications > Manage All Installed Applications.
Locate Netflix and click Clear Data and Clear Cache.
Re-enter your credentials and try Netflix again.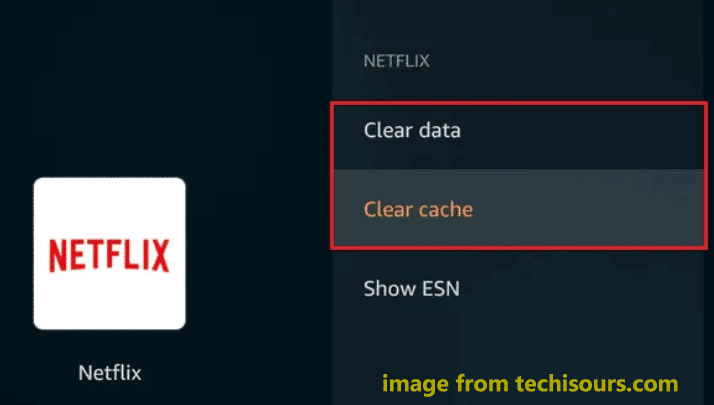 On Roku
Choose Mode info from the home screen.
Click the gear icon and choose Sign out or Reset.
Sign in again and see if tvq-details-menu-100 is fixed.
Improve your Wi-Fi Signal
Netflix error code tvq-details-menu-100 can happen due to a weak Wi-Fi signal. Thus, you can try to improve the signal. Just put your router and device closer to each other. It is OK to put them in the same room. Move the router away from other wireless devices. Besides, put the router on a desk or bookshelf.
These are the common methods to fix Netflix tvq-details-menu-100. Hope them can help you get rid of the annoying issue. If you find some other useful workarounds, welcome to tell us in the comment part below.