Call of Duty Warzone not launching PC is a common situation when trying to open this free-to-play battle royale video game on Windows 11/10. If you are plagued by this tiresome issue, how to fix it? MiniTool gives multiple ways here to help you launch Warzone on PC for smooth use.
COD Warzone Not Launching PC Windows 11/10
Call of Duty (COD): Warzone, a battle royale video game, is completely free for all players, across many available platforms like Windows, PlayStation 4, and Xbox One. Although it has gained much popularity, it can run improperly and you can encounter many issues, for example, Warzone black screen, Warzone Friends not showing, Warzone Dev error 6635, and more.
Today, we will introduce another situation for you – Warzone not launching PC in Windows 11/10. According to users, Warzone won't launch no matter what they do. Perhaps many things can prevent the game from opening on the PC, for example, a conflict between a program/service and the game, incorrect hardware configuration, an outdated driver, etc.
The good news is that you can easily fix this issue. Let's see how to troubleshoot the COD issue.
How to Fix Warzone Not Launching PC
Run Warzone as Administrator
Warzone needs admin permissions to run properly. So, run this game as an administrator in these steps:
Step 1: Right-click on Battle.net and choose Run as administrator.
Step 2: Log in to your account and open Warzone.
Verify Integrity of Game Files
Corrupt or incomplete game files of COD Warzone can lead to issues while playing the game. To fix Warzone not launching on PC in Windows 11/10, you need to verify game files and do a repair.
Step 1: Open the Battle.net client and navigate to the Warzone page.
Step 2: Click the gear icon and choose Scan and Repair.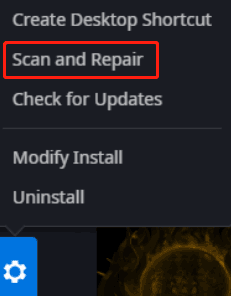 After checking, if you still can't start Warzone on PC, try other ways.
Upgrade Graphics Card Driver
To make sure Warzone works well, installing an up-to-date graphics card driver is necessary. If Warzone won't launch in Windows 11/10, update the GPU driver now.
Go to the website of NVIDIA, Intel, or AMD and download a proper GPU driver. Then, install it on your PC. Or, you can go to Device Manager, expand Display adapters, right-click on the GPU and choose Update driver. Here is a related article for you - How to Update Drivers in Windows 11? Try 4 Ways Here.
Run an SFC Scan
Besides game files, corrupted system files can also prevent Warzone from opening on your Windows 10/11 PC. So, you can choose to use System File Checker (SFC) to perform a scan.
Step 1: Run Command Prompt with admin rights in Windows 11/10.
Step 2: Type in sfc /scannow and press Enter.
Allow Battle.net through Windows Firewall
If the Battle.net app can't get through Windows Firewall, the issue of Warzone not launching PC can happen in Windows 11/10. Do the thing below:
Step 1: Type firewall in the search box and click Firewall & network protection.
Step 2: Click Allow an app through firewall > Change settings.
Step 3: Check the Private and Public boxes for Battle.net.
Tip: If the Battle.net Launcher is not on the list, click Allow another app > Browse > Add to add it to the list.
Other Ways to Fix Warzone Not Launching PC
In addition, there are some other troubleshooting tips you should try if you can't open Warzone on PC:
Update Windows 11/10 to a new version
Reinstall Warzone and Battle.net
If Warzone won't launch/open on your Windows 11/10 PC, just try these solutions. If you have any other methods, tell us in the comment section.