Making a bootable USB drive is a good idea, which is helpful in case your operating system goes wrong and you need to reinstall it. Due to its portability and compatibility, a bootable USB drive is also useful. Almost every computer has more than one USB port.
It is not difficult to make a bootable USB drive if you use a professional tool. Next, let's focus on Rufus bootable USB.
Rufus Windows 11 Download & Rufus Bootable USB Creation
Rufus is a useful utility that can help format and create bootable USB flash drives including USB pen drives, memory sticks, and more. It allows you to use it in Windows (Windows 7 and later) and Linux. Currently, the Rufus latest version is v3.15.
How to use Rufus? See the guide below.
Step 1: Download a Windows 11 ISO File to a PC
If you need to create a Windows 11 bootable USB drive now, go to download an ISO file from Microsoft's Download Windows 11 page.
Go to the Download Windows 11 Disk Image (ISO) for x64 devices section and choose Windows 11.
Click Download Now to continue.
Choose a product language and click Confirm.
Click the 64-Bit Download button to get a Windows 11 ISO file. This could take several minutes to finish download.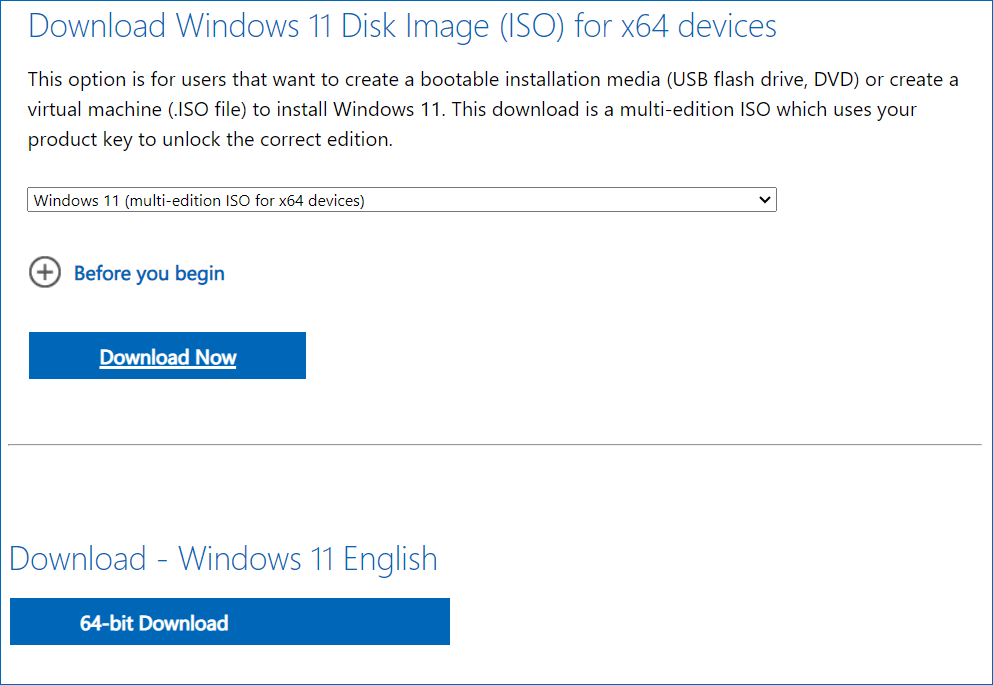 Step 2: Rufus Download for Windows 11
Go to the Rufus download page.
Navigate to the Download section and click a link to get the Rufus latest version. To get Rufus Portable, click the corresponding link.
Step 3: Create a Bootable USB from ISO Windows 11
Double-click the executable file to run Rufus in Windows 10/8/7.
Connect your USB drive to your computer. And choose it from Device.
Click SELECT and choose the downloaded Windows 11 ISO file from File Explorer.
Select GPT as the partition scheme.
You can customize your volume label, advanced drive properties, and cluster size. This is optional.
After everything is ready, click the START button. This process will take a few minutes.
If you want to use the bootable USB drive to install Windows 11 on your computer, follow the instructions mentioned in this post – How to Install Windows 11 from USB.
Rufus Download for Windows 11/10/8.1
In addition, you can run Rufus to download an ISO of Windows 11 to install this operating system. Besides, if you want to create a bootable USB drive of Windows 10 and 8.1, you can also download an ISO file with Rufus and then burn it to the USB drive. To do this thing, follow these steps:
1. To download a Windows ISO file, choose DOWNLOAD from the drop-down menu and click the DOWNLOAD button.
2. Select a Windows system from the pop-up window and click Continue.
3. Choose the Windows release version, edition, language, and architecture. Next, click Download to store the ISO file on your computer. Rufus will start downloading.
After downloading, choose that ISO file and then follow the ways mentioned above to create a bootable USB drive.
To Sum up
That's all the information about Rufus Windows 11 download and how to use Rufus for bootable USB drives. Besides, Rufus is useful to download Windows 10/8.1 ISO. Just follow the given steps above.