Windows 11 Insider Preview Build 23466 is rolled out by Microsoft and it brings a new Windows Backup app, Dev Drive, and more. Go to read this post from MiniTool and you can know these new features and improvements, as well as how to download & install Build 23466.
Microsoft devotes itself to improving Windows 11 with new features, improvements, and bug fixes in its releases. Recently, it releases a new build to the Dev Channel for Windows Insiders and the build version is 23466. This is one of the biggest updates that Microsoft has rolled out to Insiders.  To know a ton of features about Windows 11 Build 23466, move to the next part now.
New Windows Backup App
In Windows 11 Insider Preview Build 23466, Microsoft releases a new backup app called Windows Backup. This new backup tool improves the backup and restore experience for Windows 11, making it very useful.
To be specific, the Windows Backup app enables you to back up your files, documents, and photos to OneDrive to keep data protected even if something happens to this PC. Besides, it helps to back up your apps, settings, and credentials (including Wi-Fi networks and other passwords) to the cloud.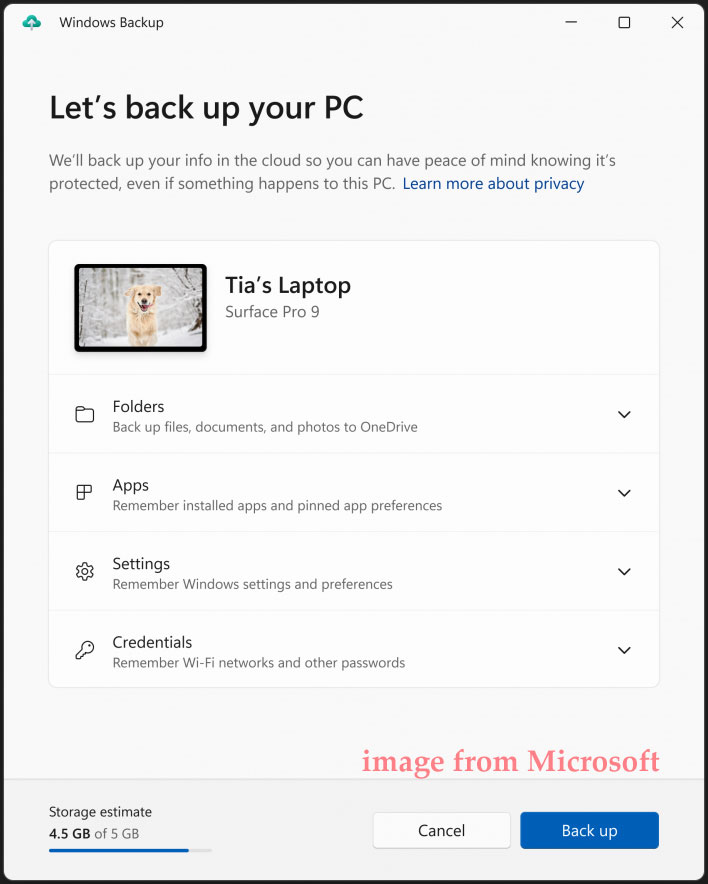 Importantly, Windows Backup can preserve the layout of your PC and everything is in the same place as before. When moving to a new Windows 11 PC, you can restore all the settings from the previous device during the out-of-box- experience (OOBE), including app preferences, Windows settings & preferences, Wi-Fi, and passwords. This is helpful to retain users across this new device transition.
Dev Drive
In addition to Windows Backup, Dev Drive is another new feature in Windows 11 Build 23466, and it is added to the Disks & volumes page in the Setting app.
Dev Drive is a new type of storage drive built based on the Resilient File System (ReFS) technology and includes file system optimizations and features that are helpful to let developers better manage their performance and security profile.
Besides, Microsoft Defender Antivirus is improved and it has a new feature called performance mode that is designed for Dev Drive, minimizing influence on developer workloads.
If you want to set up Dev Drive, it is necessary to create a VHD/VHDX or create a Dev Drive on an existing drive. Just go to Settings > System > Storage > Advanced Storage Settings > Disks & Volumes to find this feature for the setup.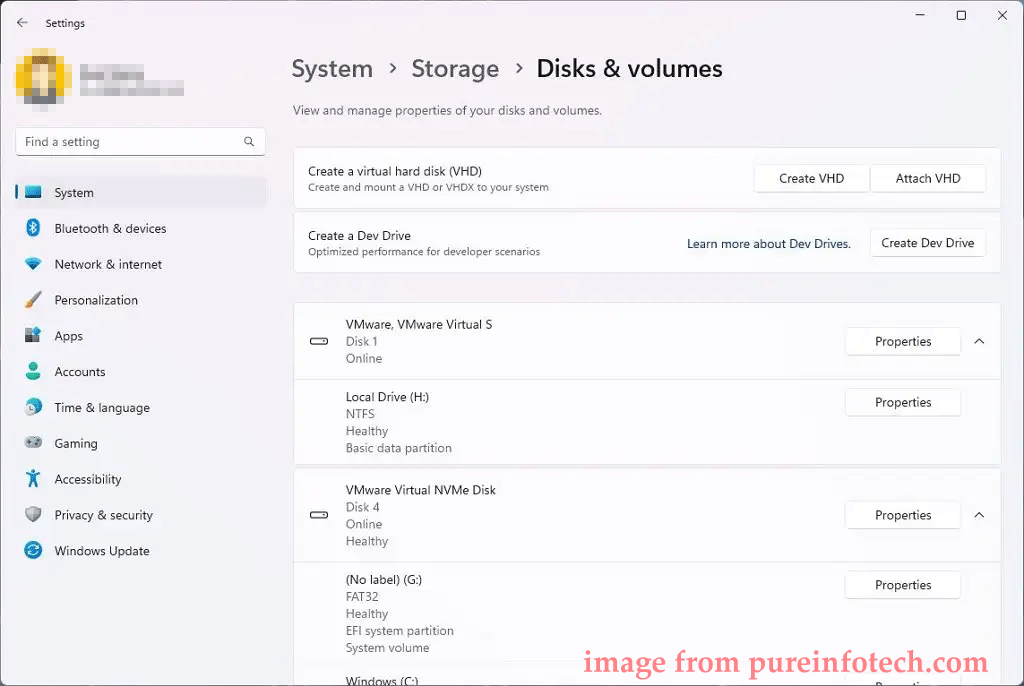 In terms of a Dev Drive size, it should be at least 50GB or higher. Besides, 8GB of RAM or higher on the PC is required.
Other Highlights in Windows 11 Build 23466
In addition, Windows 11 Build 23466 includes some other features and improvements:
Voice access text authoring: you can say "correct [text]", "correct that", "click [number]" or "spell that" to make text authoring easy.
Narrator natural voices in Chinese: new natural voices in Chinese is introduced to let Narrator users comfortably browse the web, read, and write mail, etc.
Windows network improvements: bridging adapters through the netsh command is supported, enhanced connection performance is supported in passpoint Wi-Fi networks, etc.
Updates of some system emojis and the Windows Security (firewall) notification dialogs
Search on the Taskbar
Some known issues fixed
To know more features of Windows 11 Insider Preview Build 23466, you can refer to the document from Microsoft.
PC Backup Before Installing Build 23466
Build 23466 is a huge update and before installing it, you had better create a backup for your PC since Windows update issues often happen unexpectedly. Just in case, back up the machine. Besides, if you use the Windows 11 Build 223466 ISO to clean install the system, you also need to back up your important files to avoid data loss.
In terms of PC backup, MiniTool ShadowMaker, one of the best backup software, can help you a lot. You can run it well in Windows 11/10/8/7 to create a system image and back up your crucial files/folders. Just get this tool for a trial.
To know how to back up your PC, refer to this post - How to Back up Windows 11 (Focuses on Files & System).
Windows 11 Build 23466 Download & Install
To install Windows 11 Build 23466, follow these steps:
Step 1: Press Win + I to open the Settings app.
Step 2: Go to Windows Update > Windows Insider Program.
Step 3: Click Get started, link your account, and choose your Microsoft account to sign into the Insider program.
Step 4: Choose Dev Channel and then finish all the operations to be an insider.
Step 5: Go to check for updates under Windows Update and then download & install Windows 11 Insider Preview Build 23466.
If you are running Windows 10 and want to upgrade to Windows 11 Build 23466, you should make sure the PC meets the system requirements of Windows 11.
In addition, you can get Windows 11 Build 23466 ISO file to install this build.
Step 1: Visit the link from Microsoft.
Step 2: After signing into this website, scroll down to choose Windows 11 Insider Preview (Dev Channel) – Build 23466 and click Confirm.
Step 3: Choose a language and click Confirm.
Step 4: Click the 64-bit Download button to get the Windows 11 Build 23466 ISO.
Step 5: Run Rufus, choose this ISO file and burn it to your USB flash drive.
Step 6: Boot the PC from this USB drive and install Windows 11 Build 23466.
Final Words
That's most of the information about Windows 11 Build 23466. If you want to experience the new Windows Backup app, Dev Drive, and some new & improved features, follow the instructions above to join Windows Insider and install this build, or free download Windows 11 Build 23466 ISO and install it from USB.