It's a security nightmare that people fail to wipe a USB drive completely. Why? That is because the private and confidential data saved on it can be recovered by other people, causing a lot of problems and huge losses. So, it's important to erase the USB drive thoroughly, leaving no chance to view your private & business data.
The old USB drive isn't able to meet your needs anymore. You want to throw it away or sell it to other people for getting some money. Either way, you need to handle your data in a proper way: erase them completely to eliminate the possibility of data recovery. Therefore, I'll tell you how to wipe USB drives completely and securely.
A Study Discloses the Need to Wipe USB Drives
University of Hertfordshire has done a study recently. The result shows that even though many users know they need to erase flash drive before discarding/selling it, they often end up in failure.
Two-thirds of the Tested USB Drives Contain Data
The researchers bought 200 USB drives; 100 from U.S. and the other 100 from U.K. (the devices are got from different places: eBay, auction stores, and second-hand shops). They found two-thirds of those USB drives have remnant data from the previous owner.
This brings a personal security nightmare: the information could be used by malicious people for cybercrimes, including identity theft, phishing attacks, and extortion schemes. Besides, the USB drives may contain dangerous malware or virus.
As a result, it's important to erase the personal data and other sensitive information completely from the USB drives. But how?
When you want to discard or resell a USB drive that contains sensitive information, it is not enough to delete files off a flash drive; it will give the bad guys a chance to do bad things.
Does formatting a USB erase all data?
Definitely, a lot of people think all images and documents will be gone forever after the drive is formatted. This is not true; there are many tools that are available for users to recover data from a formatted USB drive. That's why you should secure erase flash drive.
Related reading:
How to Wipe a USB Drive
How do I completely erase a flash drive?
The following content tells you how to wipe a flash drive clean.
How to wipe a flash drive Windows 10:
Get and run MiniTool Partition Wizard.
Select the USB drive.
Find Disk from menu bar and choose Wipe Disk from its submenu.
Choose a Wiping Method (the last option is suggested since it is most secure).
Click on the Apply button to execute changes.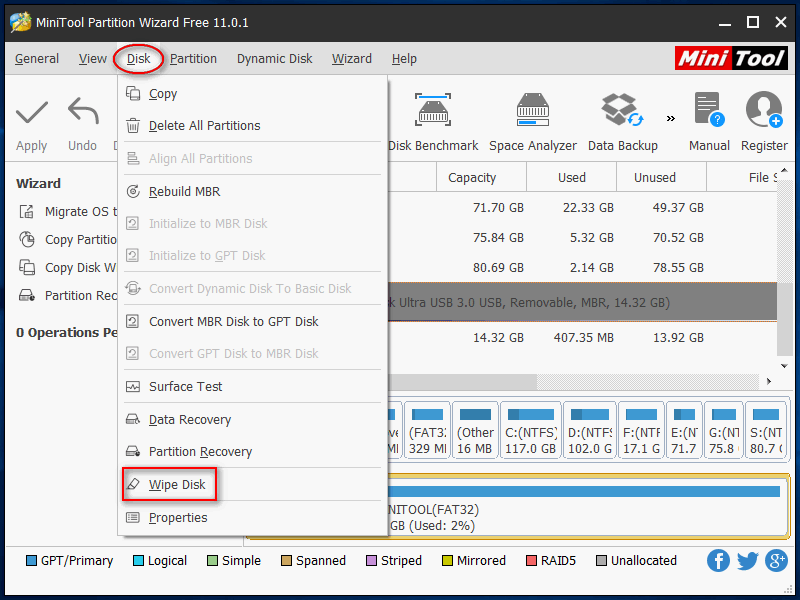 How do you completely wipe a flash drive? If you have good methods, welcome to share with us below.
USB Drive Security Accidents
A USB drive could pose serious security risks. In fact, there are many accidents that have been caused by USB drive data leakage.
For example: Heathrow Airport accident.
According to news in 2017, there is a USB drive containing highly sensitive data related to Heathrow Airport. Suddenly, an employee loses this USB drive, and then it was found by a pedestrian. Because of this, the company that owns the airport receives a huge fine (up to £120,000 or $155,000).
Besides, IBM banned USBs.
In 2018, IBM decided to ban USB drives and other portable storage drives from its corporate network. Instead, the company let its employees use the cloud-based system to share data and view files. Indeed, it's a good way to decrease the risks brought by USB drives.
However, the USB drives are necessary in many cases. You should be really careful when using a USB drive in order to minimize the possibility of USB data leakage.