Do you know the causes of video playback errors? You can find some hints from this article. To fix video playback problems on Windows, you can try MiniTool Video Repair. Of course, there are some other solutions. You can find them in this MiniTool article.
Common Situations of Video Playback Errors
Smooth video playback will bring you a good experience. But when you are playing a video, you may encounter many video playback errors. For example, you can't open a video as normal. The video file may get corrupted by mistake. Or something else.
Here are different video playback errors:
Codecs are not compatible
If a video is too long and has a high resolution, its size should be very large and it will take up large disk space on your computer. Codecs are here to help compress the video file into a smaller and manageable size.
At times, when you use your video player to play a video, the player may remind you that you need a new codec to play the video or your computer lacks proper codecs to work.
When your video player doesn't have compatible codecs, you may just hear the video sound but can't see the image. The situation may be even worse, you can't hear and see anything when playing a video.
Cannot access the video file
You may save your videos onto a flash drive, camera, or other kinds of external storage devices. When you play them on your computer, you just let them stay in the external drives. It is not wise to play videos from an external device because video playback issues can easily happen.
It may take a long time to load a video from an external drive. The video may not be stable when playing it. If the connection between your PC and the external drive is not fixed, the video playback may be interrupted.
Your Computer lacks resources to play videos
If your video player lacks the necessary computer resources for video playback, it will not open the video file you want to play or it will crash when it is trying to play your selected video. Usually, there is a cause: you are running too many processes at the same time.
Your PC doesn't meet the minimum requirements for video playback
If you want to play high-resolution (like 4K or 1080P) videos, your computer should meet the minimum requirements. Normally, the requirements are related to the graphics card, CPU, RAM, and the Windows version you are running. If the computer you are using is too old, video playback issues will be regulars. You can consider using another new computer to play videos.
The related device drives are out-of-date
No matter which video player you are using, you should keep it up-to-date. There may be some problems with the old version of the video player, causing video playback errors.
The video you want to play is corrupt or damaged
A corrupt video is the main cause of video playback issues. Due to improper downloading or copying methods, you may get a corrupted video. This video playback error is caused by the video file itself. When you use your video player to play it, you will get an error of course. Of course, some other situations like power outages and power surges can also corrupt a good video.
How to Fix Video Playback Errors on Windows11/10/8/7? (8 Methods)
Now you know the situations of video playback errors. Most of these errors can be fixed. We collect some useful methods and show them in this part.
Method 1: Play Videos from Your Computer
If the video you want to play is saved to an external drive, you'd better move it to your computer to guarantee the playback effect. However, if there are still video playback problems, you should take some special measures to solve the issues.
Method 2: Use Video Repair Software – MiniTool Video Repair
MiniTool Video Repair is a professional and free video repair software. You can use it to repair damaged or corrupted MP4, MOV, M4V, and F4V video files. It even supports batch video repair. If the video issue is serious, you can use the Advanced Repair feature to add a sample video for the reference of a video repair.
Additionally, this software supports repairing videos from your computer, GoPro, Sony, Canon, DJI drones, or any other video storage device. So, it can fully meet your common video repair needs.
MiniTool Video RepairClick to Download100%Clean & Safe
Now, we will show you how to use this video repair software to fix corrupt videos.
Step 1: Download and install MiniTool Video Repair on your computer.
Step 2: Open this software to enter its main interface.
Step 3: Click the middle Add video(s) icon and select the video file you want to repair from your computer or another storage device.
Step 4: Click the Repair button to start the video repair process.
Step 5: When the repairing process ends, a small window will pop up, showing you the video repair is successful. You need to click OK to close the window.
Step 6: Before saving the repaired video, you can click the Preview button to preview the repair result.
Step 7: If the repaired video is OK, you can click the Save All button and select a suitable location to save the video file.
How to Use Advanced Repair to Fix Your Video?
If your video file is damaged heavily, the software will require you to use the Advanced Repair feature to repair the video. With this feature, you can add a sample video for video repair. The sample video should be a playable video with the same format created with the same device.
Step 1: Open the software and click Add video(s) to add the target to this software.
Step 2: Click Repair to start repairing the selected video.
Step 3: If you see the following pop-up window, it usually means that your video is heavily damaged and you need to use Advanced Repair to fix the video. Click OK to close the small window.
Step 4: Click Advanced Repair.
Step 5: Click the folder icon and select a sample video from your computer.
Step 6: Click Next to repair the video.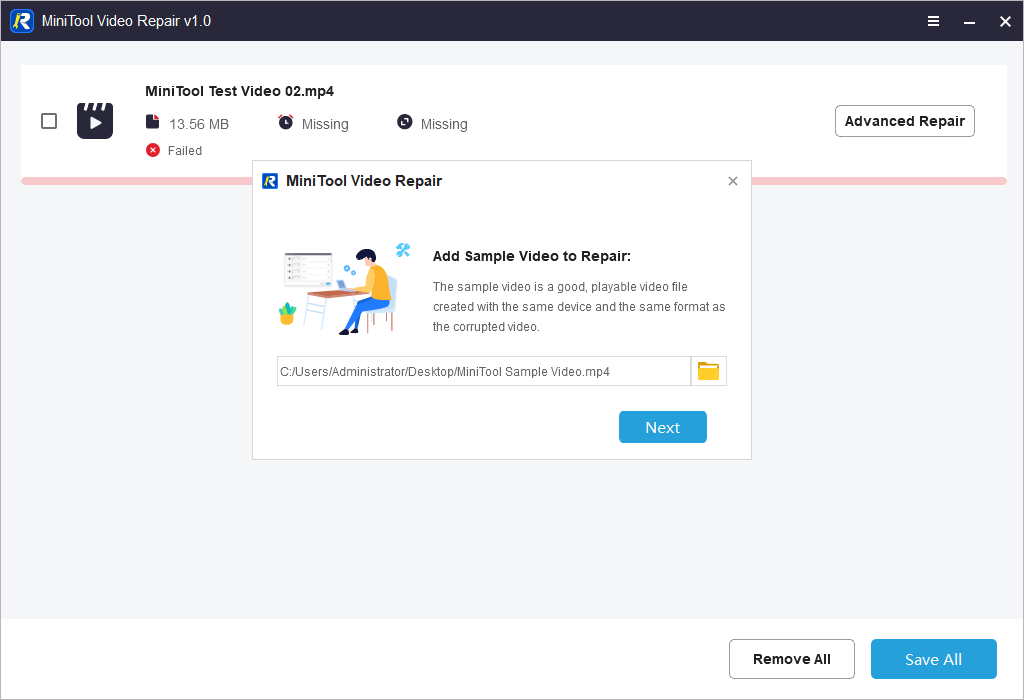 Step 7: When the video is repaired, you can click the Save All button to save it to your preferred location.
Method 3: Run Windows Troubleshooter
Windows Troubleshooters are Windows built-in tools that can detect and fix different kinds of issues on your Windows computer. You can run the Video Playback troubleshooter to fix video playback errors. Please note, you can't use this tool to fix corrupt videos.
Step 1: Use Windows Search to search for troubleshooting settings and select the first result to open Troubleshoot.
Step 2: Click Other troubleshooters.
Step 3: Scroll down to find Video Playback and click the Run button next to it.
Step 4: The Video Playback troubleshooter will begin to detect problems on your computer. You can follow the prompts to fix the found issues.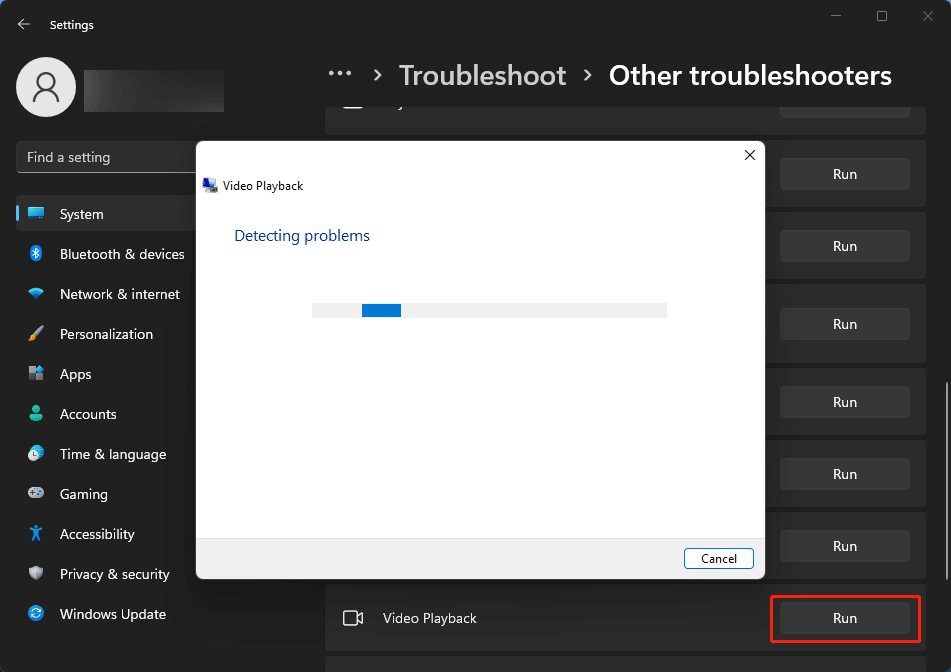 If this tool doesn't find any issue or the video playback error persists, you may need to try another solution. You can update display drivers to have a try.
Method 4: Update the Display Drivers
If your display drivers are outdated, video playback problems can easily happen. At times, you just don't know whether the drivers are up-to-date or not. If so, you can go to Device Manager to update display drivers to see if it can solve the issue you are facing.
Way 1: Update the Display Drivers
Step 1: Click the search icon in the taskbar and search for device manager.
Step 2: Select the first result to open Device Manager.
Step 3: Find the display driver you need to update and right-click it. Then, click Update driver.
Step 4: Select Search automatically for drivers and follow the on-screen guide to install the latest version of the display driver on your computer.
Step 5: Restart your computer.
Way 2: Reinstall the Display Drivers
Step 1: Open Device Manager.
Step 2: Right-click the target driver and select Uninstall device.
Step 3: Click Uninstall to confirm the operation.
Step 4: After the uninstallation, you need to reboot your device. Then, the system will automatically install the latest version of the display driver on your computer.
Method 5: Download and Install the Necessary Video Codecs
If you receive a notification about missing video codecs when playing videos, you need to download and install the necessary video codecs on your device. For example, you can download and install the K-Lite or X-Codec pack on your computer to fix video codecs missing issues.
Note: After the installation, you need to restart your computer to make the video codecs work.
Method 6: Change the Video Format
Perhaps, the video player you are using doesn't support playing certain types of videos. To rule out this possibility, you can change your video format and try to play the video again.
You can use MiniTool Video Converter, a free video format converter, to convert your video into a more common format. This software supports 1000+ video formats output.
MiniTool Video Converter FreeClick to Download100%Clean & Safe
Now, we will show you how to use MiniTool Video Converter to convert your video to MP4.
Step 1: Download and install MiniTool Video Converter on your computer.
Step 2: Open the software.
Step 3: Click the Add icon in the middle and select the target video from your computer.
Step 4: Click the diagonal arrow under Target.
Step 5: Click Video.
Step 6: Select MP4 from the left list.
Step 7: Select the resolution you want to use for the video output.
Step 8: Click the Convert button to start the video conversion process.
Step 9: When the conversion ends, you can go to the destination location and play the converted video to see whether the video playback issue is solved.
Method 7: Use VLC Media Player to Play Videos
You can also use a video player that is more compatible with the video format to play your videos. The VLC media player is a good choice.
You can go to the official site of VLC and click the Download VLC button to download the installation file on your computer. Then, open the installation file and install VLC on your computer. After that, you can use VLC to play your video.
Method 8: Restore Windows to a Previous Restore Point
If the video playback issues happen after you update your computer, the problem may be caused by the updated system. If you have created a system restore point when there are no playback issues, you can choose to restore your computer to that restore point.
Wrapping Things up
It is common to encounter different kinds of video playback errors during your daily life. Don't worry. Most issues can be solved using the methods mentioned in this article. At the same time, you should also pay attention to some situations. For example, you should download videos from legal and regular channels. Otherwise, it is still a minor problem that the video cannot be played, but the viruses brought to your computer can affect all the data in your computer.
Besides, you'd better back up your videos to another location or device to keep them safe. Remember, don't put the source videos and the backup videos in the same folder or drive.
Should you have any other related issues, you can let us know in the comments. You can also contact us via [email protected].