BSOD error codes are very common but removing them is a huge project. Fortunately, everything will be easy for you if you follow this tutorial on MiniTool Website carefully. Come on and explore solutions with us!
BSOD Error Code 0x0000003D Windows 11/10
BSOD also called Blue Screen of Death, is a system failure that suggests your computer is inaccessible at this moment. Usually, there is an error code in the latter part of it and the error numbers mean how severe the failure is.
Today, we'll develop a further discussion on one of the Blue Screen of Death error codes - 0x0000003D and find some feasible workarounds for you.
It is reported that when you are confronted with 0x0000003D, an error message INTERRUPT_EXCEPTION_NOT_HANDLED will crop up with it. Some of you might feel like fixing this error by rebooting your PC. Unluckily, no matter how many times you restart your computer, you still run the risk of encountering 0x0000003D again. Therefore, you must find some effective solutions to get rid of it completely.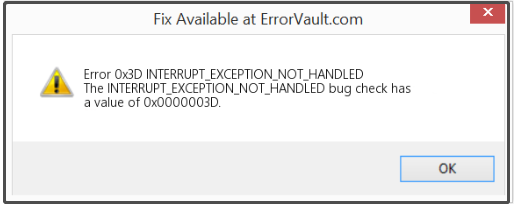 The reasons are various, for example, corrupted system files, incompatible device drivers, outdated versions of Windows updates and so on. In terms of different situations, the fixes listed below will help solve your issues.   
How to Fix 0x0000003D Windows 10/11?
Fix 1: Run SFC Scanning
Damaged system files may be the culprit of 0x0000003D and the inbuilt Windows tool SFC can help you to find the corrupted files and replace them for you.
Step 1. Press Win + S to open the Windows search bar.
Step 2. Type cmd in the box to locate Command Prompt and do a right-click on it to select Run as administrator.
Step 3. In the command window, type sfc / scannow and don't forget to hit Enter. It will take 10-15 minutes for the system to check, find and replace the corrupted files for you, please wait patiently.
Fix 2: Update Outdated Driver
It is likely that you don't update your device driver in time and this can also result in 0x0000003D. In general, there is a yellow exclamation mark beside the damaged or incompatible device driver. Let's update them with the following guidelines:
Step 1. Right-click on the Windows icon to choose Device Manager.  
Step 2. Hit each section to look for the device driver with a yellow exclamation mark and right-click on it to choose Update driver.
Step 3. You can see two options. One is Search automatically for drivers, the other is Browse my computer for drivers. Click the first one and follow the instructions on the screen to let the system update the device driver automatically for you.
Fix 3: Boot Your Computer in Safe Mode
It is also advised to start your Windows in Safe Mode to get rid of 0x0000003D. Safe Mode is a special diagnostic mode in Windows which enables you to troubleshoot some computer problems including software and hardware issues. There are many ways to enable it and now, we'll take starting it via Settings as an example.
Step 1. Press Settings > Update & Security > Recovery > Restart now.
Step 2. After enter Windows recovery environment, hit Troubleshoot > Advanced options > Startup Settings > Restart.
Step 3. Now, there is a list of options for you and the 4, 5 and 6 options are three Safe Mode types. Press the corresponding key according to your need.
Fix 4: Use CHKDSK Command
A file system error or bad sectors are also able to trigger 0x0000003D. In this case, you can make use of another Windows inbuilt tool, CHKDSK to look for and repair the underlying issues.
Step 1. Run Command Prompt as administrator.
Step 2. Copy & paste chkdsk c: /f /r /x in the command prompt window and tap on Enter.
Fix 5: Delete the Newly Installed Program
Your system might be attacked by malware that you downloaded unconsciously. The presence of malware can generate some fatal system failures such as BSOD error code 0x0000003D. You are supposed to run Windows Defender to clear it in time:
Step 1. Go to Settings > Update & Security > Windows Security > Virus & threat protection.
Step 2. Hit Manage settings and turn on Real-time scanning.
Fix 6: Perform a System Restore
To know the exact reason for 0x0000003D is very complicated and the only thing you are certain of is that some important changes occurred on your PC. If you meet 0x0000003D after installing a driver/update/app or after changing the system setting incorrectly in Registry, you can deploy a restore point to revert your device to an earlier point to fix your problems without losing any significant data. Here's how to do it:
Step 1. Boot your PC in Safe Mode and press Win + R at the same time to open the Run box.
Step 2. Type rstrui and hit Enter to enable System Restore.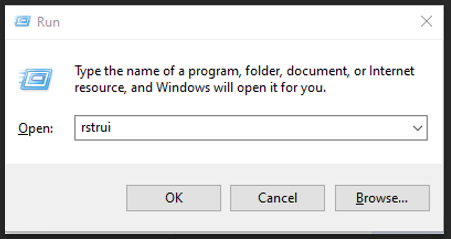 Step 3. Click on Next to show more restore points and choose the latest restore point.
Step 4. Press Next > Finish > Yes to start restoring Windows OS.
Step 5. When the process is done, your computer will restart automatically to remove the incorrect changes you have made on it.
Fix 7: Check for Windows Updates
Updating the latest version of Windows helps to extend your driver database and troubleshoot system security errors. Follow the next sections to get rid of the error code 0x0000003D Windows 10/11:
Step 1. Click the gear icon to launch Settings.
Step 2. Scroll down to look for Update & Security and hit it.
Step 3. In Windows Update, press Check for updates.
Step 4. If there is an available Windows update, the system will download and install it automatically for you. You'll see a pop-up that hints at a restart requirement. If you are free now, click Restart now. If not, click Not now and go back to the Windows Update section Schedule the restart according to your actual need.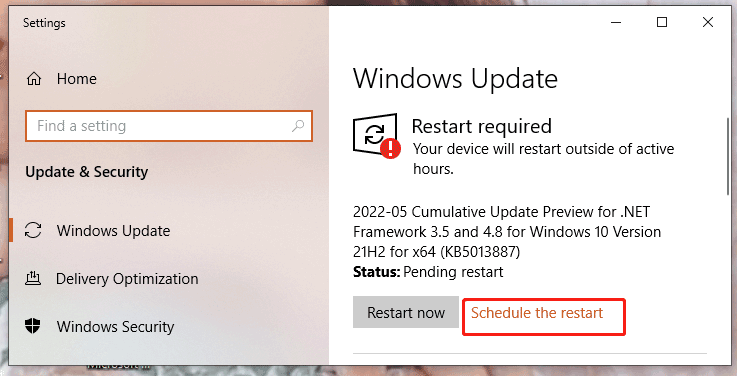 Fix 8: Troubleshoot Compatibility
Outdated software can also lead to BSOD error code 0x0000003D so you can run the program in Windows Compatibility Mode.
Step 1. Find the shortcut or the executable file of a program and right-click on it to choose Troubleshoot compatibility.
Step 2. Program Compatibility Troubleshooters will provide two options for you: Try recommended settings and Troubleshoot program.
If you choose Try recommended Settings, the troubleshooter will test the program using a previous version of Windows so you can see if that helps you out.
If you choose Troubleshoot program, the troubleshooter will ask you which problems you are experiencing. After you make a choice, the troubleshooter will offer tests and suggestions for you to resolve the problem.
Step 3. Click Test the program and Next.
Step 4. When the troubleshooting is completed, you can either choose save these settings for this program, try again using different settings, or report the problems to Microsoft and check online for a solution.
Fix 9: Uninstall the Latest Update Patches
Not all processes of Windows updates are smooth and an unsuccessful update can result in BSOD error 0x0000003D. As a result, deleting the newly installed Windows updates also deserves a try.
Step 1. Head over to Settings > Update & Security > Windows Update.
Step 2. On the right pane, hit View update history.
Step 3. Click on Uninstall updates to locate the recent update and do a right-click on it to choose Uninstall.
Step 4. After the installation process is done, reboot your device to inspect if BSOD error 0x0000003D disappears.
Fix 10: Clean Install Your Windows
The last troublesome but effective resort is to run a clean install of Windows. You need to create a bootable USB drive using Media Creation Tool to install Windows operating system.
Step 1. Go to Microsoft Software Download to download Windows 10 Media Creation Tool and run it to create a bootable USB drive. (Your USB drive should have at least 8 GB of space.)
Step 2. Insert a USB flash drive (your Windows installation media) to its respective port and reboot your computer.
Step 3: Press F2, F9, Del or Esc to enter into the BIOS menu.
Step 4. Click Next and Install now after starting the setup wizard.
Step 5. Copy & paste the product key and then accept the license terms.
Step 6. Hit Next > Custom > Install Windows only (advanced).
Step 7. Delete and repartitioned the disk where you install the operating system.
Step 8. After the OOBE window appears, follow the instructions on the screen to install your OS.
Advice: Back up Your Data
Before performing a clean install or any system restoration, it is strongly recommended to create a backup of your important files on your PC. Making a clean install of Windows will clear all your data, logs and files on the PC. You must make sure to backup all your important files/folders to avoid any unexpected data loss.
Here, I will introduce a good assistant for you – MiniTool ShadowMaker. It is a free backup software which provides you with a one-click system backup solution. In addition to backing up system, you can also back up your files/folders, selected partitions and even the whole disk.
In order to prevent any disasters from occurring such as hard drive failures, system crashes and so on, start to get a copy of backup with me now:
Step 1. Download & install the trial edition of MiniTool ShadowMaker and launch it.
Step 2. Hit Keep Trial and you'll enjoy 30-day free services.
Step 3. Go to the Backup interface by clicking on Backup.
Step 4. On the left part, click Source and there are two options for you to choose: Disk and Partitions & Folders and Files. Choose the latter one and then you can check the important files/folders that you want to back up. Checking multiple files/folders at one time is permitted.
For Source:
You can back up files & folders from the Administrator account folder, Library and Computer.
Tip: It is considerable that MiniTool ShadowMaker also allows you to back up files & folders even when they are in use.
Step 5. By default, MiniTool ShadowMaker has selected a backup destination for you. It doesn't matter if you want to change it into others. Just click Destination to choose a destination path for your backup images.
For Destination:
MiniTool ShadowMaker allows you to back up your computer to several places including the Administrator account folder, Library, Computer and Shared.
Step 6. Go back to the Backup interface, you can either click Back up Now to start the backup task at once or click Back up Later to delay it at your convenience.
Tip: The delayed backup task will remain in the Manage interface.
For More Functions:
In Options, you are allowed to set more advanced parameters like Image Creation Mode, File Size, Compression and so on.
In Schedule, you are able to set a customized backup task daily/weekly/monthly/on event.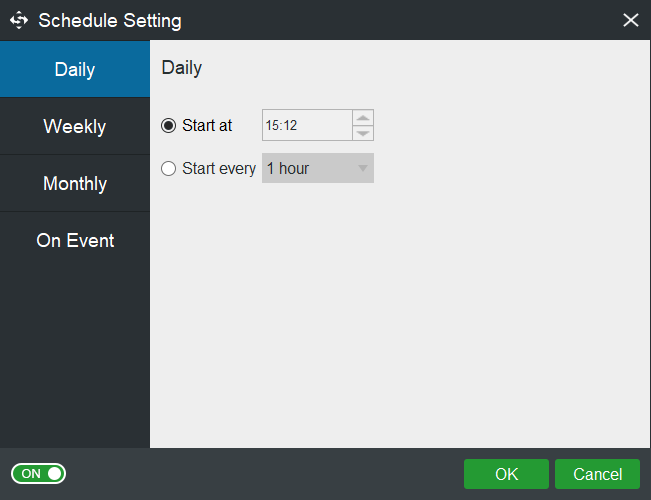 In Scheme, try to choose different backup types to manage your disk space.
Wrapping Things up
Do you get a full picture of how to deal with BSOD error code 0x0000003D now? Do all the methods above work out for you? Tell us in the comment area below or send an email via [email protected]. Have a good day!