What will you do if your Nextlaptop runs slowly or freezes for no reason? Factory resetting your machine can give your computer a second life and make it run faster. How to factory reset your Nextbook laptop? You can dive into this guide on MiniTool Website to get more detailed steps.
Nextbook offers you laptops of high quality. However, there is no perfect product. Like computers of other brands, Nextbook laptops will also encounter some problems caused by system file corruption, system setting changes, malware or third-party software. In this case, performing a factory reset of your computer is a useful solution. This will ensure you have a fresh system by erasing all the installed programs and settings.
This guide will discuss how to factory reset Nextbook Windows 10/11 in 3 ways. Scroll down to choose one according to your preference.
How to Factory Reset Nextbook Laptop Windows 10/11?
Preparation: Back up Your Files Before Factory Resetting Your PC
As mentioned in the first part, a factory reset of your Nextbook laptop will wipe all the files, folders, photos, applications and other personal information stored on your computer. As a result, it is necessary to create a backup of your important files beforehand.
To back up your data, you can try a piece of free backup software – MiniTool ShadowMaker to make the backup processes simpler. It is aimed at satisfying the needs of Windows users on backing up & restoring files, folders, systems, disks, and partitions. Moreover, it also supports creating a scheduled backup and encrypting the backup image files. Now, use this tool to create a file backup within just a few steps:
Step 1. Download the 30-day free trial edition and follow the installing wizard to install it on your computer.
Step 2. Launch it and go to the Backup page. In this page, you can choose backup source and destination.
Backup source – go to SOURCE > Folders and Files to choose the files that you want to back up.
Backup destination: go to DESTINATION to choose a storage path for the backup. (Here, an external hard drive or a USB flash drive is more preferred.)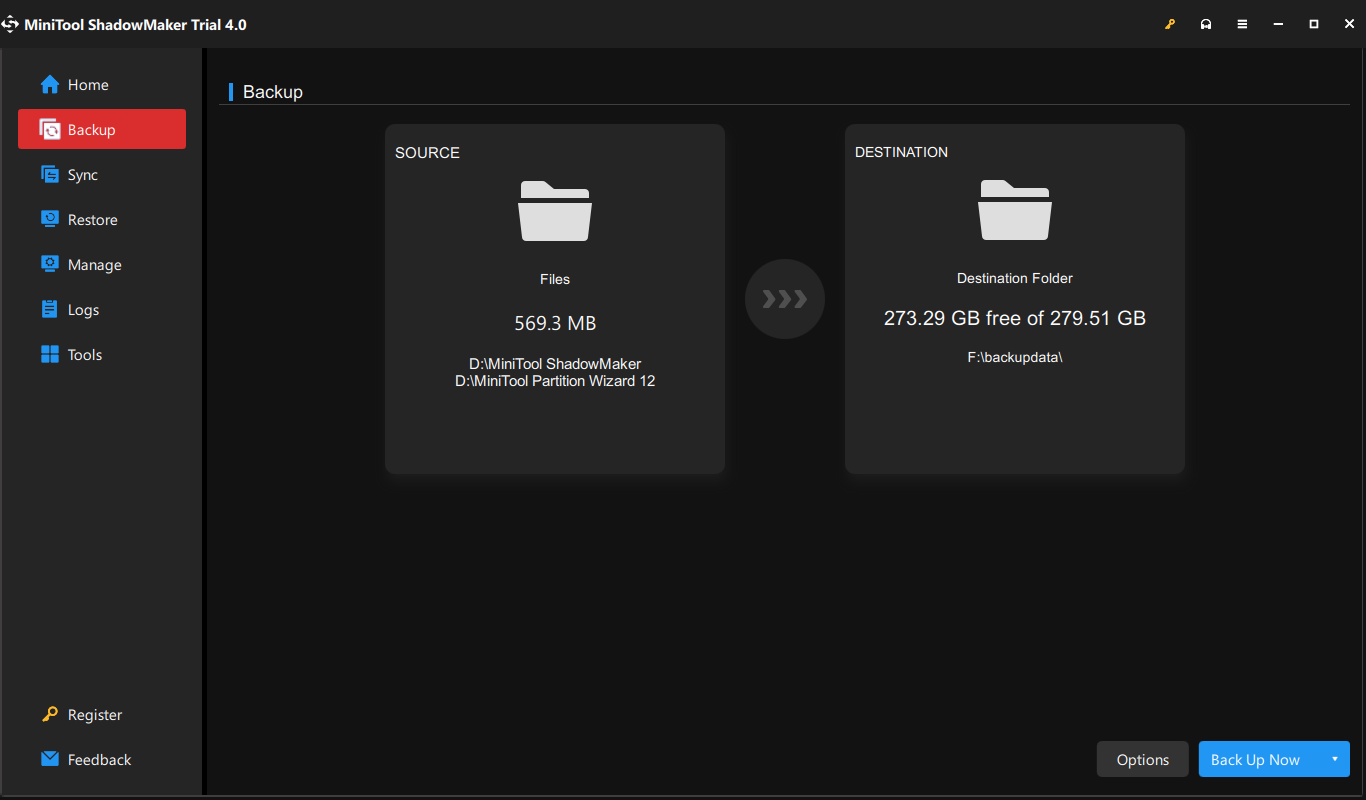 Step 3. Click on Back Up Now to start the task immediately.
How to Factory Reset Nextbook Laptop via Windows Reset
Windows provides you with an inbuilt option called Reset this PC that help you to quickly restore your operating system to the factory default configuration. Compared to reinstalling Windows 10/11 from scratch or using the manufacturer's recovery partition to reset your device, Reset this PC is faster and more convenient. Here's how to do it:
Step 1. Click on the start menu and hit the gear icon to open Settings.
Step 2. In the settings menu, scroll down to find Update & Security and hit it.
Step 3. In the Recovery tab, tap on Get started under Reset this PC.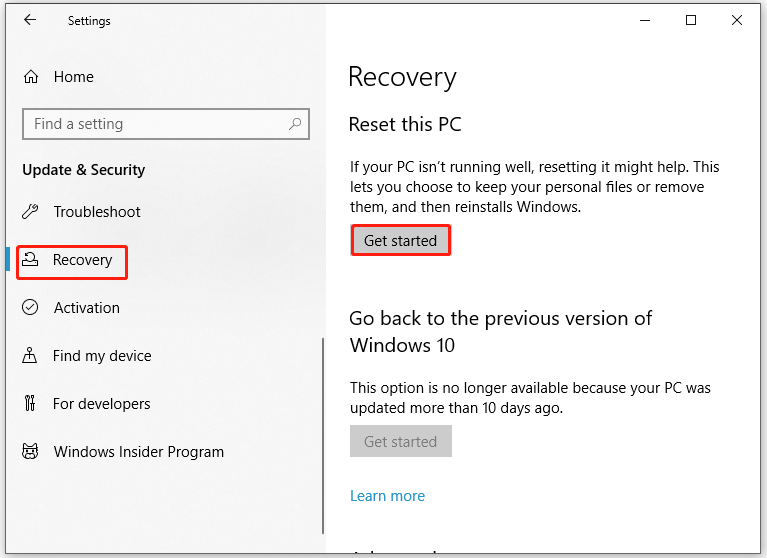 Step 4. Select either Keep my files or Remove everything according to your actual need. (To completely factory reset your Nextbook laptop, it is suggested to choose the latter.)
Step 5. Choose from Cloud download & Local reinstall and then follow the guidelines on the screen to factory reset your Nextbook laptop.
How to Factory Reset Nextbook Laptop via Boot Options Menu
Another way to factory reset Nextbook laptop is using the boot options menu. This way allows you to factory reset your device without password. Here's how to do it:
Step 1. Restart your computer. When you are in the sign-in screen, click on the Power icon at the lower-right corner > keep holding the Shift key > choose Restart to open the Choose an option window.
Step 2. Go to Troubleshoot > Reset your PC > choose from Keep my files and Remove everything. Here, we choose Remove everything.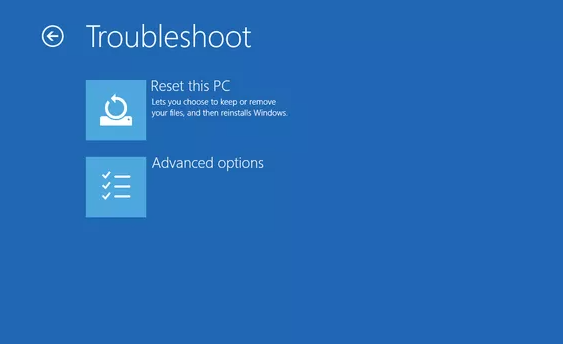 Step 3. After a few moments, you need to confirm your action by choosing Just remove my files or Fully clean the drive.
Step 4. Click on Reset to starting the resetting process.
How to Factory Reset Nextbook Laptop via USB Drive
When your Nextbook laptop is experiencing some boot issues like black screen, blue screen of death, stuck on loading screen and more, you can reset it using a USB flash drive. How to factory reset your Nextbook laptop when your device fails to boot with a USB flash drive? Follow these steps:  
Move 1: Download Windows 10 Installation Media
Step 1. Go to Microsoft Center on another computer and hit Download Now under Create Windows 10 installation media.
Step 2. After downloading it, run Media Creation Tool and choose Create installation media (USB flash drive, DVD, or ISO file) for another PC.
Step 3. Connect a USB drive to the computer and create a bootable USB drive with it.
Step 4. Choose the language, edition, and architecture. Then, follow the guidance to complete the process.
Move 2: Reinstall Windows 10 via Media Creation Tool
Step 1. Connect the bootable USB drive to your Nextbook laptop.
Step 2. Reboot your computer from this drive and select language & other preferences.
Step 3. Press Next > Install now > enter the product key > accept the license terms > hit Next > Custom.
Step 4. Choose a partition in the Where do you want to install Windows screen and follow the rest instructions to finish the reinstalling process.
We Need Your Voice
In summary, this post displays how to restore your Nextbook laptop to factory settings. Meanwhile, even if you have forgotten your password, you can learn how to factory reset Nextbook without password. For more ideas or suggestions about our product, don't hesitate to contact us via [email protected].