Maybe you are confused about choosing SSHD or SSD for your computer. Now, you can read this post from MiniTool to find the answer. This post provides a full and detailed introduction about SSHD vs SSD. Besides, you can know how to migrate SSHD to SSD.
If you want to upgrade a hard drive or buy a new PC or laptop, you need to consider storage. Then, you may be confused about choosing an SSHD or SSD. Here is some information on SSHD vs SSD. After reading that, maybe you can find an answer.
SSHD VS SSD
Compared with traditional hard drives, SSDs not only have limited storage capacity, but they are more expensive. SSHD understands which applications are most commonly used and stored in solid-state storage to accommodate faster load times and better performance.
Review of SSHD and SSD
First, let's take a review of SSHD and SSD.
SSHD
Definition
What is SSHD? SSHD represents a solid-state hybrid drive. SSHD is the mixture of both SSD and HDD. It's a traditional spinning hard disk that has a small amount of fast solid-state storage built-in.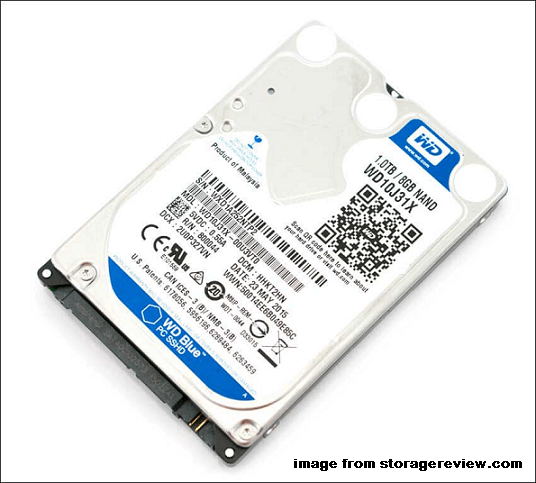 Advantages
SSHD driver has the characteristics of high speed and large space, so it is more reliable to use.
It has less rotation and less part movement.
You can easily access those files and data that you often use.
SSHD has a longer life span.
SSHD is cheap so you can easily buy it within your budget.
Disadvantages
The SSHD's HDD part is fragile, so if SSHD is dropped or exposed, it may cause damage.
Also see: How to Upgrade to Solid-state Hybrid Drive (SSHD)?
SSD
Definition
What is SSD? SSD represents a solid-state drive. It is a storage drive composed entirely of memory chips, rather than rotating magnetic disks in traditional hard disks.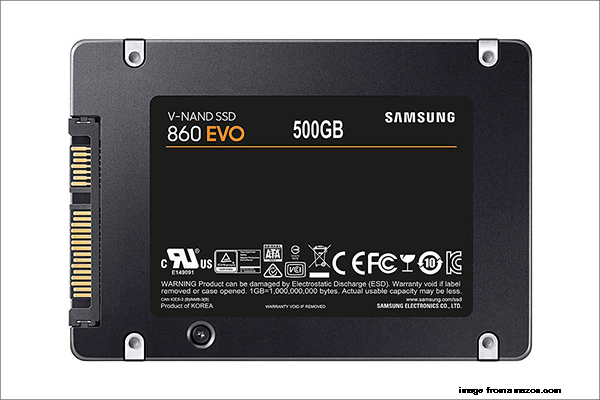 Advantages
SSD don't have moving parts, so it's fast.
Since the SSD has no moving parts, there is less chance of failure, which makes the SSD reliable and durable.
No data is overwritten in SSD.
SSD uses less power.
Disadvantages
SSD is expensive.
SSD has a shorter life since its flash memory can only be used for a limited number of writes.
SSHD VS SSD
SSHD VS SSD for Type
First, let's see SSHD vs SSD for type. Today, there are two main types of SSD: SATA and NVMe. SATA SSD is physically similar to a laptop's hard drive and connects to a SATA port on a PC or laptop. NVMe is the latest type. It goes into the M.2 slot of a PC or laptop and offers faster speeds.
In contrast, SSHD is only in SATA format and is usually the size of a laptop, often called 2.5 inches. You need to mention that many laptops can only accommodate 7mm high drive space, but some SSHDs are 9.5mm high.
SSHD VS SSD for Price
Then, let's talk about SSHD vs SSD for price. Even now, the storage capacity of SSD is still smaller than traditional hard drives. The largest is around 4TB and it will spend about £650/$700. It's too costly for most people, even 1TB is around £150/$150. Thus, many people choose a 250 or 500GB model like the Samsung 860 Evo. Those are prices for standard SATA drives and NMVe SSDs are more expensive.
However, a 2TB SSHD like Seagate's FireCuda is under £90/$90. If you want a balance of storage space and performance, SSHD is the best compromise.
SSHD VS SSD for Gaming and Performance
Speaking of SSHD vs SSD for gaming and performance. SSHD performance is better than the HDD but is worse than the SSD. SSD will reduce load times in some games. SSHD will usually have identical load times to the HDD.
SSHD VS SSD for Working Method
Now, let's navigate to solid-state hybrid drive vs SSD for working method. SSD has a controller that acts as a processor. All operations of reading and writing are completed by this controller. SSD uses "flash" as RAM, but the SSD will not clear the memory when power is off, and the memory is still stored in it.
SSHD uses a small amount of high-performance NAND flash to work. With this flash, it can store the most commonly used data.
SSHD VS SSD for Life Span
At last, navigate to SSHD vs SSD for life span. From the review of the SSHD and SSD part, we can know the SSHD's life span is longer than SSDD's.
Which One You Should Choose
Then, you may wonder SSHD vs SSD which one you should choose. It depends on whether you are using a PC or laptop.
For PC
Since most PCs can accommodate multiple drives, demand for SSHD is weak. Many newer PCs are equipped with traditional hard drives and SSDs. The operating system, some basic functions, and programs are installed on a small-capacity SSD, while user data such as music and pictures are mostly stored on the hard disk.
However, the advantage of using SSHD, whether in a laptop or PC, is that no special software or configuration is required. It doesn't require you to decide where to store various programs or files.
For Laptop
It's a trickier decision to choose SSHD or SSD on a laptop since laptops have rooms only for a single drive. SSD will provide the highest overall performance, but if you are searching for the largest amount of storage, you may need to choose SSHD.
SSDs are not only limited to storage capacity till date but are also expensive on your pocket when compared to traditional hard drives. SSHD is also a wise choice as it will cost a quarter of your 1TB SSD but will strike a balance between performance and space.
SSHD understands which applications are most commonly used and stored in solid-state storage to accommodate faster load times and better performance. As a result, SSHD may make laptops boot faster but still lag behind SSDs in performance speed.
Besides, you must check if the drive fits into the storage slot of the laptop. Therefore, when ordering a drive, the dimensions must be checked. For example, some ultraportable laptops require microSATA drives smaller than 1.8 inches.
Here is all the information on SSHD vs SSD. You can get comparisons from different aspects. Besides, you can know which one should be used on your PC or laptop.Click to Tweet
How to Migrate SSHD to SSD
If you need faster performance and have installed Windows system on an SSHD, then there is a method for you to migrate SHDD to SSD without reinstalling the system. You can use the free backup software – MiniTool ShadowMaker to migrate SSHD to SSD.
It is a professional backup program that can be used to back up the operating system, disk, partition, file, and folder. Besides, it is a user-friendly program to protect your computer and data.
MiniTool ShadowMaker supports almost all storage devices that can be recognized by Windows, such as HDD, SSD, USB external disks, Hardware RAID, Network Attached Storage (NAS), Home File Server, and so on. Maybe you are interested in this post - What Is a NAS Drive and How to Do a NAS Backup on Windows 10?
This backup software offers a Trial Edition that allows a 30-day free trial for all backup features. If you want to use it permanently, get its Pro Edition. Now you can download and try MiniTool ShadowMaker to back up your PC.
Now, let's see how to migrate SSHD to SSD step by step.
Step 1: Connect the SSD to your computer. Launch MiniTool ShadowMaker, click Keep Trial and click Connect in This Computer to continue.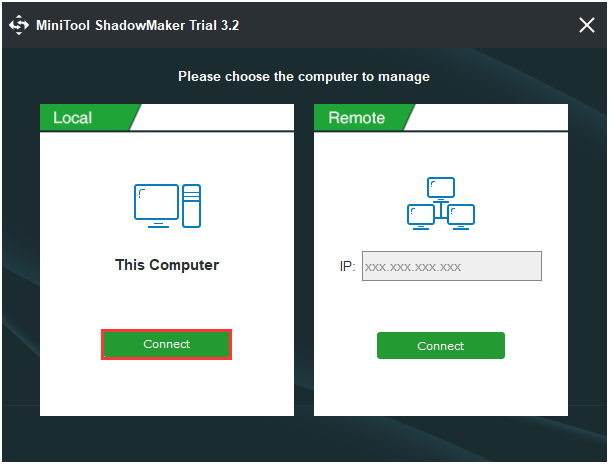 Tip: MiniTool ShadowMaker enables you to manage the remote computer as long as they are on the same LAN.
Step 2: After entering the main interface, navigate to the Tools tab. And then choose the Clone Disk feature to continue.
Tip:
MiniTool ShadowMaker supports you to clone the dynamic disk, but it is just for the
simple volume
.
Step 3: Next, you are required to choose the source disk and the target disk for cloning. Here, you intend to clone SSHD to SSD, thus, please set the SSHD as the source disk and SSD as the target disk.
Step 4: After you have successfully selected the disk clone source and destination, click OK to continue.
Step 5: Then you will receive a warning message that tells you all data on the target disk will be destroyed during the disk cloning process. Then click Yes to continue.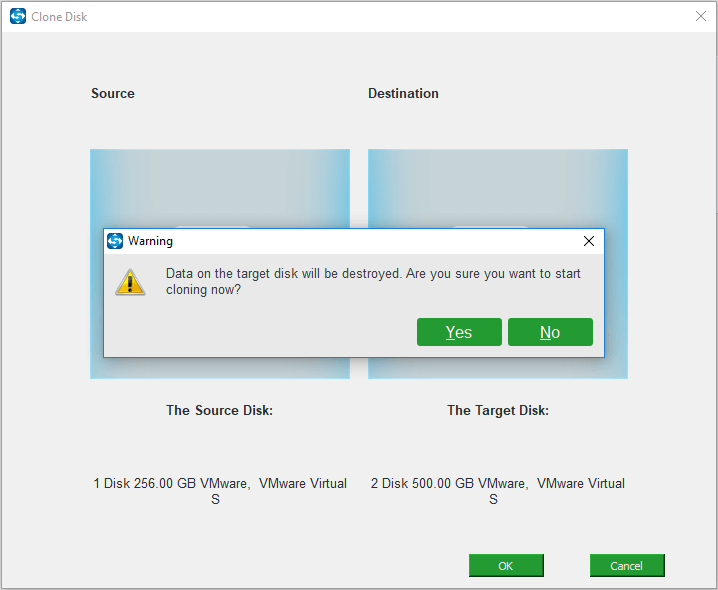 Step 6: Then it will begin to clone SSHD to SSD and you need to wait several minutes until the process is finished.
Step 7: When the disk clone process is finished, you will receive a message which tells you that the source disk and the target disk have the same signature. Thus, you need to remove the SHDD from your computer and insert the SSD to the PC.
Also see: Easily Migrate Windows 10 to SSD without Reinstalling OS Now!
MiniTool ShadowMaker is a great and easy tool to migrate SSHD to SSD. If you like it, share it on Twitter to let more people know.Click to Tweet
Bottom Line
In this post, you have got some information about SSHD vs SSD. Then, you know the answer to this question: SSD vs SSHD which is better for your PC. Besides, if you want to clone SSHD to SSD without reinstalling OS, MiniTool ShadowMaker is a helpful tool.
If you have any other ideas about the difference between a solid-state hybrid drive and solid-state drive or any question related to MiniTool software, please leave a comment or contact [email protected] and we will reply to you as soon as possible.
SSHD VS SSD FAQ
?️What is the difference between HDD and SSHD?
SSHD drives' read and write speed is much better than conventional HDDs. As a traditional hard disk drive, SSHD has 8GB solid-state storage. SSHD was invented to maintain the storage capacity of HDD and include the performance of SSD.
?How long do SSD hard drives last?
?Is SSD hard drive worth it?
Although SSDs are faster, more robust, and more energy-efficient, HDDs are cheaper, especially with larger capacities. If you have a choice, it may be worth choosing a smaller SSD for your operating system and applications while choosing an HDD for storing files.
?Do SSDs get slower when full?
Compared to traditional spinning platter hard drives, solid-state drives run ridiculously fast, but when you fill them up, they can greatly reduce performance. The rule of thumb to keep SSDs at their maximum speed is to never fill them up.