This article elaborates on every detail of Backup & Restore in Windows 11. It covers its instructions of different features, comparison with the corresponding version in Windows 10, as well as its excellent replacement. Created by MiniTool team, this article requires about 7-minute reading.
Update: The official Windows 11 is already available since October 5, 2021. 
Does Windows 11 have backup software or program? Is there a Backup and Restore or similar application in Windows 11? If so, where is backup in Windows 11? Can we still access the backup features in Windows Settings? Many people may ask. Here in this article will answer all the questions for you and guide you step-by-step to make use of Backup and Restore in Windows 11.
Backup and Restore in Windows 11
Is Backup and Restore still included in Windows 11? Yes, it is. Yet, the entrance for reaching Backup and Restore in Windows Settings has been removed and replaced with another backup utility – OneDrive backup. However, you can still access Backup and Restore through Control Panel.
How to Use Windows 11 Backup and Restore?
Now, in this part, we will introduce you to the way to take advantage of Backup and Restore for protecting your computer system and data in detail.
#1. How to Set up Backup on Windows 11?
Files/folders, documents, pictures, music, videos, etc. are import data to any user. So, it is of great importance to back them up in case of unexpected loss or damage.
1. Click on the Search icon (magnifier) in the center of the taskbar in Windows 11 and type control panel.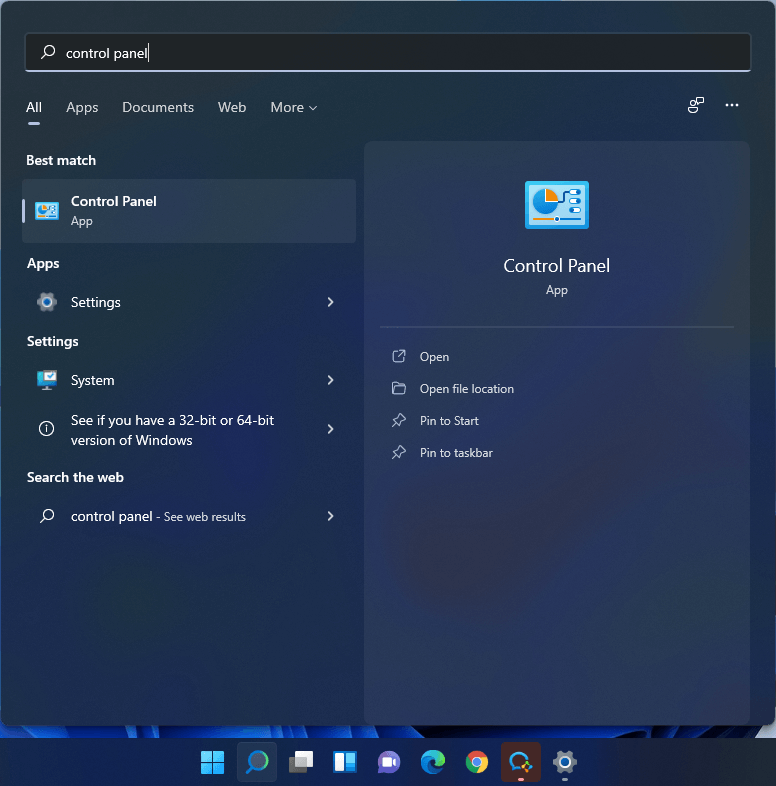 2. In the search result, find and open Control Panel.
3. In Control Panel, find and select Backup and Restore (Windows 7).
4. In the Backup and Restore window, click the Set up backup option to enter the data backup settings.
5. There, select where you want to save your backup and click Next to continue. You are recommended to store your backup on an external hard drive. You can also save the backup on a network by clicking the Save on a network… option and input the network location and the username and password for the network address.
6. Next, select what do you want to back up.
Let Windows choose (recommended): Windows will back up data files saved in libraries, on the desktop, and in default Windows folders. These items will be backed up on a regular schedule.
Let me choose: You can select libraries and folders and whether to include a system image in the backup. The items you choose will be backed up on a regular schedule.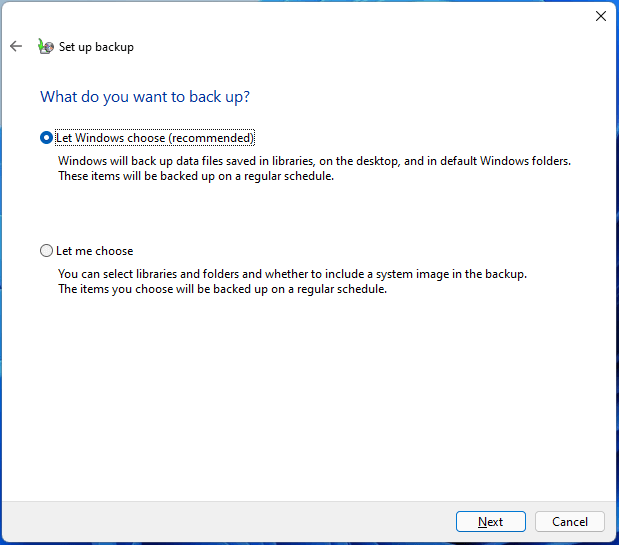 7. You are able to set up a specialized schedule to automatically back up your target items in the future at a fixed frequency. Just click on the Change schedule option and make your settings!
8. Finally, when all settings are done, just click the Save settings and run backup button.
It will start backing up your items. Just be patient and wait until the backup process completes. If you have chosen a lot of items to be backed up, it will take some time to finish. While the backup is conducting, you can do your other business.
If you change your mind and do not want to complete this backup, you can click the View Details button and click Stop backup in the pop-up window.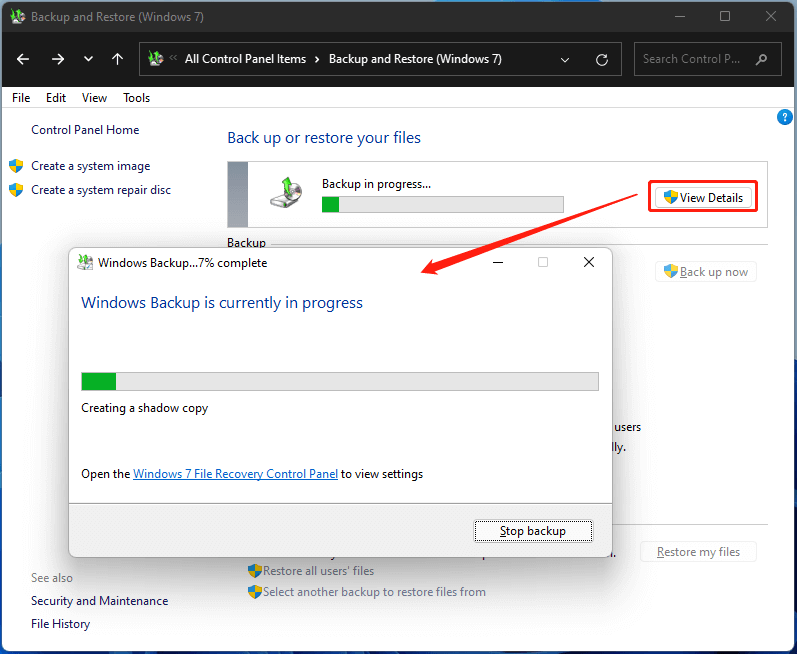 #2 Some Settings After the Initial Backup
When the first backup task is done, you do some adjustments to your backup.
1. Back up now
You can use this option to perform the backup again if you really want to. This is also helpful if you don't want to set a schedule for automatic backup. Then, you can manually carry out the backup each time you want to.
2. Manage space
You can manage the backup destination space relying on this option. On the management screen, you can click the Browse option to see the backup image in Windows Explorer.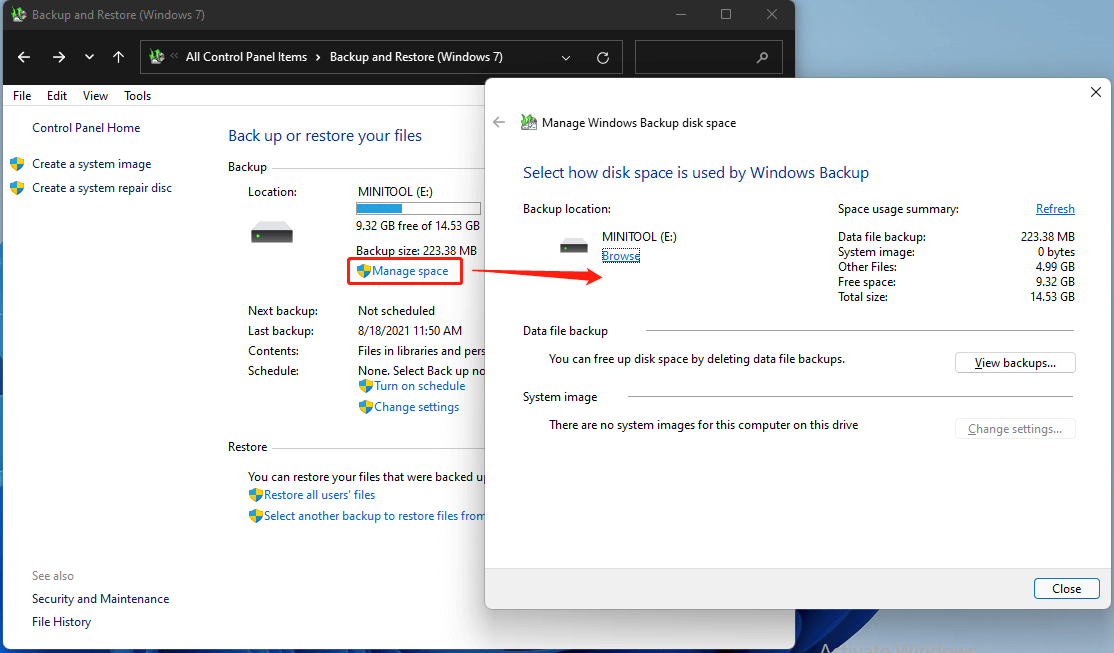 Or, you can free up disk space by deleting data file backups. Just click the View backups button and do the deletion in the new window.
Besides, if you have made a system backup and save the system image on this destination disk, you can change the settings for the system backup.
3. Turn on/off schedule
If you haven't set up a schedule during your initial backup, you can make use of the Turn on schedule options to turn it on and set it up. Vice versa, you can use the Turn off schedule option in the left part.
4. Change settings
If you are not satisfied with the settings you have made before, you can alter them here, both the backup source and destination is available for editing.
#3 Restore Backup Windows 11
Now, let me teach you how to perform Windows 11 restore from backup.
1. Restore my files
Just click on the Restore my files button in the main user interface (UI) of Windows Backup and Restore. In the next window, if there isn't any item in the list, you can Search, Browse for files, Browse for folders, or Choose a different date to find one.
Finally, make a decision where to restore the files to, the original location or a new location. Even if you select to restore your files to another location, you can still use the original folder path in the new location. For example, if the original location of the files is C:\savedfiles\note.txt, it will be saved in D:\restored-files with a path as D:\restored-files\C\savedfiles\note.txt.
Tip: You can avoid the original folder path by unticking the "Restore the files to their original subfolders" option.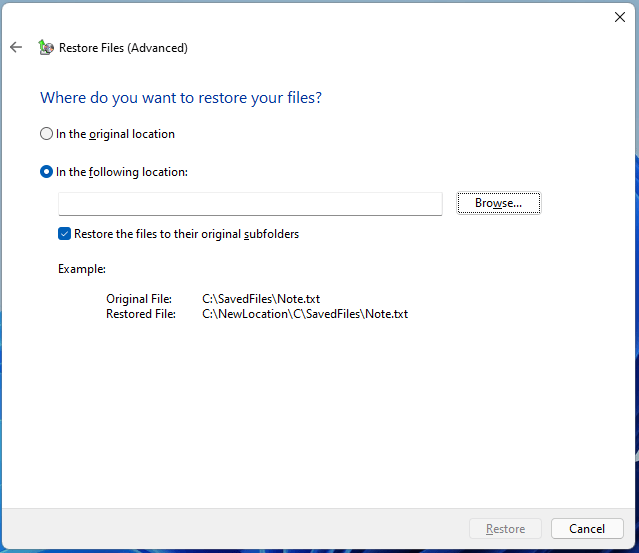 2. Restore all users' files
If you click on this option, you will be directed to the same process as described above.
3. Select another backup to restore files from
Firstly, choose this option in the main UI of Windows 11 Backup and Restore. In the popup, select the backup that you want to restore files from. If you stored your backup on a network location, just Browsed network location.
After selecting, click Next and you will again be guided to the same process as after selecting the Restore my files option.
#4 Windows 11 System Image Backup
You can also build an OS backup with Windows 11 Backup and Restore.
1. Click on the Create a system image option in the left menu.
2. In the next window, specify where do you want to save the backup, on a hard drive, on one or more DVDs, or on a network location. Usually, you are recommended to back up to a hard disk, an external one is preferred.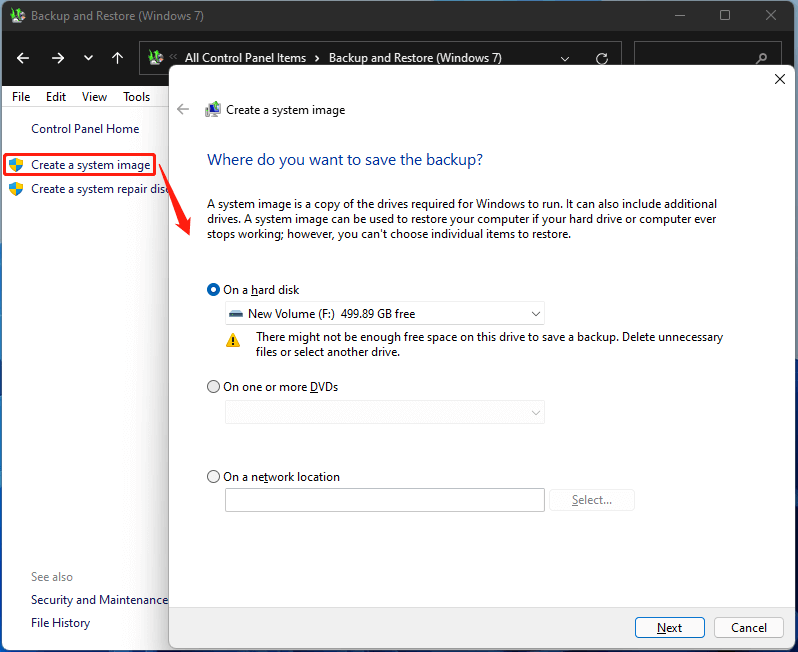 3. The system-related partitions/volumes will be selected and can't be unselected. You are allowed to add other partitions except for the destination drive.
4. Finally, preview your system backup settings and confirm by clicking the Start backup button.
Wait until the system backup task finishes.
#5 Create a System Repair Disc
Finally, let's see how to build a system repair disk with Backup and Restore of Windows 11. A system repair disc can be used to boot your computer. It also contains Windows system recovery tools that can help you recover Windows from a serious error or restore your computer from a system image.
1. First thing first, connect a CD/DVD to your machine.
2. Then, click the Create a system repair disc option in the left panel.
3. In the new popup, select a CD/DVD drive and click Create disc.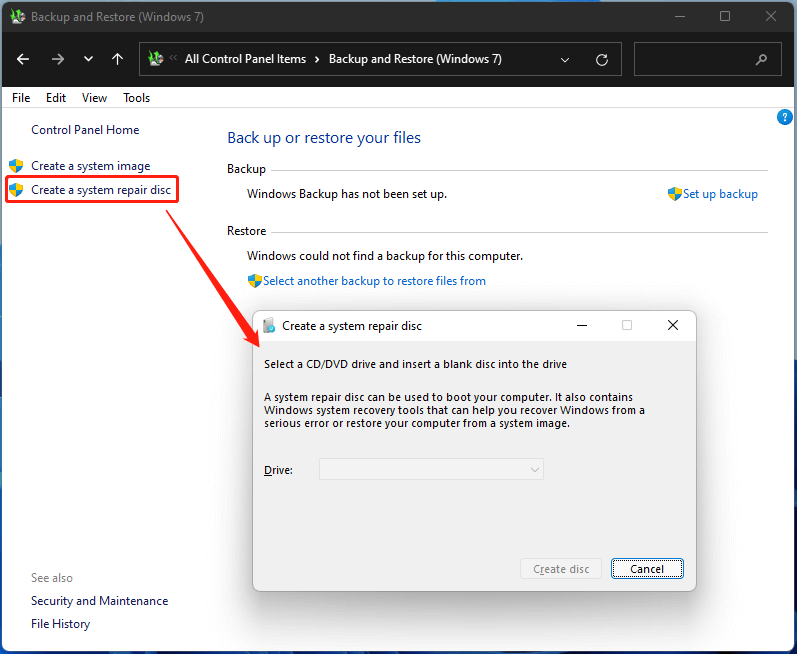 Also, wait patiently until the task completes.
Windows 11 Backup and Restore vs. Windows 10 Backup and Restore
What's the difference in Backup and Restore between Win10 and Win11? Actually, there isn't any difference in features between them. The biggest difference falls on the entrance. In Windows 10, there is an entrance in Windows Settings for Backup and Restore and you can access it via Start > Settings > Update & Security > Backup > Looking for an older backup? > Go to Backup and Restore (Windows 7). Then, you will still be introduced to Backup and Restore in Control Panel. Whereas, the entrance in Settings has been removed in Windows 11.
Backup and Restore Alternative – MiniTool ShadowMaker
Until now, you have learned all the functions of Windows Backup and Restore. It seems very powerful. Yet, there are many other more powerful Windows 11 backup tools like MiniTool ShadowMaker. Let's directly see how you can create backups by MiniTool ShadowMaker.
MiniTool ShadowMaker TrialClick to Download100%Clean & Safe
#1 Create Backup
1. Download, install, and launch MiniTool ShadowMaker on your Windows device.
2. If it asks for your purchase, just click the Keep Trial option in the upper right to enjoy its free service.
3. Then, it will enter into its main interface. There, click the Backup option in the top menu.
4. In the Backup tab, click on the Source module and select the files/folders, partitions/volumes, or even the entire hard drive that you plan to protect. System backup is also available and it is the default source selection.
5. Click on the Destination module and grab a location to save your backup image, internal hard disk, external hard drive, or network location (NAS). Also, an external location is recommended.
6. Click on the Schedule button in the bottom left corner to trigger the schedule settings window. Switch on the settings and pick up a proper schedule, daily, weekly, monthly, or on special events (system log on/log off).
7. Click the Scheme button and define the type of this backup, full, incremental, or differential backup.
8. Click the Options button to manage the backup image with its size, compression level, comment, excluding files, encryption, integrity verification, and so on.
9. Finally, click the Back up Now button to start the process.
#2 File Recovery
1. If you have created a file backup successfully, just move to the Restore tab.
2. In the Restore tab, find the file backup task and click the Restore button on it.
3. In the next window, select a version of this file backup and click Next.
4. Further select certain files and folders to restore.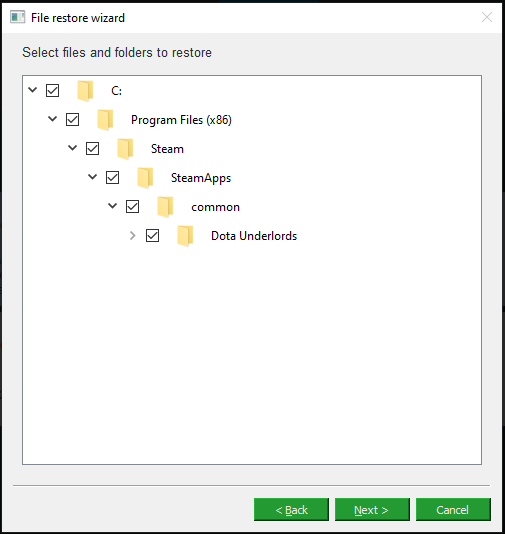 5. Select a location to restore the target files to, either original or a new location.
6. Finally, click the Commit button to start the restoration.
#3 Create a Bootable Media
A bootable media can boot up your crashed computer whose system failed to start up and save the data out with the built-in MiniTool ShadowMaker by backing the data to an external disk. Then, you can connect the external drive to a working machine, install MiniTool ShadowMaker on the machine, and restore the data to the machine.
1. Go to the Tools tab and select Media Builder.
2. Next, click on the WinPE-based media with MiniTool plug-in.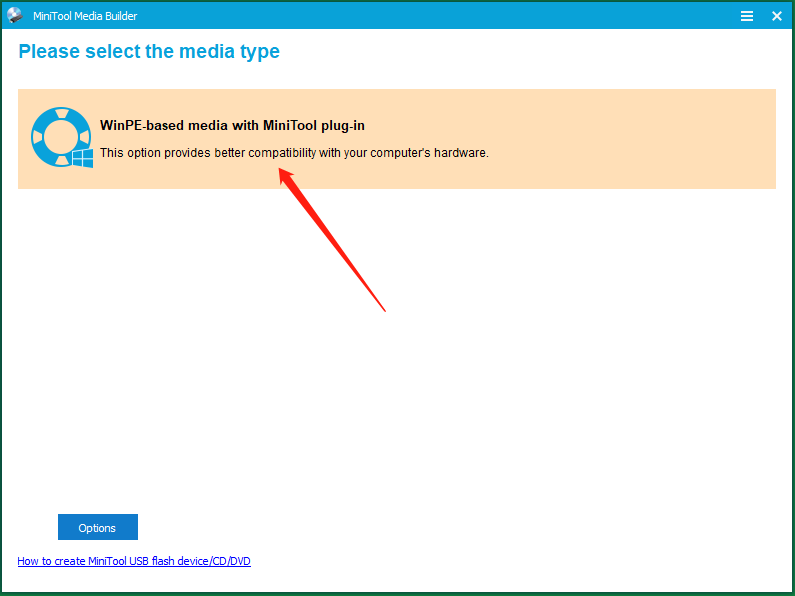 You can click on the Options button in the lower-left to add or remove drivers to ensure that the crated boot device can successfully boot the failed PC up.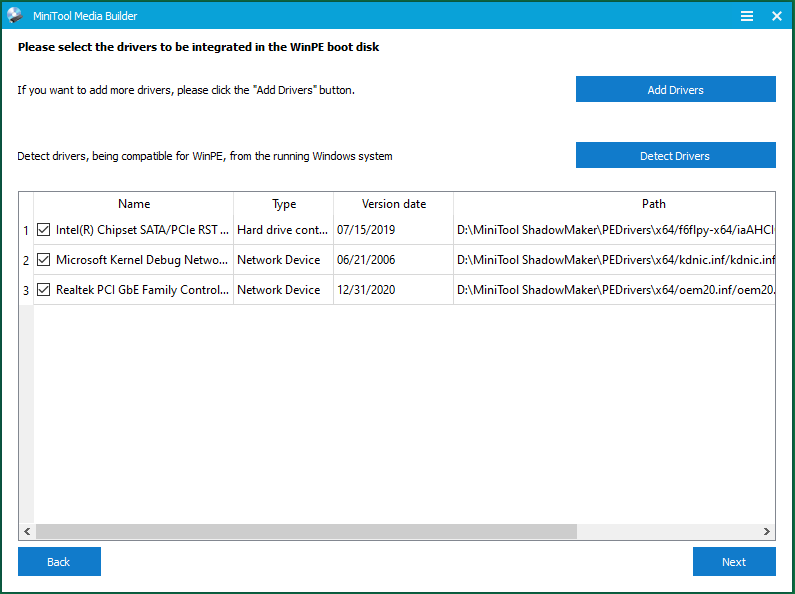 3. Select a form of the bootable media, an ISO File, a USB Flash Disk, or a CD/DVD.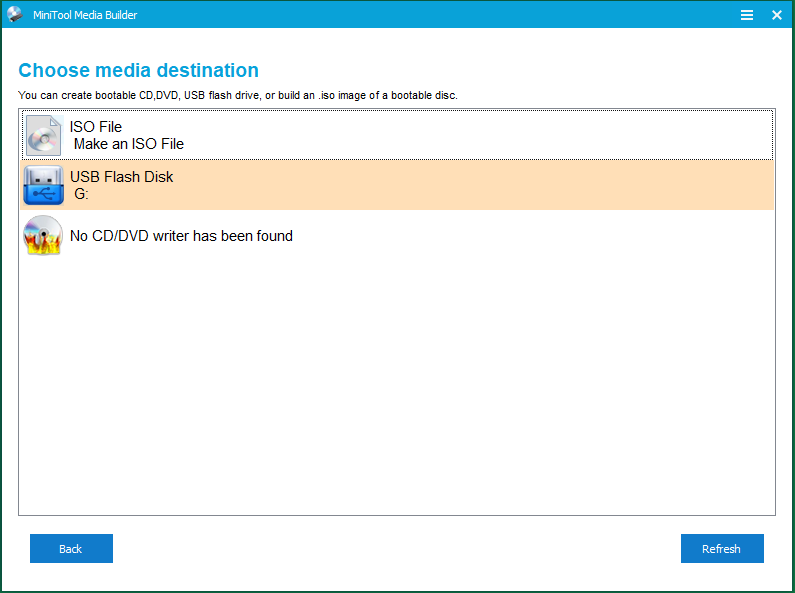 4. Finally, confirm the operation and start the creation.
Windows 11 Backup and Restore vs MiniTool ShadowMaker
Backup and Restore is Windows self-contained program and it is preinstalled on your computer together with the OS. This free and powerful app can protect both your data and system. Yet, it still has many shortcomings compared with professional and reliable MiniTool ShadowMaker.
#1 Schedule Settings
MiniTool ShadowMaker has more options and more detailed settings for schedule backup than Backup and Restore.
Firstly, for backup frequency, MiniTool ShadowMaker has additional On Event backup.
Secondly, for a backup within a day, MiniTool ShadowMaker allows you to set up the backup startup time to a specific minute, which is much more detailed than the integer hour.
Besides, you can arrange more than one backup within a day by setting up the backup to Start every x hour(s). however, you can only set up one backup task within a day through Backup and Restore.
Thirdly, you can select multiple days within a week or a month to perform the backup in MiniTool ShadowMaker while Backup and Restore only allows you to select a single day.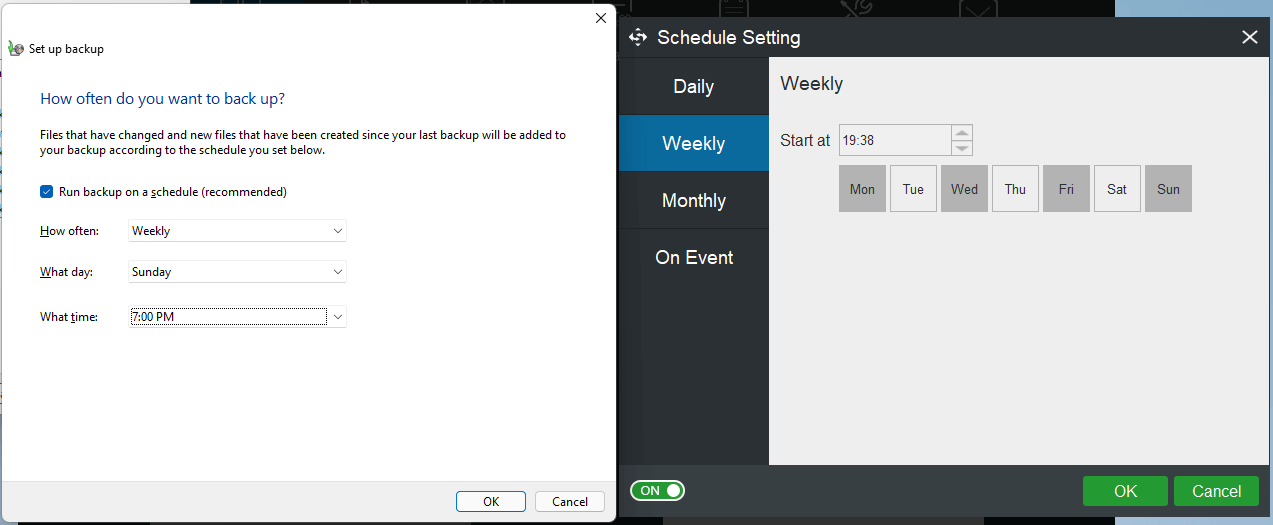 #2 Manage Backup Images
As you can figure out from the above content that MiniTool ShadowMaker has more complete image file management than Backup and Restore.
First of all, you can use the Scheme option to define the backup type, which indirectly decides how many backup image units to maintain. When the number is exceeded, the older backups will be deleted automatically. This is an automatic task unlike the manual deletion in Backup and Restore. Besides, you can define the backup type as full, incremental, or differential backup as you like. 
What's more, you can take advantage of the Options dialog to give thorough management of your backup. It will need another hundred words to elaborate on those configurations one by one. If you really want to learn the details, just go to the manual page.
Moreover, you can also access the managing features by going to the Manage tab and click on the hamburger icon on the target image. One special option that worths mentioning is the Mount utility that allows you to mount the system, partition, or disk image as a drive on your computer and view its contents.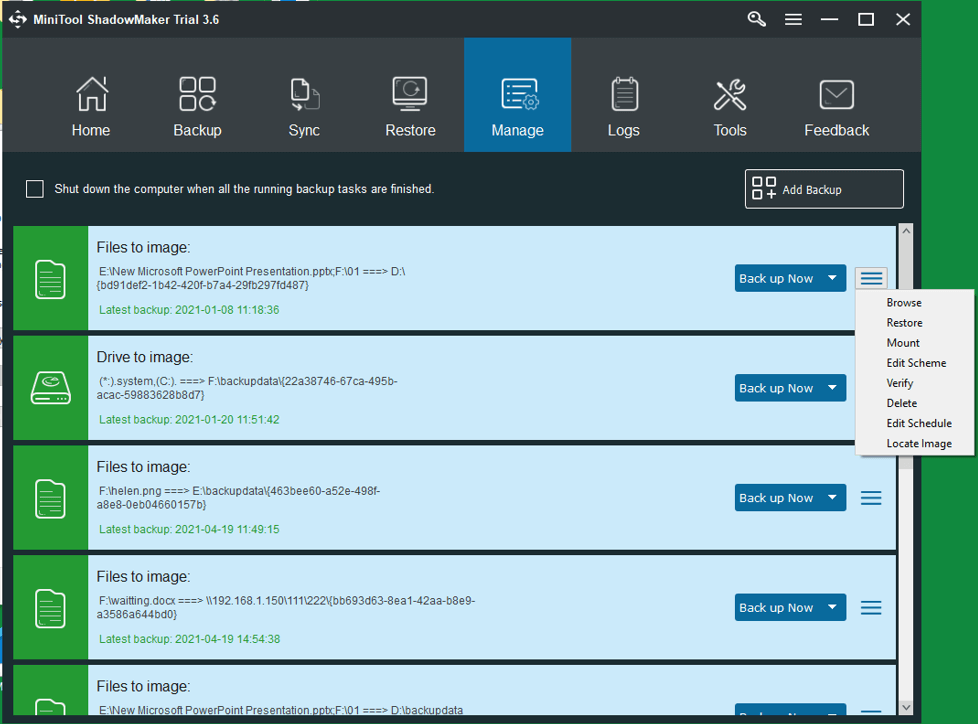 #3 Additional Features
MiniTool ShadowMaker almost includes all the features of Windows 11 Backup and Restore. Additionally, it also has many other useful functions including file sync, cloning the whole hard drive to another disk, booting up computers within the same LAN from a remote console, adding a boot menu to Windows startup…
The following is a table comparing the differences between Windows 11 backup and restore Windows 7 and MiniTool ShadowMaker.
Backup and Restore
MiniTool ShadowMaker
Schedule Settings

Daily at an integer hour.
Weekly at an integer hour of a specific day.
Monthly at an integer hour of a specific day.

Daily every x hours or at specific time.
Weekly at a specific time of several days.
Monthly at a specific time of several days.
When user log on/off.

Backup Image Manageemnt

Full, incremental, or differential backup.
Backup image compression, encryption, verification, etc.
Locate and mount backup image.

Additional Features
Nothing

Clone disk.
PXE.
Add boot menu.
…
MiniTool ShadowMaker TrialClick to Download100%Clean & Safe
Conclusion
Finally, this long article will come to its end. Do you have a better understanding of Windows 11 Backup and Restore and the best way to backup Windows 11? If you have any idea about this topic, feel free to leave a comment below. Or, if you encounter any problem while using MiniTool ShadowMaker, just contact its support team at [email protected].