What if you meet the error on Windows 11/10/7 – your computer has a memory problem? Don't worry and you can easily get rid of the trouble. In this post, MiniTool gives you multiple solutions to fix the memory problem and now let's look through them.
Your Computer Has a Memory Problem Windows 7/10/11
Every PC uses RAM (random access memory) to temporarily store data while the computer is on. All the data in RAM will be lost after powering off the machine. RAM is one of the most important components.
Sometimes the memory doesn't work well. Today we will talk about the error – your computer has a memory problem. When running Windows Memory Diagnostic, the tool may return this error message on the computer screen.
This error says the memory problems can cause the PC to lost information or stop working and it asks you to contact the computer manufacturer. This error doesn't mean the RAM goes wrong definitely and it may be related to drivers, BSOD issues, etc. Don't panic and here are some things you can do to fix the error. Let's go to see how to fix it.
How to Fix Your Computer Has a Memory Problem Windows10/11/7?
Run Memtest86+
Memtest86+ is a memory test program for x86 and x86-64 architecture computers and it is used to check RAM for any faults on your computer. Compared to the BIOS memory test, Memtest86+ offers a more thorough memory check. So, you can run this tool to see if the memory itself leads to the error of your computer has a memory problem.
Since Memtest86+ is independent of the Windows operating system, a CD or USB flash drive is required to boot this tool. You need to burn the ISO file to a drive and boot the PC from that drive for RAM test in BIOS. See what you should do:
Step 1: Download Memtest 86+ from the internet and here we get it from memtest.org.
Step 2: Double-click on the exe file on your computer and accept the license agreement.
Step 3: Connect your USB flash drive, select it and click the Create button to make the drive bootable.
Tip: During the process, all the data on your USB drive will be deleted. Make sure no important files are stored here.
Step 4: After finishing the setup of Memtest 86+, click Next > Finish. Some necessary files are installed on your USB drive and it is now bootable. Note that Memtest 86+ 6.00 Beta 2 is not compatible with Secure Boot, so disable it in BIOS.
Step 5: Insert the USB drive to the machine that has the error of your computer has a memory problem, restart the PC and then press a specific key to enter BIOS. Change the boot order to run the PC from the bootable USB drive.
Step 6: Memtest 86+ will run and start testing for memory errors & corruption in your system. If there are some bad memory sectors, replace the RAM.
Run Driver Verifier
This method is working only when you can log into your Windows normally.
In many situations, a faulty driver may lead to the error of your computer has a memory problem. Make sure all your drivers can function without any issues. So, you can run Driver Verifier to have a check.
This tool is included in Windows that can be used to detect illegal function calls or actions that could corrupt the system by monitoring Windows kernel-mode drivers and graphics drivers. It is not distributed as a download package but also can be found in C:\Windows\System32 (as verifier.exe).
Step 1: Type verifier.exe in the search box and click the result. Alternatively, press Win + R, type verifier and click OK.
Step 2: Tick the option of Create custom settings and click Next.
Step 3: Check all the boxes and click Next to go on.
Step 4: Customize randomized low resources simulation parameters.
Step 5: Tick the option of Select driver names from a list.
Step 6: Select all the drivers except the ones from Microsoft to verify and click Finish.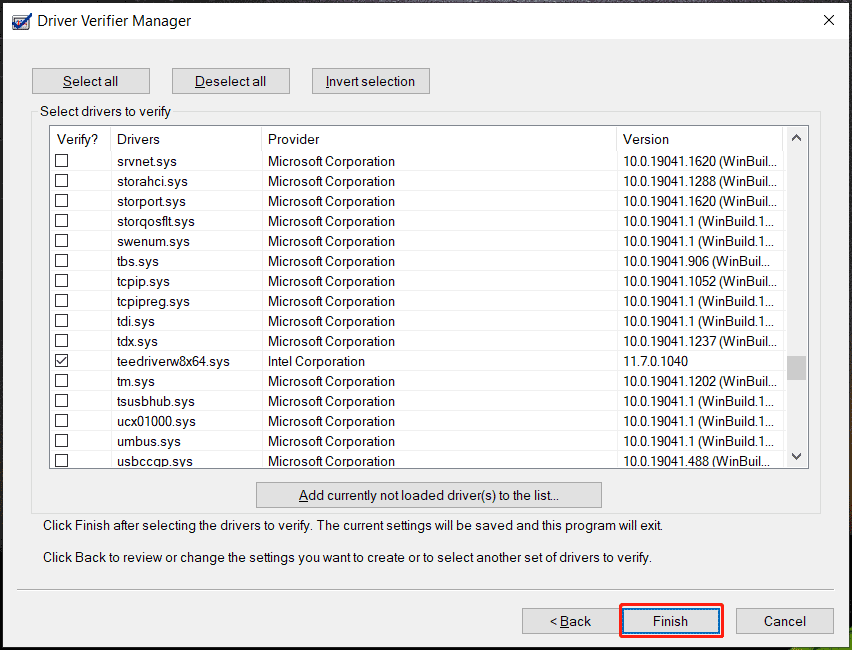 Step 7: After the PC restarts, run Command Prompt with admin rights, type the command line – verifier /querysettings and press Enter. Once there is an issue with your driver, Windows will tell you. Update or reinstall the specific driver to fix your computer has a memory problem in Windows 11/10/7.
Use BSOD Viewer
According to users, you can run BSOD Viewer to check the system and show the basic crash information & report details of the driver or module that possibly caused the crash. If you run into error – Windows 11/10/7 your computer has a memory problem, see how to run the useful, free, portable BlueScreenView application.
Step 1: Download BlueScreenView from the internet.
Step 2: Double-click on the exe file to run this app on your PC.
Step 3: Locate the latest error on the list and copy the error name or driver name to search for further details in Google Chrome. Then, do a research and find solutions based on the issue. In terms of software or driver causing the issue, update or reinstall it.
Update BIOS
Some users said BIOS update is a useful solution that is worth recommending. This is a critical task. If BIOS goes wrong, it can damage the operating system, and sometimes lead to the error of your computer has a memory problem in Windows 10/11/7.
Step 1: Press Win + R, type msinfo32 and click OK.
Step 2: In the System Information window, locate BIOS Version/Date to note down the manufacturer and BIOS version.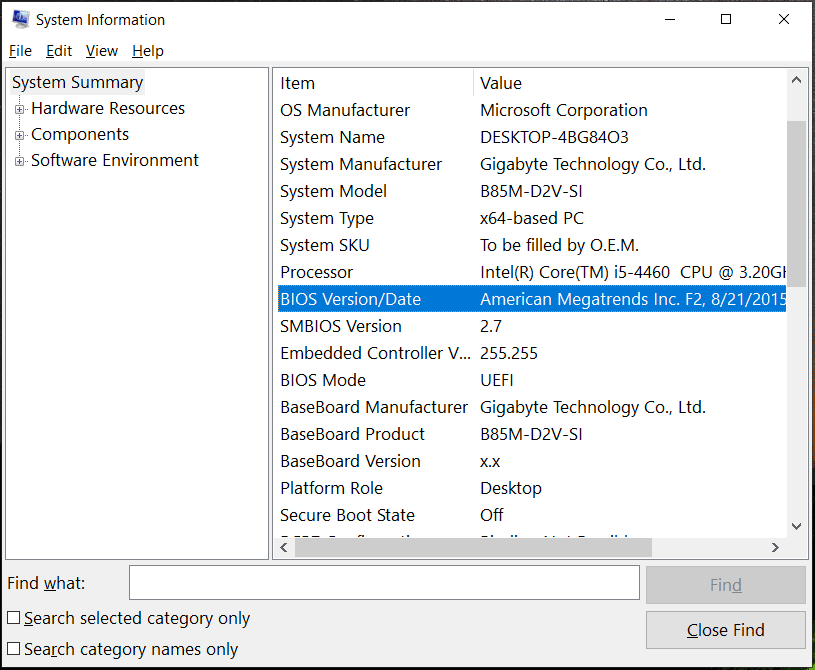 Step 3: Go to visit the website of the manufacturer and search for the latest BIOS version. Download the BIOS file and update it. 
Check RAM Physically
If all of the above solutions cannot fix the error – Windows Memory Diagnostic your computer has a memory problem Windows 11/10/7, perhaps the issue is related to the memory module itself. Go to check it. If you don't know what to do, ask a professional for help. If it is damaged, purchase a new one and replace it with the new RAM.
Contact Manufacturer
This is the thing you may not want to do. But, if you cannot solve your issue, contact the manufacturer and get the help from it. If your PC is in warranty, it could be better.
"Your computer has a memory problem in Windows 11/10/7? Try these ways here to troubleshoot it. You can share them with others on Twitter to help more persons."Click to Tweet
Suggestion: Back up Your Important Data
As the error screen of your computer has a memory problem contact manufacturer says, PC memory issues can lead to PC information loss and cause it to stop working. So, to keep your important data safe, we strongly recommend creating a backup for the files and folders.
To do this work, you can ask a professional PC backup software for help. Here, MiniTool ShadowMaker is worth using since it is designed for system, file, folder, disk, and partition backup and recovery. To back up the only changed or newly data, use it to create incremental or differential backups.
Besides, it allows you to sync files and folders to another location for backup or clone the entire system disk to another disk for upgrade or disk backup. Now, click the following button to get MiniTool ShadowMaker Trial Edition for data backup. This edition allows you to free use within 30 days.
MiniTool ShadowMaker TrialClick to Download100%Clean & Safe
Step 1: Double-click on the downloaded file to install MiniTool ShadowMaker on your PC by following the on-screen instructions.
Step 2: Launch this backup software in Windows 11/10/8/7 and enter the Backup page.
Step 3: In Source, system related partitions are chosen by default. To back up files and folders, go to click that section and click Folders and Files. Next, tick all the items you want to back up and click OK.
Step 4: Click Destination and choose a path to save the image file.
Step 5: Click Back up Now to start the backup task at once.
Tip: To create automatic backups, you can take advantages of the Schedule feature to configure a time point. Besides, you can go to the Sync page to choose source and destination to sync your data to a location for backup.
Bad RAM Symptoms
RAM is an essential components of a computer and if it goes wrong, many issues will appear on the PC, letting you feel vexed. The error of your computer has a memory problem may be the one you run into. But do you know how to tell if RAM is bad?  There are some bad RAM symptoms to let you know. Once something goes wrong, you can take actions to reduce the loss.
Bad RAM symptoms:
Infamous Blue Screen of Death
Sporadic PC Freeze
Declining PC Performance
Attempting to Install New Program Failed
Random Reboot
Computer Beep
Missing RAM
Files Get Corrupted
To know some details, now refer to our previous post – How to Tell If RAM Is Bad? 8 Bad RAM Symptoms for You! From the article, you can also find how to fix memory problems.
Wrapping Things up
Have you encountered the error – your computer has a memory problem in Windows 11/10/7 on the computer screen? How to fix the memory issue on your PC? After reading this post, you know what you should do – try some ways to get rid of the memory error and back up your important data. Besides, some related information is introduced here.
If you have any other solutions that are proved to be useful to fix the memory issue on your computer, let us know by leaving a comment below. Thanks a lot.