Is it good to update BIOS? How to update BIOS on HP laptops or desktops? You can find answers to these questions after reading this guide on the MiniTool website. You had better choose a proper method for HP BIOS update based on your actual situation.
What Is HP BIOS Update?
BIOS (basic input/output system) is firmware in a computer and it is used to perform hardware initialization when the PC is powered on. Every time you boot your computer, it is the first software to run and is responsible for loading the operating system and some settings.
Sometimes a BIOS update is required. Usually, it is used for standard maintenance of the computer. BIOS update means there is a new version of BIOS and some changes have been made to the way the machine is handled.
Well then, is it necessary to perform an HP BIOS update if you are using an HP laptop or desktop? Proceed to the next part to find the answer to this question.
Should You Do a BIOS Update HP?
As for a BIOS update, the change may not be as obvious as a system update. You won't update the BIOS of your computer as frequently as a system update if you don't need it.
A BIOS update will not make your computer faster. If you can run your HP computer properly, it isn't necessary to perform an HP BIOS update because the update may cause some serious problems like PC not booting. But if your HP laptop or desktop doesn't function well, you may need to get the latest version.
Usually, take BIOS update into account when you have encountered these situations:
If there are systematic bugs related to BIOS, update HP BIOS to repair them.
After upgrading the processor of your HP computer, perform an HP BIOS update. This can be helpful to let your motherboard and CPU collaborate properly.
Sometimes updating BIOS can help to fix some hardware malfunctions, for example, RAM or CPU issues. But you should only do this if your IT Company recommends or HP supports.
All in all, don't perform a BIOS update at random unless there are specific situations.
Remember: Back up Your Computer before HP BIOS Update
As has been said above, it is a risky task to update BIOS since system crashes may happen. Thus, you had better create a system backup or back up your crucial files before starting the update. If you are not lucky enough and Windows cannot boot after a BIOS update, you can perform fast disaster recovery to restore the HP PC to a normal state.
How can you back up your HP laptop or desktop before updating BIOS in Windows 10? MiniTool ShadowMaker is highly recommended.
As an all-in-one Windows backup software, it can be used to create a backup for Windows operating systems, files, folders, disks, or partitions. Importantly, you can use it to create a bootable USB hard drive/disk, CD, or DVD to start the unbootable PC for recovery. Of course, besides these features, it also supports file sync, disk cloning, PXE boot, etc.
To enjoy the full features, you can click the following button to download MiniTool ShadowMaker Trial Edition. Note that this edition only allows using 30 days for free.
MiniTool ShadowMaker TrialClick to Download100%Clean & Safe
Then, follow the guide below to begin the computer backup:
Step 1: Install and launch MiniTool ShadowMaker Trial Edition on your HP computer.
Step 2: Go to the Backup interface from the toolbar. By default, this backup software helps back up your operating system. You only need to choose a place to store the created system image by clicking Destination.
Step 3: Next, click the Back up Now button to start the system or file backup immediately.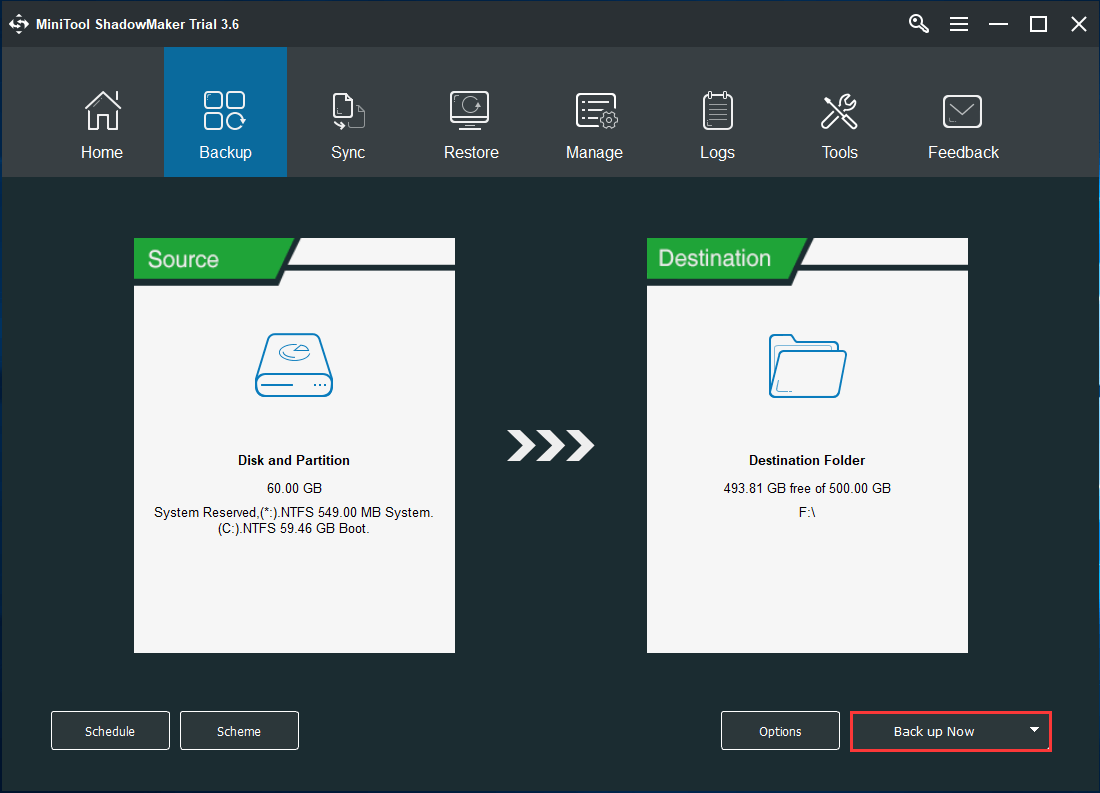 After finishing a backup, go to Tools and click Media Builder to create bootable media for recovery when disasters happen. To know more, refer to this help document – Create Bootable CD/DVD/USB Drive with Bootable Media Builder.
Now you have offered a safeguard for your computer and you can start to update HP BIOS. How to update BIOS on HP laptops or desktops? Proceed to the following part to get much detailed information.
How to Update BIOS Windows 10 HP?
Tip: Before an HP BIOS update, you can check your BIOS version and then go to the website of HP to see if there are any updates to be made.
In this part, we list three common ways to update HP BIOS. And now, let's go to see them one by one.
#1. Use HP Support Assistant for BIOS Update Automatically
In an HP Windows computer, there is a tool called HP Support Assistant (HPSA) that can be used to update your machine automatically, including BIOS. If it is not installed on your PC, go to download the up-to-date version of HP Support Assistant from the official website.
1. In Windows 10, go to the search box to search for HP Support Assistant and open it.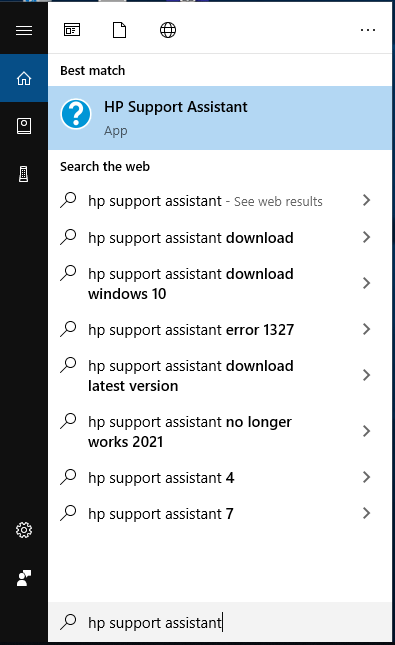 2. Go to the My devices tab to click Check for updates and messages. Then this tool will start checking your computer.
3. If there is an available BIOS update, tick the checkbox next to it. In addition, you can also check the box next to any update you want to install. Next, click Download and install.
4. Wait patiently. After the installation finishes, exit this app.
Tip: According to some HP users, HP Support Assistant is not the best tool for updating the BIOS since one or more updates may not apply to your situation. Or some problems may occur after the automatic BIOS update. So, you had better set this app to notify (no automatic updates) to see the list of updates that HPSA deems relevant to your computer.
#2. Manual BIOS Update HP in Windows 10
If your HP laptop or desktop can open normally, you can go to manually update BIOS in Windows 10. Before a further operation, some preparatory work needs to be done by you to avoid possible problems:
Close all the applications that are open.
Temporarily disable your antivirus program.
For Windows Defender, go to Settings > Update & Security > Windows Security > Virus & threat protection > Virus & threat protection settings and then turn off Real-time protection.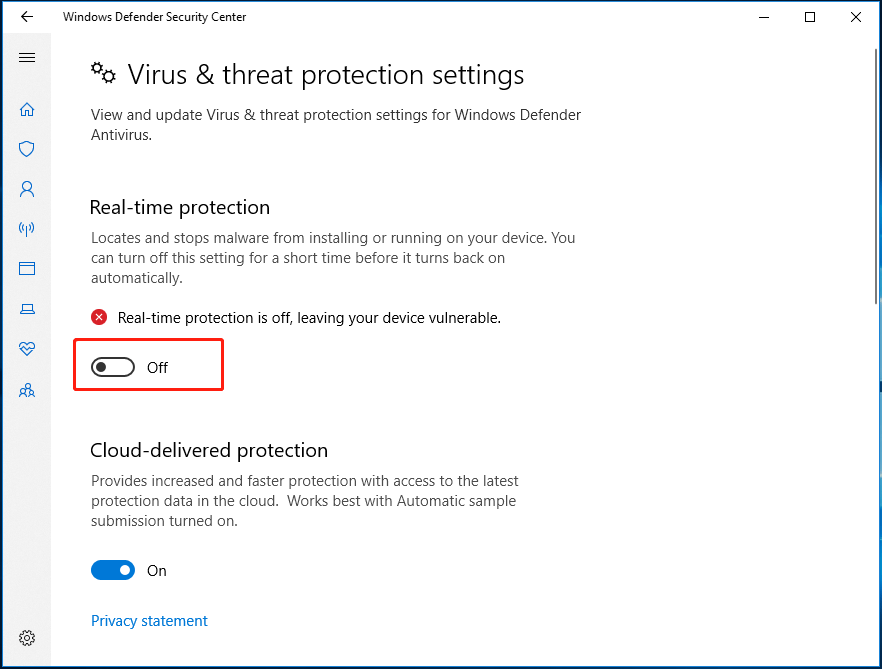 For the third-party antivirus software, search for detailed operations from the Internet. If you are using Avast, refer to this post – Best Ways to Disable Avast for PC and Mac Temporarily/Completely.
3. Also, temporarily disable BitLocker Drive Encryption. To do this, go to Control Panel > System and Security > BitLocker Drive Encryption. Then, click Suspend protection in the pop-up window. Also, note down your recovery key.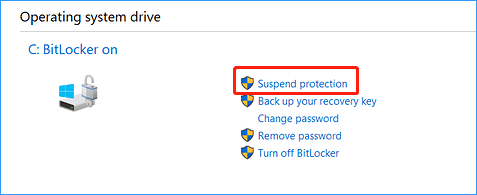 Note: If you don't disable BitLocker, the BitLocker key may not be recognized next time you reboot your computer after an HP BIOS update. Besides, you may lose data or need to reinstall Windows 10 if you forget the recovery key.
Now, it is time to update BIOS on your HP laptop or desktop by following these instructions.
1. Navigate to the HP driver and software download website.
2. Click the corresponding section based on your HP product to start.
3. On the new page, you can click Let HP detect your product or enter your serial number in the text box to continue.
Tip: To find out the serial number, you can check the product label (on the top, side, or back of the computer) or press Ctrl + Alt + S to open the System Information window.
4. Select your operating system and expand BIOS to see available BIOS updates. Then, check one and click Download.
Tip: If you cannot see the list of BIOS, it means there is no available update at present and you don't need to update it. If you see multiple available BIOS updates, choose a proper one based on the motherboard information. If you see only one update, check if the BIOS version is newer than you currently have.
5. Double-click the downloaded exe file to start the installation.
6. Accept the terms in the license agreement.
7. Decide the location to save files and the HP BIOS Update and Recovery tool will open. Click Next.
8. Choose Update and click Next.
9. Then, click Restart Now after the BIOS update is prepared successfully.
10. Click Apply Update Now. Then, the installation will take a few minutes to complete.
11. After finishing the update, click Continue Startup.
Next, log in to your HP computer, resume BitLocker protection and re-enable your antivirus programs.
Update HP BIOS via a USB Flash Drive
If your HP laptop or desktop fails to start, how can you perform an HP BIOS update? You need to create an HP BIOS recovery USB flash drive on a working PC and then install a BIOS update on the original PC.
Tip: Firstly you need to know some information about the problematic HP computer. Just press the Esc key when starting your machine to enter the startup menu. Then, press F1 to open System Information. Note down the product name, SKU number, system board ID, BIOS version, and processor type.
1. Connect your USB drive to a second PC.
2. Go to download a proper BIOS update file by following steps 1-5 mentioned in the second way.
3. After running this HP System BIOS Update Utility, choose Create Recovery USB flash drive.
4. Choose a USB drive. If the drive uses the NTFS file system, click Format.
5. This tool is copying files and you need to wait patiently. Then, click Finish and remove the USB drive.
6. Insert the drive to your original HP computer and enter the startup menu.
7. Press F2 to open the System Diagnostics menu.
8. Select Firmware Management or BIOS Management.
9. Click BIOS Update > Select BIOS Image To Apply > HP_TOOLS – USB Drive > Hewlett-Packard > BIOS > Current.
10. Choose a BIOS update file that should match the system board ID.
11. Click Apply Update Now.
12. After finishing the installation, restart the system.
"How to update BIOS on HP laptops or desktops? Three methods are introduced and you can choose to share them on Twitter to let more persons know."Click to Tweet
Tip: In addition to BIOS update HP, you can perform an ASUS BIOS update, Dell BIOS update, etc. 
Bottom Line
An HP BIOS update is a risky task and it is necessary to create a backup for your HP computer. Then, follow these three methods mentioned above to easily update BIOS to fix some specific issues or improve PC performance.
If you have any questions when performing the BIOS update in Windows 10, or have any suggestions, leave your idea below or contact [email protected].
HP BIOS Update FAQ
Is HP BIOS update normal?
An HP BIOS update is normal and it is recommended as the standard maintenance of the computer.
Is it good to update BIOS?
Generally, you shouldn't update your BIOS. A BIOS update is dangerous. But if something (BIOS-related) goes wrong or the current BIOS does not support a Windows upgrade or a hardware component, you can update it.
What happens after HP BIOS update?
After an HP BIOS update, a specific issue may be fixed or your HP motherboard and CPU can collaborate properly.