How to Repair Windows 11?
The operating system is the core of a computer. If the system corrupts or acts abnormally for some reason, you will be unable to use it for normal work, communication, and entertainment. No matter which operating system you are using, it might have issues or errors unexpectedly.
Windows 11, the new Windows version, is not an exception. It can even be said that you might encounter more problems when using this new operating system. How to repair Windows 11 when issues/errors/bugs happen? Windows has many snap-in tools for you to perform a Windows 11 repair. Such tools include Windows 11 troubleshooter, Command Prompt, Windows 11 Startup Repair, Recovery Drive, and more. Of course, there are other auxiliary methods.
To help you solve Windows 11 issues, we will introduce these tools and methods in this post.
Repair Windows 11 without Data Loss
Back up Your Data
During the Windows 11 repair process, some of your files may get lost. So, you'd better back up your data before doing this. You can use MiniTool ShadowMaker to do this. It has a trial edition that allows you to use it for 30 days without paying any cent.
MiniTool ShadowMaker TrialClick to Download100%Clean & Safe
Recover Your Data
If you lose your files accidentally during the Windows 11 repair process and there are no available backup files, you can use a free file recovery tool to get your data back. You can try MiniTool Power Data Recovery, which is specially designed to recover data from all kinds of data storage devices like internal hard drives, external hard drives, USB flash drives, SD cards, memory cards, etc.
With the trial edition of this data recovery software, you can scan the drive you want to recover data from and check whether you can find your needed files. This software supports previewing 70 types of files. If you are not sure, you can preview them to confirm.
MiniTool Power Data Recovery TrialClick to Download100%Clean & Safe
If you can find your needed files from the scan results, you can upgrade this software to a full edition and recover all your needed files without limits.
Method 1: Use Windows Update to Install or Uninstall Updates
Windows update allows you to install or uninstall updates to fix issues on your Windows 11 computer.
Install Updates
How to fix Windows 11 bugs?
The best method is to keep your Windows 11 up-to-date. Within the validity period of the operating system, Microsoft always releases Windows updates to the public. In the updates, Microsoft fixed the bugs and issues in the previous version. Due to this, you can also report the bugs and errors you found to Microsoft to improve Windows 11.
Usually, when a new Windows 11 update is released, the system can automatically detect it and download & install it on your computer. Then, a small window will pop up from the bottom-right corner, prompting you to restart your computer.
Besides, you can also go to Start > Settings > Windows Update to check for updates manually.
Uninstall Updates
If your computer suddenly runs slow, always has bugs, jitters, or keeps crashing after updating, it might mean that the updates are not compatible with your computer. You can uninstall the recent updates and then check whether the issue disappears.
1. Go to Start > Settings > Windows Update.
2. Click Update history.
3. Scroll down to the bottom and click Uninstall updates.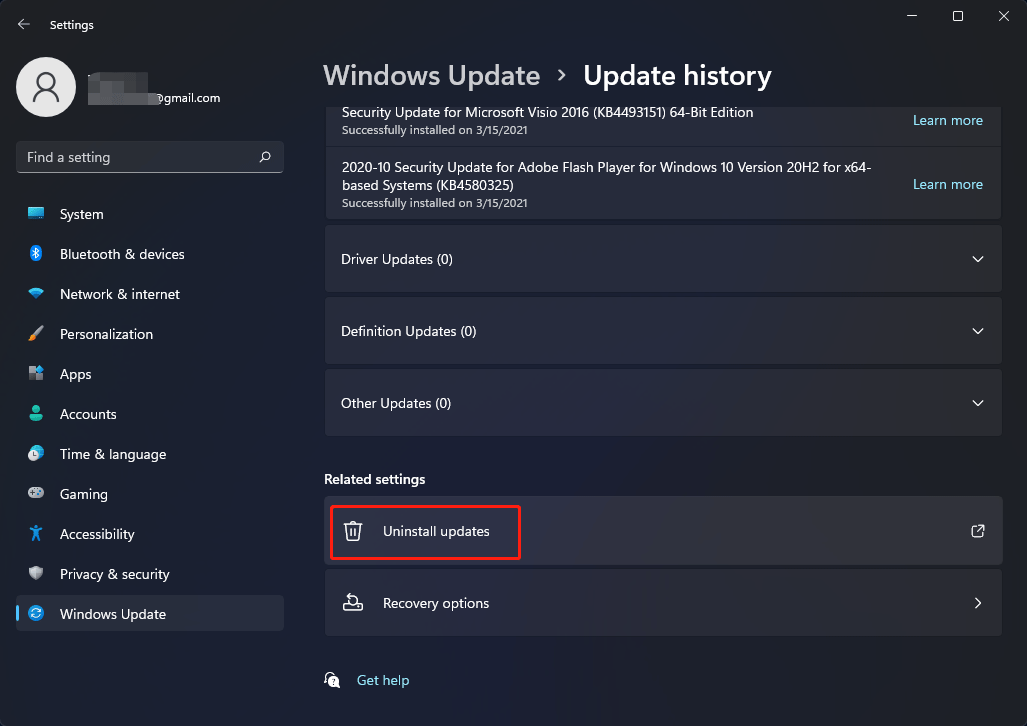 4. A new interface will pop up. Find the recent update, right-click it, and select Uninstall. You can also select it and click Uninstall from the top menu to uninstall it.
5. Click Yes on the pop-up window to confirm the operation.
6. When the uninstallation process end, you need to restart your device and check whether the issue is solved.
If you can't find the Uninstall option after selecting an update, it usually means that the selected update is a vital component for Windows 11 that can't be uninstalled. The following is an example. If so, you can use other methods to fix Windows 11.
Method 2: Use Windows Troubleshooters
Windows Troubleshooters are designed to quickly diagnose and automatically fix various computer issues. It aims to specific components and functions on your computer. Currently, it can fix the following features and components:
Internet Connections
Playing Audio
Printer
Windows Update
Bluetooth
Camera
Connection to a Workplace Using DirectAccess
Incoming Connections
Keyboard
Network Adapter
Power
Program Compatibility Troubleshooter
Recording Audio
Search and Indexing
Shared Folders
Video Playback
Windows Store Apps
Privacy resources
How to Open Windows 11 Troubleshooters and Run It?
If you want to use Windows 11 Troubleshooters to fix issues, you need to first open it:
1. Go to Start > Settings > Troubleshoot > Other troubleshooters.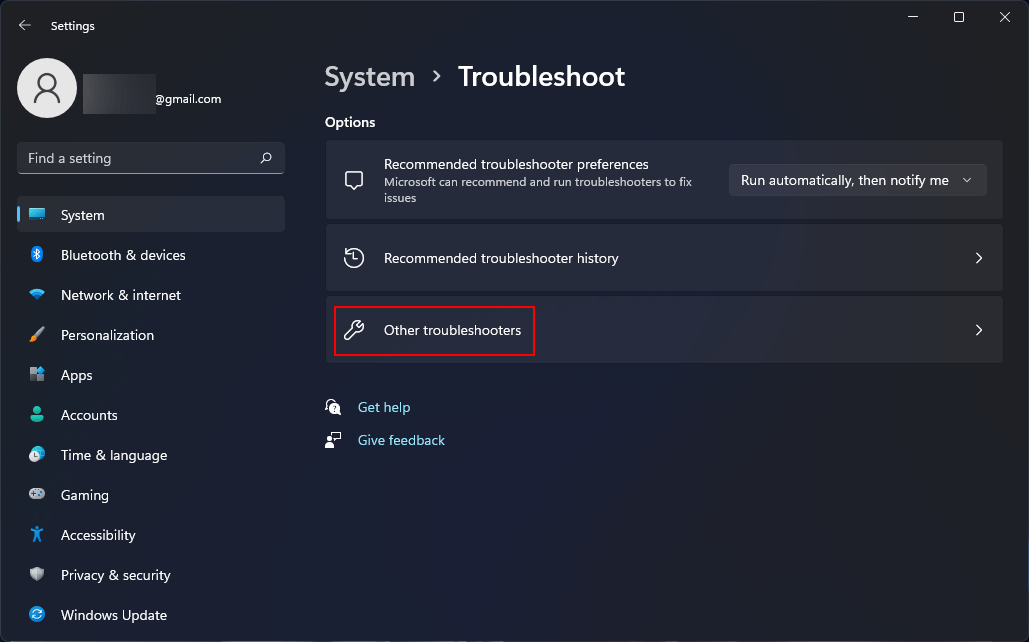 2. Find the component or service you want to fix and click Run.
3. The tool will begin to detect problems and automatically fix the found errors.
Method 3: Use System Restore
System Restore is a Windows tool that is designed to protect and repair computer software. You can use it to take a snapshot of some system files and the Windows registry, and save them as Restore Points.
When an installation fails or your computer corrupts or Windows 11 corrupts, you can restore the system to a working condition using the system restore point you have created. By doing this, you don't need to reinstall the operating system.
How to Create a System Restore Point?
Step 1: Turn on System Protection for C Drive
Click the search icon in the taskbar and search for create a restore point.
Under System Protection, you need to check whether protection is enabled. If not, you need to first enable it. Select C drive and click Configure.
Select Turn on system protection.
Click Apply.
Click OK.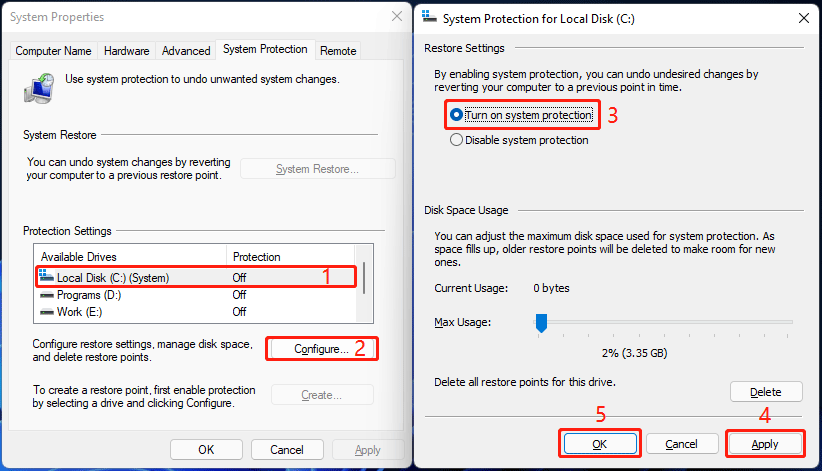 Step 2: Create a System Restore Point
1. Select C drive and click Create.
2. Type a description for the system restore point.
3. Click Create.
4. The tool begins to create a system restore point. When the process ends, click Close.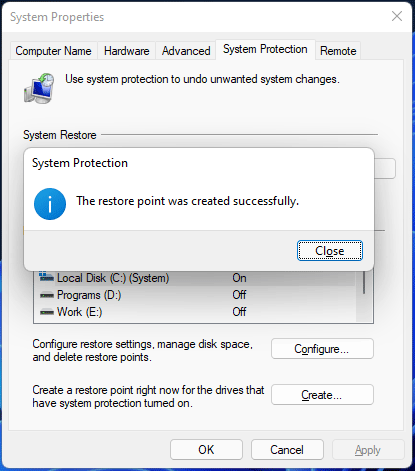 How to Restore Your Computer from a System Restore Point?
1. Under System Protection, click System Restore to continue.
2. Click Next.
3. Select the target system restore point and click Next.
4. Confirm your restore point and click Finish.
You should not interrupt the system restore process.
Method 4: Run CHKDSK
CHKDSK is used to check the file system and the file system metadata of a volume for logical and physical errors. The command of chkdsk can only show the status of a volume. You need to use it with the /f, /r, /x, or /b parameters to fix the found errors. Of course, there are many other parameters for different usages. You can read Microsoft's official CHKDSK document to get more information.
How to Run CHKDSK in Windows 11?
Here, we run the /f /r parameters to fix errors and locates bad sectors & recovers readable information on drive E:
Type chkdsk e: /f /r and press Enter.
Type Y when you see the prompt Would you like to force a dismount on the volume? (Y/N).
Wait until the process ends. This tool can automatically fix the found issues.
Method 5: Run DISM and SFC
If some Windows functions are not working or your Windows crashes, you can use the Deployment Imaging and Servicing Management (DISM) tool to repair the Windows image and use the System File Checker (SFC) to scan Windows and restore your files.
Run CMD as Administrator.
Type DISM.exe /Online /Cleanup-image /Restorehealth (you can directly copy this command to Command Prompt and please note the space before each "/") and press Enter. This step might run for a few minutes, but it should end within half an hour.
When you see a message saying The operation completed successfully, type sfc/scannow and press Enter.
When the scan process ends, you can see the message Verification 100% complete. Type exit to close Command Prompt.
Method 6: Use Windows 11 Startup Repair
If your Windows 11 computer won't start properly, it may boot into the Startup Repair interface. Then, you can use Startup Repair to repair Windows 11. This tool can scan your computer for issues like missing and damaged system files.
Here is a guide on how to use this tool to fix Windows 11 boot issues:
1. When seeing the Startup Repair interface, click Advanced options to continue.
2. Go to Troubleshoot > Advanced options.
3. You can see the advanced options including Startup Repair, Startup Settings, Command Prompt, Uninstall Updates, UEFI Firmware Settings, and System Restore. If you click See more recovery options, you will see Start-up Settings. You can use these options to repair your Windows 11 computer.
Method 7: Use Device Manager
Incompatible, outdated, or conflicting drivers can be the causes of Windows 11 installation issues. To rule out this possibility, you can go to Device Manager to remove the incompatible drivers or reinstall/update the outdated drivers.
How to Update or Reinstall a Device Driver?
Right-click Start and select Device Manager to open it.
Find the driver you want to uninstall or update. Then, right-click it and select Update driver or Uninstall device.
Follow the rest on-screen wizard to update or uninstall the device driver.
Restart your computer.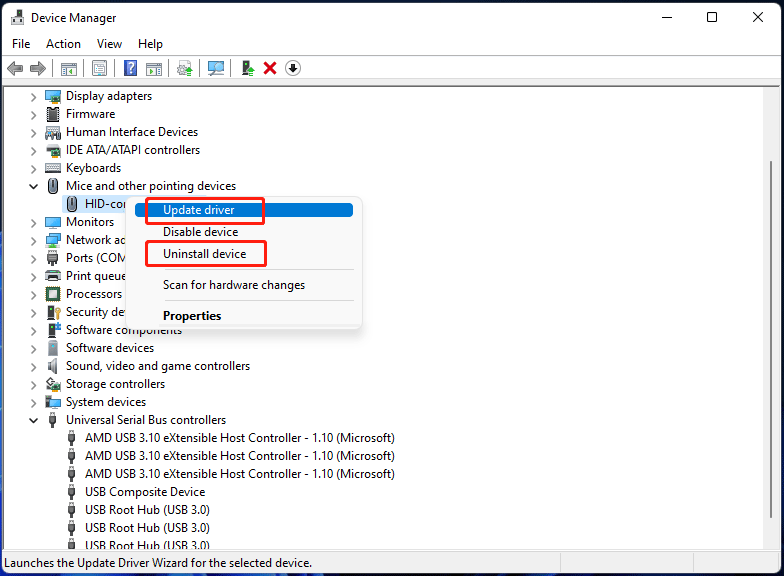 Method 8: Use Windows 11 Safe Mode
Safe mode can boot your Windows 11 computer in a basic state, using a limited set of files and drivers. If the issue disappears in Safe Mode, it means that the default settings and basic device drivers in Windows 11 are not the cause. This can help you narrow down the source of the problem.
Method 9: Reset This PC
Like Windows 10, there is a Reset this PC in Windows 11. Rese this PC can restore your computer to factory settings. During the process, you can choose to keep your file, settings, and apps or not.
When your Windows 11 not working due to some serious system issues, you can try Reset this PC to fix it.
How to Reset This PC in Windows 11?
1. Go to Start > Settings > System > Recovery.
2. Click Reset PC.
3. On the next page, click Keep my files or Remove everything to continue.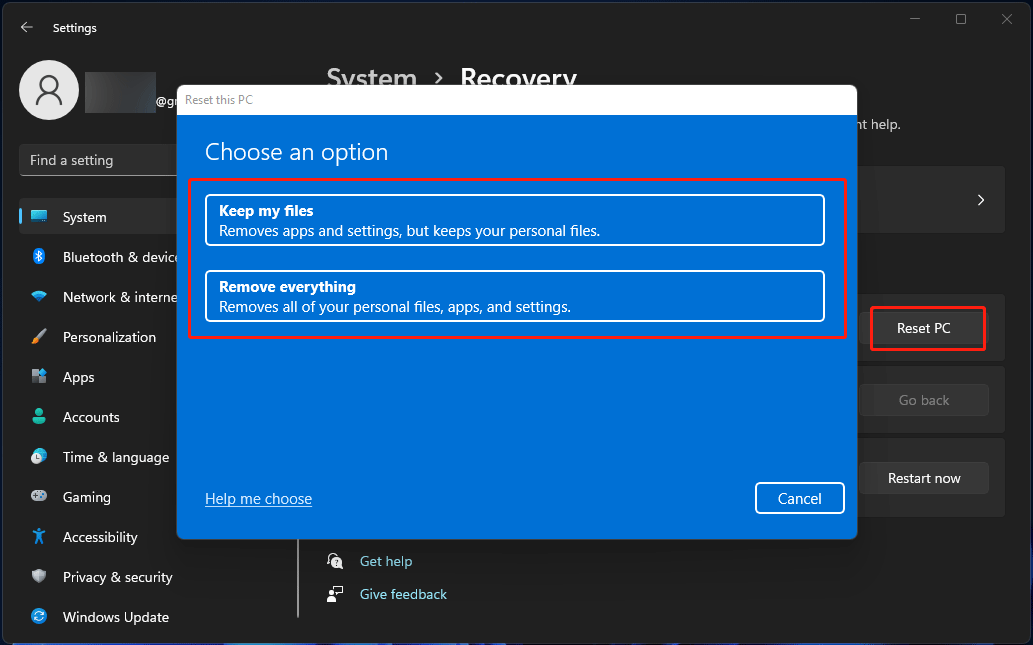 4. Select Cloud download or local reinstall to continue.
5. Click Next.
6. Select your needed settings and follow the on-screen guides to reset Windows 11.
Method 10: Clean Install Windows 11
Clean install Windows 11 can restore your Windows 11 to factory settings and install the latest version of Windows 11 on your computer. You can use this operation to repair Windows 11's serious system issues.
Unlike Reset this PC, you need to use Windows Media Creation Tool to create a bootable USB drive and boot your PC from that USB to perform a Windows 11 clean install. You can go to Microsoft's software download page to get Windows 11 Media Creation Tool. But since Windows 11 hasn't been released officially, this tool is not available now.
At present, users are running the Windows 11 Insider preview build. Microsoft has released the Windows 11 preview build ISO file to Insiders in the Dev and Beta Channels. If your Windows 11 has issues and you want to clean install Windows 11, you can download this ISO file, burn it to a USB drive, and clean install Windows 11 from the USB drive.
Bottom Line
How to repair Windows 11? This post shows you 10 commonly-used methods. You can select one or more according to your situation to fix the issues you are facing.
Should you have other issues or suggestions, you can let us know in the comments. You can also contact us via [email protected].