Nevertheless, things become more complicated and terrible when you find a computer keeps shutting down over and over again. There must be some serious problems on the PC, thus people would be wondering:
Why does my computer turn off by itself?
How do I stop my computer from shutting down automatically?
How to fix when the computer turns on and off repeatedly?
All those questions will be answered one by one in the following content.
Top 5 Reasons for Computer Keeps Shutting Down
Most of you might be bothered by a problem: your computer shuts down randomly without any warning. Why does this problem happen? Here are the five most possible reasons.
#1. Power Supply Issue
A faulty power supply, battery, or charger could make your computer not work properly and even turn off. Besides, you'll discover that the computer keeps turning off if the charger voltage is insufficient.
#2. Overheating
Most computers on the current market are designed to turn off without giving a sign when the inner components overheat. Though there are heat sinks and fans used to help cool the CPU (Central Processing Unit), it still overheats sometimes, leading to unexpected shutdown of the computer/laptop.
Tip: The dust, dirt, food remnants, hair, or other stuff could be the reason causing overheating since they interfere with effective heat dissipation and block up proper airflow. Therefore, please remember to keep your computer clean.
#3. Hardware Failure
Another common reason to explain why a computer shuts off randomly is hardware failure. You may find the PC randomly turns off when any of the hardware components is failed suddenly. In this case, you should check for hardware errors.
Two ways to check for hardware-related errors:
Remove the non-essential hardware (one for each time) while the PC is turned off > restart the PC to diagnose.
Open Device Manager > look for if there's any special mark indicating the error.
Once you find the component which is failed, please replace it with a new one that can be compatible with your computer.
#4. Virus & Malware
Computer virus/malware is another common factor that should be blamed for when your computer turns on and off randomly. Viruses, malware, Trojan horses, and worms are designed to attack people's devices including computers. Some of them are programmed to shut down your system upon certain conditions once your computer gets infected.
You should suspect that your computer is attacked by viruses or malware if it shuts down when you execute a certain program/tool at specific times. On this occasion, you should go to clear the virus immediately by using a powerful anti-virus program.
#5. Operating System Errors
A lot of operating system errors can lead to the computer randomly shutting off. Some serious problems can even cause your computer to fail to turn on again (such as operating system not found). In this part, some of the common errors will be listed.
Error 1: Fast Startup
The Fast Startup feature was designed to shorten the booting time of the computer after a shutdown. Your user account will be logged off and the applications will be closed as usual when the Fast Startup feature is enabled. The feature helps to save the current system state in the hibernation file so that the system doesn't need to load the kernel, system files, and drivers again. That's how the booting time is reduced.
However, it may lead to an unstable system – your computer turns off by itself is one phenomenon. Under such circumstances, you should try to disable this feature.
Error 2: Device Drivers Issue
If any of the device drivers are incompatible, outdated, damaged, or missing, you'll also find that the computer turns off without warning. This root reason is a driver crash. You need to identify the problematic driver and troubleshoot it.
Error 3: Operating System Installation Corrupt
If the operating system of your computer has problems, you can find the computer keeps shutting down occasionally. To check whether the operating system installation is corrupted or damaged, you can restart the computer and enter the BIOS setup, and then lay the computer aside.
If the computer doesn't shut down, it indicates that your operating system installation is corrupted or damaged.
If it still turns off, you should suspect the hardware failure.
Error 4: Malfunctioning Sleep Mode
The sleep mode refers to a power-saving state on the device. When it's enabled on a computer, all the actions will be stopped and all the opening files, programs, and apps will be put in memory, so that it will access the low-power state. You can wake up a computer from sleep mode within just a few seconds.
However, if the sleep mode doesn't work properly, it will lead to random shutdowns. You can try to fix this problem by disabling the sleep mode.
Error 5: Outdated BIOS
If you find the computer turns on and off and this phenomenon keeps happening, the cause could be your BIOS – it may be outdated (damaged or corrupted). Therefore, you should ask for professional assistance to help you update the BIOS.
How to Fix When Computer Randomly Turns Off
After figuring out what are the possible causes for your computer shutting down randomly, you can take measures to fix the problem.
Bonus Tip: Rescue Your Data with MiniTool Power Data Recovery
Your first reaction after finding the computer shuts off randomly must be trying to turn on the computer again. It works most of the time. However, some people discover that part of their data gets lost after the unexpected shutdown. Thus, before fixing the error, you are suggested to recover data first.
How to choose a reliable file recovery software from numerous data recovery software? I highly recommend MiniTool Power Data Recovery. This software has millions of users around the world and enjoys a good reputation among its users.
MiniTool Power Data Recovery is friendly to both novices and veterans with its clear instructions and powerful functions. It can recover many types of files from various data storage devices, including internal and external hard drives, SD cards, USB flash drives, etc.
You don't need to worry about any secondary damage to your data, because MiniTool Power Data Recovery is compatible with all Windows systems and provides a secure data recovery service. You can try this software with its free edition first.
MiniTool Power Data Recovery FreeClick to Download100%Clean & Safe
Step 1: Download and install MiniTool Power Data Recovery.
Step 2: Connect with a USB flash drive or other removable data storage devices, then launch the software. You're advised to recover your important files to other drives so as to avoid secondary loss.
Step 3: Choose the partition that contains the lost data, and click on the Scan button. If you want to check all the files on your computer, you can choose the Devices tab to scan the whole disk.
Step 4: Files will be listed during the scan process. Please wait patiently until the process is completed. Then, you can look through the file list to find your desired ones. At this time, I suggest you use the provided features.
Filter: set filter criteria, like file size, file type, file category, and date modified, to narrow down the file list.
Type: sort files according to their types, such as photos, audio, videos, archives, etc.
Search: find a certain file by inputting its full or part of the name in the search box.
Preview: verify whether the chosen file is correct. This function supports previewing types of files, including pictures, documents, videos, and audio. But please note that the video and audio size to support preview should be smaller than 2GB in size.
Step 5: Choose all the files you need to recover and click on the Save button.
Step 6: Choose an appropriate path to save these files and click OK to confirm. If you connect a removable device, you can choose that device as the storage destination.
Tip 1: Check Hardware Status
You should first check the power connection, ventilation, fan, temperature, and other hardware components to make sure they are working well and clean.
Tip 2: Turn off Fast Startup
Fast Startup can boot your computer faster by saving the operating system state to a hibernation file. But sometimes, the fast startup mode may cause computer errors, including random shutdown.
Step 1: Press Win + S and type Control Panel into the search box.
Step 2: Hit Enter to open the window.
Step 3: Select Large icons from the menu of View by.
Step 4: Select Power Options from the list and click Choose what the power button does from the left side of the Power Options window.
Step 5: Click on Change settings that are currently unavailable.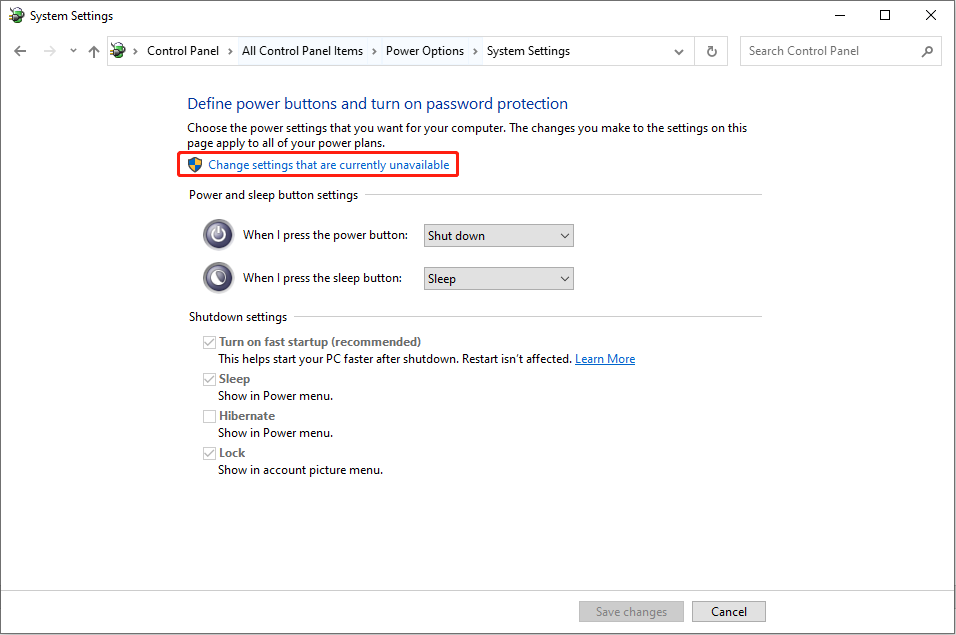 Step 6: Uncheck Turn on fast startup (recommended) and click on Save changes.
Tip 3: Turn off Sleep Mode
Your computer might turn into Sleep Mode when you are not using it. This mode can save power but it sometimes shut down your computer instead of going to sleep. You can turn off the Sleep Mode to see whether your computer keeps shutting down could be fixed.
Step 1: Press Win + I to open the Settings window.
Step 2: Select System and shift to the Power & sleep tab on the left sidebar.
Step 3: Choose Never in both the Screen and Sleep sections.
Tip 4: Update Drivers
Outdated drivers on your computer might be responsible for your computer shutdown. You can check and update the drivers in Device Manager to fix this problem.
Step 1: Press Win + X and choose Device Manager from the WinX menu.
Step 2: Right-click on each device and choose Update driver.
Step 3: Choose Search automatically for drivers. Your computer will find the latest version for your device and update it automatically.
If you have a corrupted driver, you need to choose Uninstall device instead of Update driver from the same menu. Your computer will install the drive after restarting.
Tip 5: Use System Restore Points
If you have created a system restore point before your PC keeps shutting down, you can restore your system to the previous version to troubleshoot this error.
Step 1: Press Win + S and type Control Panel into the search box.
Step 2: Hit Enter to open the window.
Step 3: Choose Recovery > Configuration System Restore.
Step 4: Click on the System Restore button in the System Protection tab.
Step 5: Follow the wizard to revert Windows to an earlier system restore point.
Tip 6: Perform SFC and DISM
System File Checker (SFC) is used to scan and fix corrupted or missing system files. You can also use the DISM command to repair the corrupted files on your computer.
Step 1: Press Win + R to open the Run window.
Step 2: Type cmd into the box and press Shift + Ctrl + Enter to run Command Prompt as administrator.
Step 3: Type sfc /scannow and hit Enter.
Step 4: Type DISM /online /cleanup-image /restorehealth and hit Enter.
Wait for the process to complete, then you can restart to check if your computer turns on and off randomly.
Tip 7: Reset Computer
Resetting your computer to the factory settings can resolve most computer problems. This method will erase your current settings and downloaded software. You can also choose to keep or remove your personal files. But for data security, I recommend you recover your files to an external device if you decide to use this method.
MiniTool Power Data Recovery FreeClick to Download100%Clean & Safe
Step 1: Press Windows + I to open Settings.
Step 2: Select Update & Security and shift to the Recovery option in the left pane.
Step 3: Click on the Get started button under Reset this PC in the right pane.
Step 4: Choose Keep my files or Remove everything based on your needs.
Step 5: Click on Next, then choose Reset to start resetting your PC.
Tip 8: Update BIOS
If you have tried the above methods but the problem still exists, you can think about the outdated BIOS. However, BIOS is very important for your computer. If you set the wrong settings, your computer may suffer adverse damage. Please be careful or search for help from professional users.
You can read this post to learn detailed information about how to update BIOS on your computer:
Wrap up
When suffering from the problem that a computer keeps shutting down, you can fix it with the methods mentioned above. Please be careful when you are working with these steps. If you find your data get lost during the fixing process, do not hesitate to recover them with MiniTool Power Data Recovery.
MiniTool Power Data Recovery FreeClick to Download100%Clean & Safe
If you have any problems with MiniTool software, please send us emails via [email protected].