If you want to recover deleted large video files on a Windows computer, do you know how to make it? If the video files have been permanently deleted, you can use a professional data restore tool to get them back. MiniTool Software will show you a guide in this blog.
The Video File Is Too Big to Recycle
Usually, a video file especially a movie file is larger than other types of files. The video files are taking up much space on your computer hard drive or SSD. One day, your hard drive is almost full and you choose to delete some unnecessary video files to release more space for new data. If the video file is too big, you will receive a prompt saying:
This file is too big to recycle
Do you want to permanently delete it?
What does this mean?
This means that the size of the video file you want to delete exceeds the customized maximum size you have set for the file to be recycled to Recycle Bin.
If you insist on deleting the video file, you can click the Yes button to permanently delete it. If you do this, it means you are not allowed to restore that deleted video file from Recycle Bin later.
Well then, how to recover deleted large video files if they have been permanently removed from your computer? Is it possible to do this?
Of course, YES. You can use the best free data recovery software to recover large video files.
MiniTool Power Data Recovery FreeClick to Download100%Clean & Safe
How to Recover Deleted Large Video Files?
As for large video file recovery, we should mention MiniTool Power Data Recovery. This is a data recovery tool that is specially designed to recover data from all kinds of files from different types of data storage devices. For example, it can recover files from SSD, external hard drive, internal hard drive, SD card, and more.
If the deleted video files are not overwritten by new data, you can use this secure data recovery service to rescue them. No matter how big the deleted video is, this software can work to recover it.
With the free edition of this MiniTool data recovery software, you can scan your drive for lost and deleted files, and recover 1 GB of files for free. So, you can first try this freeware and see if it can help you recover large video files.
MiniTool Power Data Recovery FreeClick to Download100%Clean & Safe
Here is how to recover large videos using MiniTool Power Data Recovery:
Step 1: Download and install this data recovery software on your Windows PC.
Step 2: Open the software to enter its main interface.
Step 3: Click the gear icon from the left menu to open the Scan Settings interface. Then, select the video types you want to recover. After that, click the OK button to save the settings.
Step 4: Hover over the target drive and click the Scan button to scan that drive.
This software will take some minutes to finish the whole scan process. You should wait patiently until the scanning ends to get the best data recovery effect.
Step 5: After scanning, you will see the scan results. By default, the scanned files are listed by path. You can open each path to find your needed large video files that you want to recover.
If there are so many video files, you can click the Filter button to filter the video files by date modified, by file size, and by file category.
If you still know the name of the video file you want to restore, you can click the search box, input the video name, and press Enter to directly locate the video.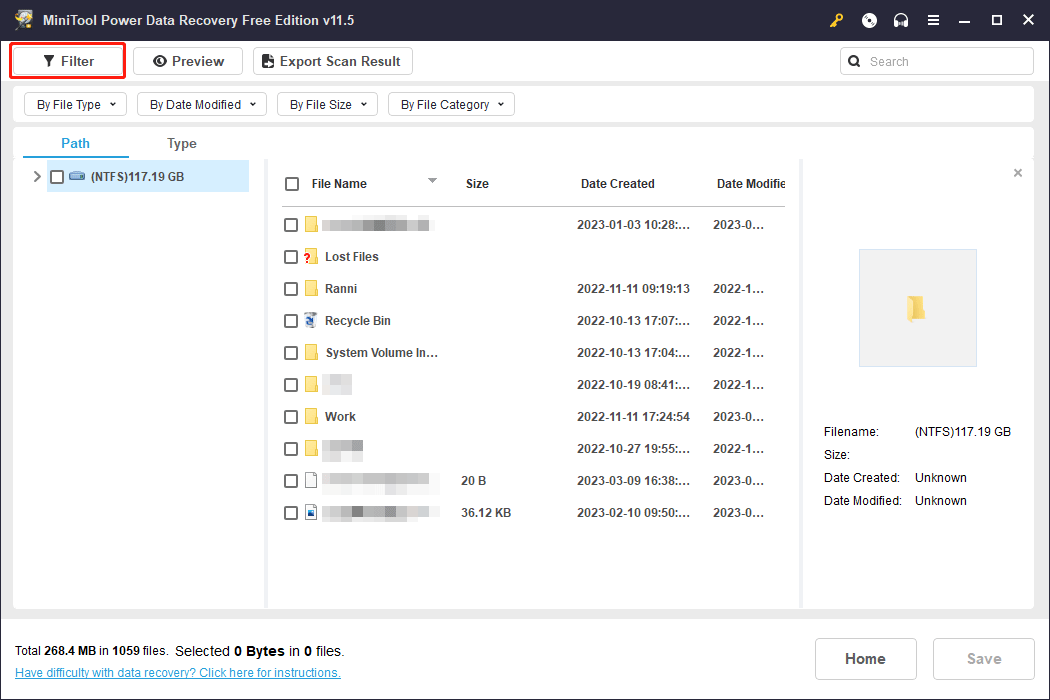 Step 6: Tick the video files you want to recover and click the Save button. Then, you will see a pop-up interface, on which you can choose a location to save the selected video files. Since these are some large videos, you should make sure the location you select has enough space to save the deleted files. In addition, the destination location you select should not be the original location of the selected videos. This can prevent the deleted videos from being overwritten.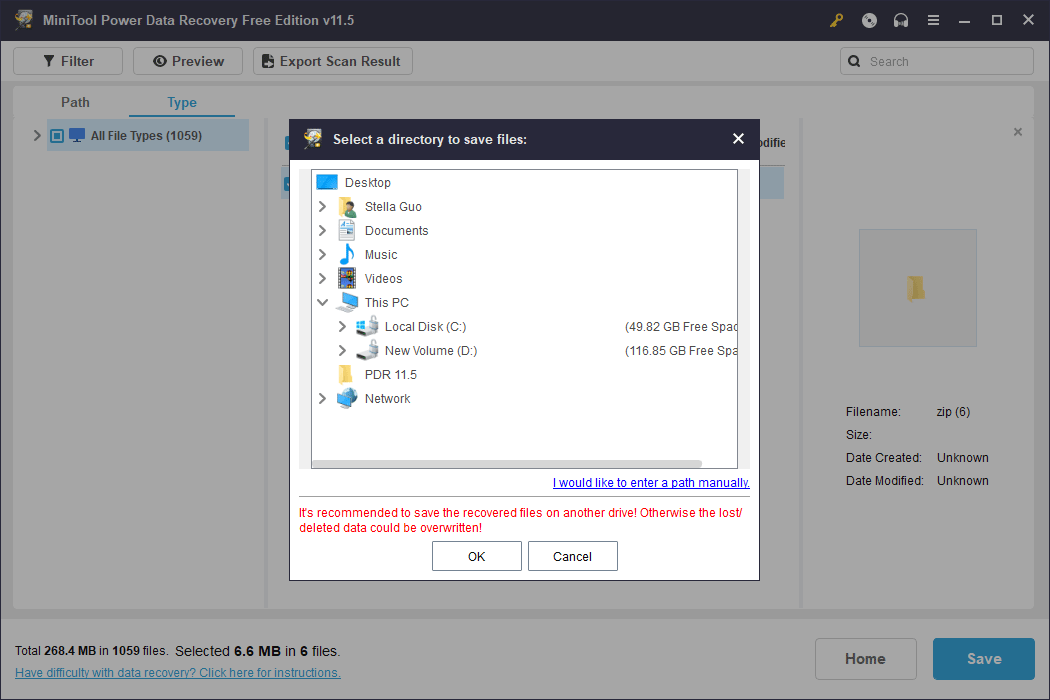 If the video files you want to recover are larger than 1 GB, this software will not allow you to save them because the total size exceeds the free limitation. But you can use a full edition to recover large video files without limits. You can go to MiniTool's Store to select a suitable edition according to your situation.
Alternative Ways to Recover Large Video Files
Way 1: Restore from Recycle Bin
If the large video files have not been permanently deleted, you will be able to find them in Recycle Bin and directly restore them to their original location.
You can open Recycle Bin and check if your needed videos stay there. If yes, you can select them at once, right-click them, and click Restore. These operations will make the selected video files go back to their original location(s).
Way 2: Restore from Backup
If you have backed up your large video files before, the thing will be easier. You can choose to restore them from your previous backup file. You can use the video restore methods based on which backup tool or method you have used.
Tip: Back up Your Important Videos
If the videos on your computer are important to you, you'd better back up your files to an external hard drive. You can use MiniTool ShadowMaker to back up your videos. This is a special Windows backup software. You can use it to back up files, folders, partitions, disks, and systems.
This software has a trial edition. You can use it to enjoy all features for free within 30 days.
MiniTool ShadowMaker TrialClick to Download100%Clean & Safe
Bottom Line
Want to recover large deleted video files on Windows? Why not just try the ways introduced here? MiniTool Power Data Recovery is highly recommended. You can even use this software to perform Samsung data recovery software, Seagate data recovery, SD card data recovery, RAID data recovery, etc.
Should you have other good suggestions, you can contact us via [email protected].