Quickly Recover Photos from Formatted Memory Card
Is It Possible to Recover Photos from Formatted Memory Card?
A memory card is an electronic data storage device that can be used to save various kinds of digital files, including photos, videos, documents, and more. Memory cards are commonly used in portable electronic devices like digital cameras, mobile phones, laptop, etc.
After a long period of use, the free space of the memory card will be less and less. Then, users may choose to format the drive and then they can use it as a new one.
The common operation is to back up files on the drive in advance and then format the drive. However, some users format it directly without backing files up. It will be big trouble if the memory card is specially used for photography.
When photos in the memory card are formatted by mistake, users will ask: Can photos be recovered from a formatted memory card? If yes, how can I recover formatted photos from memory card?
As a matter of fact, if users don't choose to full format the memory card in Windows, the formatted photos are still recoverable as long as they are not overwritten by new data. Here is one thing users should pay attention to: stop using the memory card as soon as possible if users need to recover photos from formatted memory card.
Then, to recover photos from formatted memory card, users need to select a piece of reliable photo recovery software. MiniTool Photo Recovery is a good choice because it is specially designed to recover photos, videos, and audios from various kinds of data storage devices, and the memory card is included.
In the following content, we will show users how to use this software to restore photos from formatted memory card in Windows 10. For users who are running Windows 7, Windows 8, Windows 8.1, this software is also available.
How to Recover Photos from Formatted Memory Card with MiniTool
With the free edition of MiniTool Photo Recovery, users can recover up to 200MB photos without paying any cent. Now, press the following button to get this free software.
After downloading and installing this software to the computer, users can follow these steps to retrieve photos from the formatted memory card.
1. Insert the memory card into the card reader and connect the reader to the computer.
2. Open the software and click the Start button to continue.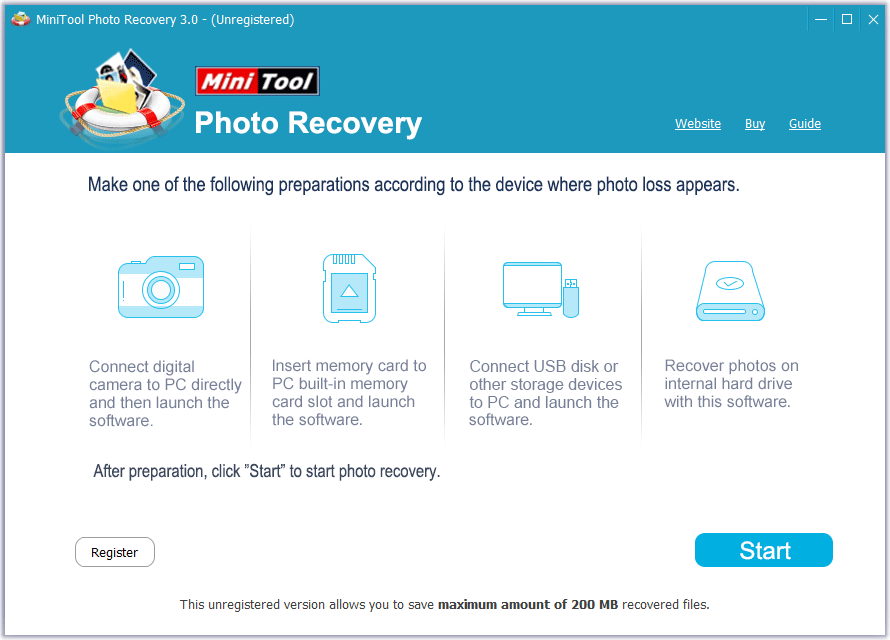 3. All the drives this software will be shown here. If users can't find the target memory card, they can press the Refresh button to let the software recognize it. Then, users should choose the target memory card and press Scan to continue.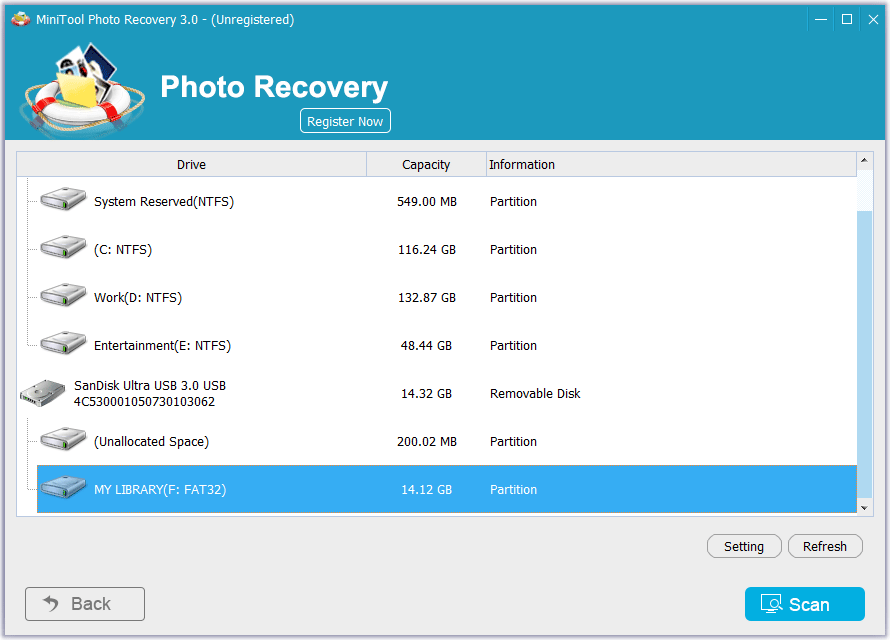 4. When the scanning ends, users can see the scan results. They need to choose one data type from the left list to view the detailed items. Then, they can repeat this step to find all the needed photos.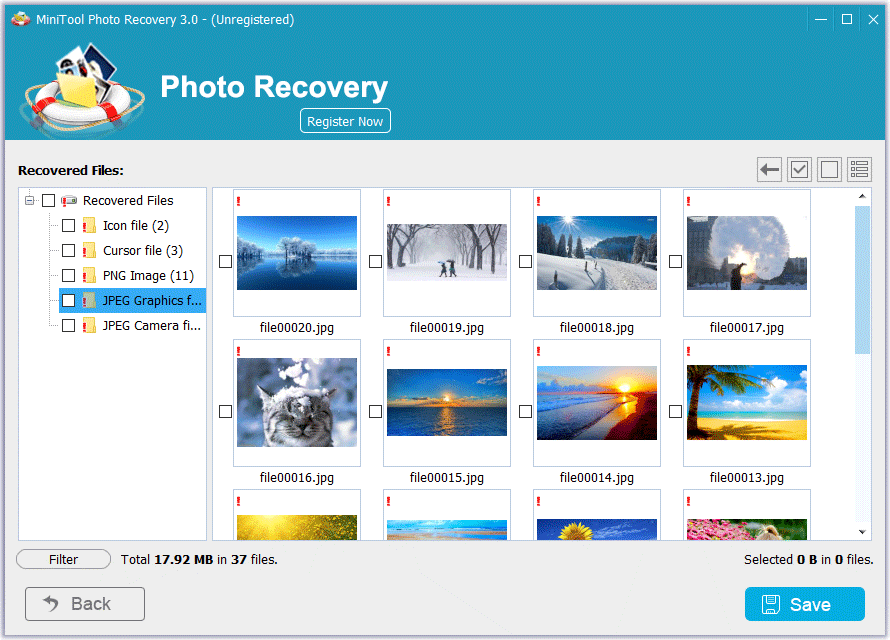 If users want to recover more than 200MB photos with this software, they need to update this software to a full edition.