If you install Windows 11 on your PC but it is not activated, how can you activate this new operating system? Take it easy and MiniTool will show you how to activate Windows 11 Pro or other editions. Also, how to check if Windows 11 is activated will be introduced.
Windows 11 Isn't Activated
If you perform Windows 11 compatibility check and find your PC can run Windows 11, you may choose to install Windows 11. After finishing the Windows setup, you may get a message on the desktop screen "Activate Windows. Go to Settings to activate Windows".
This watermark is annoying. Besides, you cannot change the personalization settings, for example, set the desktop background, set PC colors, customize the lock screen, taskbar, start, and more.
The urgent thing you should do is to activate Windows 11. Well then, how can you activate Windows 11 Pro or other editions? Follow the methods below now.
How to Activate Windows 11
Use Windows 10/11 Product Key
If you have a Windows 10 product key and upgrade Windows 10 to Windows 11 via Windows Update while keeping all of your programs & files, you don't need to activate Windows 11 separately. During the installation of Windows 11, the system will be activated automatically.
If you install Windows 11 and find it is not activated, you can activate the operating system manually with a Windows 11 activation code.
Launch the Settings app and navigate to the System You can see a message from the right section saying "Windows isn't activated". Just click the Activate now button to continue.
Under the Change product key section and click Change.
Enter your Windows 10/11 activation code and click Next. Then, Windows will begin the activation task.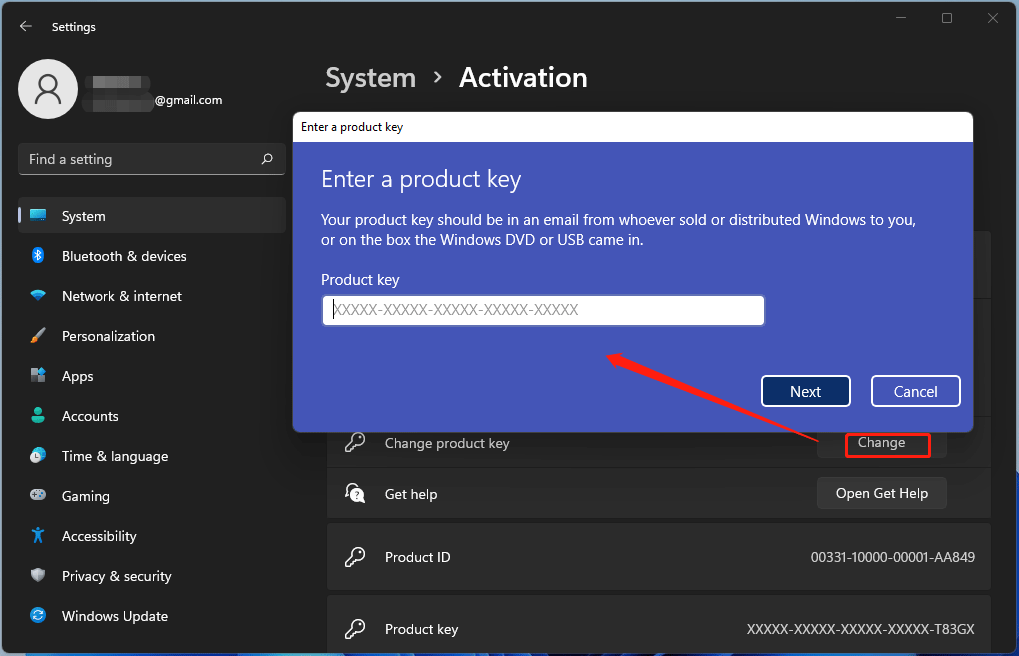 If you don't have a product key for Windows 10/11, you can move to the next ways to activate Windows 11 free.
Activate Windows 11 CMD (with KMS)
Tip: 
This way is legal since KMS keys are offered by Microsoft on its website. Go to know much information on
KMS client setup keys
.
The following are the steps on how to activate Windows 11 with KMS in Command Prompt (CMD).
1. Launch Command Prompt as an administrator in Windows 11.
2. Install a license key: type the command slmgr /ipk kmsclientkey and press Enter. The KMS client key is the activation key that corresponds to your system and just choose a proper Windows edition. You can search for it online.
For example, to activate Windows 11 Pro, use the command slmgr /ipk W269N-WFGWX-YVC9B-4J6C9-T83GX. Then, you get a message "Installed product key successfully".
3. You need to set a KMS server by using the command slmgr /skms yourserver. The server can be kms.msguides.com, kms8.msguides.com, etc.
4. Type slmgr /ato and press Enter to activate Windows 11.
Create a Windows 11 Activator Txt
There is another way to activate Windows 11 and it is to use a batch file. The steps are below:
1. Firstly, turn off Windows Defender.
2. Right-click the Desktop and create a new text document.
3. Navigate to this link and copy & paste the code to this document.
4. Go to File > Save As, then name the Windows 11 activator txt as Windows11activation.bat and save this .bat file on Desktop.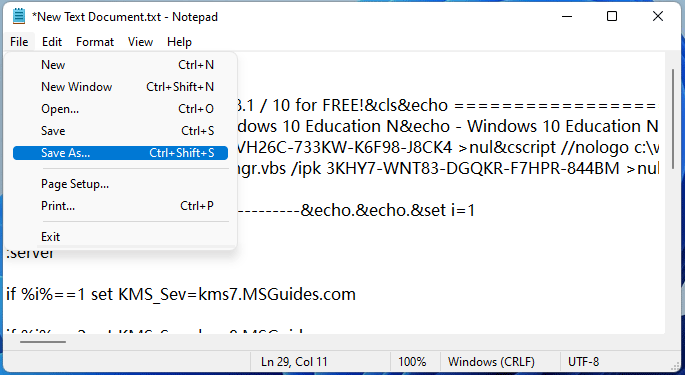 5. Right-click the file and choose Run as administrator.
6. The activation process is starting. After a while, Windows 11 is activated successfully.
Tip: In addition to these ways, you can use a third-party Windows 11 activator, for example, Digital License Activator, KMSPico, etc. Just search for one on the Internet if you need one.
After trying one way, if you don't make sure if your Windows 11 is activated, you can check your PC.
How to Check If Windows 11 Is Activated?
Two ways to check Windows 11 activation status:
Go to Settings > System > Activation > Activation state.
Or you can run Command Prompt as administrator, type slmgr /xpr, and press Enter.
Final Words
This post shows you how to activate Windows 11 without product key (Windows 11 activation txt) or with an activation code or KMS. Just choose one way to get an activated Windows so that you can personalize the PC.