COM Surrogate is a basic Windows 10/11 process, so any problems with it must cause some issues for Windows users. COM surrogate high CPU usage is a typical issue of it but you can find it easy to fix in this article on MiniTool Website.
COM Surrogate High CPU Usage Windows 11/10
COM Surrogate is a process in Windows Task Manager which helps to run software intensions that other programs need to run. Although it seems that this process is very handy, COM Surrogate itself might also crash sometimes. COM Surrogate high CPU or disk usage is one of the common issues. In this article, we'll mainly focus on looking for COM Surrogate high CPU usage fixes.
How to Fix COM Surrogate High CPU or Disk Usage Windows 10/11?
Fix 1: Execute the SFC Scanning
SFC is a very useful inbuilt Windows utility which is dedicated to scanning corrupted system files and replacing them with an integrated copy of the file. To do so:
Step 1. Type cmd in the search box to locate Command Prompt and right-click on it to choose Run as administrator.
Step 2. In the black window, type sfc /scannow and hit Enter. Now, the system will verify the integrity of every operating system file on your PC so you just need to wait patiently.
Fix 2: Run DISM
To solve COM surrogate high CPU, running Deployment Image Servicing and Management is also a viable fix.
Step 1. Open Command Prompt and run it as administrator.
Step 2. Copy & paste the following command and tap on Enter.
DISM.exe /Online /Cleanup-image /Restorehealth
Step 3. After the whole process is done, reboot your PC.
Fix 3: Perform a Clean Boot
When you meet COM Surrogate high CPU usage during your PC startup, consider performing a clean boot. This can troubleshoot some advanced Windows problems.
Step 1. Press Win + R to open the Run dialogue.
Step 2. Type msconfig and hit Enter to open System Configuration.
Step 3. In the General tab, choose Selective startup and untick Load startup items.
Step 4. In the Services tab, tick Hide all Microsoft services and click on Disable all, Apply & OK.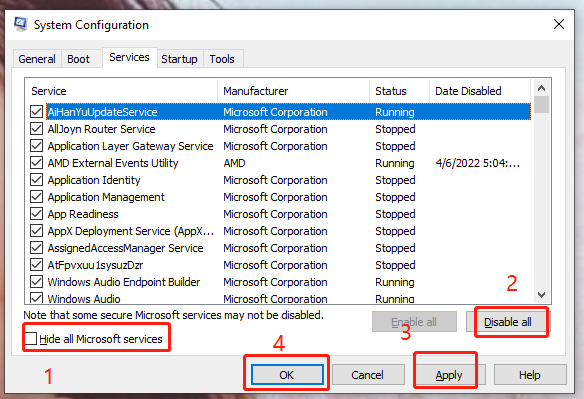 Step 5. Right-click the taskbar to choose to open Task Manager.  
Step 6. In the Startup section, right-click each enabled startup item and choose Disable & OK.
Step 7. Reboot your computer to see if COM Surrogate high CPU disappears.
Fix 4: Scan with Antivirus Software
If your computer is attacked by a virus, COM Surrogate high CPU usage Windows 10 may also occur. To avoid any misfortunate events like this, you need to scan with your Antivirus software. Here, we just take Windows Defender as an example.
Step 1. Press Win + I to open Windows Settings.
Step 2. Scroll down to choose Update & Security.
Step 3. In Windows Update, click Virus & threat protection > Manage Settings.
Step 4. Switch on Real-time protection.