When the computer is performing a task that cannot be interrupted but you have to leave for a while, you may let the computer enter sleep mode to keep its working status. However, if the computer restarts after sleep mode problem happens on your computer, it should be a frustrating experience.  
You can check whether the problem is caused by the corrupted/outdated graphics drive or misconfigured Windows settings. The following content will show you how to fix this problem.
Fix 1: Update the Graphics Driver
Step 1: Right-click on the Windows icon and choose Device Manager from the context menu.
Step 2: Expand the Display adapters option.
Step 3: Right-click on the graphics driver and choose Update driver.
Step 4: Select Search automatically for drivers in the prompt window.
The computer will install the proper driver on your computer automatically.
Fix 2: Fix Corrupted System Files
A sudden shutdown and restart might be triggered by the corrupted system files. You can run this command to repair problematic system files.
Step 1: Press Win + R to open the Run window.
Step 2: Type cmd into the text box and press Shift + Ctrl + Enter to run Command Prompt as administrator.
Step 3: Type sfc /scannowand hit Enter to execute this command line.

The SFC command will find and repair the corrupted and missing system files. You can examine whether your computer restarts when entered sleep mode problem is solved.
Fix 3: Turn Off Automatic Restart
Misconfiguration of Windows settings might be another cause of this problem. You can modify the System Properties settings to disable the Automatically Restart choice.
Step 1: Type View advanced system settings in Windows search settings and press Enter to open the System Properties window.
Step 2: Change to the Advanced tab and click Settings under the Startup and Recovery section.
Step 3: Uncheck Automatically restart if you have enabled it, then click OK to save the change.
Step 4: Return to the System Properties window, and click Apply to confirm the change.
Fix 4: Change Power Options
You can configure Power Plan and Power Options to manage how the computer uses power.
Step 1: Type Control Panel into the search bar and hit Enter to open it.
Step 2: Choose Power Options when you choose Large icons of the View by menu.
Step 3: Click on Change plan settings of your current preferred plans.
Step 4: Select Change advanced power settings to open the Advanced settings of Power Options.
Step 5: Scroll down to find and expand Processor power management > Minimum processor state. You can change the value to 5%.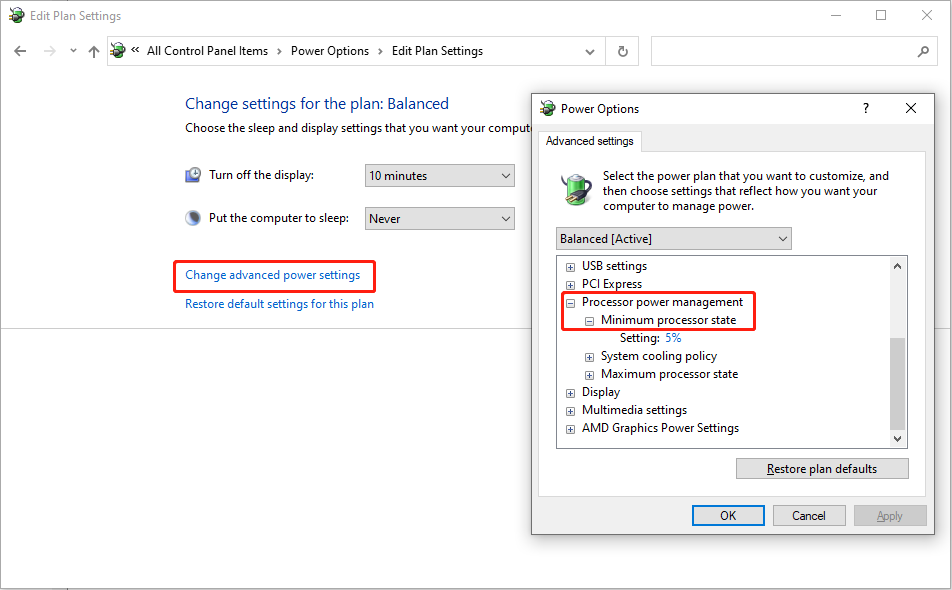 Step 6: Click Apply > OK in sequence to apply the change.
Fix 5: Turn Off Fast Startup
The last method is to turn off fast startup on your computer. A fast startup can boot your computer in a short time since it keeps the process and recently used data instead of reloading. But a fast startup might cause an accidental shutdown or unexpected restart problem as well. You can disable the fast startup to see if it helps to resolve the computer restarts when going to sleep problem.
Step 1: Press Win + S and type Control Panel into the text box.
Step 2: Double-click on the best-matched result to open it.
Step 3: Choose System and Security > Power Options > Change what the power buttons do.
Step 4: Click on Change settings that are currently unavailable to set the Shutdown settings.
Step 5: Uncheck Turn on fast startup (recommended), then click Save changes confirm.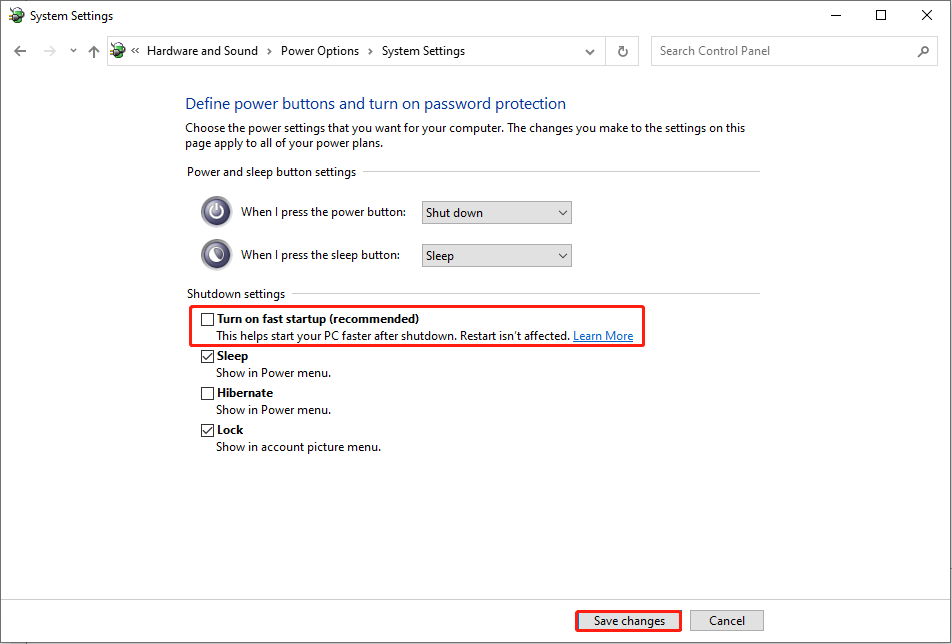 Bonus Tip: Recover Lost Files After Computer Restarting
Accidental shutdown of your computer might cause unsaved data loss. Don't worry, you can recover them safely. But once you find files lost, do not write any new data on your computer which might cause data overwriting.
MiniTool Power Data Recovery is a professional file recovery software. It is capable of handling various data loss situations, like mistaken deletion, unexpected shutdown, accidental format, drives corrupted, and more. Additionally, this software supports you to restore types of files, including photos, documents, videos, audio, etc.
You can try MiniTool Power Data Recovery Free to recover 1GB of files without spending any penny.
MiniTool Power Data Recovery FreeClick to Download100%Clean & Safe
Bottom Line
The computer restarts after sleep mode problem is not a big deal but it is really annoying and decreases working efficiency. You can try the above methods to try to fix the problem and use MiniTool Power Data Recovery if there is any data lost after restarting.