What do you like to do in your spare time? Will you choose to play games? Elden Ring is the most popular game in recent days while Elden Ring high CPU usage annoyed quite a few people. To fix it, we work really hard to find some solutions for you. Hope that the solutions from MiniTool Website will help you out.
Elden Ring High CPU/Memory Usage
Recently, a lot of Elden Ring players complain that they were interrupted by some issues such as Elden Ring connection error, not using GPU, black screen, high CPU usage and so on. Today, we will aim at how to fix Elden Ring high CPU usage and Elden Ring low GPU usage on Windows 10/11 and you will solve this issue in just a few clicks.  
How to Fix Elden Ring High CPU/Memory Usage Windows 10/11?
Fix 1: Set Display Settings to High Performance
You can customize graphical performance settings on Elden Ring and configure it for better performance.
Step 1. Right-click on the empty screen and choose Display settings in the drop-down menu.
Step 2. In the Display tab, click on Graphics settings.
Step 3. For Classic/Desktop apps, you need to hit Browse to view the executable file of Elden Ring and choose it.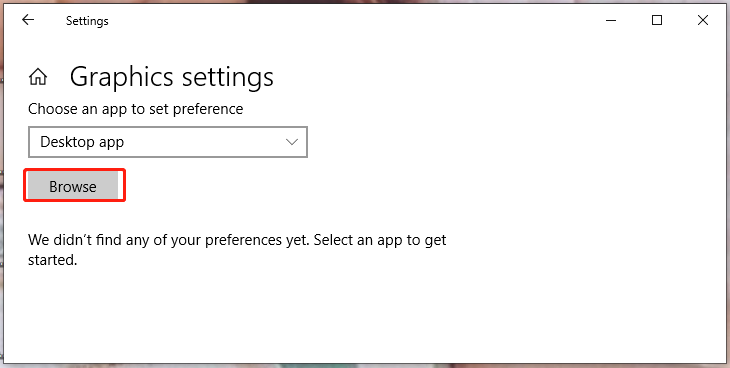 Step 4. Click it and choose Options.
Step 5. In the popping-up window, tick High performance and press Save.
Step 6. Launch the game again to see if high CPU usage Elden Ring disappears.
Fix 2: Change Graphics Processor from Nvidia
The second solution to lower Elden Ring CPU usage is to change your graphics processors from Nvidia.
Step 1. Open Nvidia Control Panel.
Step 2. Go to 3D Settings and then go to Manage 3D Settings.
Step 3. Open Program Settings and choose Elden Ring from the drop-down menu.
Step 4. Expand Preferred Graphics Processor and select High-performance NVIDIA processor.
Fix 3: Disable Integrated GPU
Disable your integrated GPU is also helpful to Elden Ring high CPU usage.
Step 1. Right-click on the Windows icon and choose Device Manager in the drop-down menu.
Step 2. In the new window, expand Display adapters and you will see your graphics card.
Step 3. Do a right-click on the integrated graphics card and select Disable device from the menu.
Step 4. There will be a warning which informs you that this action will stop the corresponding functions. Click on Yes to confirm this action.
Step 5. Follow the instructions on the screen to disable your integrated GPU.
Fix 4: Reset the Power Option
Once the minimal power state of your computer is too high, it may trigger overheating and Elden Ring high memory usage. To avoid keeping the CPU working at max all the time, you should edit your power settings.
Step 1. Type edit power plan in the search bar and hit Enter.
Step 2. Press Change advanced power settings.
Step 3. Double-click on Processor power management and then expand Minimum processor state.
Step 4. Set Settings (%) to about 20% or less and then hit Apply & OK to save this change.
Fix 5: Stop Overclocking  
Although overclocking can increase your game performance, it will lead to more power consumption and more heat. In the long run, it will shorten the lifespan of your CPU and the warranty will be void. Therefore, it is highly recommended to stop overclocking.
Don't miss:
# [Graphical Guide] Fix: Elden Ring Inappropriate Activity Detected
# Top 5 Solutions to Elden Ring Easy Anti Cheat Launch Error
# How to Fix Elden Ring Error Code 30005 Windows 10/11?
# What to Do If Elden Ring Not Responding on Launch Steam/Xbox/PC