You may get the message – SSL connection error or this site can't provide a secure connection along with the code ERR_SSL_PROTOCOL_ERROR when accessing a website on Google Chrome. How can you fix SSL errors in Windows 10? MiniTool Solution gives you some methods to easily get rid of the trouble.
ERR_SSL_PROTOCOL_ERROR Chrome
When using a browser to visit websites, you sometimes encounter some connection errors, for example, ERR_NAME_NOT_RESOLVED on Google Chrome, ERR_TUNNEL_CONNECTION_FAILED, etc.
In addition, you can encounter the error code – ERR_SSL_PROTOCOL_ERROR that usually happens on Chrome, Opera, Firefox, etc. in Windows 10. This error is the topic that we will discuss today. The error is also known as SSL connection error or this site can't provide a secure connection.
ERR_SSL_PROTOCOL_ERROR is one of the security errors. To put it simply, when you try to access a potentially dangerous website, Google Chrome or another browser stops the connection
The page you are trying to open may be affected or compromised. The error indicates that there are problems with the SSL certificate of the website.
The reasons behind it could be various, such as incorrect system date, issues with SSL state, firewall or antivirus blocking network access, etc. Well then, what should you do to fix the SSL protocol error?
Refreshing the website doesn't help you to access the desired website but you can follow these methods below to resolve your issue.
How to Fix SSL Error in Windows 10?
Check the Date or Time of Your System
The wrong date and time may interrupt with the website that you try to visit and cause Chrome ERR_SSL_PROTOCOL_ERROR. Thus, you should make sure they are configured correctly.
Step 1: In Windows 10, go to Settings > Time and Language > Time.
Step 2: Disable the Set time automatically option and click Change.
Step 3: Set the correct date and time.
Clear the Browser Cache and Cookies
According to users, it is useful to fix "this site can't provide a secure connection" by clearing the cache and cookies of the browser like Chrome.
Step 1: Open Google Chrome and press Ctrl + Shift + Delete at the same time.
Step 2: Set the time range to All time, check the boxes of Cookies and other site data and Cached images and files, and then click Clear data.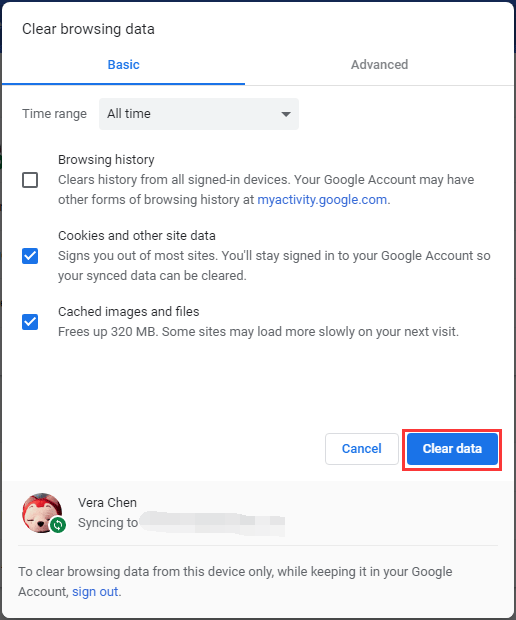 Disable QUIC Protocol on Chrome
To get rid of ERR_SSL_PROTOCOL_ERROR in Windows 10, you can try to disable QUIC protocol on Google Chrome.
Step 1: Copy and paste chrome://flags/#enable-quic to the address bar.
Step 2: You can see Experimental QUIC protocol. Just choose Disabled from the drop-down menu.

Step 3: Restart Chrome and see if your issue is fixed.
Remove System Hosts File
The system hosts file may be the reason for the SSL protocol error on Chrome. To fix your issue, you can remove that file by following these steps.
Step 1: Press Win + R, input C:\Windows\System32\drivers\etc to the Run window and press Enter.
Step 2: Right-click the hosts file and choose Delete.
Clear SSL State
Sometimes the SSL state can lead to the SSL connection error. Thus, you can clear SSL state to fix your issue.
Step 1: Go to Control Panel (viewed by Category) in Windows 10.
Step 2: Click Network and Internet > Network and Sharing Center > Internet Options.
Step 2: Under the Content tab, click Clear SSL State.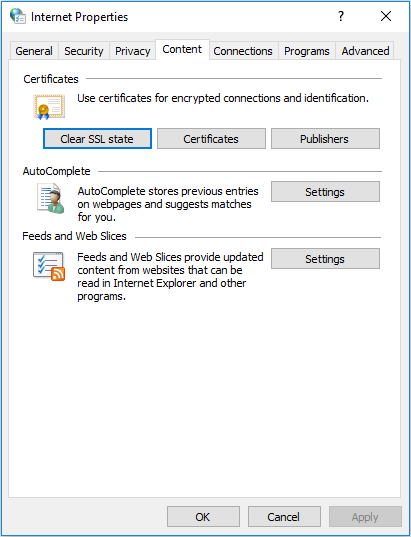 Step 4: Save then change and restart Chrome to see if your issue is fixed.
Disable Extensions
Sometimes, the browser extensions could be the cause behind the SSL error. It is hard to know exactly which one is the culprit, thus, it is better to disable extensions one by one.
Step 1: Type chrome://extensions/ to the address bar.
Step 2: Switch the toggle to off.

Check Firewall Settings
Your firewall may block some websites and cause ERR_SSL_PROTOCOL_ERROR on Chrome. Checking the firewall settings to see if there are blocked websites is helpful.
Tip: In addition to these solutions, you can adjust the Internet Security and Privacy level, make sure you are going to the secure website or enable all SSL/TLS versions. If these methods above don't work, you can try them. If you don't know how to operate, search for the detailed steps online and we won't show you here.
Final Words
Are you bothered by the message – SSL connection error or this site can't provide a secure connection along with the code ERR_SSL_PROTOCOL_ERROR? Now, you can try these solutions mentioned above to easily and effectively get rid of the SSL protocol error.