You can log into your Facebook account to share your thoughts and ideas with others or communicate with your Facebook friends. What to do if Facebook often logged me out randomly? This post provides 6 solutions to fix Facebook keeps logging me out issue. For more computer problems and solutions, you can visit MiniTool Software News library.
Why does Facebook keep logging me out 2023?
If you log into Facebook with your account and password but it randomly logged you out, you may try the 6 solutions below to fix Facebook logged me out suddenly problem.
Why Does Facebook Keep Logging Me Out?
The issue may be caused by various reasons, e.g. improper cookie settings, another person may be trying to log into your Facebook account, Facebook session expired, corrupt or wrong browser caches, malware or virus infection, etc. Based on the possible reasons, you can try the tips below to fix the Facebook logged me out error.
How to Fix Facebook Logged Me Out Randomly Issue 2023
Fix 1. Clear your cache and cookies
Sometimes the cookies and caches in your browser may cause the issue. You can try to clear browser cached data and cookies to see if it can fix the problem
To clear cache and cookies in Chrome, you can click the three-dot icon at the top-right corner in Chrome browser, select More tools -> Clear browsing data, tick Cookies and other site data and Cached images and files options, click Clear data button to clear caches and cookies in your Chrome browser.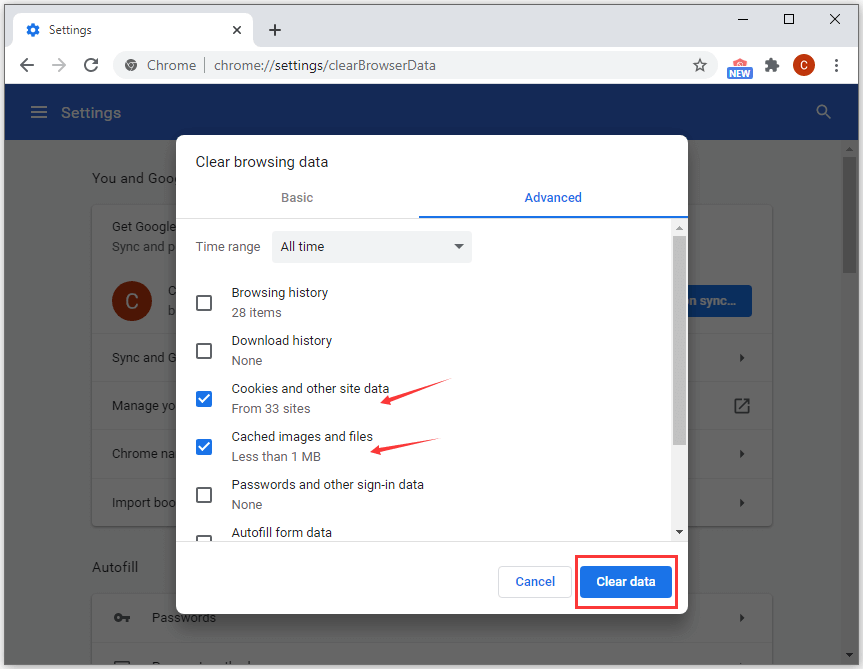 You can also only clear cache for the Facebook website. Check how to clear cache for one site.
Fix 2. Check Remember Me option when logging in
If you don't want Facebook to keep logging you out every time you leave, you can check the Remember Me box when you logging into your Facebook account.
After you clear cookies and caches of your browser and try to log into Facebook again with your account and password, it will ask you if you want to auto-login, you can accept that only if the device is only used by you.
Fix 3. Fix Facebook session expired issue
Facebook uses sessions to identify the Facebook account is within its service or not. When the Facebook session expired, Facebook logged you out. Check how to fix Facebook session expired error.
Tip: Session management is often managed through the application of cookies. Related: Cache vs Cookies vs Session.
Fix 4. Change your Facebook password
Maybe another person is trying to log into your Facebook account on another device and your account may be hacked. You need to change your Facebook account password from time to time to enhance your online security.
To change Facebook password, you can log into your Facebook account, click the down-arrow icon at the top-right corner, click Settings & Privacy and click Settings, click Security and Login, click Edit button next to Change password and enter a new password for your Facebook account.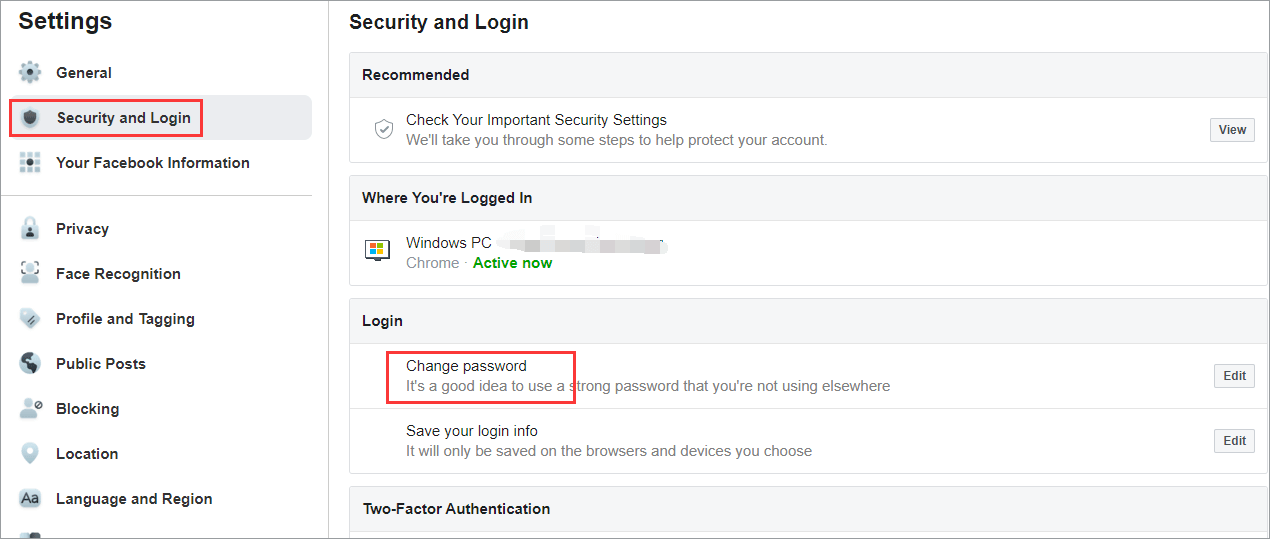 Fix 5. Uninstall and reinstall Facebook app
If the Facebook logged me out randomly problem is caused by Facebook glitches, you can update the Facebook app or reinstall it. Go to Settings on your phone and find Facebook app to uninstall it. Then you can go to app store to download and install Facebook again on your phone.
Fix 6. Report Your Problem to Facebook Support
If Facebook still keeps logging out, you can report the problem to Facebook Help Center to see if they can help you.
Tip: If you can't log into your Facebook account, you can try the solutions to Facebook account recovery.