iTunes is a popular media player for not only Mac users, but also Windows PC users. People like to listen to music, watch movies & TV shows, enjoy Apple podcasts by using iTunes. However, there's a problem that lots of people are in face of: "This movie cannot be played in HD" error shows up while users are trying to play purchased HD movies.
Developed by Apple Inc., iTunes provides the easiest way for users to enjoy their favorite music, movies, TV shows, podcasts, and more. In general, users are able to play their downloaded and purchased movies easily in iTunes. However, problems occur now and then to prevent users from playing the files successfully. For example, some users encounter the movie cannot be played in HD error in iTunes. I'll discuss this iTunes error and offers some useful fixes for it.
Fix: There Was A Problem Downloading The Software For The iPhone.
Use this tool to recover data on Windows:
Error Occurred: Movie Cannot Be Played in HD
A lot of users said they have encountered the same problem - iTunes purchased HD movies won't play. They can play all these HD movies previously in the same system. But now, the error shows up, stopping them from playing movies in iTunes.
Error Message
You'll see the following error message on screen when iTunes purchased HD movies won't play:
This movie cannot be played in HD.
To play this movie in HD, you must have a computer with a built-in display or have it connected to a display that supports HDCP.
You can check the Do not warn me again option and click OK to close the window, but this iTunes error still persists. If you click Learn More, you'll be brought to the Buy movies and TV shows from the Apple TV app page.
How to Fix This Movie Cannot Be Played in HD Error
Please try the following methods when you find your movie cannot be played in HD.
Update & Restart
Some simple tricks to try:
Update your system to the latest version.
Update the iTunes on your device.
Close the Google Play Movies & TV web browser and then re-open it.
Restart your device and try to play the movie (or show) again.
Switch from a DVI port to an HDMI port.
Sign Out & Sign In Again to iTunes
Launch iTunes on your device.
Locate Account in the menu bar at the top.
Click it and select Sign Out.
Then, click on the Account menu again and select Sign In.
Type your account information to complete the sign-in process.
Set Default Resolution to 1080P
Open iTunes like you usually do.
Click Edit from the top menu bar.
Select Preferences from the drop-down menu.
Go to the Playback tab.
Locate the Maximum Resolution option.
Select High Definition (1080p).
Click OK.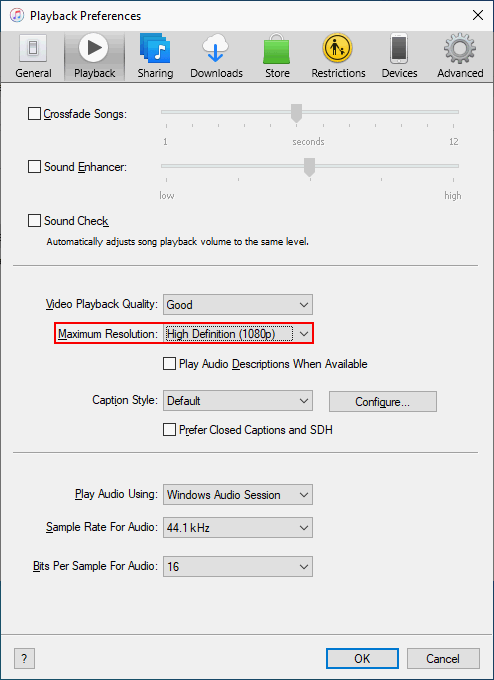 Disable Hyper-V (for Windows 11, 10, and 8.1)
Press Windows + R.
Type cpl and press Enter.
The Programs and Features window will open.
Click Turn Windows feature on or off.
Find Hyper-V and uncheck it.
Click OK.
Then, restart your computer and try to play the movie in HD again. (What if Windows 10 stuck on restarting screen?)
Reset Power Manager (for macOS)
Close all apps on your Mac (including iTunes).
Click on the Apple icon in the upper left corner.
Select Shut Down.
Press Shift + Control + Option and click on the Shut Down button in the pop-up confirmation window.
Wait for your Mac to shut down completely.
Then, you should restart Mac and try to play the HD movie again.
If all the above fixes for Movie cannot be played in HD are not working, please also re-download the HD movies and try to play them in iTunes.