When you use your Windows 10 computer or Surface Pro machine, you may find that the mouse cursor disappears. To fix this issue, we will show you some measures you can use on Windows 10 computer, Surface Pro or Surface Book. Besides, we will also show you how to fix mouse cursor disappears Chrome.
Meanwhile, you can also visit the MiniTool home page to get more useful solutions about computer and electronics issue.
Before showing the solutions, we want to remind you that you don't have to use a mouse on a Surface because the device supports touchscreen and Surface Pen. It also has a touchpad. If mouse pointer or cursor disappears on Surface, you can use the touchscreen instead. This will make the troubleshooting easier.
However, if you insist on using the mouse on your Surface device or you don't have a touchscreen device, you can keep on reading to find a suitable solution.
Fix Mouse Cursor Disappears on Windows 10
If you have the Show location of pointer feature on your computer, you can just press the Ctrl key on the keyboard to make the mouse pointer appear on your computer.
If the above method doesn't work, you can do these things to have a try:
1. Update the drivers for mouse and other pointing devices. You can go to the Device Manager to do this job.
2. If you are using a wireless mouse, you need to make sure that the battery is OK. Disconnect and disconnect the mouse to check whether the mouse pointer appears.
3. Go to Control Panel > Mouse > Pointer Options and uncheck Hide pointer while typing. Then, you can go to see whether the mouse cursor appears.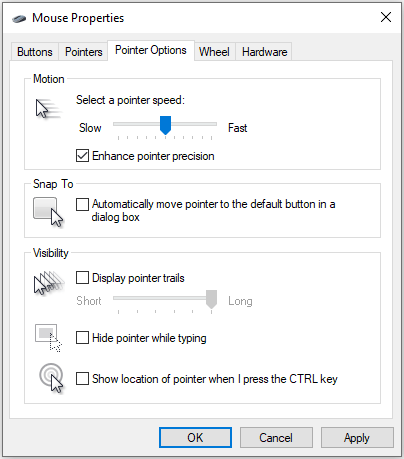 4. Run Antivirus software to rule out the virus issue.
5. Run Hardware Troubleshooter.
Fix Mouse Pointer Disappears on Surface
Why Mouse Cursor Disappears on Surface
When your Surface Pen is connected to the device for use, the mouse pointer is much smaller. At times, when the Surface Pen is nowhere near the display the pointer is still small.
Now, you can check these things:
Are There Multiple Bluetooth Mice Paired to the Device?
If you pair several Bluetooth mice to the Surface, the mouse pointer disappears issue will happen easily. Bluetooth is not reliable all the time. You'd better release the unused ones. After that, you can reboot the device to see whether the issue is solved.
Surface Stuck in Tablet Mode
Perhaps, you have turned off the Tablet Mode, but the Surface is still stuck in Tablet Mode. In this situation, you can reactivate and deactivate Tablet Mode to see whether this issue goes away. If not, reboot the device to have a try.
Electromagnetic Interference
In theory, the Surface device and the Surface Pen can detect each other via the electromagnetic field. But, some other devices in the house can also produce electromagnetic fields. Electromagnetic interference can also cause mouse pointer disappears on Surface. You can take your Surface and walk around to keep away from the possible electromagnetic interference.
Fix Mouse Cursor Disappears on Chrome
If the mouse pointer disappears issue only happens when you browse using Google Chrome, you can use the Task Manager to close all the open Google Chrome processes and then restart Google Chrome.
If the above method doesn't work, you can disable hardware acceleration to have a try. Go to Chrome Settings > Advanced Settings > System, and then turn off Use hardware acceleration when available. At last, restart Google Chrome to see whether the issue is solved.