Some of you might not know that Windows 10 has a built-in photo and video editor app named Photos. You can use it for free to edit photos and videos with ease.
To access Microsoft Photos app, you can click Start, type photos, and click Photos app to open it. Check below for how to use Windows 10 Photos app to edit photos and videos.
How to Use Windows 10 Photos App to Edit Photos
Click Start, type photos, click Photos app to open Photos app in Windows 10.
Select the photo you want to edit.
Click Edit & Create and click Edit option at the upper-right corner.
Then you can click Crop & Rotate to crop, rotate, or flip the photo. Click Filters to add a preferred filter to the image. Click Adjustments to change the light, color, clarity, remove red eyes of the photo.
In the photo viewing window, you can also click Edit & Create and select Add 3D effects, Add animated text, or Edit with Paint 3D to add more effects to your photo.
You can also click Edit & Create -> Draw, select one of the three drawing tools, click the down-arrow icon under the tool to choose a color and size for the tool. Then you can draw on the image. To erase wrong drawings, you can click Eraser tool to wipe what you've drawn.
In the photo viewing interface, you can also add the photo to an album, zoom, delete, share, print the picture, etc.
You can also select a batch of photos and click Edit & Create -> Create a video with music to create a photo slideshow with music.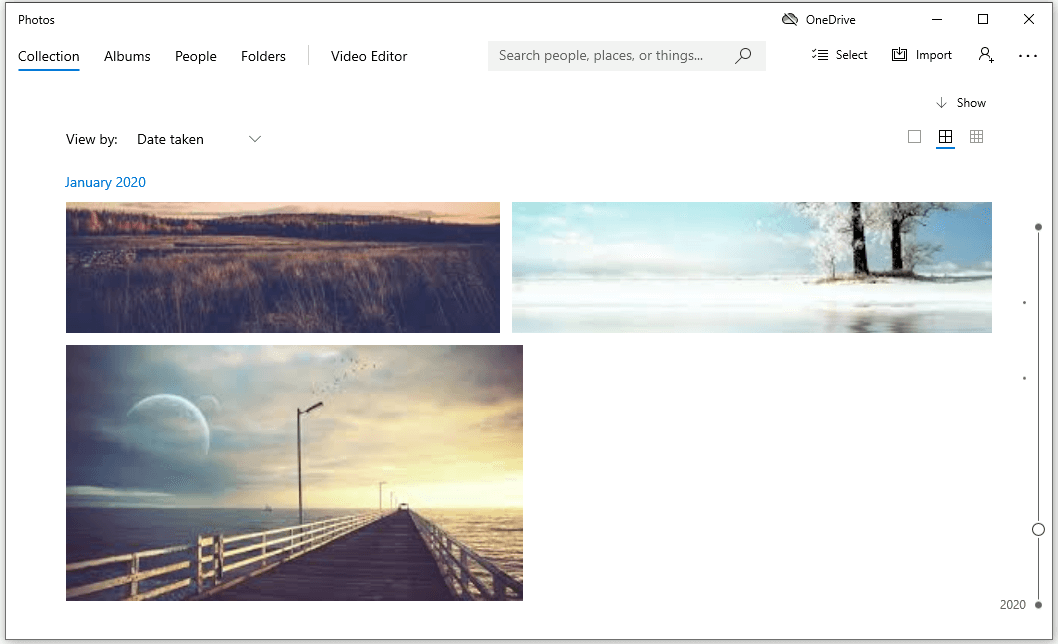 How to Use Windows 10 Photos App to Edit Videos
Open Windows 10 Photos app.
Click Video Editor tab at the top-right to open Microsoft Photos Video Editor.
Click New video project. Give a name for your video.
Click Add button to add photos and video clips. You can add videos and images from this PC, from the collection, or from the web.
Drag the items from the project library to the storyboard. Or you can select photos and click Place in storyboard button to add them to the storyboard. You can click Add or Trash icon to add or delete a specific item.
Then you can select a photo in the storyboard and click Duration to change the length of time you want the photo to play.
Select one video clip and click Trim or Split to cut or split the video clip.
Click Text to add texts to video or photo. You can also click Add title card to add text to a plain colored background.
Click Motion to add motion effect to photo. Click Filters to add effects to your video or photo. Click 3D effects to add 3D effects to your video. Click Speed to speed up or slow down a video clip. Click Remove or show black bars icon to remove black bars. Click Rotate icon to rotate the photo or video.
Click Background music icon at the top to add select a background song for your video. You can click Custom audio icon to add your own music tracks, narration, or sound effects.
After editing the video, you can click Finish video, choose video quality and click Export button to export your video.
How to Set Windows 10 Photos App as Default Image Viewer
If you want to set Photos app as the default image viewer in your Windows 10 computer, you can click Start menu, type default, and click Default app system settings. As you can see, the default image viewer for Windows 10 is Photos. If it is not the Photos app, you can click the current app under Photo viewer and choose Photos app to set it as default.
The Photos app in Windows 10 offers three modes for viewing photos: Collection, Album, and Folders. You can choose one mode to browse photos.
Collection: This mode displays photos by date in descending order.
Albums: Windows Photos app automatically create a set of photo albums based on the Photos app's internal logic. You can add images to the current albums. You can also create and delete your own albums.
Folders: List all of the photos in specific folders on your computer like the Pictures folder in Windows, OneDrive photo folder. You can click "Add a folder" to select a folder from Windows Explorer to add and view photos.
Handy Free Video Editor for Windows 10 – MiniTool MovieMaker
If you are looking for an easy-to-use free video editor & maker for Windows 10, MiniTool MovieMaker is top recommended.
MiniTool MovieMaker allows you to easily create and edit videos. You can use it to trim/split video, add transitions/titles/effects to video, speed up or slow down video, add background music, etc. You can export the video in high-quality MP4 or other preferred formats. Extremely intuitive interface and simple operation. 100% clean and safe, without watermark.