What is HP Support Assistant? What does HP Support Assistant do? How to get HP Support Assistant? Look through the handbook from MiniTool and you can know much information about this tool – HP Support Assistant download, install/uninstall and use in Windows 11/10.
HP Support Assistant Windows 11/10
HP Support Assistant is a free application that comes pre-installed on HP desktop and notebook PC running Windows to maintain your HP devices. Also, you can install this program on computers that are produced by other manufacturers so that you can easily access tools and support resources for HP printers and PCs. It requires Windows 10 RS4 or higher. Of course, you can install it on your Windows 11 PC.
You may wonder "what does HP Support Assistant do". HP Support Assistant can detect the operating system to find and provide automatic updates and offer troubleshooting tools for PC to keep the device in working order.
To be specific, you can run it to automatically install computer updates including updated drivers, system updates, and useful utilities, fix your network & audio issues, optimize your performance, run hardware diagnostics and network diagnostic, etc.
HP Support Assistant Download for Windows 10/11
As mentioned above, HP Support Assistant comes with most HP computers. But if it isn't installed on your Windows 11/10 PC, you can manually download HP Support Assistant and install it on the device.
See the guide on HP Support Assistant download for Windows 11/10:
Visit the page of HP Support Assistant on the HP website.
Click the Download HP Support Assistant button. Currently, the version is V9.
After downloading, start installing it on your PC:
Double-click on the exe file and click Yes in the User Account Control dialog.
Click Next to continue.
Accept the license agreement.
Decide where you would like to save your files.
Then, the processes of extracting extent and initializing installation begin.
Wait a while and HP Support Assistant will be installed on your Windows 11/10 PC successfully.
Tip:
 Download and install its
legacy version
if you get a message saying incompatible operating system during the HP Support Assistant installation.
How to Use HP Support Assistant Windows 11/10
To access this app on your PC, you can click the blue question mark icon on the desktop to open it. Or go to search, type in HP Support Assistant, and launch it. Then, sign in to HP Support Assistant and begin using it. If you don't have an account, create a new one.
On the My Dashboard page, you can see much information including serial number, product number, device health, warranty, etc., and perform some fixes & diagnostics. To install driver updates, you can click Updates to check for available updates, select the ones you want to install and then click Download and install. To troubleshoot computer issues, click the corresponding option to begin.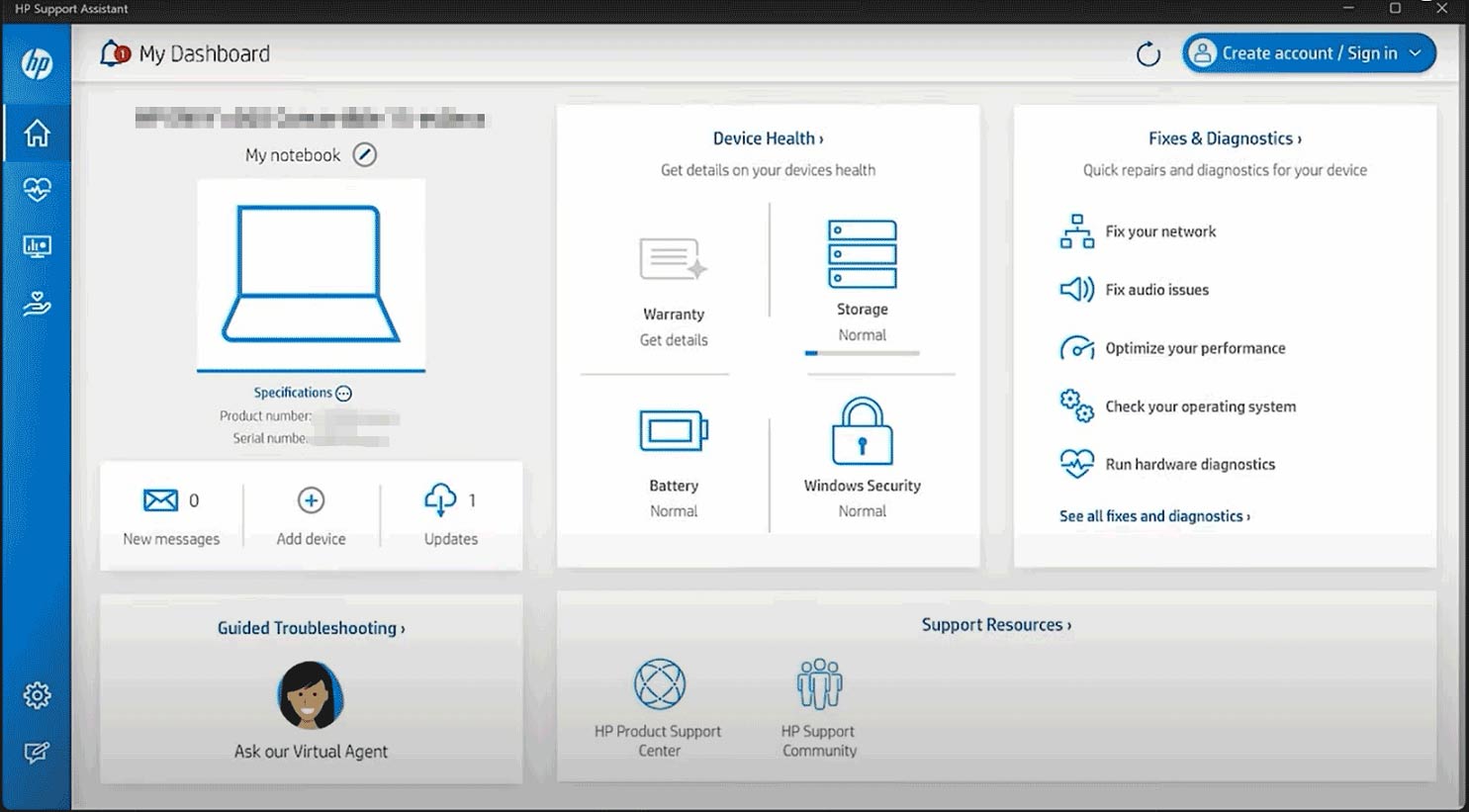 Alternatively, you can click the third icon from the left taskbar and then enter the corresponding section for fixes & diagnostics, software & drivers, and more. Then, follow the on-screen wizards to maintain your PC.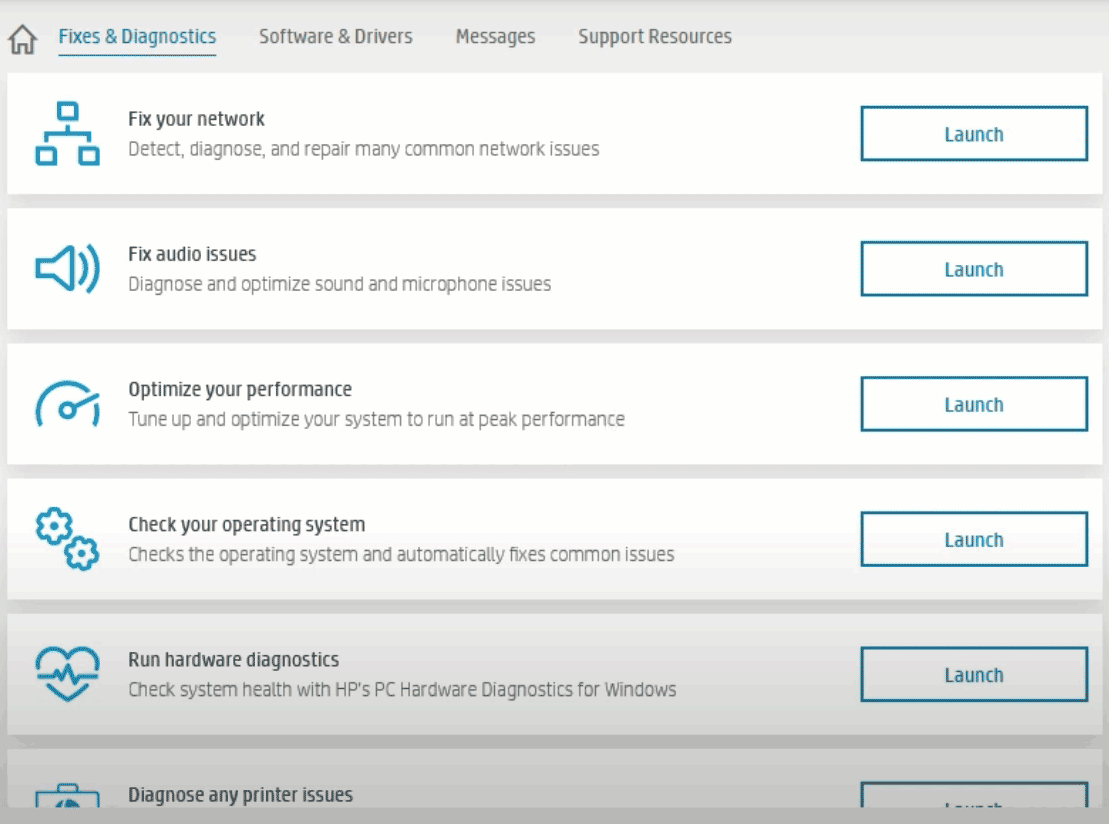 Tip: In terms of HP driver updates, in addition to using HP Support Assistant, you can try other ways, for example, download a proper version of a certain driver from the HP website and install it, update the HP drivers via Device Manager, and more. In our previous posts, you can find what you should:
HP Support Assistant allows you to make some settings to automatically update software. Click the settings icon to access Application Settings, enable Software Updates Settings, and decide when to check for software updates – a weekly schedule. You can click Advanced settings to choose update types.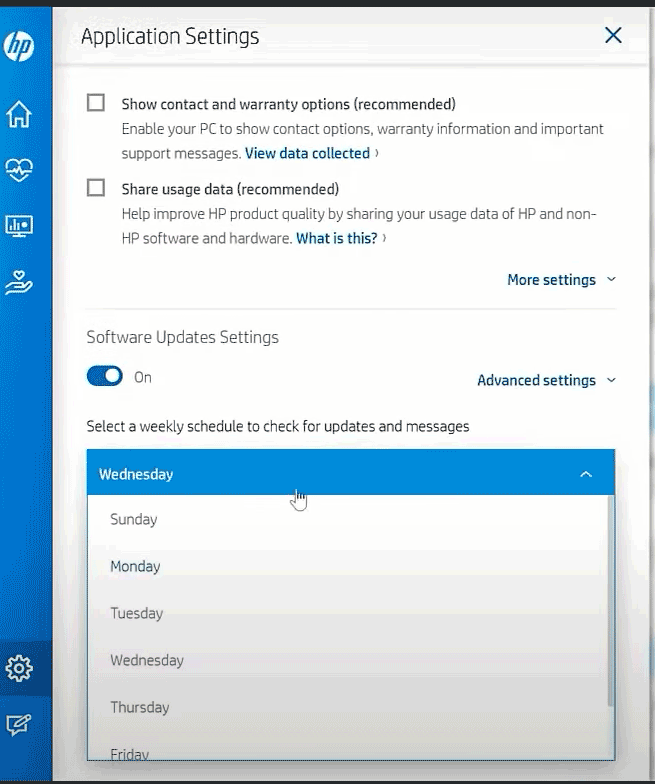 To know which version of this app you are running currently, click About HP Support Assistant.
How to Uninstall HP Support Assistant Windows 11/10
Sometimes you need to uninstall HP Support Assistant and reinstall it to fix the issues with this software. Do these:
Type Add or remove programs in the search bar and click the best match.
Choose HP Support Assistant and click Uninstall.
Click Uninstall again to confirm the operation.
How to Remove HP Support Assistant on Taskbar in Windows 11/10
After downloading and installing HP Support Assistant on your PC, you can see the icon of this software on Taskbar. If you don't want to see it here, remove it. Well then, how to get rid of HP Support Assistant from Taskbar?
Right-click on Taskbar and choose Toolbars.
Uncheck HP Support Assistant Quick Access.