You may notice that there is a file called IAStorIcon.exe stored on your computer. So what is it and is it a virus? If you want to find the answers, then this post from MiniTool is what you need. You can get a full introduction to IAStorIcon.exe in this post.
There are plenty of executable files saved on your PC, such as userinit.exe, and nvvsvc.exe. And this post gives you some information about IAStorIcon.exe.
What Is IAStorIcon.exe?
To begin with, what is IAStorIcon.exe? The genuine IAStorIcon.exe file is a software component of Intel Rapid Storage Technology (RST) from Intel Corporation. It stands for "Intel Array Storage Technology Icon Service".
Related post: 3 Methods to Fix the Intel RST Service Not Running Error
The Windows service displays a toolbar icon. If the Intel Rapid Storage Technology (RST) service is not running, it will display an exclamation mark, and if it is running, it will display a green checkmark. Clicking on this icon launches the RST user interface.
Unlike some files required to keep Windows stable, IAStorIcon.exe has limited uses and can usually be ended without causing problems.
Is IAStorIcon.exe a Virus?
The first thing that can help you determine whether a particular file is a legitimate Windows process or a virus is the location of the file itself. For example, a process like IAStorIcon.exe should run from C:\Program Files\Intel\Intel(R) Rapid Storage Technology Enterprise\ IAStorIcon.exe and not from another location.
Here is how to check whether the IAStorIcon.exe file is in the right location:
Step 1: Right-click the Start button to choose Task Manager.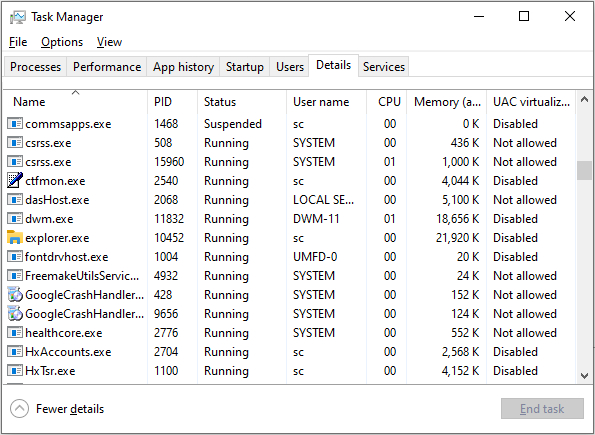 Step 2: Find IAStorIcon.exe in the Details tab, right-click it to choose Open file location.
Step 3: This folder should not only contain IAStorIcon.exe but also several DLLs and other similarly named files, such as IAStorIconLaunch.exe and IAStorUI.exe. If you see these files in that exact folder, you can be sure that the files are not forged.
However, if you receive the following error related to IAStorIcon.exe, then the file should be a virus.
IAStorIcon has stopped working.
exe has encountered a problem and needs to close.
Access violation at address <> in module IAStorIcon.exe. Read of address <>.
Cannot find IAStorIcon.exe.
How to Delete an IAStorIcon.exe Virus?
Do not delete a safe executable file without a valid reason, as this may affect the performance of all associated programs that use the file. But if you have confirmed that the IAStorIcon.exe is a virus, then you can try the following methods to delete it.
Try to delete the IAStorIcon.exe file manually. It's as simple as selecting it once and then pressing Delete on the keyboard or right-clicking it to find the Delete
Run an on-demand virus removal program, such as Malwarebytes or McAfee's portable Stinger program, to remove the IAStorIcon.exe virus.
Use a regular antivirus program to scan for the IAStorIcon.exe threat. Regardless of whether the on-demand scanner finds something, it is always best to have multiple engines scan for the problem.
Final Words
To sum up, this post has introduced what the IAStorIcon.exe file is, how to whether it is a virus or not, as well as how to remove the IAStorIcon.exe virus.