What should you do if NETwsw02.sys BSOD always occurs from time to time? Take it easy and you come to the right place. Here MiniTool shows some useful fixes for the NETwsw02.sys blue screen error in Windows 10/8/7.
NETwsw02.sys Error
In computers, system issues/crashes often happen and one of the common situations is blue screen errors. The BSOD errors are various according to different cases, for example, system service exception 0x0000003b, INACCESSIBLE BOOT DEVICE, Critical_Process_Died, DRIVER_VERIFIER_DETECTED_VIOLATION, etc.
Related post: Quickly Solve – Your PC Ran into a Problem and Needs to Restart
Besides these blue screen errors, today we will show you another error – NETwsw02.sys BSOD error. NETwsw02.sys uses the SYS file extension that is associated with the resource media developed by Dell. Errors regarding NETwsw02.sys often happen when you boot your computer or run a program. On the computer screen, you may see messages:
STOP 0x0000000A: IRQL NOT LESS EQUAL (NETwsw02.sys)
STOP 0x00000050: PAGE FAULT IN A NONPAGED AREA (NETwsw02.sys)
STOP 0x0000007E: SYSTEM THREAD EXCEPTION NOT HANDLED (NETwsw02.sys)
…
The NETwsw02.sys error can be caused by an outdated or corrupted Intel wireless driver, damaged system files, and a software conflict. Fortunately, you can try some methods to get rid of trouble.
How to Fix NETwsw02.sys Blue Screen
Uninstall and Reinstall Intel Wireless Wi-Fi Link Driver
As it turns out, the system component of the Intel Wireless Wi-Fi Link driver could trigger Netwsw02.sys BSOD. According to users, completely removing this driver and using a generic driver or uninstalling the current Wi-Fi Link driver and reinstalling the latest driver is helpful to fix this issue.
Follow the guideline below now:
Step 1: Open the Run window by pressing Win + R, type devmgmt.msc, and click OK.
Step 2: Expand Network Adapters, right-click on the Intel Wireless Wi-Fi Link Driver, and click Uninstall device.
Step 3: After the uninstallation, restart your PC and Windows will install a generic driver. Then, the PC can run properly without the NETwsw02.sys error.
In addition, you can visit the official website of Intel, search for a driver of your network adapter, download it, and install it on your PC.
Run SFC and DISM Scans
Damaged system files could lead to Windows NETwsw02.sys and you can try to perform SFC & DISM scans to repair corruption in the system.
See how to do the scans:
Step 1: Press Win + R to get the Run window, type cmd into the textbox, and press Ctrl + Shift + Enter to open Command Prompt with admin rights. Click Yes if asked by the UAC (User Account Control).
Step 2: Type in sfc /scannow and press Enter.  
Then, wait patiently until the verification completes 100%. Note that sometimes the verification process may get stuck. If you are plagued by this issue, refer to our previous post – Windows 10 SFC /Scannow Stuck at 4/5/30/40/73, etc.? Try 7 Ways.
Step 3: After the scan, restart your machine and see if the NETwsw02.sys error disappears. If not, perform a DISM scan.
Step 4: Run Command Prompt as an administrator and then type in the following commands one by one. Press Enter after each one to execute the command:
dism /online /cleanup-image /scanhealth
dism /online /cleanup-image /restorehealth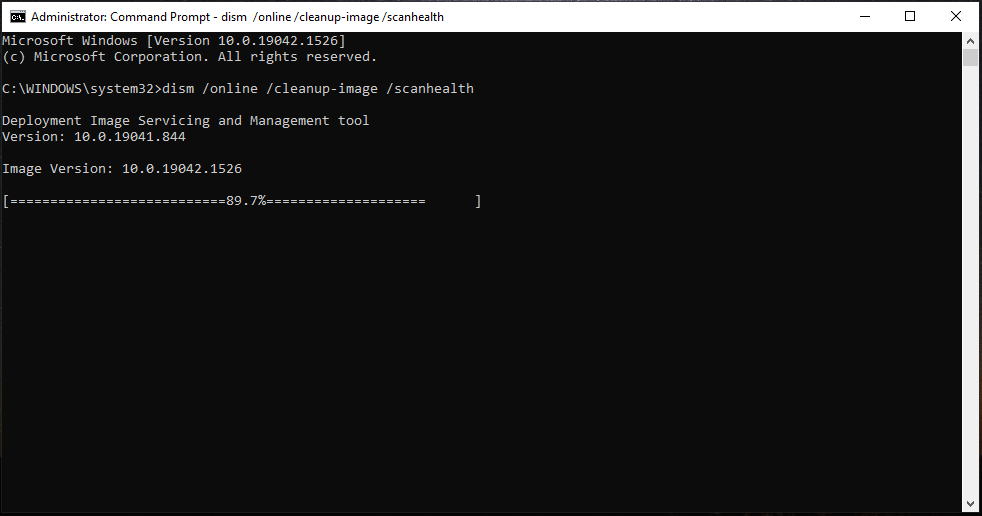 Install Windows Updates
The NETwsw02.sys error could happen if the operating system is outdated. To fix this issue, you should install available Windows updates. Just click the Start button, enter update and press Enter. Then, the Windows Update page appears. Just check for available updates and install them on your Windows 10/8/7 PC.
Run System Restore
System Restore can help to revert your PC to a time point when everything was working fine. So, when the NETwsw02.sys blue screen happens, try to run System Restore. Just type create a restore point into the search box, press Enter, click System Restore, choose a restore point, and click Finish to start the restore process.
Perform a Clean Install
If these common fixes cannot do the trick, the last resort you can try is to clean install Windows. Before you do, make sure you back up important files on your PC. To do this thing, MiniTool ShadowMaker is a good option. It is designed to create a backup for a system, disk, partition, file, and folder within simple steps. Just get this free backup software to have a try.
MiniTool ShadowMaker TrialClick to Download100%Clean & Safe
After the backup, download an ISO file of Windows 10/8/7 online, use Rufus to create a bootable USB drive, and boot the PC to perform a clean install.
Verdict
These are common methods to fix Windows NETwsw02.sys BSOD error. If you run into this issue, try the fixes one by one. If you find out other workarounds, leave a comment below. Thanks.