Summary
If you hope to protect your eyes from OneNote's bright background while working at night, your wish will come true soon. It is reported that dark mode is slowly rolling out to the OneNote app for Windows 10 Insiders. Read this post to get more information about OneNote dark mode.
Dark Mode in OneNote Windows 10 App Is Live for Insiders
These days, everything is going dark. Microsoft and its Windows team are integrating their Windows design efforts as they introduce Dark Mode to several elements of applications and the desktop.
For example, Windows 10 supports dark mode, Google Chrome dark mode is coming to Windows 10, Windows 10 Mail app supports dark theme, etc.
A new entrant to the dark mode is Microsoft's OneNote application for Windows 10. A while back, we heard that this mode was finally making its way to this app, although Microsoft hadn't officially launched it. But now, this company is rolling out this feature to Windows Insiders for the test, as spotted by Reddit user Grindiot.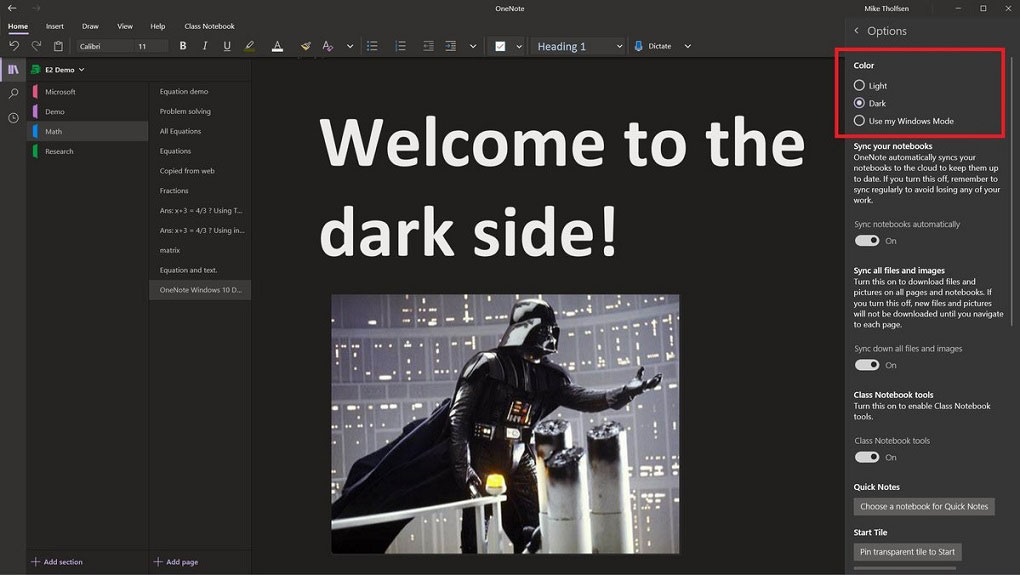 Features on OneNote Dark Mode
It coats the entirety of OneNote with a number of dark-gray colors and the most prominent part is the note area itself.
Dark mode can do pretty much what you would expect, for example, you can turn the entire interface including the notebook pages themselves into a dark gray rather than white and the title also turns black instead of purple signature used by OneNote.
Additionally, you can also tell the app to follow your Windows theme automatically. Compared to the light theme variants, other colors are also more muted.
However, you may need to be careful. Users on Reddit have reported that switching to the new theme changes the default pen color, making them darker and less legible, for instance, the neon green pen may change to a dark green pen to match the dark background.
This may make your notes look different from what you originally expected. But it is possible to change the colors of the pen to default on an individual basis, however, you have to select everything and swap pens. For that, not many users are happy with this change, as per a Reddit discussion.
One user wrote in Reddit "The dark pens look alright when in ideal conditions, i.e. no glare and screen brightness high. However, they're not nearly as effective as bright pens on white in poor conditions. I would've been fine with it if they hadn't changed previous notes".
Enable OneNote Dark Mode
How to enable dark mode for OneNote in Windows 10? You can choose to join Microsoft Office Insider program and change the app settings to grab the update.
Step 1: Open OneNote, tap on three dots menu in OneNote and open the Office Insider page.
Step 2: Select Insider as the Office Insider level and agree to the terms and conditions.
Step 3: Click the main menu (three-dotted) button in the top-right and click on Settings.
Step 4: Click Options, select the Dark mode option for OneNote under the Color section.
Tip: You can also tick Use my Windows Mode, then this app will switch between the Light and Dark modes automatically when you change Windows 10 color mode in Settings.
If you want to enable the Windows 10 dark mode but don't know how, please read this article carefully.
Bottom Line
Currently, the dark theme for OneNote seems to only be available for a few select Insiders.
As you know, Microsoft is using a gradual rollout method. Even if you are already part of the Office Insider program, it could take a while until the dark mode comes to your OneNote app. But you can grab the latest version of OneNote via the Microsoft Store now to see if it's available for you.
If yes, you can follow the above instruction to enable dark mode in OneNote Windows 10 app. If not, wait for few days and weeks.