This article reviewed by MiniTool official website mainly introduces a kind of quick access to some popular system built-in programs – Quick Link Menu. It covers its contents, customization, as well as the way to open it. More details are below.
The following content applies to Windows 11, Windows 10, and Windows 8.1/8.
What Is Windows Quick Link Menu?
Windows quick link menu is a brief menu listing some advanced system tools like event viewer, device manager, disk management, computer management, task manager, etc. So, you can quickly access those tools through the quick link menu.
How to Open Quick Link Menu?
In general, there are several ways to launch Windows quick link menu.
#1 How to Open Quick Link Menu Through Shortcut
First of all, you can open Windows quick link menu with a shortcut. The shortcut keys to trigger the quick link menu are Windows + X. Therefore, the quick link menu is also called WinX menu, win+x menu, quick access menu, and power user menu sometimes.
#2 How to Open WinX Menu via Start Menu
Secondly, you can access the Win X menu by right-clicking on the Windows Start Menu.
What Does Quick Link Menu Contain?
By default, the Windows X menu includes the below applications or services.
Apps and Features: The apps and features section in Windows Settings manages the apps and services.
Power Options: The power & sleep column in Settings > System controlls the screen shutdown and sleep time.
Event Viewer: A component of the system allowing administrators and users to view the event logs on a local or remote computer.
System: The system information in Settings > System > About.
Device Manager: A component of the OS permitting users to view and control the hardware attached to the PC.
Network Connections: The Network & Internet section in Settings manages network connections.
Disk Management: A system built-in app managing the hard disk storage space.
Computer Management: Also called Microsoft Management Console (MMC), a component of Windows offering system administrators and advanced users an interface to configure and monitor the OS.
Windows Terminal: A multi-tabbed command-line front-end.
Windows Terminal (Admin): This option will open Windows Terminal as an administrator.
Task Manager: A system monitor program used to provide information about the processors and apps running on the computer.
Settings: This option will open Windows Settings app.
File Explorer: The quick access to Windows File Explorer.
Search: The quick access to Windows Search utility.
Run: The quick access to Windows Run command box.
Shut down or sign out: This option further offers 4 selections include sign out, sleep, shut down, and restart the PC.
Desktop: This choice shows the desktop for you.
How to Customize Quick Link Menu?
You may wonder whether you can personalize the contents of the Win X menu and how to do that. Just refer to the following guide.
Go to C:\Users\User Name\AppData\Local\Microsoft\Windows\WinX and make sure you can see the hidden files. You can directly reach the WinX folder by inputting %LOCALAPPDATA%\Microsoft\Windows\WinX\ in the address bar in Windows Explorer and pressing Enter.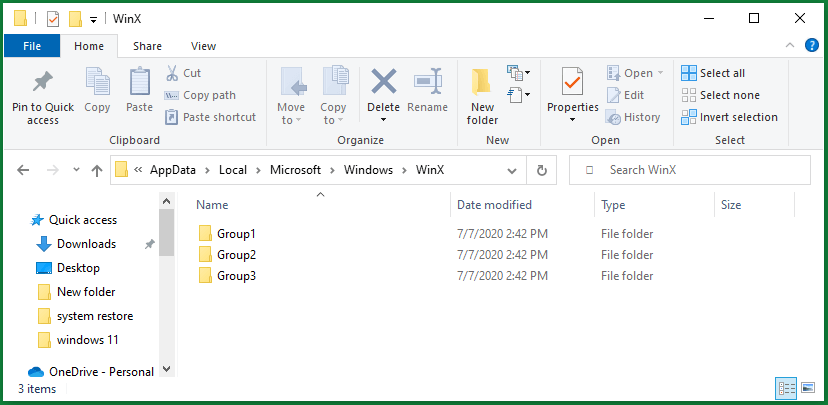 Rearrange Quick Link Menu Layout
You can see that there are 3 subfolders (called Group1, Group2, and Group3) under the WinX folder and each subfolder contains part of the shortcuts of the tools and apps above. You can move those shortcuts among these subfolders to change the layout of your quick link menu. You can also create a new subfolder and name it as Group4 and move some shortcuts to it.
Rename Existing Quick Link Menu Apps
If you'd like to change the name of the app in the quick link menu, just right-click on its shortcut in the subfolder, select Properties, and input your preferred name in the Comment column in the Shortcut tab. Then, open Task Manager, right-click on File Explorer in its Processes tab and select Restart. Finally, open the Windows X menu to see the change.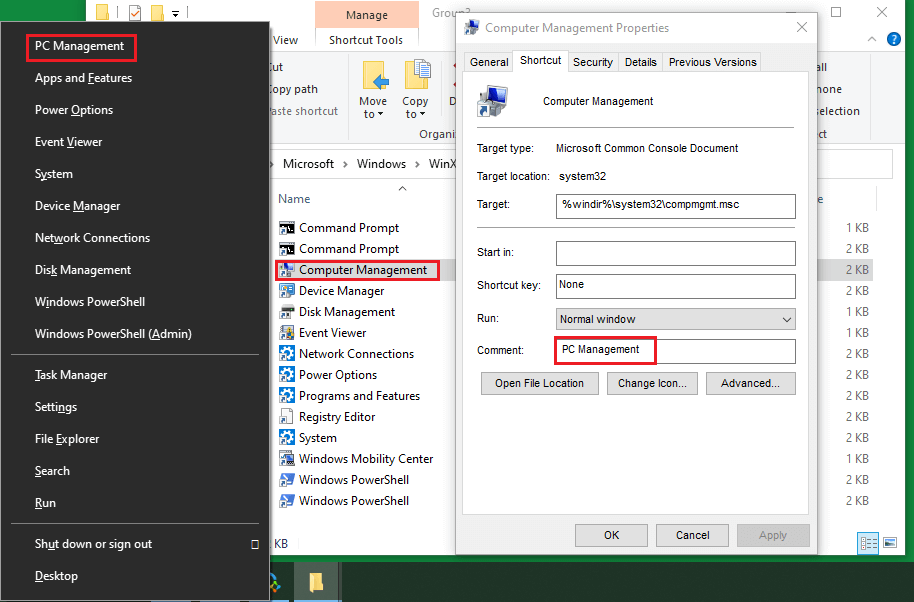 Add/Remove App from Quick Link Menu
Besides, you can add more shortcuts (e.g. Control Panel shortcut) to or delete shortcuts from those subfolders. Then, sign out and sign in to your Microsoft account (or just restart your PC). You will see the changes in the quick link menu.
Windows 11 Assistant Software Recommended
The new and powerful Windows 11 will bring you many benefits. At the same time, it will also bring you some unexpected damages such as data loss. Thus, it is strongly recommended that you back up your crucial files before or after upgrading to Win11 with a robust and reliable program like MiniTool ShadowMaker, which will assist you to protect your increasing data automatically on schedules!