In order to install the Windows operating system or fix a broken Windows, a bootable USB flash drive is needed. How to create bootable USB from ISO Windows 10/11? A Windows 10/11 USB tool or USB bootable software will be introduced. Besides, the best way to protect the PC against system issues is also told to you.
It's Necessary to Create Bootable USB from ISO Windows 10/11
As to Windows 10/11 OS, it has got more popularity due to its advantages, for example, reliability, better user experience, safety, etc. Therefore, most of you may have reserved a copy of the Windows 10/11 upgrade for your computers. But there may be some who may want to go for a clean install by using a Windows ISO image.
Besides, when there is something wrong with the operating system, you may also choose to reinstall Windows. Or, when getting a new PC without OS, you need to make a clean install. Additionally, to boot the non-working PC and perform a repair, you also need a Windows repair disc or USB drive.
To install the operating system or to create a rescue disc, it is a choice to burn the operating system into a CD or DVD disc. Though it is nothing hard, the method is clunky, expensive and no-so user-friendly when considering the CD/DVD writer and the cost of an actual CD/DVD disc. Thankfully, you can use a USB flash drive.
In this post, we will show you how to download the ISO image, burn ISO to USB and create USB boot disk from ISO for Windows 10/11 installation.
How to Create Bootable USB from ISO Windows 10/11
When searching for "make bootable USB" on Google, you will find many ways. And here, we will show you 2 common ways for Windows bootable USB creation.
Way 1: Use Windows Media Creation Tool
Microsoft offers you a utility called Media Creation Tool, allowing you to download a Windows 10 ISO file compatible with your PC or directly create a bootable USB drive so as to install Windows 10. This is the easiest and reliable method. Just follow the step-by-step guide to make bootable USB from ISO.
Step 1: Go to Windows 10 download page and click Download tool now to get MediaCreationTool.exe. To create bootable usb from iso Windows 11, go to this page and click Download Now from Create Windows 11 Installation Media.
Step 2: This is an independent executable file that doesn't need installation, so you can simply run the tool and create bootable USB from ISO. Just double-click on the .exe file and then accept the terms.
Step 3: Then, choose the Create installation media (USB flash drive, DVD or ISO file) for another PC option and click the Next button to continue.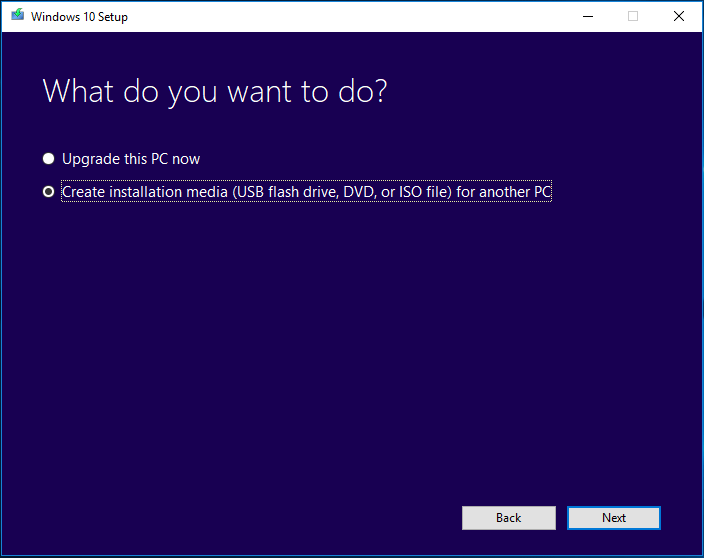 Step 4: Then this tool will capture the language, Windows edition and architecture details from your Windows installation. Also, you can uncheck the option Use the recommendation for this PC and re-specify these details.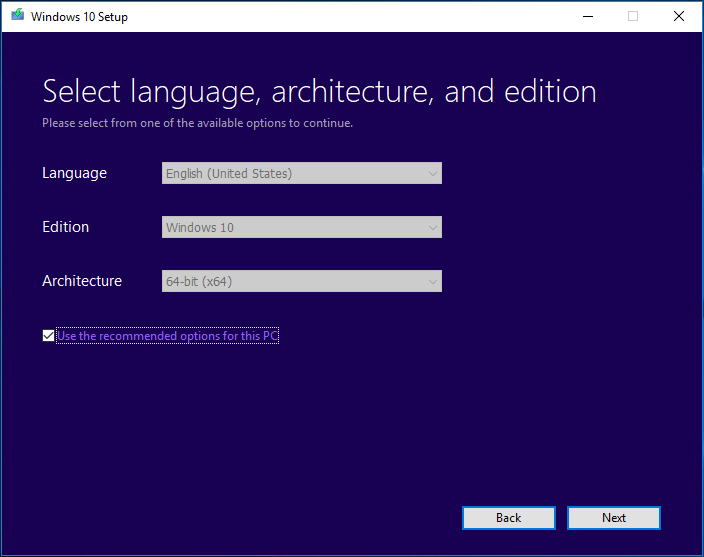 Step 5: In the following page, you can see two options: USB flash drive and ISO file. Here you can directly choose the former option and make bootable USB from ISO. Please ensure your USB has 8 GB capacity at least.
Tip: If you choose the option ISO file, it is also allowed. After clicking Next, you need to select a location to save the ISO file. And then, the tool will start to download Windows 10/11 and perform some operations. After that, you need to burn ISO file to USB drive and then create bootable USB from ISO.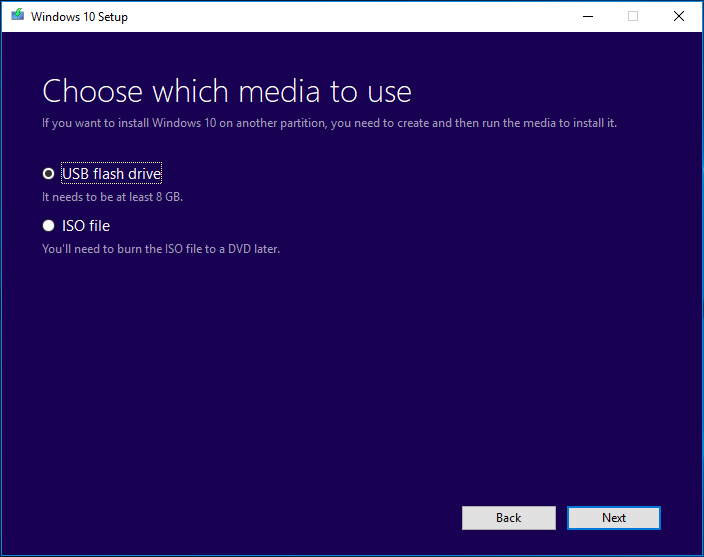 Step 6: Select a USB flash drive and click Next to continue.
Note:
The files on the USB drive will be deleted. Thus, you had better back up them to another safe location to keep these files. Here, the professional backup software, MiniTool ShadowMaker, will be helpful to
back up files
with ease.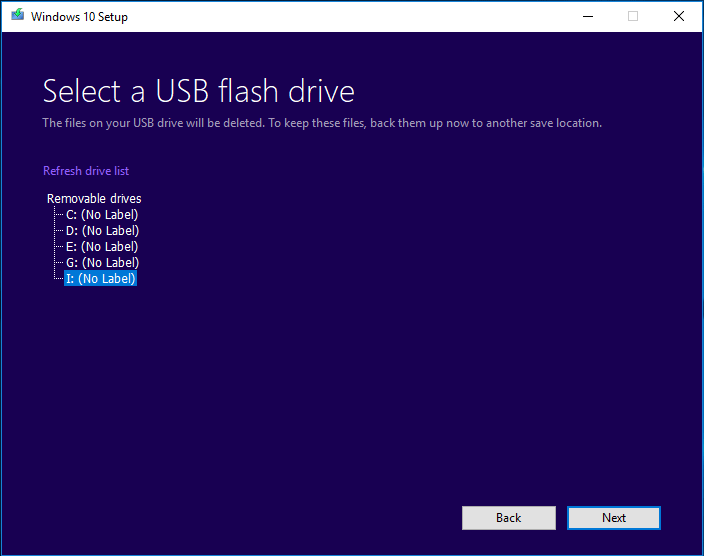 Step 7: The tool is downloading Windows 10/11 to your selected USB. Please wait patiently.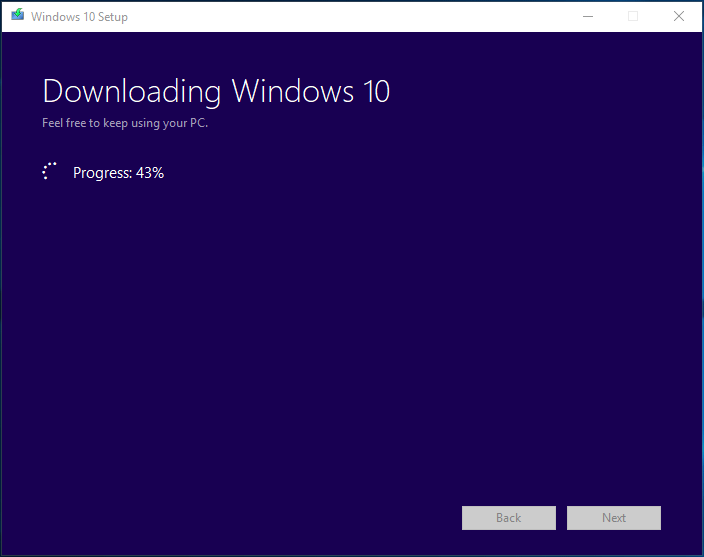 Step 8: The tool is creating Windows 10/11 media, just be patient to wait.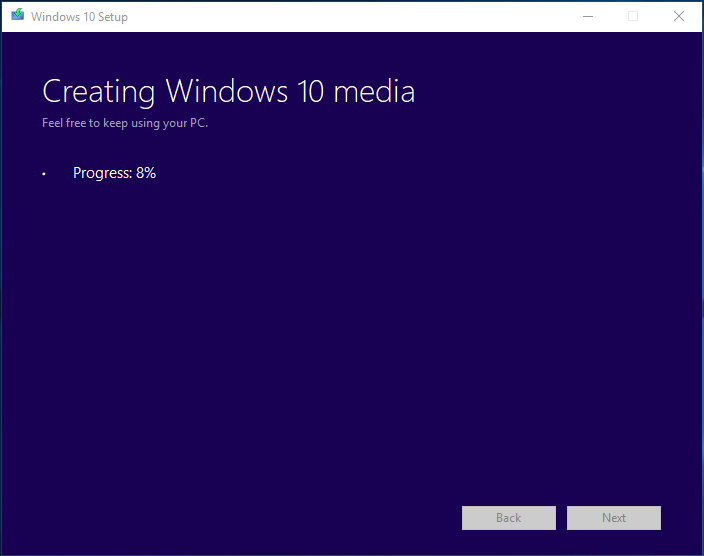 Step 9: After a few minutes, your USB flash drive is ready. Click the Finish button at last.
Way 2: Download ISO File and Burn Windows ISO to USB
In addition, you can choose to download an ISO file of Windows 10/11 first of all and then use USB bootable software to burn the file to your drive.
Move 1: Download Windows 10 ISO File
To do this, you can also use Media Creation Tool. In Choose which media to use page, please choose ISO file. Then, save the ISO file to a location. Next, continue the operations by following the wizard.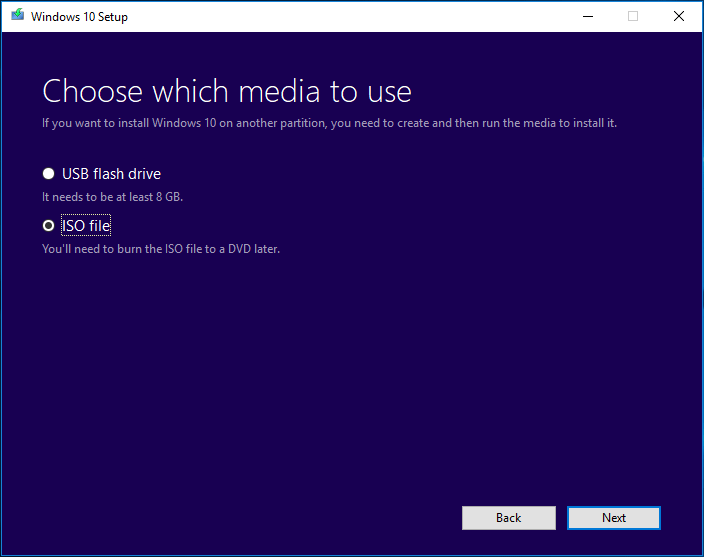 If you don't want to install the latest Windows 10/11, you can search for the ISO file you need on the internet and then download it.
Move 2: Burn Windows 10 to USB Drive
To create bootable USB from ISO, some of you may choose to use USB bootable software like Rufus. It is thought as one of best, free, open-source and easy-to-use Windows 11/Windows 10 USB tool since it can create bootable USB for different kinds of operating systems.
Step 1: Run USB bootable software free download for all Windows. Here, go to get Rufus from its official website.
Step 2: Run this ISO to USB burning tool, and then plug your USB flash drive to your PC.
Step 3: This tool will detect your USB flash drive. You need to click the SELECT button to choose the ISO file you have downloaded, specify the partition scheme and volume label. Then, click the START button to create bootable USB from ISO.
Tip:
Target system,
file system
, and cluster size will be changed once you change the partition scheme. Besides, the burning process will also destroy all data of your flash drive, so please back up them in advance.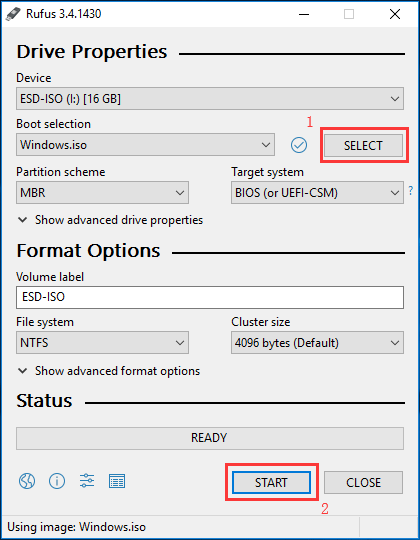 Step 4: Later, the tool will start to burn ISO to USB flash drive, which will take a few minutes. When the Status is ready (in green), just click the CLOSE button to exit the tool.
"I want to create bootable USB from ISO Windows 10 to install an operating system. This post shows me 2 helpful ways. Here, share it with you."Click to tweet
After you complete USB bootable drive creation, you can boot your PC from the drive and start to install Windows 10/11 operating system or enter PC repair environment for a fix from the repair drive.
Further reading:
In addition to making bootable USB from ISO in Windows 10/11, some of you may be interested in the topic: create bootable USB Windows 7. To do this work, you need to use bootable USB Windows 7 software, Windows 7 USB/DVD Download Tool. After getting the tool, follow its instructions to create a bootable USB drive.
Besides, some of you may want to know how to create bootable USB from ISO ubuntu or Mac. Here, we won't show you steps but you can search for the corresponding methods on Google and there are some articles are about the topic.
Tip:
After learning so much information about how to create USB boot disk from ISO in Windows 10/11, you may think it is troublesome. And it is also an annoying thing to install a new OS or perform PC repair. Thus, in the following part, we will walk you through an easy way to deploy a new OS without Windows installation or fix PC without a
repair USB drive
.
Suggestion: Back up Windows & Restore System
If you have created a system image, you can restore it to the PC where you need to install OS or solve system issues. By this way, you won't deploy a new OS and you can easily restore the PC to a previous state, enjoying the previous system settings, applications, and everything.
How can you back up your Windows 10/11? Here, we highly recommend using a piece of professional backup software for Windows 11/10, MiniTool ShadowMaker.
This backup software is designed to back up the Windows operating system, files, the entire disk or partitions. During the backup, the selected backup source is compressed to an image. Above all, it offers a feature called Media Builder to create a bootable USB drive or CD/DVD disc to boot the crashed PC and perform a system recovery.
Before starting a backup, now you need to free download MiniTool ShadowMaker from the button below. Note that its Trial Edition only gives you 30-day free trial.
MiniTool ShadowMaker TrialClick to Download100%Clean & Safe
Move 1: Back up OS
Step 1: Run MiniTool ShadowMaker Trial Edition.
Step 2: Go to the Backup interface, you see system related partitions are selected by default. To back up Windows OS, here you can go to the Destination section to specify a path like an external hard drive, USB flash drive, or NAS.
Step 3: Finally, click the Back Up Now button to run the system image backup.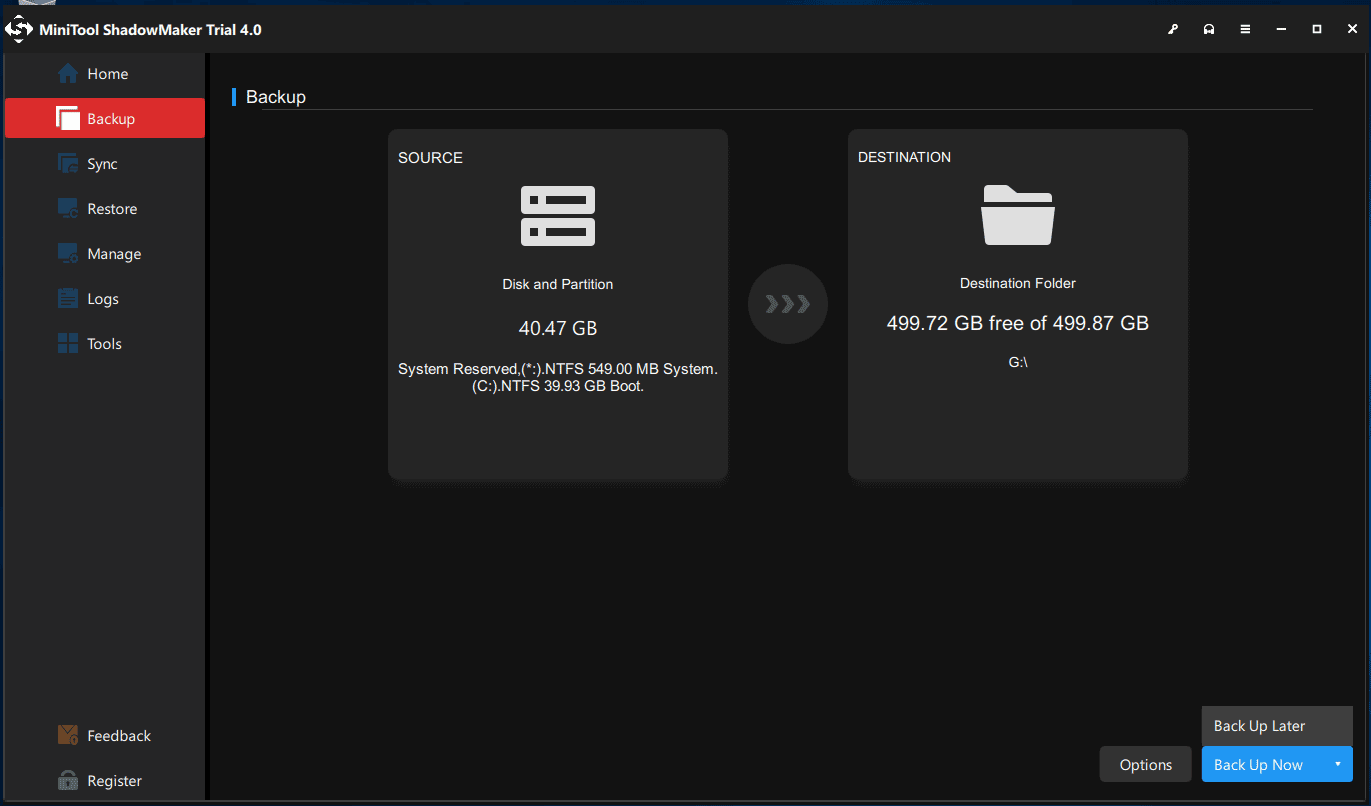 Move 2: Create Bootable USB from ISO
After finishing the system image backup, you can go to create a bootable USB drive. Just go to the Tools page, click Media Builder, choose your USB flash disk and create USB boot disk from ISO.
After that, you can boot the PC that needs to install an OS from the bootable USB flash drive and then start system recovery.
Related article: How to Boot from Burned MiniTool Bootable CD/DVD and USB Flash Drive/Hard Disk?
Move 3: System Image Recovery
In MiniTool Recovery Environment, you can run MiniTool ShadowMaker and then restore the system image to a hard drive which can be the system disk that has system issues or the hard drive where you want to deploy a system.
Step 1: Go to the Restore interface, find the system image file and click Restore to continue.
Step 2: Select a backup version.
Step 3: Choose the system related partitions to restore. Here, MBR and Track 0 should be selected, otherwise, Windows won't boot normally.
Step 4: Decide which disk you want to restore the image to.
Step 5: The backup software is performing a recovery. This will take a few minutes, so wait patiently.
With MiniTool ShadowMaker, you can easily restore the PC to a previous state without reinstalling OS or easily deploy the system to a computer without OS. Compared to the above part – create bootable USB from ISO for OS installation, this way is worth recommending.
Here, you can free download MiniTool ShadowMaker for a trial or share it with your friends on Twitter to let more persons know.
MiniTool ShadowMaker TrialClick to Download100%Clean & Safe
Click to tweet
Tip:
Additionally, this software can help you to clone your hard drive to another disk and you can directly boot your computer from the cloned disk without reinstalling the system. Read this post –
How to Clone a Hard Drive to SSD in Windows 11/10/8/7
to do this job.
Bottom Line
Want to make bootable USB Windows 10/11? Just try the above ways to create bootable USB from ISO and then you can install an operating system. To restore your computer easily to an earlier state (in case of system breakdown) or deploy a system, without installing the system, you can use MiniTool ShadowMaker to back up OS and restore it.
On the other hand, if you have any suggestion for bootable USB flash drive creation, or if you meet some questions when using MiniTool software, please leave a comment or contact [email protected].