VPN Error 789 Windows 7/8/10/11
Sometimes you install a VPN on your PC to protect your online privacy. Although the VPN software is great, you always encounter some connection issues, for example, VPN not connecting, VPN connection failed due to unsuccessful domain name, etc. Besides, there is another common issue you can run into and it is VPN error 789.
It is one of the most common errors that appear when attempting to connect to an L2TP server. In Windows 7/8, you get the following computer screen. You can see error 789 and the detailed information saying "The L2TP connection attempt failed because the security layer encountered a processing error during initial negotiations with the remote computer".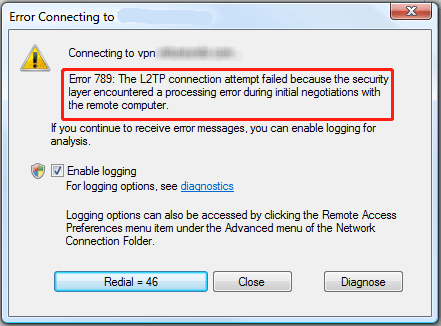 In Windows 10/11, you get a screen in the bottom right corner of the screen when trying to connect to your VPN. If you go to check the Windows logs in Event Viewer, you can see the message saying the VPN has failed and the error code returned on failure is 789.
How can you get rid of the VPN error 789? It is not difficult and you can follow the methods below.
Fixes for VPN Error 789 Windows 10/8/7/11
Reset Your VPN Network Adapter
A network inconsistency due to a network adapter that is stuck in a limbo state can lead to error 789. In this case, you can reset the VPN network adapter.
Step 1: Go to Device Manager on your PC.
Step 2: Expand Network adapters, right-click on the network driver, and choose Uninstall device.
Step 3: Click Uninstall.
Step 4: Restart the PC and Windows will automatically install a driver for the network. Then, connect to your VPN to see if the error "the L2TP connection attempt failed" is removed.
Check the Certificate
It is important to make sure the correct certificate is used on both the server and client sides. If the certificate is not correct, you will fail to use the virtual private network. Besides, make sure the same Pre Shared Key (PSK) is configured on the client and server sides if you use a PSK.
Re-enable IPSec
According to reports, the VPN error 789 can happen on your Windows 7/8/10/11 PC if you disable essential services for self-hosted VPNs. To fix the error, re-enable them.
Step 1: Press Win + R, type services.msc to the box and click OK.
Step 2: Go to find IKE and AuthIP IPSec Keying Modules, double-click it and choose the startup type to Automatic. If this service is not running, start it. If it is running, stop and start it again.
Step 3: Do the same thing for the IPsec Policy Agent service.
Step 4: Click Apply and OK.
Create UDPE Encapsulation Registry Key
Be careful when using this method since this can mess up with your Windows registry and mistaken operation may lead to an unbootable system. Or, you can choose to back up registry keys in advance. Then, try this way if you meet error 789 when using an L2TP VPN client or VPN server that is behind NAT (Network Address Translation).
Step 1: Type regedit to the Run dialog and click OK to open Registry Editor.
Step 2: Go to HKEY_LOCAL_MACHINE\SYSTEM\CurrentControlSet\Services\PolicyAgent.
Step 3: Right-click the empty space on the right side and choose New > DWORD (32-bit) Value. Name it as AssumeUDPEncapsulationContextOnSendRule.
Step 4: Double-click this value and set its value data to 2.
In addition, you can try another VPN from different vendors. After trying these methods, the VPN error 789 can be removed from your PC. If you have any other issues, leave a comment below.