You might have met multiple Blue Screen of Death errors when you use the Windows system. And this post from MiniTool will offer you some workable methods to get rid of the BSOD caused by win32kbase.sys.
It is very sad that your screen suddenly goes blue because win32kbase.sys failed. And this error sometimes will appear along with the following error messages.
A problem has been detected and Windows has been shut down to prevent damage to your computer. The problem seems to be caused by the following file: Win32kbase.sys.
Your PC ran into a problem and needs to restart. If you would like to know more, you can search online later for this error: win32kbase.sys.
STOP 0x0000003B: SYSTEM_SERVICE_EXCEPTION (win32kbase.sys)
STOP 0x0000000A: IRQL_NOT_LESS_EQUAL – win32kbase.sys
STOP 0x0000001E: KMODE_EXCEPTION_NOT_HANDLED – win32kbase.sys
STOP 0×00000050: PAGE_FAULT_IN_NONPAGED_AREA – win32kbase.sys.
Then how to fix the win32kbase.sys BSOD error? There are 4 methods offered below.
Method 1: Run the SFC Tool
You may meet win32kbase.sys BSOD because there are some corrupted system files. Therefore, you can run the System File Checker to detect whether there is any corrupted system file. To do that, follow the instructions below:
Step 1: Input cmd in the Windows search bar. Right-click Command Prompt to run it as an administrator.
Step 2: Type sfc /scannow in the CMD window and press Enter.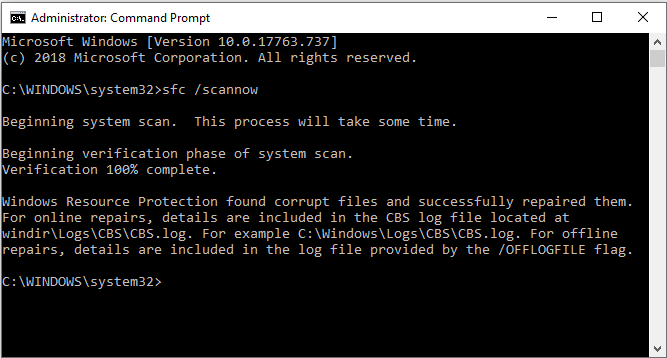 Step 3: Wait until the process to finish and then reboot your PC and then see whether the error is fixed.
Method 2: Run the DISM Tool
You can also run the DISM tool to check your system and solve the win32kbase.sys problem. It can also help you repair corrupted system files. Here is a quick guide on how to run the DISM tool:
Step 1: Run Command Prompt as an administrator.
Step 2: Type DISM.exe /Online /Cleanup-image /Scanhealth in the CMD window, then press Enter.
Step 3: Type DISM.exe /Online /Cleanup-Image / Restorehealth, and then press Enter.
Step 4: Wait for the process to complete and then reboot your system to check if the error appears again.
Method 3: Update Your Drivers
If running the SFC tool and DISM tool cannot get rid of the win32kbase.sys BSOD error, then the culprit could be your device driver problem. In order to fix the error, you should update your drivers. Here is the tutorial:
Step 1: Press the Win key and the X key at the same time to choose Device Manager.
Step 2: After entering the Device Manager interface, find the drivers (including video card drivers and sound card drivers) that have a yellow alert symbol attached to it. Then, right-click each problem-driver to choose Update driver.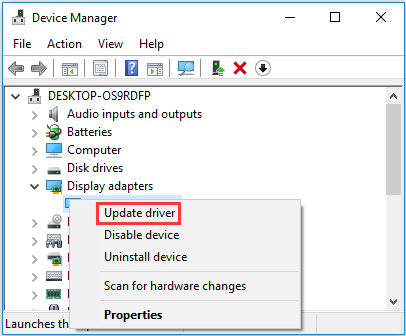 Step 3: Click Search automatically for updated driver software and then follow the prompts showing on the screen to finish updating the driver.
Step 4: Restart your computer to see if the error is gone.
Method 4: Run the System Restore
If none of the methods solved your problem, and you have created a restore point, then you can try to run the System Restore to fix the problem. And if you want to get detailed instructions, then you should read this post - What Is System Restore Point and How to Create It? Look Here!
Bottom Line
To sum up, this post has shown 4 feasible methods to deal with the win32kbase.sys Blue Screen error. So if you are struggling with the error, just try the methods mentioned above.