If you want to play DVD on computer but find that Windows 10 won't play DVD, what you should do to fix the problem? Is there any DVD player software that you can use for playing DVDs on Windows 10? In the following content provided by MiniTool Solution, several ways to troubleshoot DVD playing issue and the suitable DVD players will be introduced.
Microsoft designed Windows Media Player to help users play different kinds of files on their computer: audio CDs, data CDs, video CDs (VCDs), and data DVDs that contain music/video files (also known as media CDs). How to play DVD on laptop? Users only need to insert the DVD and select a DVD title or chapter name.
However, many users find their Windows 10 won't play DVD. Some users are seeking for effective solutions online because they still want to play DVDs on Windows 10.
MiniTool Power Data Recovery TrialClick to Download100%Clean & Safe
How to Fix When Your DVD Won't Play on Windows 10
The Windows Media Player in the previous versions of Windows can be used to watch DVD movies easily. Can you still watch DVD on Windows 10? Of course yes. If you want to continue watching DVD movies on computer/laptop Windows 10, you should read this guide carefully.
Useful Tips On How To Improve Windows 10 Performance.
Fix 1: Run the Windows Troubleshooter
Click on the Start button in the lower left corner.
Click on the Settings icon in the left sidebar of the Start menu.
Select Update & Security from the list.
Shift to the Troubleshoot option in the left pane.
Find Playing Audio under Get up and running section in the right pane.
Select it and then click on the Run the troubleshooter button.
Wait for the checking process to finish.
Find Video Playback under Find and fix other problems section.
Select it and click Run the troubleshooter.
Wait for the process to finish and follow the on-screen instructions given by your system.
Fix 2: Run SFC Scan
Click on the Start button.
Scroll down to find Windows System folder.
Expand it and right click on Command Prompt.
Navigate to More and then select Run as administrator.
Type sfc /scannow and press Enter.
Wait for the command to complete.
Restart your Windows 10 computer.

Fix 3: Update Windows 10
Still can't play DVD Windows 10? You should also try to fix the problem by updating your system to the latest version.
Press Windows + I.
Select Update & Security.
Click on the Check for updates button in the right pane.
Wait for the checking process.
Install the available updates under guidance.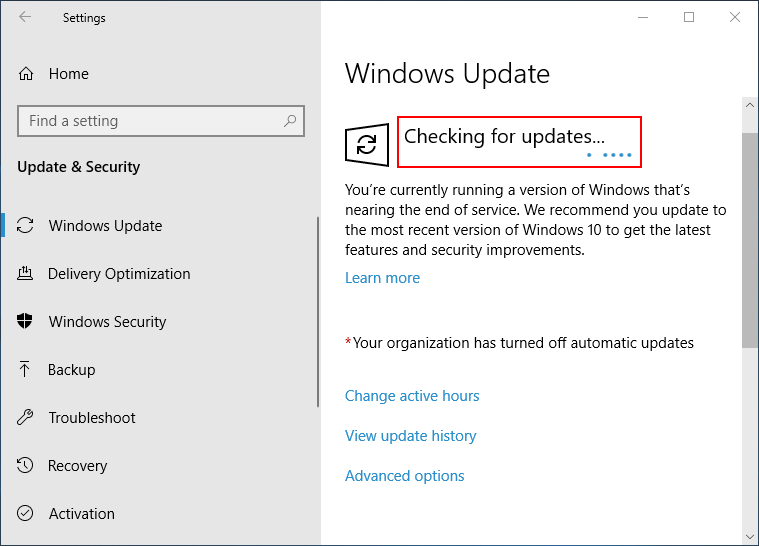 How to play DVD on Windows 10 after that? You should restart the computer -> open the Windows Media Player -> insert the DVD and select a DVD title/chapter name.
Fix 4: Check the DVD Drive
Press Windows + X.
Select Device Manager.
Go to the DVD/CD-ROM drives option.
Expand it and take a look at your DVD drive.
If there's a yellow exclamation mark or a red X sign on the icon, you'll need to update the DVD driver or uninstall & reinstall the driver.
Fix 5: Use Another DVD Player
Unfortunately, above methods may all failed. How to watch DVD on Windows 10 or how to play movies on Windows 10? You should turn to the following DVD player software for playing DVD on Windows 10.
The Best Windows Media Center On Windows 10 – Check It Out.
Option 1: Windows DVD Player.
Windows DVD Player is a paid app designed by Microsoft and sold at $14.99 in Microsoft Store. There's a seven-day trial version, but it won't actually play DVDs for you; it only helps you to check whether it's compatible with the built-in DVD player.
Option 2: VLC Media Player.
VLC is an universal multimedia player which allows you to play DVDs, CDs, Blu-ray discs, and music & videos saved on your computer.
Option 3: Kodi.
Kodi is a free and open-source player that can handles the DVDs, music, games, and videos.
Option 4: 5KPlayer.
If you want to play high-def videos, and even online radio stations in addition to DVDs, you should use the 5KPlayer. It allows you to stream audio & video from iPhone and snag videos from YouTube (or other streaming services).
Option 5: MiniTool MovieMaker.
As the name shows, MovieMaker can be used to create your own movies without limits. Besides, it allows you to play media files in different formats.