Windows 11 Release Date
Microsoft has announced officially that it will release Windows 11 as the first major update to Microsoft's desktop operating system in six years, but it didn't mention the exact Windows 11 release date. On the official webpage of Microsoft, it says the new operating system is "coming later this year". However, some press images are leaked out and indicated that the release date for Windows 11 is October 20, 2021.
If you're curious about the new system and plan to upgrade your computer to Windows 11 as soon as it releases, you should get to know about the new Windows 11 features.
MiniTool Power Data Recovery TrialClick to Download100%Clean & Safe
What's Changed in Windows 11
Though the official version of Windows 11 is not out right now, its first Windows Insider Preview build has arrived, allowing developers and enthusiasts to take a closer look at it. Windows 11 – the latest operating system of Microsoft – will be free for existing Windows 10 PC owners. A lot of new features and improvements are said to be added to Windows 11. Now, let's get to know some of the biggest Windows 11 changes.
Start Button
One of the most noticeable changes in Windows 11 lies in its Start button. In Windows 10, the Start button is located in the lower left corner of your PC screen. But in Windows 11, the Start menu and app tray are moved to the center. The Live Tiles are replaced by simplified icons (icons for open applications and icons pinned to the taskbar). This is similar to the ChromeOS launcher. Placing the Start button closer to the center makes it more accessible to users who have large monitors or ultrawide displays.
The new Start menu allows users to view opening apps and access pinned apps quickly.
The original Start menu is replaced by a group of applications under a heading called "Pinned".
There's a "Recommended" section displayed based on the applications and documents you've used recently.
A search bar is embedded within the app tray to help you find apps & documents more easily.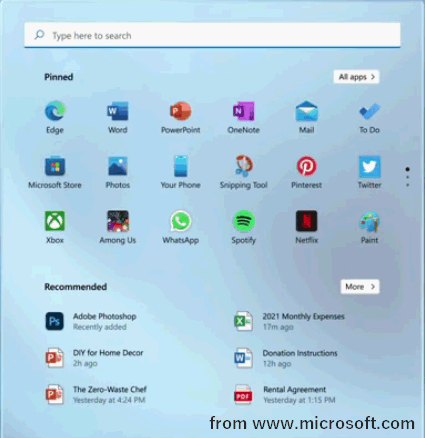 Windows 10 Taskbar Not Working – How To Fix (Ultimate Solution)?
It may take some time for users who never used ChromeOS or macOS to get used to the change. If you still want to place the Start button back to the bottom left corner, please open Settings -> select Personalization -> choose Taskbar to change.
The Settings App
The Settings app in Windows 11 has been changed greatly, very different from that in Windows 10. The navigation is easier since options in the left sidebar will not change as you move from one section to another.
The Settings app gets a new layout and some options are renamed.
There's a prominent link to rename your PC conveniently.
Some widgets are added to Settings to show paired devices.
You're provided with six desktop wallpapers to choose from.
The name & model, the status on Windows update, and the login status of OneDrive are displayed clearly in Settings.
Snap Layouts
Though Windows snapping has been there for a long time, it becomes not so useful for larger and ultrawide screens; snapping Windows to four corners isn't that attractive. Now, the new designed Snap layouts is useful for multitasking.
When you hover your mouse over the maximize button of a window, different window layouts for organizing your screen will appear; you can choose a layout and position within the layout which you'd like to put the window. This is very effective for handling multiple windows.
What else has changed in Windows 11:
A refreshed File Explorer (Windows 11 new File Explorer)
A more full-featured on-screen keyboard
The dynamic refresh rate (it helps to prolong the laptop battery life)
Better virtual desktop support
More refined transparency effects
What's New in Windows 11
There are many new features in Windows 11, below are some features favored by people.
Android Apps
One of the biggest surprises of the coming Windows 11 is that it allows users to install and run Android apps natively on PC, all thanks to the new "Intel Bridge" compiler. But you need to note that the Android apps are available in the new Microsoft Store via Amazon's Appstore; they aren't fully integrated into it.
Download the Amazon Appstore -> sign in with your account or create a new one -> browse the nearly 500,000 apps (such as Netflix and TikTok) -> select the app you need.
Auto HDR for Gaming
Windows 11 will automatically update the lighting and color while you're playing classic games or non-HDR games for meeting the HDR spec; this is not a new feature for Xbox consoles. Microsoft promised that it will bring the auto HDR feature to over 1,000 games.
Besides, the DirectStorage feature makes your games looks better and loads faster.
Microsoft Teams
The video chat platform Teams of Microsoft will be built into Windows 11. This allows you to connect with other people on Teams across systems like Windows, Android, Mac, and iOS.
Click on the Teams icon in the taskbar -> choose how to contact with others (message, text, voice, or video call) -> click Chat or Meet -> select a person from the contacts.
Besides, Windows 11 offers users a new tablet mode, rounded corners, animated transitions, and some Windows Widgets.