Is
DBAN not booting from USB
when you are trying to wipe your hard drive with this project? Don't panic when running into this frustrating issue. Here, this post from
MiniTool
provides a couple of methods to help you. Just follow them to solve your problem.
What Is DBAN
DBAN, also known as Darik's Boot and Nuke, is a free and open-source program that is hosted on SourceForge. It is designed for home or personal use to support secure hard disk data removal needs on desktops, laptops, or servers. To be specific, DBAN allows you to permanently remove all the data from a hard drive and make it no longer recoverable.
DBAN offers different wiping methods to erase data from your hard drives, like DoD 5220.22-M, RCMP TSSIT OPS-II, Gutmann, Random Data, and Write Zero. Besides, this hard drive eraser also enables you to effectively remove stubborn viruses and malware from Microsoft Windows installations.
How to Boot DBAN from USB and Wipe Disk
Data leakage is an annoying issue. Therefore, when you decide to sell, give away, or dispose of your old computer/traditional hard drive, you can try to erase any sensitive data and protect it from being retrieved with DBAN. It's a powerful disk-wiping tool that helps erase all the data on a hard drive, including the operating system, recovery partition, personal files, applications, etc.
To erase the hard disk with DBAN, you need to create a DBAN bootable USB drive by burning the ISO image to a USB flash drive with an ISO-to-USB tool first. There are multiple programs you can choose from, like Universal USB Installer, balenaEtcher, Rufus, etc. Here this post offers a step-by-step guide on how to use DBAN with Rufus.
Note:
Since the file system of the DBAN bootable USB should be FAT32, you'd better take action to
format USB to FAT32
if the bootable media builder you use doesn't format the drive automatically. Moreover, to avoid losing data, you should
back up important files
on the USB drive and the hard drive to wipe in advance.
Part 1: Create a DBAN Bootable USB Flash Drive
Step 1: Go to the official website of DBAN on your browser. Then click the DOWNLOAD DBAN button to continue.
Step 2: In the next window, click Download to start downloading the DBAN ISO file.
Step 3: Once the download finishes, save the DBAN file to a location that you can easily access, like Desktop.
Step 4: Connect the USB flash drive you prepare to the computer. Then go to Rufus' official website to download the latest Rufus version that is compatible with your system.
Step 5: After the process ends, double-click the Rufus.exe file in File Explorer to launch this program.
Step 6: In the Boot selection section, select Disk or ISO image from the drop-down menu. Then click the SELECT button to locate and choose the DBAN ISO file you downloaded before.
Step 7: After that, click START to begin creating a DBAN bootable USB drive. If prompted, click OK to confirm the operation.
Part 2: Use the DBAN Bootable USB Drive to Wipe Disk
Step 1: Boot your PC into BIOS and set the DBAN bootable drive as the first boot device.
Step 2: Now your system can boot to the DBAN main menu from the DBAN bootable drive. On this screen, DBAN offers information on how to use DBAN. To wipe your hard disk, we recommend you press Enter to get into the interactive mode.
Step 3: In the next window, press Space to select the target drive to wipe. If there are multiple drives in the list. Use the J or K keys to highlight the drive you want to wipe and then press Space.
Tips:
You can also change the PRNG and wiping method with the on-screen instructions.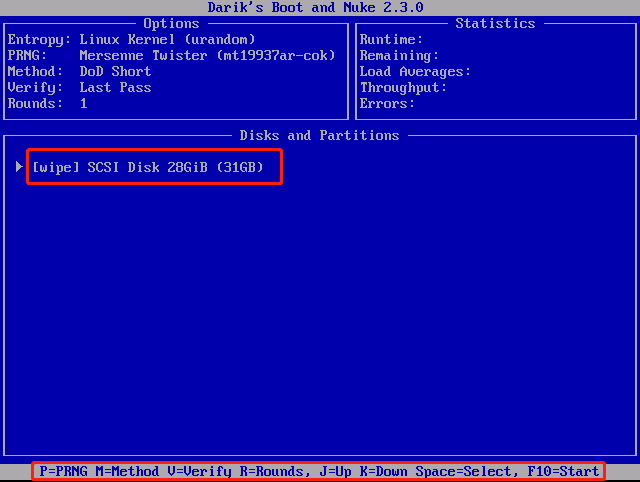 Step 4: Once done, press F10 to start the process. How long the disk wiping takes depends on how large the selected drive is. You should wait patiently until the operation finishes.
About DBAN Not Booting from USB
In some cases, you may consider booting DBAN from the USB to wipe your disk. It's a great way for disk wiping but sometimes may bother you with certain issues. For instance, you may randomly fail to boot DBAN from USB in Windows 10 and get stuck on a black screen with the operating system not found error.
What causes the "DBAN not booting from USB Windows 10" issue? Well, this issue can occur due to multiple reasons, such as a damaged USB port, incorrect boot order, other USB drives connected to your computer, and so on.
After learning the possible reasons for the "DBAN not working from USB" issue, let's get down to the methods for fixing it.
Fixes for DBAN Not Booting from USB
There are several possible solutions to the "DBAN not working from USB" issue in Windows 10. When DBAN won't boot from USB due to the "DBAN bootable USB not working" issue, you can try to fix it with the following methods.
Method 1: Recreate the DBAN Bootable USB Drive
If you run into the "DBAN bootable USB not working" issue, it may indicate there is something wrong with the currently used boot device. As for this, you can try to fix it by recreating a new DBAN bootable USB drive. To make sure you create the DBAN bootable USB successfully, you can try using a different boot media creator.
Method 2: Switch to Another USB Port
The "DBAN not booting from USB Windows 10" issue may occur due to a damaged USB port as well. If it's the culprit, you are likely to solve this issue by simply connecting the DBAN bootable USB drive with another USB port. After that, reboot your computer to see if the issue disappears. If not, continue with other solutions.
Method 3: Disconnect All Unnecessary USB Drives
When you insert more than one bootable USB drive into your PC, the system may have difficulty telling which one is the correct one to boot from. If your system boots from the wrong bootable drive, then DBAN won't boot from USB. To bypass this issue, it's better to disconnect all USB drives except the DBAN bootable one.
Method 4: Change the Boot Order in BIOS
Your Windows 10 cannot boot from the DBAN bootable USB drive if you don't move it to the top of the boot order in BIOS. As a result, DBAN won't boot from USB and wipe the disk. In this case, you can try to change the boot order to see if it works. To do this, you just need to enter BIOS and go to the Boot tab to change the DBAN bootable USB drive as the first boot order.
Method 5: Update Your BIOS
The outdated BIOS may also lead to the "DBAN not booting from USB" issue in Windows 10. On this occasion, it's recommended that you update the BIOS to the latest version. To execute this operation, you can refer to the following guide:
Alternative to DBAN: MiniTool Partition Wizard
If you encounter problems while wiping hard disks with DBAN and don't know how to solve them, you can turn to a DBAN alternative. Here, we highly recommend MiniTool Partition Wizard. Like DBAN, it also allows you to wipe hard drives for free. What's more, it supports wiping various storage devices including internal/external hard drives, SSDs, USB drives, and SD cards.
In addition to wiping the disk, MiniTool Partition Wizard offers lots of helpful features for partition/disk management. With this comprehensive partition manager, you are able to partition hard drive, clone hard drive, execute MBR2GPT conversion, recover data from hard drive, and more.
To safely and permanently wipe a disk with MiniTool Partition Wizard, you need to back up important files on this disk and then follow the steps below.
Step 1: Download and install MiniTool Partition Wizard in your Windows 10. Then launch this program to enter the main interface.
MiniTool Partition Wizard FreeClick to Download100%Clean & Safe
Step 2: Right-click the disk you want to wipe and select Wipe Disk. Alternatively, you can highlight the target disk and then select Wipe Disk from the left action panel.
Step 3: In the pop-up window, choose a wiping method and click OK.
Tips:
To protect data from being recovered with any data recovery software, you can choose the latter two methods.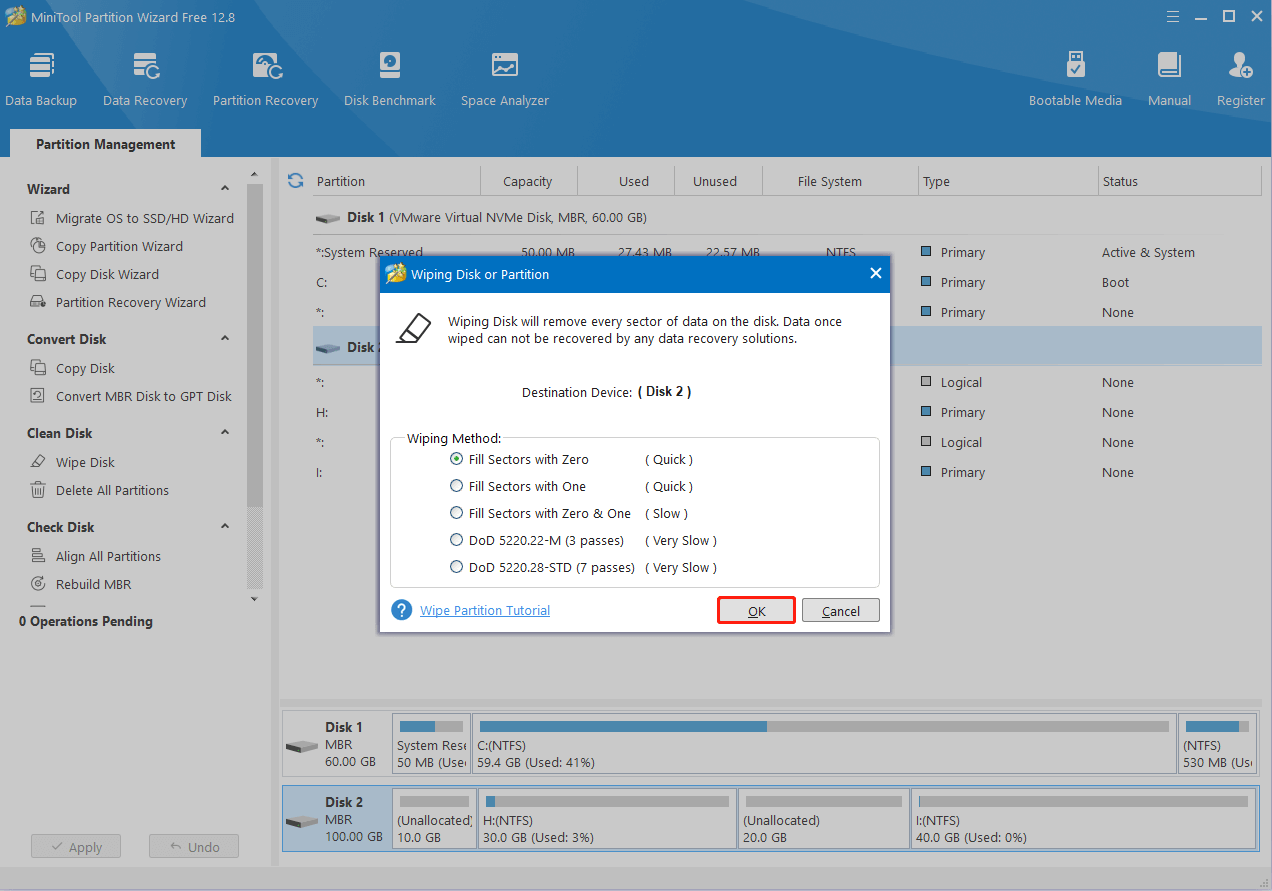 Step 4: Now you can preview the wiping result that shows the selected disk becomes unallocated. Don't forget to click Apply to save the changes.
Is DBAN not booting from USB? If you experience this annoying issue like others, you can pay attention to this post. It discusses what if DBAN won't boot from USB in detail. Click to Tweet
Bottom Line
This post introduces DBAN briefly and guides you to boot DBAN from USB. More importantly, it offers effective solutions to the "DBAN not booting from USB" issue. You can try them when you get stuck in this issue. If you have any problems with DBAN disk wiping, you can leave a message in our comment area below.
For any issues related to MiniTool Partition Wizard, please contact us via [email protected]. We'll reply to you as soon as possible.