In the present digital information and technology era, data loss prevention or data security is a common concern for all of us. Companies and organizations choose some top data loss prevention software or services to monitor, detect, block potential data breaches and transmissions, and prevent data loss or leakage.
In regards to the data loss prevention technique, below we cover the definition of DLP (data loss prevention), and some top data loss prevention software/tools/services for you.
Still, for devices unexpected data loss, MiniTool Power Data Recovery helps you easily recover any lost data from various storage devices for free.
What's more, no matter how careful you are with data loss prevention, you may suffer data loss because of some sudden unexpected disasters. The best way to prevent data loss is always making a backup for important data with a professional free backup software like MiniTool ShadowMaker. Freely choose any files and folders to backup. Support schedule automatic backup.
Continue to check the solutions and tools for data loss prevention, data recovery and data backup. Detailed guides are included.
Why Is Data Loss Prevention Important?
For both individuals and organizations, data protection is important and vital.
Loss of data can be disastrous. It also affects privacy and security. If some important data are stolen and falls into the wrong hands like cybercriminals, they might use that data to blackmail money or conduct more breaches.
Especially for enterprises, the loss of sensitive and crucial data can affect the reputation and development of the enterprise, even cause huge financial loss and lead to lawsuits. They should put much more importance on data protection.
Therefore, cyber security experts must find ways to block attacks and breaches. And this comes down to robust data loss prevention (DLP).
What Is Data Loss Prevention (DLP)?
Data loss prevention (DLP) technology aims to identify, monitor and protect your data, both in storage or in motion through network, from misuse/theft/ransomware/leakage.
DLP is a technique to make sure that end users don't send sensitive or critical information outside the corporate network, so as to prevent sensitive and important data from being lost, misused or accessed by unauthorized people.
DLP also refers to data loss prevention software products that are used to help network administrators detect, monitor and block potential sensitive data breaches in use, in motion and in storage.
How Does Data Loss Prevention (DLP) Software Work?
DLP software uses business rules to classify sensitive, confidential and critical data, and identify the violations of data security policies that are framed by organizations. DLP techniques are used to enforce the data security policies like HIPAA, GDPR, or PCI-DSS.
Once the data loss prevention (DLP) software finds some violations of those policies, it will conduct remediation with alerts and try some other actions to prevent users from accidentally or maliciously sharing sensitive and critical data. DLP software will often use AI to watch for suspicious behavior, in a similar way for antivirus software, to watch and stop potential problems before causing damage or loss to data.
For instance, if an employee in a company tries to send an email with sensitive data outside the corporate domain network or upload a file to cloud storage, this action would be blocked with DLP.
If you use data loss prevention software to protect your important sensitive data, DLP can tag those sensitive data and monitor activities and events around that data.
Data Loss Prevention Categories:
The data loss prevention (DLP) technique can be divided into three levels: standard security measures, advanced security measures, designated DLP systems with access control and encryption.
Data Loss Prevention Types:
DLP technology can be used to protect the security of various kinds of data:
Network data (data in motion) – monitor and analyze sensitive data that is being transmitted over the network.
Endpoint data (data in use) – monitor and control information flow between groups on internal end-user workstations or servers.
Data identification – organizations use a DLP technology to identify what to look for.
Data leak detection – investigate the source of the data leak.
Data at rest – refer to the old archiver information. Businesses can use access control, data encryption and data retention policies.
Data in use – data that is currently interacting with.
Data in motion – data that is transferred through a network to an endpoint.
Data Loss Prevention and Data Leak Prevention
Data loss and data leak are similar, and are often used interchangeably. When the lost data, containing confidential and sensitive information, is acquired by unauthorized third-parties, it becomes a data leak.
However, a data leakage may not cause the data to lose from the original owner.
Data loss can not only mean data leakage, but also mean loss of data because of mistakenly deletion, malware/virus infection, system crash, and other situations which might cause data loss of your device.
What Are the Best Data Loss Prevention Tools?
As for data loss prevention, to ensure the data is securely stored in the device should come in the first place. The next action is to make sure that only correct users or groups have the right permissions for the right data. The third advanced measure is to use DLP software to monitor and enforce the data security so as to prevent data from leaking or being damaged/lost.
There are some data loss prevention software products out there in market to help you prevent data loss/leak. Below is a list of top 8 data loss prevention tools to keep your confidential and sensitive data safe. Free data backup software and data recovery software are also included to help you backup and restore data.
We'll first introduce the free data backup software and data recovery software with user guides, and then introduces best data loss/leakage prevention (DLP) software.
#1. MiniTool ShadowMaker – Easily Make a Backup for Important Data
Data loss prevention should not be an afterthought. Keep in mind to always have a backup of important data and files is the best way to avoid data loss.
MiniTool ShadowMaker is a professional free PC data and system backup software. It has many powerful functions and it is compatible with Windows 10/8/7. Clean and very user-friendly.
Backup files and folders: You can freely choose files and folders on your Windows computer and back up them to another designated location, external hard drive, USB flash drive, etc.
Backup and restore Windows OS system: Also as a top Windows system backup and restore tool, you can use it to easily back up Windows OS to USB or external hard drive, and later utilize its system restore function to restore computer system if you need.
Backup a particular hard drive partition or whole disk data: You can also choose a partition to backup all data on this partition to destination path. Its Clone Disk function allows you to copy all data on a disk to another drive.
Bootable media builder: Computer won't turn on? MiniTool ShadowMaker offers a bootable media builder feature enabling you to easily create a bootable USB/disk drive to boot your computer.
Automatic backup schedule: You can set a backup schedule to automatically back up data on a regular basis.
File sync: It allows you to synchronize files to other locations to keep data safe.
How to Use MiniTool ShadowMaker to Back up Data
Free download and install MiniTool ShadowMaker on Windows 10/8/7 PC or laptop, and follow the 3 simple steps below to make a backup of important data or Windows system. Here we take backing up files and folders as example.
MiniTool ShadowMaker TrialClick to Download100%Clean & Safe
Step 1. Get into MiniTool ShadowMaker main UI
You can launch MiniTool ShadowMaker, and click Keep Trial button to use the Trial Edition (30-day free trial).
Then you can click Connect button under This Computer. This software also allows you to manage remote computers.
Step 2. Choose source files and destination path
Click Backup button at the toolbar, and click Source section. Continue to click Folders and Files option in the pop-up window to choose the source files and folders you want to backup.
Then you can click Destination section to choose a destination path in the pop-up window. If you want to backup data to external devices like USB drive or external hard drive, you should connect them to your computer beforehand.
Step 3. Start to back up files at fast speed
When everything is settled, you can click Back up Now button at the bottom-right corner on the main UI, and this smart PC backup software will start backing up the chosen files to the destination.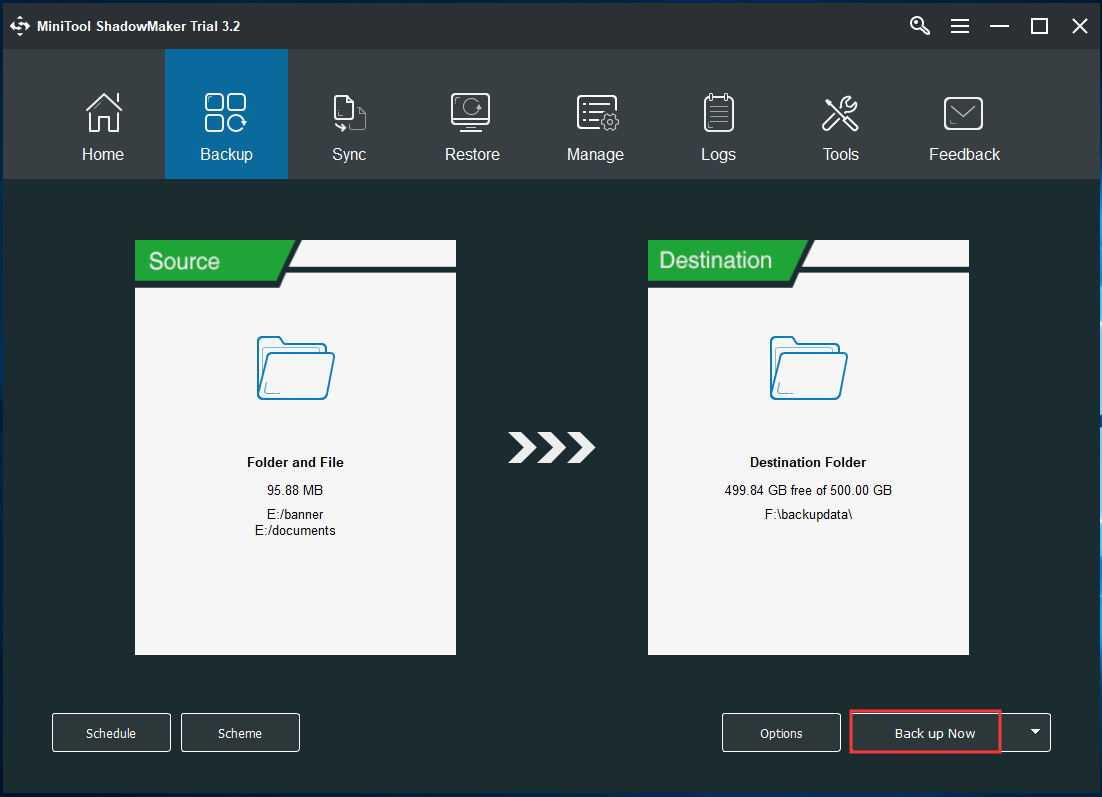 #2. MiniTool Power Data Recovery – Fast Recover Any Data/Files with Ease
Unfortunately, if you've already lost some data in Windows computer or other data storage devices, you should immediately use a professional data recovery software like MiniTool Power Data Recovery to easily recover any lost data and deleted files.
Data recovery is another method to help with data loss prevention, but remember not to store new data on the target device where you lost data, since it may cause data overwriting and cause the lost data unrecoverable even if with a professional data recovery program.
MiniTool Power Data Recovery is a top free data recovery program compatible with Windows 10/8/7. It enables you to easily recover deleted files or lost data from PC hard drive, external hard drive, SSD, USB//thumb/pen drive (pen drive data rrecovery), SD card, and more.
This best data recovery software can help you recover data if you mistakenly deleted a needed file, encounter data loss after a system crash, black/blue screen error like Kernel Data Inpage Error, malware/virus infection, sudden power outage, hard drive problem, or any other Windows problems.
One big merit of MiniTool Power Data Recovery is: it also equips a built-in bootable media creator which allows you to create a bootable USB/disk drive to boot your computer into WinPE, so as to recover data from unbootable PC.
Free download and install MiniTool Power Data Recovery on Windows 10/8/7 computer, and check the 2 easy steps below to easily recover any deleted/lost files from computer. 100% clean.
MiniTool Power Data Recovery TrialClick to Download100%Clean & Safe
Step 1. Select the source device to scan
You can launch MiniTool Power Data Recovery to enter into its main interface which is extremely intuitive.
Next you can select one category from the left column. You can choose This PC, Removable Disk Drive, Hard Disk Drive, or CD/DVD Drive. Here we choose This PC to get ready to recover data from your computer hard drive.
You can continue to choose one partition in the right window, and then click Scan button. This smart data recovery software will start scanning all data on the chosen partition incl. deleted files and lost data.
Step 2. Find, check and save the recovered files
After the scan process is finished, you can see all data and files on the partition are listed in the scan result window. You can check the scan result by path or by type to find your needed files.
To help you quickly find needed files, this smart data recovery software provides Find, Filter, Show Lost Files, Preview functions. You can search the scan result by file name, file extension, file size, and only show lost files, etc.
After you find needed files, you can tick them and click Save button to continue to specify a new destination path to store the recovered files. The reason why you should choose a new destination path or new device to store the recovered data is also to avoid data overwriting.
Data backup and data recovery are two useful methods to prevent data loss. To avoid data leakage, you can continue to check the top data loss prevention (DLP) software below.
This top DLP software comes with the most comprehensive data detection and data loss prevention technologies. It can monitor data and protect valuable data on computers, servers, mobile devices and in cloud storage, both for consumers and business organizations.
The Symantec DLP system can monitor suspicious behavior from user-installed apps and prevent data theft, identify and stop apps from accessing secured information, and prevent any non-compliant data from transferring, etc.
McAfee DLP software includes various data loss prevention solutions in one suite. It can safeguard intellectual property, critical data, and ensure compliance with DLP policies. It can protect sensitive data at endpoints and in the cloud.
McAfee Total Protection for DLP contains the following components to protect your data from all aspects: McAfee DLP Discover, McAfee DLP Prevent, McAfee DLP Monitor, McAfee DLP Endpoint, McAfee Device Control, and McAfee MVISION Cloud Integration.
#5. Check Point Data Loss Prevention
Check Point Data Loss Prevention is also an easy-to-use DLP software. It also combines different pre-emptive data loss prevention techniques to protect your important sensitive data from leaking or sending accidentally to the unauthorized wrong hands. It monitors the data transfer and makes sure they stay compliant with DLP regulations and industry standards.
#6. Digital Guardian Endpoint DLP
Digital Guardian DLP can also provide data protection from all threats. You can install the Digital Guardian DLP system on Windows, Mac, Linux endpoints, or as a cloud-based system.
Digital Guardian data loss prevention software can detect and audit potentially unsecured data, stop sensitive data from leaving your network, avoid data loss by securing endpoints, stop data loss in cloud applications like Office 365, and monitor suspicious activities and behaviors at the endpoint.
#7. SecureTrust Data Loss Prevention
SecureTrust DLP provides sets of solutions to discover, monitor, and protect data at rest, in motion and in use to prevent data exfiltration. Its DLP system can automatically block any policy violations and ensure data security.
#8. Teramind DLP
Teramind DLP ensures your employees and vendors don't intentionally or accidentally share sensitive or confidential business data outside your organization. It utilizes content discovery, digital inspection techniques, and contextual analysis to identify and classify sensitive data and IP.
The DLP system monitors users' actions and stops suspicious actions by blocking the user, alerting the administrator, etc.
For more details for the best data loss prevention software, you may refer to this post from Techradar: Best data loss prevention service: Choose the right DLP to protect your assets.
Conclusion
This post explains what data loss prevention (DLP) is, why DLP is important, how DLP works, and lists 8 best data loss prevention software, tools and services for your reference. You can utilize those tools to avoid data loss and ensure data security.
If you have problems when using MiniTool ShadowMaker and MiniTool Power Data Recovery to backup and restore data, you can contact [email protected].