Though disturbing, it is a common experience to be stuck in a certain stage during computer startup. You can't access your system and hard drive; how terrible it is, right? You may see the error message on the computer screen which explains why you are stuck sometimes. For instance, "Operating system not found" is a typical one.
Part 1 – Run into Operating System Not Found Error
Hey I had Windows 7 home basic installed on my Dell Inspiron laptop, and there was only 1 partition (c drive), I think that I deleted something from windows, and now when I'm switching on the laptop its saying "operating system not found". Somebody please help me, how can I recover the data on hard drive. Is it possible that data is still present on hdd? Sorry for my grammar, I'm not good in English.– said by akks on SeverForums
Is this familiar to you? Have you ever been put into such a situation? What will you do if you find the computer fails to launch the operating system and displays an error message like "Operating system not found"? At this critical moment, most of you will focus on operating system crash recovery and how to fix the operating system not found error, right?
Here, I will provide an excellent bootable recovery tool and show you how to recover files from a dead computer with it. And after that, I will also provide 6 solutions to help fix no operating system error. Please take it easy, all the operations involved in the data recovery and error solving process are easy to master, even for a newbie.
The bootable recovery tool – MiniTool Power Data Recovery Boot Disk – allows you to access hard disk without OS easily so as to recover files from the unbootable disk. You don't need to worry even if you have never done data recovery/file recovery by yourself independently; that is simply because prompts will be given in software to guide you through the recovery process step by step.
Tip: You must note that the boot disk is not included in the free edition or the trial edition. To experience its performance, you must obtain a license that contains the snap-in WinPE Bootable Builder which is able to help you create a bootable USB flash drive or bootable CD/DVD.
Click to see license type's comparison.
Now, let's take a closer look at how to recover files when Windows crashed.
Part 2 – How to Recover Files from a Hard Drive That Won't Boot
Seeing the following error messages when you tried to start computer as usual?
No operating system found
Though data recovery from corrupted internal hard disk is a relatively difficult task, I can make it easy for you. Please keep calm and watch what I will do in the following content (all the operations are completed in a Win10 desktop).
Curious about how to recover files from a dead computer? I will unveil it for you; it includes 2 stages:
Building Boot Disk
Changing startup settings to use the boot disk to recover data.
I'll take the Personal Deluxe license as an example in the following content.
How to Build MiniTool Power Data Recovery Boot Disk
Step 1: find another computer that works well and buy a license according to your needs. Then, install the software to that computer, run it afterward, and register it with your license code.
Step 2: now, please click on the "Bootable Media" button to see the following interface. Here, you should click on the "WinPE-based media with MiniTool plug-in".
Step 3: choose to build the boot disk on CD/DVD/USB flash drive. Or you can just make a .iso image in this step.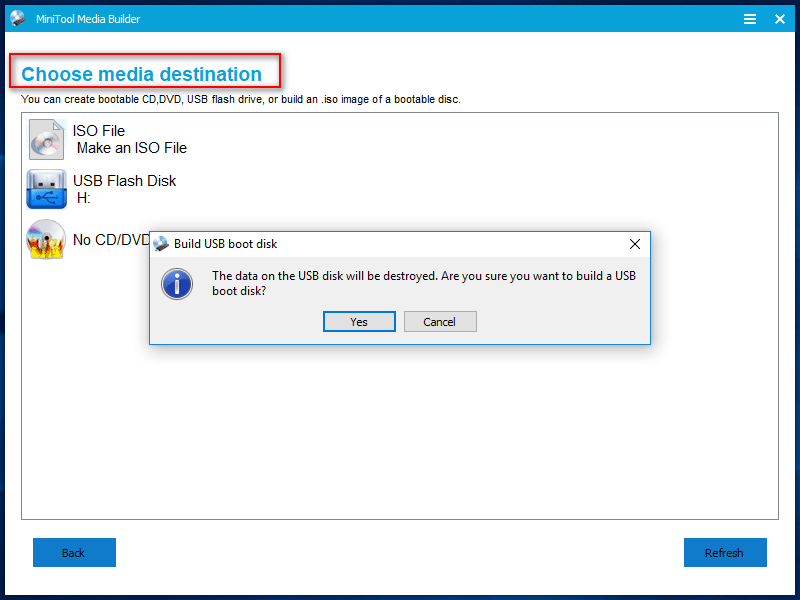 Please note:
Please backup data in your device in advance since this will format the device and cause data loss.
If you forget to insert the CD/DVD or connect the USB flash drive, please insert/connect it now and then click on the "Refresh" button to continue.
If the CD/DVD or USB flash drive that you've connected to the computer doesn't appear, you can also try to press "Refresh".
Step 4: wait patiently when the disk is building.
Step 5: please click on the "Finish" button when the building process is completed automatically.
How to Use the Boot Disk to Recover Data
Now, let's see how to recover files from a crashed hard drive with ease.
Step 1:
Eject the boot disk you've just created from current computer and connect it to the computer which encounters a problem.
Then, start the computer and press the required button to enter BIOS settings.
After that, adjust the order of devices under the "Boot" menu, moving the bootable CD/DVD/USB to the first.
Finally, exit BIOS settings panel and choose to save the changes.
Step 2: decide to change the screen resolution or not.
Step 3: you can click on the "OK" button to confirm the launching process of MiniTool Power Data Recovery or wait for the automatic launching.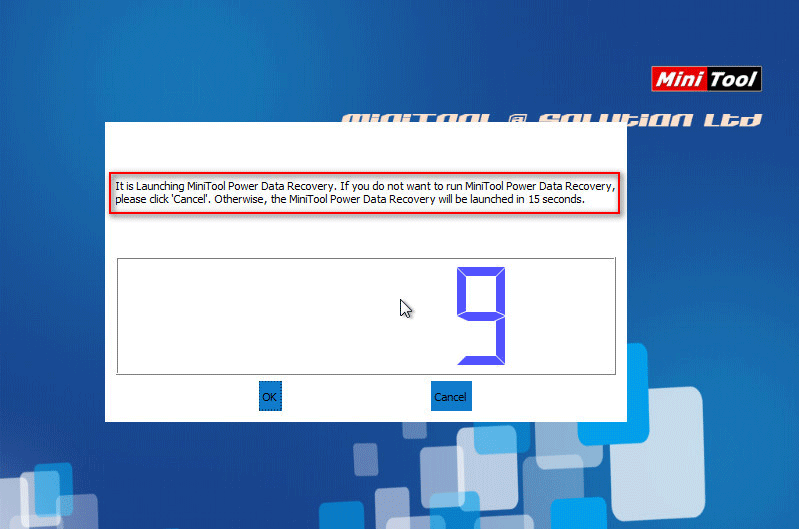 Step 4: please click on the first option when you see the following interface.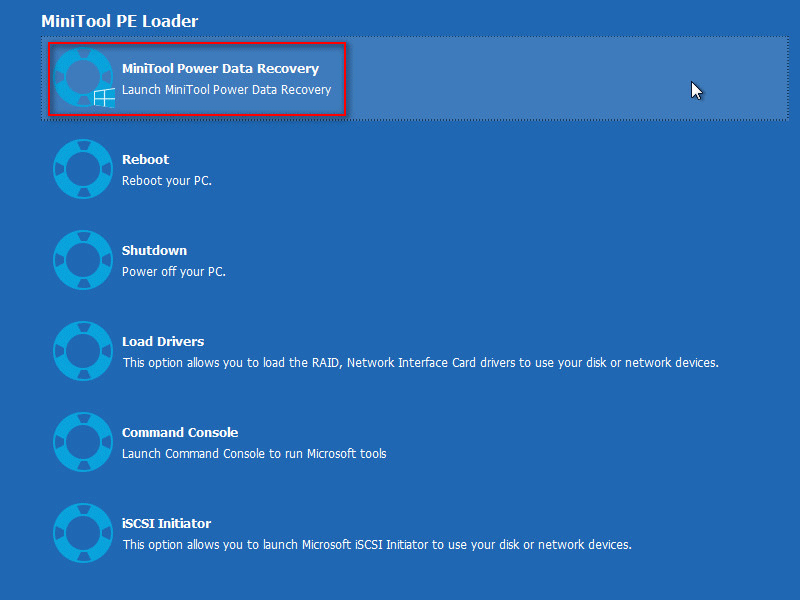 Step 5: after that, you'll see the main window of software, in which four options are displayed in order – "This PC", "Removable Disk Drive", "Hard Disk Drive", and "CD/DVD Drive". Now, please select one according to needs.
Note: Since you may not know the actual cause of a crashed system, I suggest that you choose "This PC" to recover files from existing partitions on a hard drive or choose "Hard Disk Drive" to recover data from disappeared local drives.
After that, you should do the following things:
Select the corresponding partition/disk and press "Scan" button to detect files.
After that, wait for the scan.
Please browse the found items during the scan or when the scan is over.
If it does help you find what you need, you should pick out the files & folders to recover.
If it can't help you find the files you want to recover, it is basically because that secondary damage has already been brought to the files that you're looking for; you need help from professional recovery agencies.
Tip: See, data recovery after OS not found is not that difficult to finish as long as you choose the right tool. Please don't hesitate to buy a license if you are ready to use a recommended boot disk to recover important data from the crashed system.
Reading here, you must know how to recover files when the computer crashed, right? Don't ask how to fix a crashed laptop since the steps are exactly the same. My suggestion is – seize your time to recover data by using the bootable recovery tool I have introduced, instead of wasting time seeking methods to recover data from hard disk without OS. The quicker you take action, the more likely you are to succeed in data recovery.
Part 3 – How to Fix Operating System Not Found Error
When advanced users see error messages like the operating system not found and missing operating system, they'll firstly think that this is caused by the missing of boot information of hard disk; if that's the reason, then you can solve the problem by simply reinstalling operating system after finishing recovered needed data.
But, the error may also be caused by other problems, so I strongly advise you to read the following causes and solutions carefully in order to find out the most suitable one for your case.
Check Property of Hard Disk
If above methods all fail, you should consider that your hard drive is broken. Don't panic; you can use the "Surface Test" function in MiniTool Partition Wizard to check your disk to see what happens.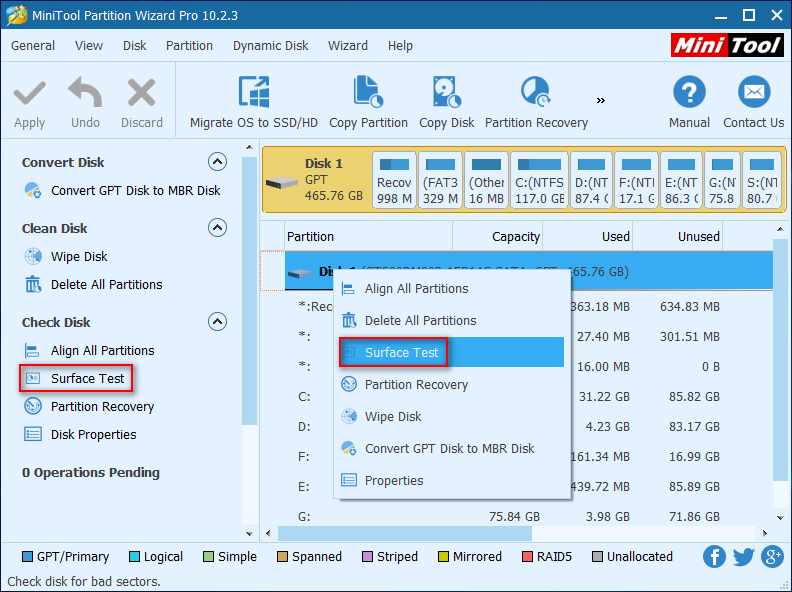 Check Whether the Boot Partition Is Active
What is a hard disk active partition? In brief, it is a hard drive partition that was set as the bootable partition in order to boot operating system contained in it successfully. On each hard drive, there is at most one active partition. When you set the wrong partition active, you will not be able to access the computer.
At this time, you can use the MiniTool Partition Wizard Bootable CD to see whether you have an active partition on the hard drive and whether it is set correctly. If not, you can make use of the "Set Active" & "Set Inactive" to change.
Repair MBR or Boot Sector
When starting the computer from a bootable hard drive, the system BIOS code will firstly identify the startup disk & read the MBR (Master Boot Record) on it. Then, the master boot code will search for the active & primary partition on the hard disk. At this point, if the MBR is damaged or it cannot locate the boot sector of the system partition, you'll end up in failure.
In this case, you can also try MiniTool Partition Wizard Bootable CD; use the "Rebuild MBR" function to have a try.
Check Whether Hard Disk Is Detected in BIOS or Not
The no operating system found error could be caused by problems on the hard disk. So I advise you to enter BIOS/CMOS settings by pressing the corresponding button on the first screen you see when starting the computer. Then, go to check whether the hard disk is detected.
As long as you know the computer model, it won't be a troublesome thing to find and enter computer BIOS/CMOS settings. But what makes it difficult is that the BIOS (or UEFI) interfaces on different motherboards are very different (even two computers developed by the same manufacturer can be totally different).
The good news is in most BIOS interfaces, so it's easy to find the boot options on the main screen. In this way, you're able to see whether your hard disk is detected by the computer clearly.
Only when you're using some very old motherboards, you may see the following main BIOS screen.
In BIOS settings screens like this, you need to enter the "Advanced BIOS Features" and then check the first, second and third boot devices separately.
If you found a hard disk not detected by the computer, you should go to check your connection line, hard disk interface, power supply or other factors that could affect the detection of the hard disk.
Change the Boot Order in BIOS
After checking, if you find your hard disk is detected by computer normally, you should then check the boot sequence inside. If the hard disk is not set as the first boot device, your computer may also not be able to boot normally.
At this time, you should use the corresponding keyboard (you can see prompts in the settings window) to adjust the boot sequence easily and then make the correct hard disk as the first boot device. After that, exit and save changes. Now, restart your computer.
Reinstall Operating System – the Trump Card
The last but not the least method to deal with the operating system not found problem is to reinstall your operating system. As long as the hard disk in your computer is not damaged physically, this can always be the most effective and most direct solution.
After the reinstallation of the operating system, all problems and errors will go away. The only thing you should notice is all the data on the hard drive may be damaged during reinstallation, so you should recover data firstly, as I said in part 1.
This post tells you how to reinstall Windows on the computer.
Part 4 – Conclusion
All in all, what I want to emphasize in this article is – Operating System Not Found happens now and then due to various reasons. When that really hits on you, you shouldn't cover your face and weep; on the contrary, please cheer up and take measures immediately to rescue data at first from the problematic computer.
My suggestion is using the Bootable Edition of MiniTool Power Data Recovery. It will help you recover important data easily and will not bring any damage to your hard disk/computer.
When data recovery after OS crashed is finished completely, you can try to fix the no operating system error by whatever means you like. Hope you all can find back valuable data you need and fix the problem successfully! Feel free to leave us a message if you encounter any questions.
Operating System Not Found FAQ
What causes boot device not found?
Like any other computer problems, the boot device not found issue can also be caused by a lot of reasons, such as incorrect boot order in BIOS, damaged/lost boot sector or
partition table
, corrupted/damaged bootable disk, virus attacks/malware infection, poor connection, etc.
How do I fix BOOTMGR is missing?
Insert the installation CD to your computer.
Restart the computer to let it boot from this CD.
Press a key when you see the message Press any key to boot from CD or DVD.
Set language, time, and keyboard. Then, click Repair your computer.
Select the Windows installation drive and click Next.
Choose Startup Repair and wait for it to complete.
How do you reset the BIOS?
An easy way to reset the BIOS is to replace the CMOS battery.
Shutdown your PC and remove the power cord.
Look at your motherboard and find the battery.
Remove the battery gently and wait 5 to 10 minutes.
Put back the battery to motherboard.
Restart your PC.