Here,
MiniTool Software
introduces some solutions to the PS4 WV 33898 1 (cannot display the page) error code. You can try them one by one when you meet the same problem.
PS4, short for PlayStation 4, is a popular video game console provided by Sony Interactive Entertainment.
With such a console, users can enjoy a lot of PS4 games, such as Elden Ring, FIFA 22, Spider-Man, etc. In addition, PS4 also allows you to use an Internet browser to visit webpages.
Unfortunately, some users received the error code WV 33898 1 while launching the Internet browser or visiting a website on PS4. The error code usually comes with the following message: cannot display the page.
The problem can be caused by various factors and you might be confused. To solve the problem in your case, you should try the following solutions one by one until you solve the problem! Don't worry. They are easy to operate.
Solution 1: Try Again After a While
When you can't connect to the server or open a webpage on the PS4 browser, you can stop visiting the webpage and try again after several minutes. Besides, you should also check whether the URL of the webpage is correct.
If you keep receiving the error code WV-33898-1, you need to move on to the next solution.
Solution 2: Check the PSN Server Status
If PlayStation Network (PSN) servers are undergoing maintenance, you could encounter WV 33898 1 when you use the Internet browser. In this case, you can do nothing but wait until the developers solve the problem.
How to check the PSN server status? You can go to the official PSN service status page on another device. If all services are up and running, you should keep trying the next solution.
Solution 3: Check for Network Connection
Networking issues might also lead to PS4 error WV 33898 1. Therefore, you need to troubleshoot your network and make sure it works properly.
You can test your network status in Settings > Network > Test Internet Connection. If you find any network issues, here are some recommended methods that you can try to improve your network.
Method 1: Restart Your Modem and Router
One of the most common ways to solve network issues is to restart the modem and router. You just need to disconnect the power connection of them and wait for at least 2 minutes. Then you can plug the power cables back and connect your PS4 console to the network.
After that, you can try visiting a website to check if the error has been solved successfully.
Method 2: Switch to a Wired Network Connection
A wired network connection is usually more stable than a wireless one. Therefore, if you are using a wireless network when you receive the error code WV-33898-1, you should try to switch to a wired network connection and check if it helps.
Method 3: Modify DNS
To improve the network connection and solve PS4 WV 33898 1 error, you can also try to modify DNS settings on your console. And here are the detailed steps.
Step 1: Select Settings on the home screen.
Step 2: Go to Network > Set Up Internet Connection.
Step 3: Select your network type. If you are connected to a wired network, choose Use LAN Cable. Otherwise, select Use Wi-Fi.
Step 4: Select Custom when you are asked "how do you want to set up the Internet connection". Then choose Automatic on the next screen.
Step 5: On the DHCP Host Name screen, select Do Not Specify.
Step 6: On the DNS Settings screen, select Manual. Then input the following values (of Google DNS servers):
Primary DNS: 8.8.8.8
Secondary DNS: 8.8.4.4
After changing the DNS configurations, you can launch your Internet browser or visit a webpage to check if the WV 33898 1 error code disappears. If it still exists, you should keep trying the next solution.
If you suspect that there is something wrong with your network, you can contact your Internet service provider to find more ways to improve your network.
Solution 4: Update PS4 System Software
If you are using outdated PS4 system software, you could also encounter the error code WV-33898-1. So, to solve the problem, you can try to check for system software updates.
If your PS4 is connected to a proper network, you can just go to Settings > System Software Update > Update to check for available updates. If there is an update, just follow the on-screen instructions to download and install it.
If your PS4 network connection is not stable enough or the update failed, you can download the latest PS4 system software from the official website via a USB flash drive and install it manually. Generally, three stages are required in this way.
Stage 1: Prepare a FAT32 Formatted USB Flash Drive
At first, you need a USB flash drive that is formatted to the FAT32 file system. If your USB flash drive is NTFS, it will not be recognized by your PS4 console when you use it to install the latest system software.
You can format your USB flash drive on a PC since you will download the update file on the PC later. On a Windows PC, there are many tools you can use, such as Disk Management, Command Prompt, and File Explorer.
However, you should be aware that these tools cannot format a USB flash drive larger than 32 GB to FAT32. If your USB flash drive is larger than 32 GB, you need a reliable third-party program. Here I recommend MiniTool Partition Wizard, a professional partition manager available on Windows 7/8/8.1/10/11 and Windows Server.
Note:
As an all-in-one partition manager, in addition to formatting a partition, MiniTool Partition Wizard can also help you create, move, resize, and wipe partitions. If you
lose important files
accidentally, you can recover them easily with MiniTool Partition Wizard, as long as they are not
overwritten
. Therefore, it is worth trying.
Now, let's see how to format your USB flash drive with this wonderful partition manager.
Step 1: Connect your USB flash drive to a Windows PC.
Tip: All the files on your USB flash drive will be deleted during the formatting process. Therefore, you'd better back up data if there are any important files on the USB drive.
Step 2: Click the following button to download MiniTool Partition Wizard. Then install and launch this tool.
MiniTool Partition Wizard FreeClick to Download100%Clean & Safe
Step 3: When you get the main interface of MiniTool Partition Wizard, select the partition on your USB flash drive and click Format Partition from the left action panel.
Step 4: In the pop-up window, select FAT32 for the file system option. Then click OK for confirmation.
Step 5: Click the Apply button located in the bottom left corner of this tool to start formatting your USB drive to FAT32.
How to solve PS4 error WV 33898 1? You should try updating your system software. Read this post for more details.Click to tweet
Stage 2: Download the Latest PS4 System Software Update File
Once you have a FAT32 formatted USB flash drive, you can download the update file.
Step 1: Press Windows + E to open File Explorer. Then open your USB flash drive.
Step 2: Create a folder named PS4 on your USB drive. Then create a folder named UPDATE inside the PS4 folder.
Step 3: Launch a web browser and visit the official website of PlayStation Support.
Step 4: Scroll down to find the PS4 console update file and right-click it. In the pop-up menu, select Save link as.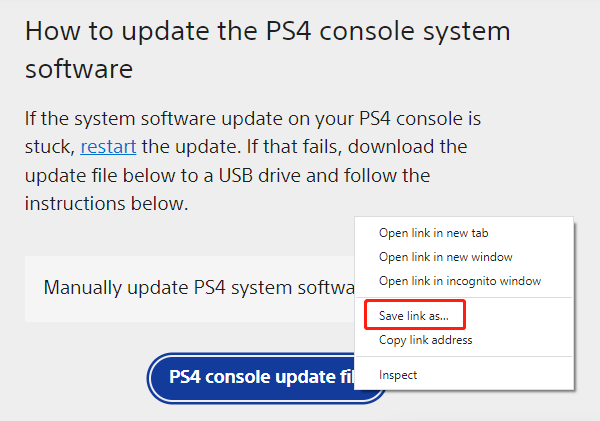 Step 5: In the pop-up window, select the UPDATE folder on your USB flash drive to store the update file.
Stage 3: Install the PS4 System Update File
After you download the latest PS4 update file, you can connect your USB flash drive to your PS4 console and follow the steps below to install it.
Step 1: Turn off your PS4 console.
Step 2: Press the Power button and hold it until you hear the second beep (for about 7 seconds).
Step 3: Connect your PS4 controller with the USB cable and press the PS button. Then you will enter the PS4 Safe Mode.
Step 4: Select Update System Software > Update from USB Storage Device > OK to install the latest PS4 system software on your console.
You should wait patiently until the updating process is finished. Do not turn off your console during the process.
Solution 5: Rebuild Database
Database problems could cause a lot of problems, such as game performance issues, PS4 console slowing down, etc. It is also one of the reasons for the PS4 WV 33898 1 error code. If you have tried all the solutions above but still receive the same error code, you might need to rebuild database.
Rebuilding database is a low-risk operation. It won't delete any personal data and you can do it without any worries. But this operation usually takes several hours to finish. Therefore, you'd better rebuild database when you don't play your console.
To rebuild database on PS4, you just need to:
Step 1: Turn off your PS4 console and boot into Safe Mode.
Step 2: In Safe Mode, select Rebuild Database.
Then your console will restart and display the rebuilding progress bar after a while.
Once the database is rebuilt successfully, you can check if the error code WV 33898 1 has been solved.
Are you bothered by the PS4 error WV-33898-1 (cannot display the page)? Don't be upset. You can find some solutions in this post.Click to tweet
Bottom Line
WV-33898-1 is an error code you might receive on the PS4 console, along with the error message "cannot display the page". When you get the error code, you can try the solutions above one by one to fix it. Hope this post is helpful for you!
If you have more solutions, you can share them with us in the following comment zone. If you encounter any problems while using MiniTool Partition Wizard, you can contact the support team via [email protected].