What is the error code 0x000000D1 Windows 10? When will you meet it? What will you do to help with the bugcheck 0x000000D1 error? This article on MiniTool Website will teach you how to solve this error code step by step and come up with several pertinent suggestions for you to keep your data safe.
Blue Screen Error Code 0x000000D1 Windows 10/11
Blue screen is one of the most common issues you may experience when using a computer. It can stop your work in hand and lead to data loss because programs don't have a chance to save their open data. The reasons are various, for example, display error, overheating, hardware driver issues and so on.
0x000000D1 is a type of blue screen error code which crops up with DRIVER IRQL NOT LESS OR EQUAL. Today, we'll mainly discuss blue screen error code 0x000000D1 and try our best to find the best solutions for you.
How to Fix Blue Screen Error Code 0x000000D1 Windows 10/11?
Blue screen error code 0x000000D1 indicates the system malfunction so you had better cope with it as soon as you can to avoid causing further damage.
Fix 1: Update All Your Available Drivers
If you are encountering Blue Screen Error Code 0x000000D1 on Windows 10 or Windows 11, it suggests that the available drivers on your system cannot access the memory successfully. Therefore, you need to update all your drivers.
Tip: Updating the network driver and the video driver to the latest version is proven to be fruitful by other users.
Step 1. Type device manager in the search box to open Device Manager.
Step 2. In the Device Manager window, find the devices that have an exclamation mark before them. Expand it to show its driver and do a right-click on it.
Step 3. In the drop-down menu, tap on the Update driver option.
Step 4. You'll see two options, select Search automatically for drivers.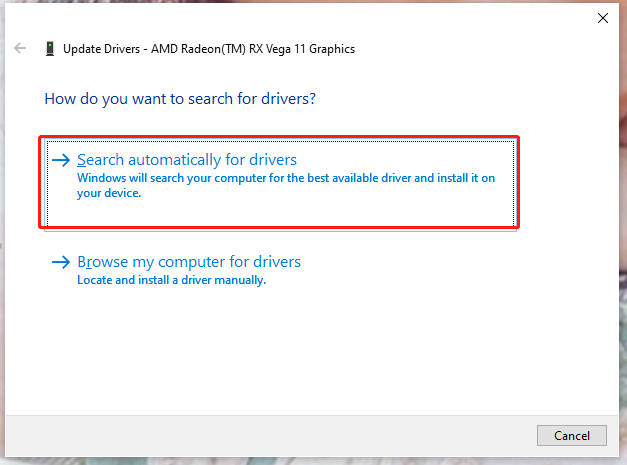 Step 5. Rebooting your device after everything is done is the last but not the least to apply the changes.
Fix 2: Restore Your System
Blue screen error code 0x000000D1 Windows 10/11 might also be triggered by the recent changes to your PC. It is most likely that you installed malware without your knowledge. In this case, you are supposed to restore your system to a previous working state. To fix blue screen error code 0x000000D1 with this method, you need:
Step 1. Press Win + R at the same time to bring up the Run dialog.
Step 2. Copy & paste rstrui.exe to launch Windows Restore and don't forget to hit Enter.
Step 3. Restoring your system to the recommended previous state by clicking on Next. You can also tick Choose a different restore point to browse more restore points according to your needs.
Step 4. Follow the on-screen instruction to execute the system restore process.
Fix 3: Check for Memory Problems
Run the inbuilt Memory Diagnostics tool to check if a bad memory module is the culprit of the blue screen error code 0x000000D1 Windows 10.
Step 1. Press the Windows icon key and the R key together to open the Run box.
Step 2. Copy & paste mdsched.exe and hit Enter to bring up Windows Memory Diagnostic.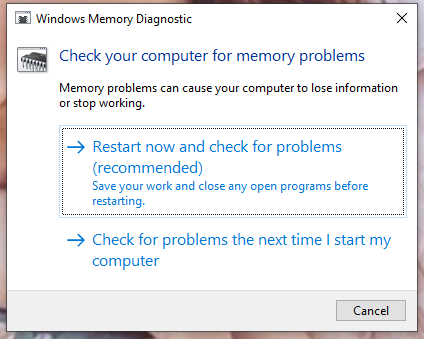 Step 3. Click on the blue font Restart now and check for problems.
Step 4. Wait patiently as Windows will automatically examine issues for the system. After this restoration process is completed, your device will reboot again.
Fix 4: Uninstall Malware
If the blue screen error code 0x000000D1 Windows 10 occurs after you install a piece of new software, there is a possibility that the software carries a virus thus causing 0x000000D1. Uninstalling it is also an effective solution.
Step 1. Click the gear icon to open Windows Settings.
Step 2. Scroll down to locate Apps and click on it.
Step 3. In the Apps & features section, you'll see a list of installed apps. Select the problematic app and choose Uninstall.
Step 4. Click on Uninstall again when the confirmation message appears.
Fix 5: Uninstall the Third-Party Antivirus Software
You might have installed third-party antivirus software on your PC to scan viruses and Trojan files, but actually, you don't need to install it as the inbuilt Windows Defender can satisfy your needs. To some extent, third-party antivirus software is redundant.
Step 1. Press Win + I to open Windows Settings.
Step 2. Click on Apps > Apps & features.
Step 3. In Apps & features, look for your newly installed third-party antivirus software and tap on it to choose Uninstall.
Fix 6: Restart Your PC in Safe Mode
If the blue screen error code 0x000000D1 appears when loading Windows and it stops all your attempts to work with the system, you can try loading your PC in Safe Mode.
Warning: This fix is workable in circumstances when the system is blocked.
Step 1. Go to the Start menu and hit Settings.
Step 2. In the settings window, press Update & Security.
Step 3. In the Recovery tab, choose Restart now under Advanced startup.
Step 4. After your PC reboots, Windows will ask you to choose the next step. Click on Troubleshoot.
Step 5. In the Troubleshoot menu, hit Advanced Options > Startup Settings > Restart.
Step 6. After restarting your computer, you'll see a list of options and the 4, 5 and 6 options are different ways to enable Safe Mode – 4) Enable Safe Mode, 5) Enable Safe Mode with Networking, 6) Enable Safe Mode with Command Prompt. Press F4 to choose Enable Safe Mode.
Fix 7: Deploy SFC Scanning
Damaged or corrupted files can also threaten the system thus triggering error code 0x000000D1. Luckily, you can address this issue easily with the Windows inbuilt scanning tools – System File Checker. This is what you should do to recover the corrupted files:
Step 1. Type cmd in the search bar to locate Command Prompt and right-click it to select Run as administrator.
Step 2. Copy & paste sfc /scannow and hit Enter.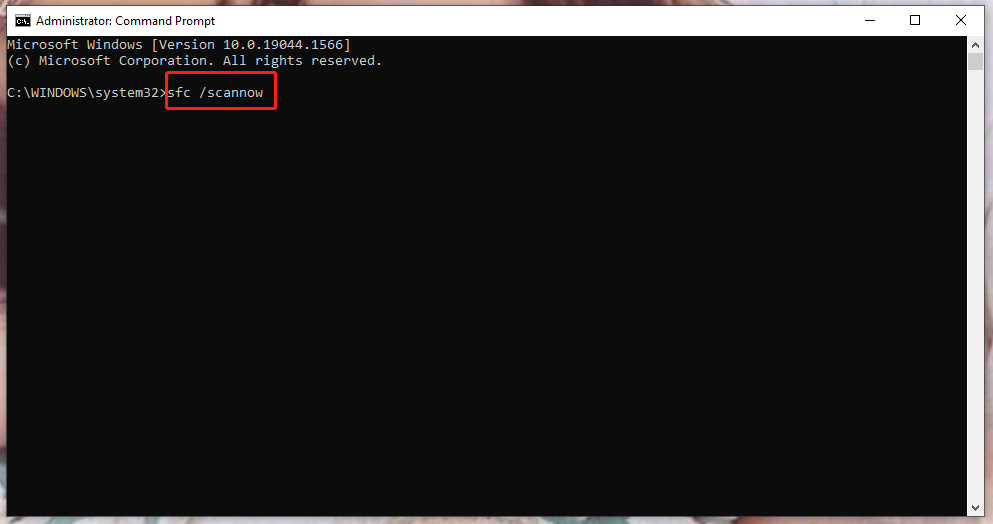 Step 3. The process will take a few minutes, please wait patiently.
Fix 8: Cool down Your PC
The computer generates lots of heat during running especially when you are running too many resource-consuming programs at the same time. You can either let your PC rest for a while or update your CPU fan.
Fix 9: Run Hardware Troubleshooter
If there is a problem with your hardware, it can also touch off the error code 0x000000D1Windows 10. You can use Windows Troubleshoot to deal with this issue:
Step 1. Open Windows Settings and choose Update & Security.
Step 2. In the Troubleshoot tab, choose Hardware and Devices and click Run the troubleshooter.
However, if your Windows version is later than Windows 10 1809, you'll find the Hardware and Devices option is missing. Don't worry, you can still use this tool via Command Prompt. To do so:
Step 1. Run Command Prompt as administrator.
Step 2. Copy & paste the following command and tap on Enter.
msdt.exe -id DeviceDiagnostic
Step 3. Now, the Hardware and Devices Troubleshooter Windows 10 will open. You can click on Next to start the scanning and troubleshooting process.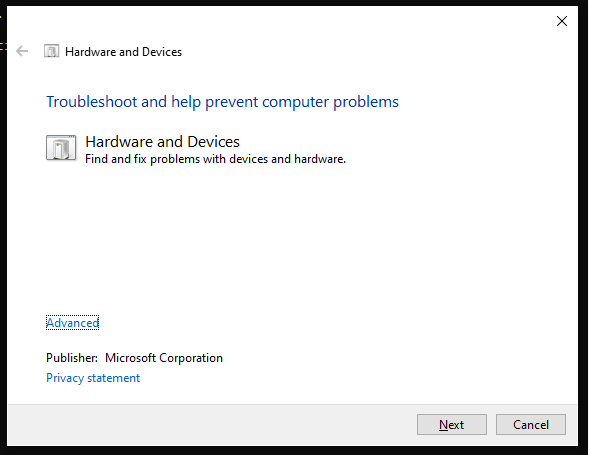 Fix 10: Reset This PC
If you make sure that there are no hardware changes on your PC, resetting this PC might help you with the error code 0x000000D1 Windows 10.
Step 1. Click Settings > Update & Security > Recovery.
Step 2. Under Reset this PC, click on Get started.
Step 3. Choose to save your files by hitting Keep my files in the blue window or choose to erase them by hitting Remove everything. Click either of them according to your condition and then follow the instructions on the screen.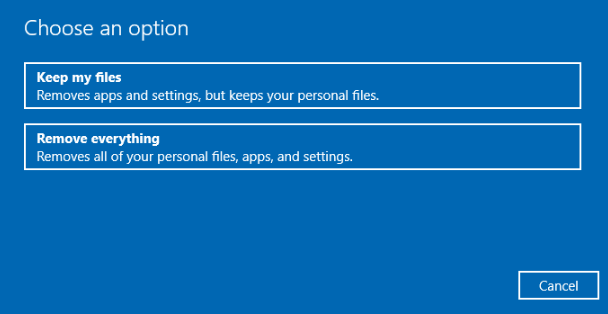 How Can You Recover Your Lost Data?
As mentioned in the beginning part, your system might have no time to save your data and all your efforts will be in vain when running into error code 0x000000D1 Windows 10. Take it easy! The professional data recovery software, MiniTool Power Data Recovery can avoid such loss and recover the lost data for you. You only need to follow a few simple steps:
Step 1. Download and install the trial edition of MiniTool Power Data Recovery and launch it.
Step 2. Choose a drive which contains the lost data and click Scan.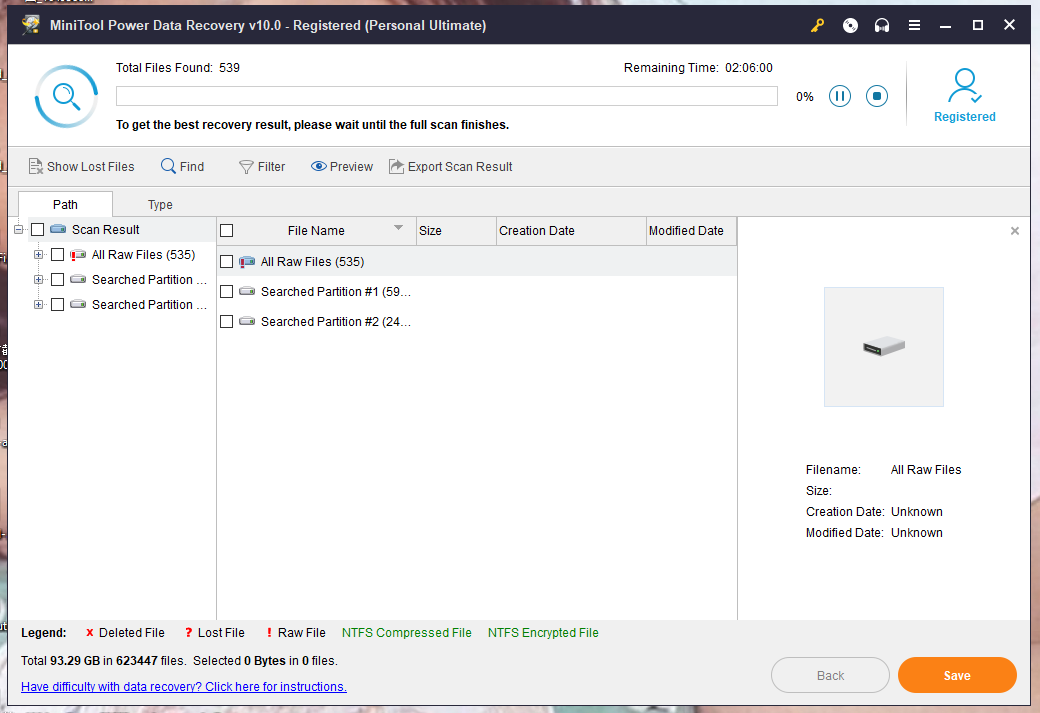 Step 3. After the scanning process is finished, you can view the scan results and tick the files or folders you need to recover.
Step 4. Press Save and select a storage path as your liking.
Step 5. Click OK and your lost data will be recovered in a few minutes.
Suggestion: Backup Your Data Regularly
In order to avoid falling into the same trouble, we sincerely advise you to keep a habit of backing up. As long as you back up your data in advance, any unexpected system crash, hardware failure and disaster alike will become a piece of cake for you.
It is highly recommended to use the reliable backup software, MiniTool ShadowMaker. This software is so remarkable that it supports file/folder backup, disk backup, system backup and partition backup. Almost all your important data can be backed up and recovered from its backup image.
Now, I will take file backup as an example to show how it works:
Step 1. Download & install the MiniTool ShadowMaker Trial on your PC.
Step 2. Launch it and then click on Keep Trail for a 30-day free backup service.
Step 3. Go to the Backup feature and click Source at the left part of the Backup functional area.
Tip: It is highly recommend to back up your system in advance so that you can directly restore your system when encountering blue screen errors next time.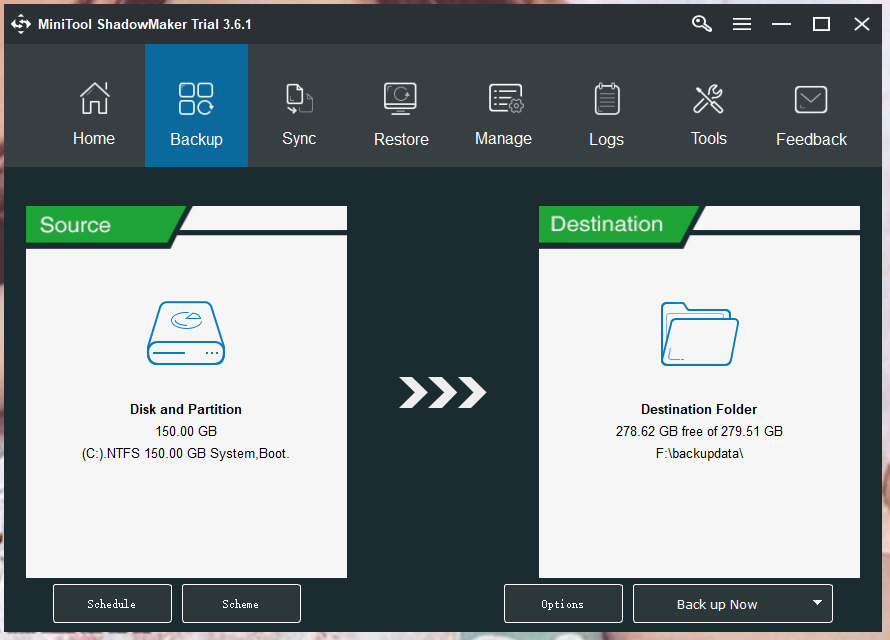 Step 4. Press Folders and Files and you will be allowed to choose files/folders from the Administrator account, Libraries and Computer.
Tip: Choosing several files & folders at a time is permitted.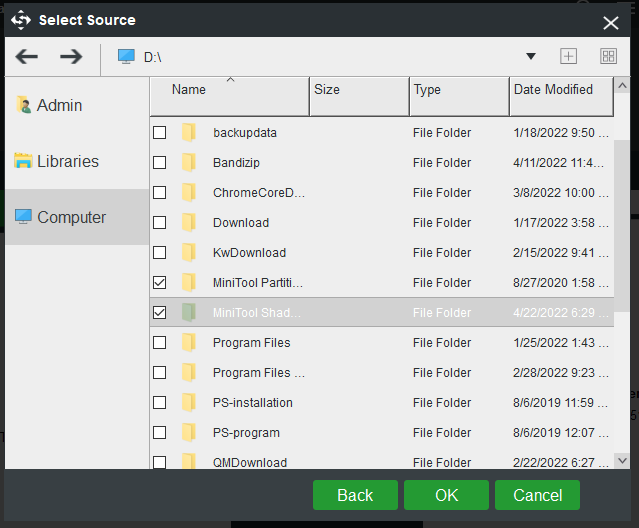 Step 5. After you choose the files you want, click OK to go back to the Backup main page. Hit Destination to choose a destination path for your files. It is worth noting that you can choose Shared as your destination path besides the Administrator account folder, Libraries, and Computer.
Step 6: Now, if you are free, click Back up Now to execute the backup task at once. Or else if you are busy with your work, hit Back up Later to delay the task.
For a regular backup, you can click Schedule to set back up your data daily, weekly, monthly and even on a particular event.
Tip: If you would like to set more advanced parameters for your backup task, hit Options. To manage disk space taken up by backup files, go to Scheme.
Wrapping Things up
Do you get a full picture of how to address Windows 10 error 0x000000D1 now? Maybe you will find out other causes or fixes, welcome to share them in the comment area below or send an email to [email protected].