Acer Laptop Blue Light on But Screen Is Black
A black screen is a very common issue that always unexpectedly happens on your computer, letting you annoyed. Sometimes the computer screen goes black randomly. Sometimes the screen goes black when switched on. According to Acer users, the issue – Acer laptop screen black but still running always frustrates them.
To be specific, when turning on an Acer laptop like Aspire, the laptop blue light is on but the screen is black, a mouse cursor can be seen and the keyboard lights up. Perhaps you are also the victim and ask: why is the screen on my Acer laptop black?
The possible causes for this may include corrupt system files, virus infections, an outdated graphics card driver, a discharged system, and more. Fortunately, you can try multiple ways to get rid of the black screen.
Get Important Files before Acer Laptop Screen Black Fix
Before you troubleshoot this issue, we strongly recommend backing up your vital files to make sure the security of your data. This is because data loss may happen accidentally in case of Acer laptop blue light on but screen is black.
In your situation, the Acer laptop like Aspire cannot load to the desktop. So, how to back up your important files? It can be easily done with a professional and free backup software – MiniTool ShadowMaker. This program can be used in Windows 11, 10, 8.1, 8, and 7 and it can easily help to back up your files, folders, disks, partitions, and Windows operating system.
Importantly, it allows you to create a bootable USB hard drive, USB flash drive, or CD/DVD to boot the unbootable PC for backup & recovery with its Media Builder feature. Now, get MiniTool ShadowMaker by clicking the following download button.
MiniTool ShadowMaker TrialClick to Download100%Clean & Safe
After downloading and installing this software on a normal PC, launch this tool, go to its Tools interface and click Media Builder to get a bootable medium. Then, boot your Acer laptop from the bootable medium for a file backup in the event of Acer laptop screen black. See two related posts:
Next, see how to back up your crucial data in the situation of Acer laptop screen black but still running.
Step 1: On the page of MiniTool Recovery Environment, launch MiniTool ShadowMaker.
Step 2: Go to the Backup page, click Source > Folders and Files, check the items you want to back up, and click OK.
Step 3: Click Destination and choose a path to save the backed-up data. A USB flash drive or external hard drive is recommended.
Step 4: Click Back up Now to execute the file backup now.
In addition, you can use the Sync feature to back up files. This way is similar to the Copy feature in Windows. To know the difference between image backup and sync, refer to our previous post – Backup vs Sync: What Are the Differences Between Them.
After making sure your data safety, now it's time to take some measures to fix Acer laptop screen black when turned on. See what you should do.
How to Fix Acer Laptop Black Screen
Power Reset Your Laptop
If there is a minor bug, your Acer laptop may fail to load with a black screen. In this case, you can power reset this machine to fix the issue.
Step 1: Power off Acer and disconnect all the external devices including the AC adapter cable, external hard drive, printer, keyboard, mouse, and other peripheral devices. Also, you can remove the battery from the battery compartment.
Step 2: Press and hold the Power button for 30 seconds to drain any residual electrical charge and then release the button.
Step 3: Put the battery back and plug the AC adapter into your laptop. Do not connect any peripherals.
Step 4: Turn on this PC by pressing Power. Then, it can boot up as normal.
If this cannot fix Acer laptop screen black but still running, continue troubleshooting it via other ways.
Try F2, F9, and F10 key
If you encounter Acer laptop black screen but keyboard lit up, you can try certain keys:
Turn off your laptop and disconnect all the external devices.
Power on your laptop by pressing the Power When the Acer logo or splash screen appears, press F2, F9, F10 and Enter on your keyboard.
Choose Exit > Yes and press Enter.
Test Your Acer Laptop Using an External Monitor
When running into Acer laptop black screen, you need to check if there is a firmware problem and you can connect your device with an external display to have a check. If the computer screen shows on that monitor, the black screen is related to an internal issue, not a firmware issue. The possible reason is the conflict between a graphics card driver and the laptop LCD display.
Further Reading: Boot Acer Laptop to Safe Mode for Fix
Since your Acer laptop cannot boot to the desktop, you cannot perform the fixes in normal windows. You need to run this laptop to Safe Mode to perform troubleshooting tips. In Windows 10/11, it is easy to enter Safe Mode.
Step 1: Restart the laptop. When you see the Acer logo, press the Power button and reboot it. Repeat this operation three times until you see the automatic repair interface. Or, you can use a repair disc to boot the PC and click Repair your computer to enter WinRE (Windows Recovery Environment).
Step 2: Click Troubleshoot from Choose an option.
Step 3: Click Advanced options > Startup Settings > Restart.
Step 4: Press F5 to enter Safe Mode with Networking.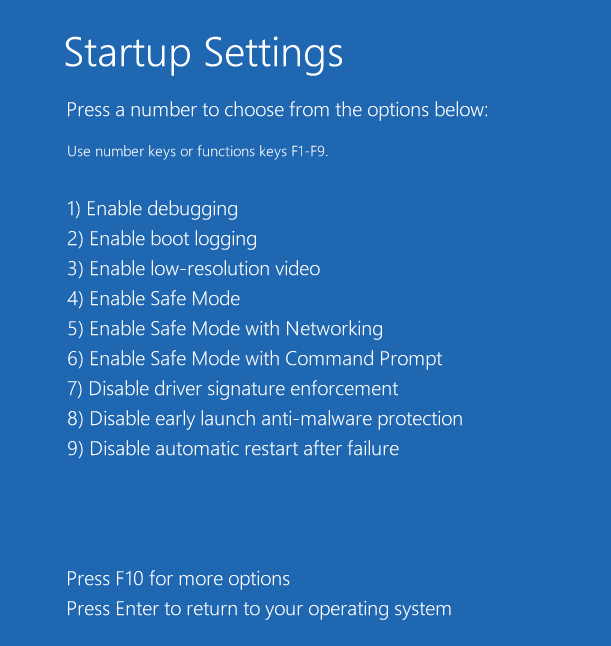 In Safe Mode, now start the following fixes.
Update Graphics Card Driver
There is a chance that the issue of Acer laptop blue light on but screen is black is triggered by an old, missing, or corrupted graphics card driver. Thus, it is necessary to make sure that driver is installed properly and it is up-to-date.
Step 1: In Windows 11/10, right-click on the Start button and select Device Manager.
Step 2: Expand the category of Display adapters and right-click on your graphics, then choose Properties.
Step 3: Go to the Driver tab and then choose Update Driver. Then, choose the first option to let Windows search for the latest version of the graphics card driver and install it.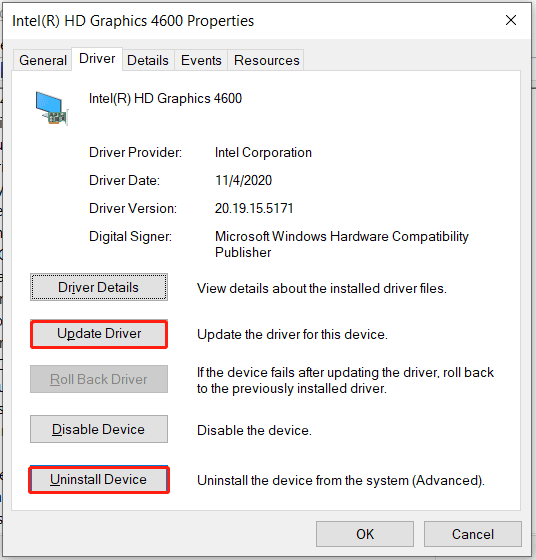 To reinstall your graphics card driver, you can choose Uninstall Device > Uninstall. Next, visit the official website of your manufacturer, here, my vendor is Intel. Search for relevant video card driver software and download it. Then, install it on your Acer laptop.
Remove Viruses and Malware Infections
Viruses and malicious programs can infect your laptop like Acer Aspire, causing a black screen. For instance, it may damage the hard drive or Windows partition, leading to a system malfunction. Thus, you need to run a virus scan on your computer to fix your issue.
In Safe Mode, Windows Defender/Windows Security doesn't work. Safe Mode runs your PC with the minimum required set of services and drivers and all the third-party apps are disabled. Even some system tools like Windows Defender are limited.
In this case, what should you do to detect the threats and remove them? It is worth trying other antivirus software like AVG, Avast, Avira, Malwarebytes, etc. Just open a browser like Microsoft Edge in Windows Safe Mode and download one antivirus program & install it to use. If it detects the malware, delete it by following the instructions provided by the antivirus program.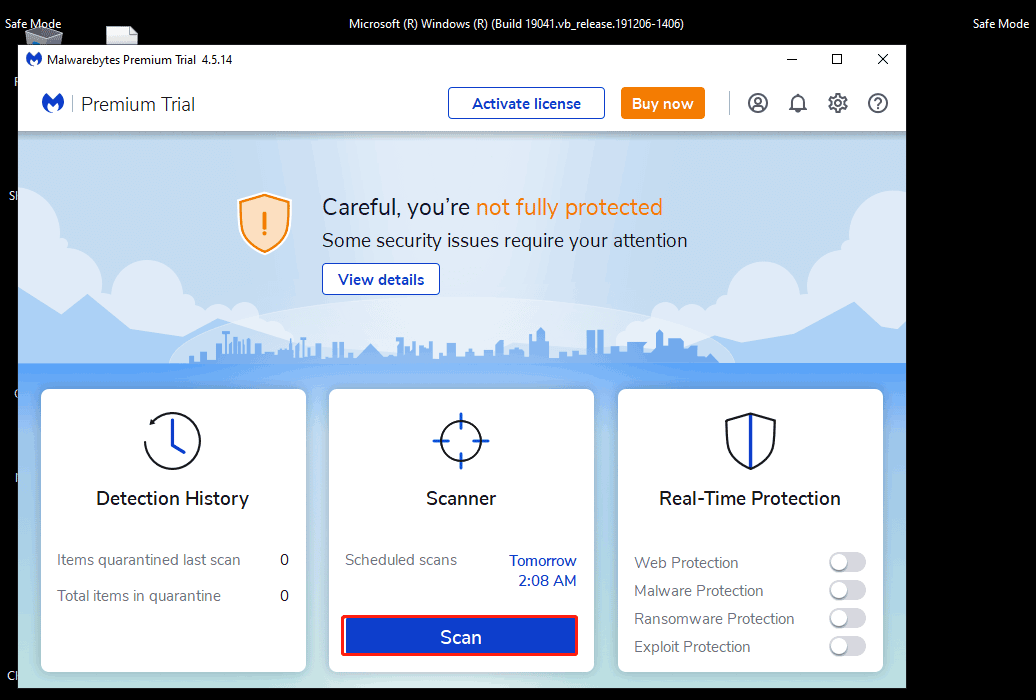 Reset Your Acer Laptop
If nothing can fix Acer laptop screen black when switched on, you can try this way – reset your PC to reinstall Windows. Try these steps:
Step 1: Boot the laptop to WinRE using a repair disc or reboot the PC three times.
Step 2: Click Troubleshoot > Reset this PC.
Step 3: Choose Keep my files or Remove everything. To keep your personal files, we recommend selecting the first option. If you choose the second one, make sure your important files are backed up, and we have mentioned how to back up files in the above part.
Step 4: Click Cloud download and Local reinstall. To know the difference between them, refer to this post – Cloud Download vs Local Reinstall: Differences on Win 10/11 Reset.
Step 5: Finish all the operations by following the wizards on the screen.
Update BIOS
BIOS, also known as Basic Input Output System, is responsible for system boot. If BIOS goes wrong, Acer laptop screen black may appear. You need to update BIOS by following the steps below:
Step 1: In Safe Mode, go to the Acer Support page and choose your Acer model.
Step 2: Expand BIOS/Firmware and then download BIOS.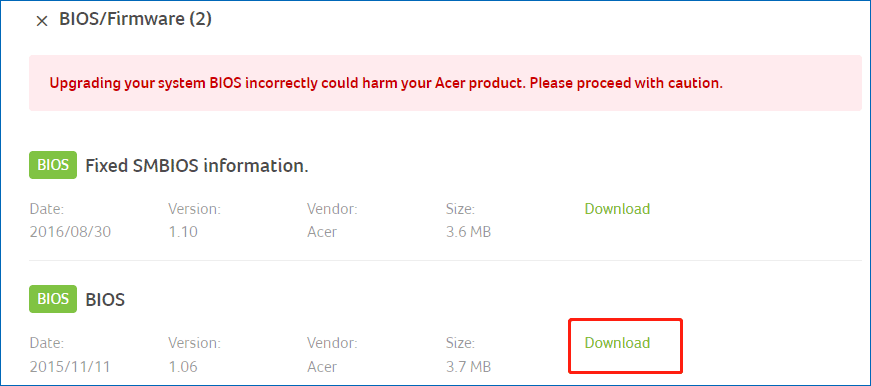 Step 3: After getting the zip folder, extract all the content.
Step 4: Double-click on the BIOS file to install.
"My Acer laptop screen is black when turned on but still running with a blue light. After trying these fixes, I solved my issue. If you also met it, try them now."Click to Tweet
Suggestion: Back up Your System
After fixing Acer laptop black screen, now the device should go to load normally to the desktop. To avoid spending much time troubleshooting your system next time, we strongly recommend creating a system image. Once the situation of Acer laptop screen black but can see mouse/still running happens, you can easily use the system image to perform a recovery to restore the PC to a normal state.
To do this task, also download MiniTool ShadowMaker and install it. Then, open it to its Backup interface, choose system partitions and target path, then start backing up by clicking Back Up Now.
MiniTool ShadowMaker TrialClick to Download100%Clean & Safe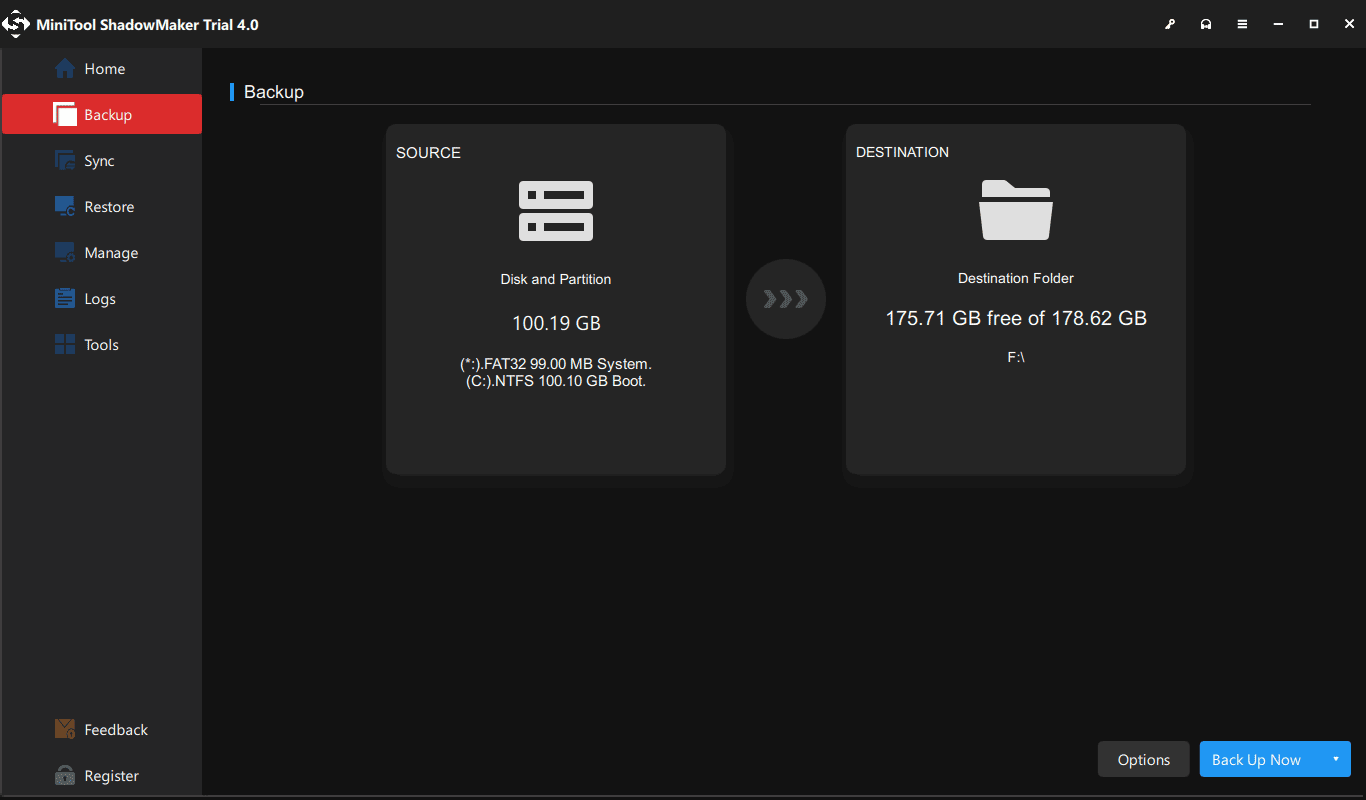 Bottom Line
Are you hit by Acer laptop screen black when turned on? How to fix Acer laptop black screen? Take it easy and you can use MiniTool software to get your important files, then take measures to fix it. Besides, a suggestion of creating a system image is offered.
If you get some other useful solutions to help you out of the black screen, welcome to share them with us in the Comment part below. Thanks a lot.