Do I need to backup my C drive? Is it possible to backup C drive? How do I backup my entire C drive or how do I backup only C drive in Windows 10/11? In this post, you can find the corresponding answers to these questions replied by MiniTool.
Do I Need to Backup My C Drive Windows 11/10
C drive is the system drive of the Windows operating system that is used to store much information including PC settings, system files, log records, registries, applications, and their related files, temporary files, and more. Sometimes, some downloaded files are saved to C drive by default (the folder is called Downloads).
C drive is very important but it is often a target of viruses and malicious programs. Besides, system issues always crop up, even leading to an unbootable system. If you don't backup C drive, you can only choose to reinstall the operating system and applications once accidents appear like system breakdown or virus attacks, which is troublesome and time-consuming. Besides, some important data stored in this drive turns lost.
Thus, if you have a backup of C drive, you can directly use the backup to revert the PC to its normal state in case of PC accidents, which could reduce downtime.
Why Backup C Drive to External Hard Drive
Backing up C drive to an external hard is a good option. On the one hand, an external disk is easy to use and portable so you can connect it to your PC for recovery no matter C drive is safe or not. After finishing, you can disconnect the drive and data won't be affected by the computer.
On the other hand, external hard drives are affordable and don't rely on a network connection, which draws your attention to choosing the local backup method to protect data.
Well then, how to backup C drive to external hard drive? Besides, if you have a laptop with one C drive for storage, how should you backup a file? Move to the next part and you can find many details on system backup (C drive) as well as file (on C drive) backup.
Related post: How to Back up Windows to Safeguard Your Computer? Try MiniTool
How to Backup C Drive Windows 10/11 to External Hard Drive (3 Ways)
Check If Your PC Has Hidden System Partitions
Sometimes, there is not just an only C drive on your PC and a system reserved partition or EFI system partition may exist. These partitions are hidden and there is no drive letter. To ensure Windows can boot from the system backup, you need to back up all the system-related partitions.
Before Windows 7, the system partition and boot partition is the same and the drive is signed for C. Since Windows 7, the boot partition C and system partitions like System Reserved Partition, EFI System Partition, Recovery Partition, etc. (it is hidden, no drive letter) are created separately during the Windows setup process.
Just right-click on the Start icon and choose Disk Management to open DM. Then, you can see if there are some hidden partitions. If yes, back up C drive and all the system partitions. If there is only a C drive, backing up C drive is enough.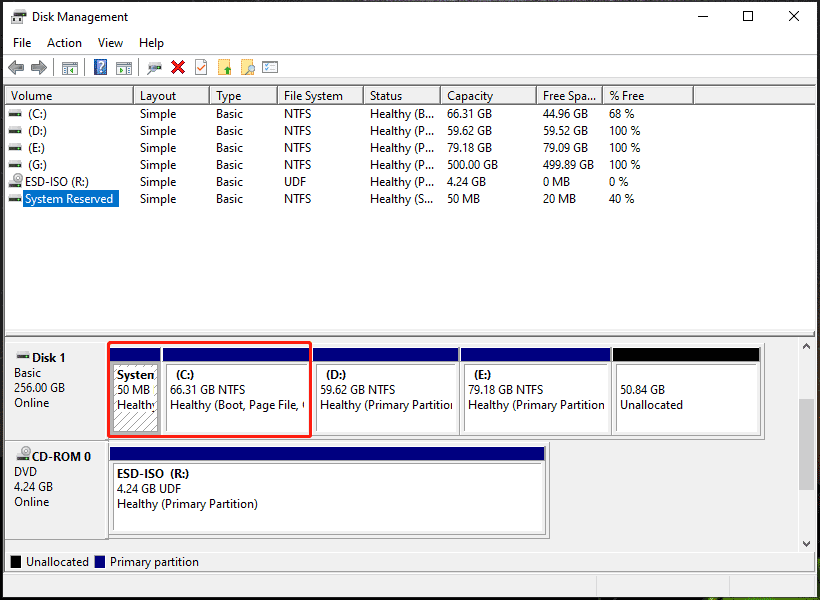 To create a system backup, you shouldn't copy and paste all the files and folders from C to another drive since this cannot ensure Windows is bootable. Just follow one way below to backup your system.
Backup Entire C Drive via Backup and Restore (Windows 7)
If you are running a Windows 11/10 PC, you can backup the entire system via the inbuilt backup tool called Backup and Restore (Windows 7). It is designed to create a system image for the operating system and set up file backup.
Here is the step-by-step guide on how to backup C drive Windows 11/10 using this backup tool:
Step 1: Access Backup and Restore (Windows 7) in this way: go to type control panel into the Windows search and click the result to open this app. Then, view all the items by large icons and tap on Backup and Restore (Windows 7).
Step 2: Click Create a system image from the left pane.
Step 3: In the popup, choose the external hard drive that has been connected to your computer from the drop-down menu.
Tips:
If you connect a USB drive to the PC, you cannot choose it as the target drive of system image backup and a warning will appear saying the drive is not a valid backup location. If you backup files on C drive to a USB drive via the Set up backup feature, it is allowed.
Step 4: In the new window, C drive and all the system-related partitions will be selected by default. Click Next to continue.
Tips:
EFI system partition, C drive and Recovery Partition or System Reserved Partition and C drive may be chosen.
Step 5: Confirm your backup settings including backup location & backup source, and then click Start backup to begin to create a system image.
Backup C Drive from Command Prompt
In addition to Backup and Restore, you can backup C drive from Command Prompt. To do this work, the WBadmin command tool could be a good option. It is designed to help you back up and restore your operating system, files, folders, applications, and volumes from a command prompt.
So, how to back up a system state with WBadmin in Windows 11/10? Follow the steps here.
Step 1: Type cmd to the Windows search and right-click on Command Prompt to choose Run as administrator. Or, directly click Run as administrator from the right pane.
Step 2: In the CMD window, type wbadmin start systemstatebackup -backupTarget:<VolumeName> [-quiet] and press Enter. Remember to replace backupTarget with your own.
Note that this command can only help to create a system state backup and the system state includes several components crucial to the PC's proper functioning including Registry, boot files, the Volume Shadow Copy service, COM+ class registration database, etc. Compared to a system image backup, it is different.
Besides, if there is only C drive on your machine (no hidden system partitions), you can backup C drive using a WBadmin command – wbadmin start backup -backuptarget:D: -include:C:. Replace the target with your drive.
Backup C Drive with MiniTool ShadowMaker
In addition, another way to backup entire C drive to an external hard drive is by trying a professional and reliable Windows backup software. MiniTool ShadowMaker is an easy-to-use backup program that enables you to easily backup C drive to a drive on your external hard drive. It can function well in Windows 11, 10, 8, and 7. By default, this third-party program helps to back up the Windows operating system.
Besides system backup, this free backup program enables you easily to back up important files, folders, disks and selected partitions. If you have a large amount of data to back up at intervals, you can make a scheduled plan and choose the differential or incremental backup method.
Next, you can follow the steps below on how to backup C drive to external hard drive Windows 11/10:
Step 1: Click the download button below to get the installer of MiniTool ShadowMaker Trial Edition and then double-click on this file to install this software on your PC.
MiniTool ShadowMaker TrialClick to Download100%Clean & Safe
Step 2: Launch this software and click Keep Trial to go on. This edition allows you to free use in 30 days.
Step 3: Click the Backup feature in the left pane and you can find system-related partitions (C drive is included) are selected by default in the Source section. You won't choose the backup source again.
Step 4: To backup C drive to an external hard drive, click DESTINATION, go to Computer and choose a partition of this external disk and click OK.
Step 5: Click Back Up Now to execute the system image backup at once.
After finishing backing up the entire C drive (system partitions are included), you need to go to Tools > Media Builder and then follow the instructions on the screen to create a bootable USB drive or CD/DVD. Once the PC fails to boot, you can use the drive to boot the Windows system to perform a system image recovery.
Conclusion
There are three ways to backup C drive to external hard drive in Windows 11/10 – using Backup and Restore, WBadmin, and MiniTool ShadowMaker. Compared to them, you can find the operations in MiniTool ShadowMaker are simpler. This third-party software offers more powerful features in PC backup and the way is more flexible. Thus, the best way to backup C drive is by running MiniTool ShadowMaker. Just get it to have a try.
MiniTool ShadowMaker TrialClick to Download100%Clean & Safe
Further Reading: Backup Files on C Drive
Besides backing up C drive for the system recovery purpose, if you store some files to the C drive, you also need to create a file backup for the data. Then, a common question appears: you have a laptop with one C drive for storage how should you backup a file, or how to back up a file with one C drive?
To backup files stored in C drive, you can also use Backup and Restore (Windows 7). It offers you a feature called Set up backup that allows you to choose files you need to back up. Just click this link to go to choose the target drive, check Let me choose, open C drive > user folder > Desktop, and choose folders on the desktop or choose other folders saved on the C drive. Then, click Save settings and run backup.
Tips:
In my case, I don't find the files saved on the desktop, and only folders are found.
Besides, MiniTool ShadowMaker can be also used to back up files saved on C drive. Just open it to the Backup page, choose the data you want to back up and specify a target, the start the file backup. You can easily find what you want to back up including files and folders on the PC desktop.
Final Words
Now all the information about backup C drive is told to you including the system backup and data backup on that partition. Just choose the proper way to create a backup for the Windows operating system or files saved on it. Compared to these ways, we strongly advise you to use MiniTool ShadowMaker, your good assistant for PC backup.
MiniTool ShadowMaker TrialClick to Download100%Clean & Safe
If you encounter some issues during the backup or when using our software, let us know in the comment below. We will reply to you as soon as possible.