Many Windows users report various file system errors they have met. It's a common issue hassling people a lot and the file system error 1073741792 is one of them. If you also struggle with this file system error, you can read this post on the
MiniTool Website
to learn its solutions.
File System Error 1073741792
When file system error 1073741792 occurs, you will be stopped from many administrator-related operations on Windows, such as running or installing programs as an administrator.
The file system error (-1073741792) will prevent Windows users from logging in to their PCs with privilege rights so that a bunch of Windows operations are prohibited.
This error code can be triggered by many possible reasons, such as file system corruption, bad sectors of the drives, malware infiltration, etc. With its different triggers, we have concluded some useful solutions to fix the file system error 1073741792. You may have a shot!
Solutions for File System Error 1073741792
First of all, since you can't work with the administrator-related services, you may need to boot Windows in Safe Mode so that you are not prevented from logging on as an administrator.
1. Start your computer into Safe Mode with networking support.
2. Open Run by pressing Win + R and input cmd to press Enter.
3. Copy and paste this command and press Enter to execute it.
net user administrator /active:yes
Now, you are allowed to start the next moves.
Solution 1: Repair Corrupted System Files
The first thing you should do is repair your corrupted system files via these two Windows built-in utilities – SFC and DISM. You can use SFC scan first and then DISM because DISM can fix Windows component store corruption if you find SFC can't resolve your issue.
Step 1: Type Command Prompt in Search and choose Run as administrator. When a prompt jumps out to ask for your confirmation, click Yes.
Step 2: Type sfc /scannow in the window and press Enter to execute the command.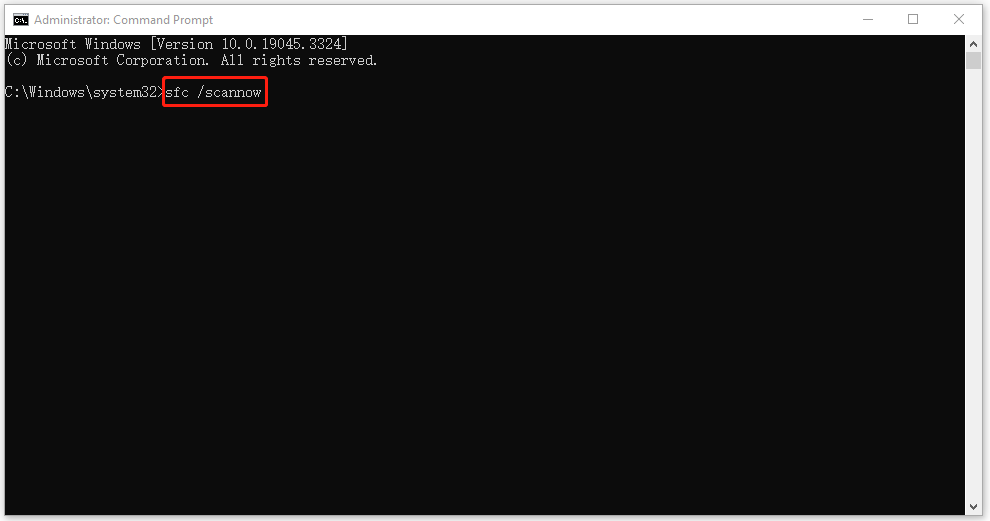 You need to wait for a while and when it finishes, you may close the window and restart your computer to check if your issue has been fixed. If not, you can continue with the DISM command.
Step 1: Run Command Prompt with admin rights.
Step 2: Execute this command for further check and restoration.
DISM /online /cleanup-image /restorehealth
When it finishes, you can check for the error again; if it still does not work, please proceed to the next solution.
Solution 2: Check Disk
Bad sectors or drive corruption can trigger the file system error -1073741792 and you can check for that to ensure your drives work well.
Step 1: Open File Explorer and go to This PC.
Step 2: Right-click on the system drive and choose Properties.
Step 3: Under the Tools tab, click Check in the Error checking section and click Scan drive in the next pop-up.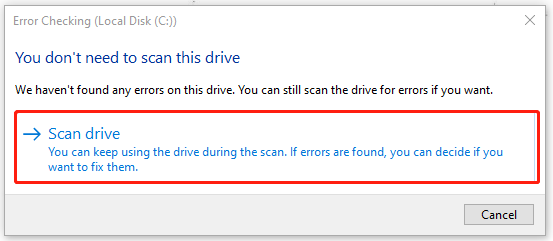 Then you need to wait for a while until the scan ends and follow the instructions to fix detected issues.
Solution 3: Scan for Viruses or Malware
In case you are under malicious attacks, you can run a full scan of your system to detect the potential dangers. If you have installed a third-party antivirus, make full use of it to protect your system.
Step 1: Type Virus & threat protection and open the result under Best match.
Step 2: Click Scan options and then Full scan > Scan now. Of course, you can choose other scan types according to your condition. To figure out their differences, you can read this post: How to Run Windows Defender Full/Quick/Custom/Offline Scan.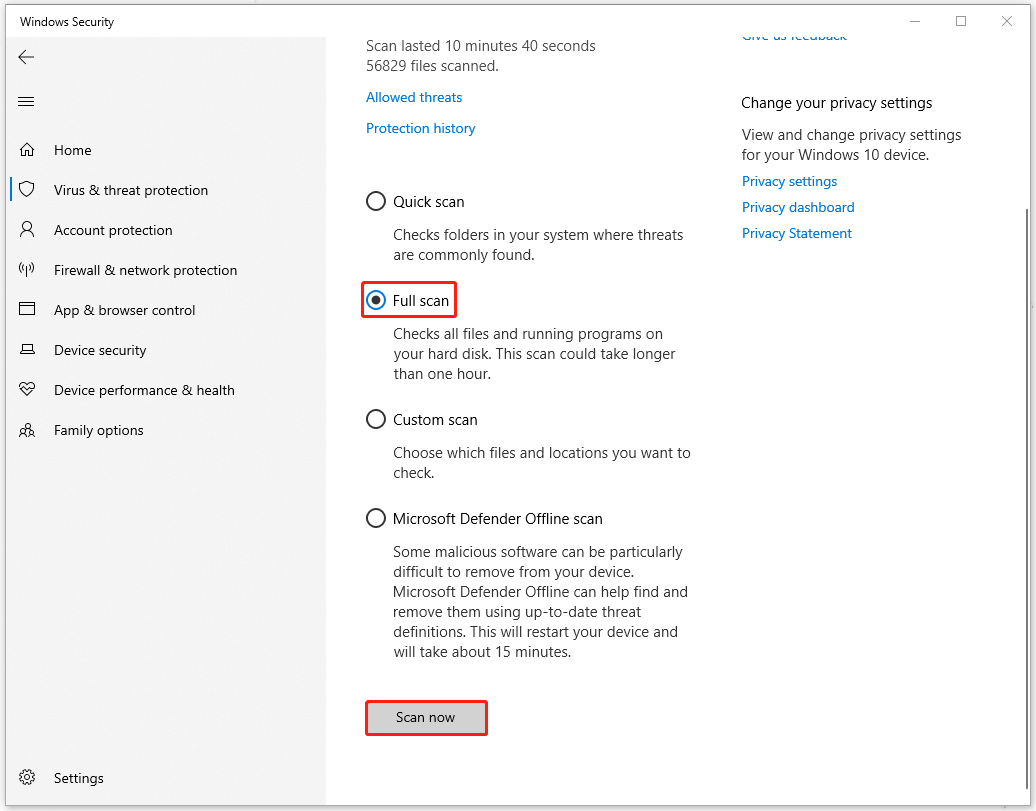 Solution 4: Uninstall the Recent Windows Update
If you encountered the file system error 1073741792 after updating Windows, you can uninstall the Windows update to see if the error lies in the compatibility issue.
Note:
If you haven't done that and even left pending updates, you can choose to keep your Windows up to date rather than uninstall it.
Step 1: Go to Start > Settings > Update & Security and click View update history from the right panel.
Step 2: Click Uninstall updates and choose the recent update to click Uninstall to remove it.
Then you can restart your computer to check if the error persists.
Solution 5: Use System Restore
The last method is to use System Restore to revert your system to normal. It is an effective fix for most system errors and issues but you must have created a restore point before. To create a restore point, you can see this post: What Is System Restore Point and How to Create It? Look Here.
Step 1: Open Control Panel and set View by: to Small icons.
Step 2: Click Recovery and then Open System Restore.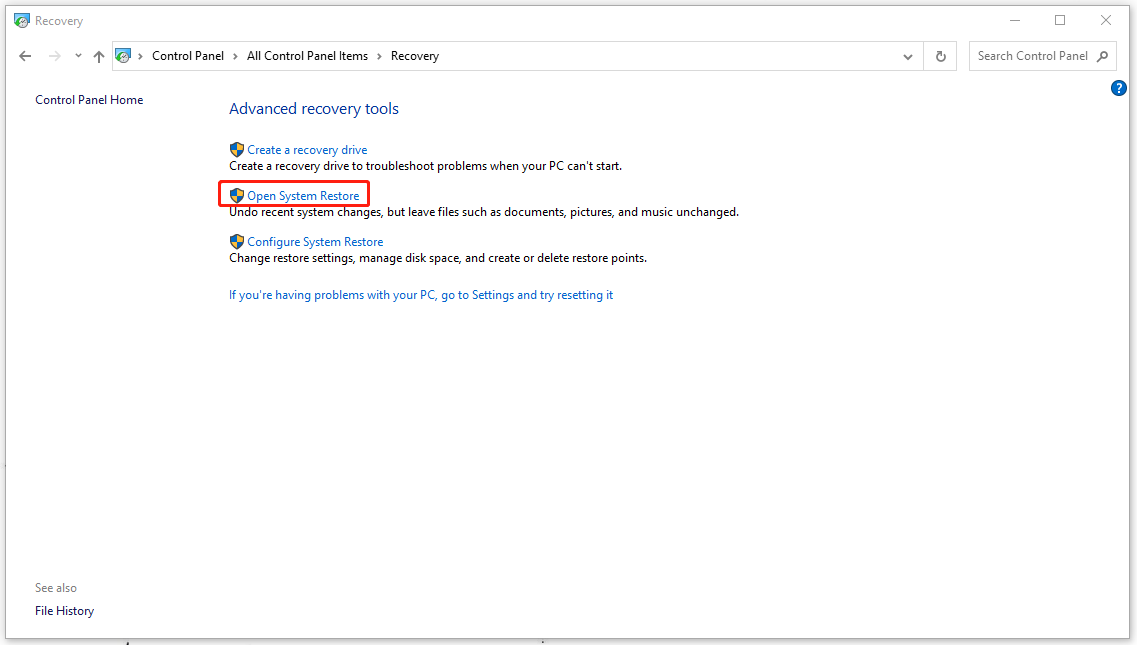 Step 3: Then you follow the prompts to select a restore point that you want and go ahead with the process.
Back up with MiniTool ShadowMaker
The file system is in charge of organizing, storing, and retrieving data on a storage device, so when it runs with errors, data loss may happen.
If your data, unfortunately, gets lost, you can try this free data recovery software – MiniTool Power Data Recovery – to recover any deleted/lost files under various data loss situations.
Of course, sometimes, not all your data can easily get back and at the moment, data backup will be the better choice. After fixing the file system error 1073741792, it is highly recommended that you back up your data regularly with this backup software free – MiniTool ShadowMaker.
The program can backup files & folders and partitions & disks, providing Windows backup via one click. If you are looking for a program to move Windows to another drive or clone SSD to larger SSD, MiniTool can also satisfy your demands.
Download and install the program and you can get a 30-day free trial version.
MiniTool ShadowMaker TrialClick to Download100%Clean & Safe
Step 1: Launch the program and go to the Backup tab.
Step 2: Choose your backup source and destination. In the DESTINATION section, you can choose User, Computer, Libraries, and Shared.
Step 3: Click Back Up Now to start the process at once.
Bottom Line:
The solutions to resolve the file system error 1073741792 have been clarified. If you encountered other similar errors, you can look through the MiniTool Website. We have issued many troubleshooting articles on that.