Some people will see this kind of HackTool Win32 AutoKMS warning message from Windows Defender or other security software when they use a rogue program. Is it dangerous? And how to remove this HackTool Win32 AutoKMS. This article on MiniTool Website will give you a guide.
What Is Hacktool Win32 Autokms?
What is HackTool:Win32/AutoKMS? To explain this definition, let us get the "HackTool" clarified. Hacking tools are applications used to crack or compromise computer and network security measures. It can penetrate different systems and cause different levels of damage.
Hacking tools are a special kind of risky software. In general, risky software is the detection of items that are not strictly malicious but pose some kind of risk to the user in another way.
The HackTool:Win32/AutoKMS can often be found on a dubious website, while HackTool. AutoKMS is Malwarebytes' generic detection name for hack tools that are intended to enable the illegal use of Microsoft products like Windows and Office.
In fact, the definition of the term - HackTool:Win32/AutoKMS is controversial. AutoKMS.exe is an activation tool, not a virus as it is commonly known, but a Microsoft program shipped with the Microsoft Toolkit.
AutoKMS.exe is usually detected as a Trojan. But unlike the definition of a computer virus, it is not a set of computer instructions or program code that destroys computer functions or data and can reproduce itself, so activation tools do not fall into this category.
However, nowadays, antivirus software will treat the registration machine and the like as a virus, just like HackTool:Win32/AutoKMS.
It is not clear whether this software will damage the computer or not. Some antivirus software like MSE, 360, Avast, etc. will report it as a virus, but nod32 just reports it as a potentially unwanted program. So, a lot of people think these are viruses.
The origin of the controversy over AutoKMS.exe:
Generally speaking, crack patches, such as AutoKMS.exe, in order to crack software, there will be modifications of PE files, rights, injection process, and other operations, and these operations are very sensitive - the virus is often used, so it will be detected by the security software and reported malicious.
Cracking a patch is inherently risky. If the person providing the patch is up to no good, it is possible to add a virus or Trojan feature to it.
Is the Hacktool Win32 AutoKMS Dangerous?
Is HackTool:Win32/AutoKMS harmful? Yes, although there are some controversies in its danger, admittedly, this kind of hack tool still can penetrate your computer via various channels. There are some cases introduced and you can take notice of them to avoid any invasion.
Hacking tools can arrive as a component bundled with malware or grayware packages.
Hacking tools can be downloaded manually from the hosted website.
These hacking tools arrive on a system as files dropped by other malware or as a file downloaded unknowingly by users when visiting malicious sites.
Hacking tools can be added as malicious lines or registry entries as part of their routine.
Some hack tools may arrive on the system via software exploits or through security weaknesses. It is an SQL Injection Toolkit used to compromise Web servers.
Some hacking tools hack a computer by running a command line.
In short, AutoKMS.exe is an illegal third-party tool. It can connect to a remote host and then download malicious programs or grant hackers access to wreak havoc on your system.
Given its controversial nature, how can you tell if the HackTool:Win32/AutoKMS is on our computer? There are some signals of being attacked as follows:
Internet connection fluctuates. If you are undergoing an unstable Internet connection that often forces you to reconnect, you can doubt if the malware affects the performance.
A significant slowdown of the computer. Virus attacks will make your computer slow down and even suddenly shut down.
Unwanted installation of bogus software appears on your computer without your authority.
Excessive use of RAM with no reason lags your operation.
Your essential files might be lost or stolen, especially your crucial system files.
How to Remove Hacktool Win32 AutoKMS?
It is widely admitted that Hacktool Win32 AutoKMS still has the potential for virus attack. Therefore, we just do not recommend you use some third-party programs with unknown sources, and when you find the Hacktool Win32 AutoKMS warning message from Windows Defender, you need to think twice before you perform it.
To remove HackTool:Win32/AutoKMS, you can do as follows.
Part 1: Uninstall Suspicious Programs
You may have downloaded and installed some third-party programs on your computer for cracking patches, which provides chances for virus implanting, so uninstall your recent installation from strange websites.
Step 1: Open your Run dialogue box by pressing the Win+ R keys and input appwiz.cpl to enter.
Step 2: In Programs and Features, you will see all programs and find the program downloaded from suspicious websites.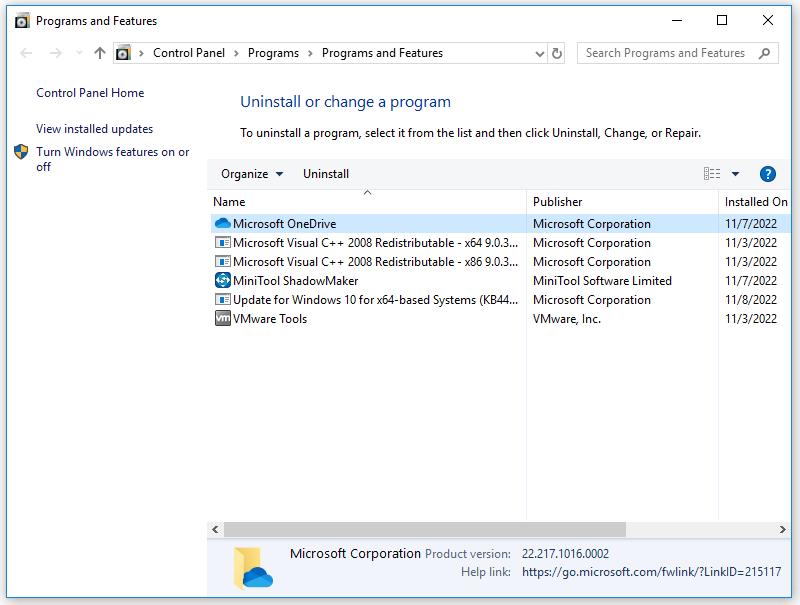 Step 3: When locating it, please right-click on it and choose Uninstall from the drop-down menu.
Part 2: End Rogue Processes
After uninstalling the program from your computer, the software process will stop, but you can't be certain that the virus file won't sneak into other rogue processes or that some strange programs are installed unwittingly.
Go to check your Task Manager and pay attention to those processes with high RAM and CPU consumption.
Step 1: Open your Task Manager by pressing Ctrl + Shift + Esc keys on your keyboard together and go to the Processes tab.
Step 2: Notice the processes that consume too much CPU and memory and right-click on the process to choose Open file location.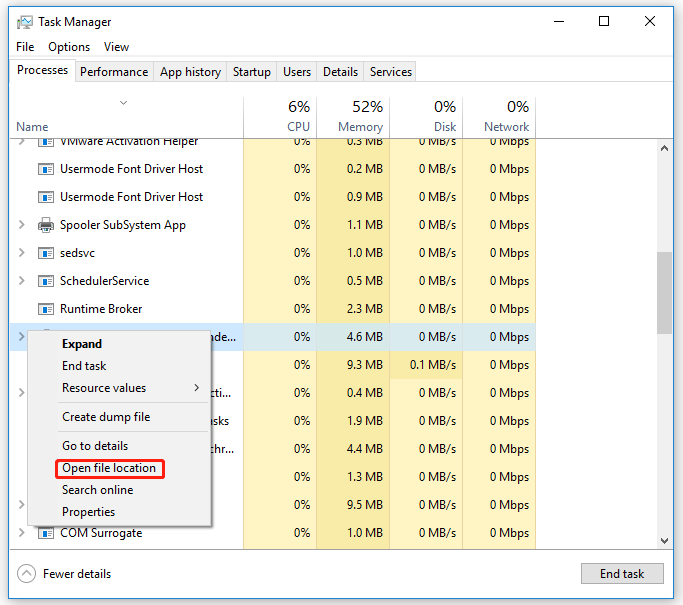 In case of any mistaken uninstallation, you'd better open its file location and use your Windows Security to execute a custom scan. You can refer to this one for specific steps: How to Run Windows Defender Full/Quick/Custom/Offline Scan.
Step 3: If the scan result tells you that the process is malware, delete the file you located, go back to your Task Manager, right-click on the rogue process, and click End task.
Part 3: Enter Safe Mode
Before you start the next steps, you'd better step into Safe Mode. It can start Windows in a basic state, using a limited set of files and drivers and help you prevent the malware from starting from other programs.
Step 1: Press the Windows + R keys together and input msconfig to enter.
Step 2: Go to the Boot tab and check the Safe boot option under Boot options. Then click Apply and OK to save your choice.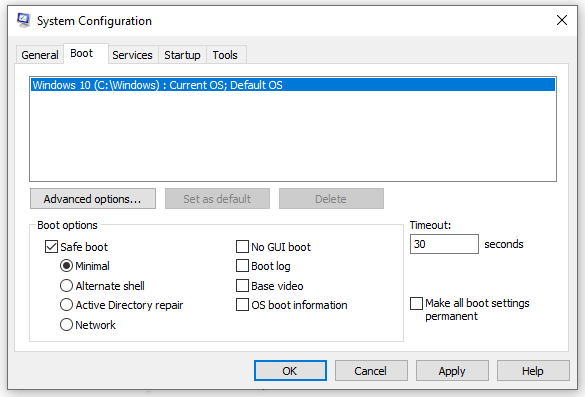 Step 3: Then you can choose Restart to get into Safe Mode when you see a System configuration message pops up.
If you need to any other methods to get into Safe Mode, you can refer to these two articles:
Note: When you finish all these steps, just remember to exit the Safe Mode.
Part 4: Delete Leftover Files
In case of any leftover files in your system, you need to go check for them.
First of all, ensure your all hidden files are shown on your computer.
Step 1: Input Folder Options in the Search box and open File Explorer Options.
Step 2: Go to the View tab and make sure the Show hidden files, folders, and drives option is enabled. Click Apply and OK to save your changes.
Step 3: Recall the location you have installed the suspicious third-party program and go for it in File Explorer to delete the related files.
Besides, if you find any suspicious files in your system, just don't casually delete that. It is recommended to scan viruses through these files with Windows Security or other reliable third-party antiviruses first.
Part 5: Clean the Registry
The last part to remove HackTool:Win32/AutoKMS is to clean the Registry of your computer from the hack tool items.
Tip: Before you do this job, it is recommended to back up your registry first so that you can restore them in case any severe error happens.
Step 1: Open the Run dialogue box and input regedit to enter.
Step 2: Click the Edit option in the menu bar and choose Find….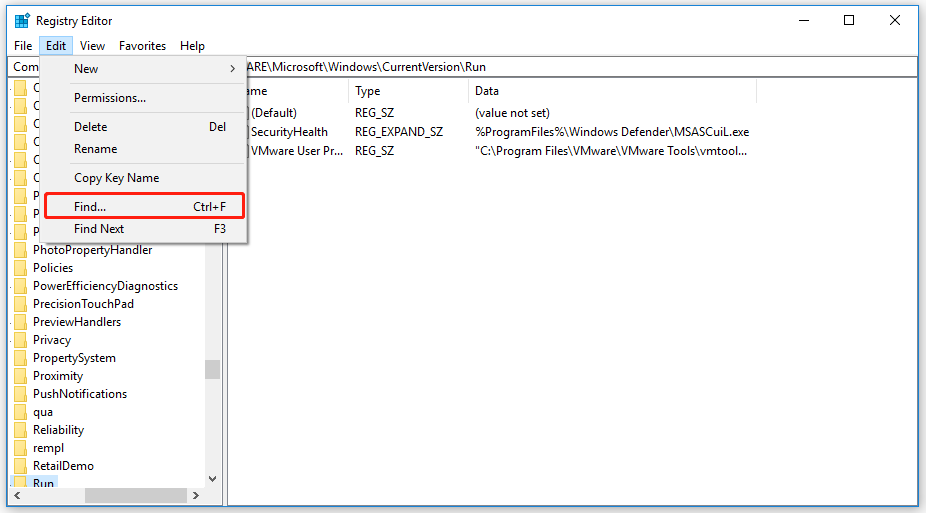 Step 3: Then you can type hacktool or the software name in the Find box and click Find Next.
If any registries get found, please right-click on it and choose Delete. In case anyone is left, please repeat the step until no other hacktool-related registries appear.
Back up Data with MiniTool ShadowMaker
After knowing about the HackTool:Win32/AutoKMS, you can tell its dangers via some signals. But is that enough to resort to your Windows Firewall for security?
As some cases reported in recent years, many users will ignore the risk warning notifications to download and install some programs with unknown sources for a free pirated version. That can bring much risk to your computer – data loss, system slowdown, and even crash.
More or less, you will shoulder some risk when you visit a strange site. In this way, you need a foolproof way – backup – to safeguard your data and free and professional backup software – MiniTool ShadowMaker – will be your good assistant. You can use it for sync, disk clone, remote backup, etc.
To enjoy this program, you can click the following button to download and install it and a free trial version for 30 days will be provided.
Step 1: Open the program, click Keep Trial, and go to the Backup tab to choose your backup source and destination.
Step 2: Click Back Up Now or Back Up Later to perform the order. You will see the task in the Manage tab.
Is HackTool:Win32/AutoKMS harmful? How to remove HackTool Win32 AutoKMS? This article has answered that. If you like it, you can share it on Twitter.Click to Tweet
Bottom Line:
Hacktool Win32 AutoKMS is not a rarely seen risk that brings serious trouble to your PC. Sometimes, it is hard to realize its presence but day by day, the threat grows and it's too late to remedy it.
That's why we stress the importance of backup. To prevent data loss and minimize the result of a system crash, it's the best way to nip the risk in the bud.
If you have encountered any issues when using MiniTool ShadowMaker, you can leave a message in the following comment zone and we will reply as soon as possible. If you need any help when using MiniTool software, you may contact us via [email protected].
Hacktool Win32 AutoKMS FAQ
Can Trojan be removed?
Trojan viruses can be removed in various ways. If you know which software contains the malware, you can simply uninstall it. However, the most effective way to remove all traces of a Trojan virus is to install antivirus software capable of detecting and removing Trojans.
What is Win32 used for?
The Win32 API (also called the Windows API) is the native platform for Windows apps. This API is best for desktop apps that require direct access to system features and hardware. The Windows API can be used in all desktop apps, and the same functions are generally supported on 32-bit and 64-bit Windows.
What is HackTool patcher?
HackTool. Patcher is Malwarebytes' generic detection name for hacking tools intended to "patch" programs. Patching in this case means a small portion of the program is changed so it can be used illegally.
Can a Trojan steal your data?
Trojan-Ransom - This type of Trojan can modify data on your computer so that your computer doesn't run correctly or you can no longer use specific data. The criminal will only restore your computer's performance or unblock your data after you have paid them the ransom money that they demand.