Slow laptop performance is a common issue hassling users a lot. This issue can happen in many situations and recently, users have found their laptops very slow after formatting. Why does that happen and how to fix the slow performance? This post on the
MiniTool Website
will be helpful.
Is Your Laptop Very Slow After Formatting?
Normally, your laptop will run well after formatting; however, many users reported that their Windows runs very slow after formatting. Why does that happen?
Formatting a computer means all the data on hard drives has been erased, including some registry files, which is critical to make sure your OS runs well. When those files are needed, it will take some time to recreate and load the files.
A slow performance caused by this factor is temporary. If you find your PC gets slower and slower after formatting, you may shift your attention to other triggers. For example,
Your devices and hardware are aged and can't support any high consumption.
Insufficient storage space can lead to slow performance.
Installation failure will fail to delete the previous system's history files, which can make your C drive occupied by system files. That's why your laptop is very slow after formatting.
Bad sectors on the hard drive can slow down your computer, and even system crashes.
The fragments of the hard drive can make files scattered on different parts of the disk, making it harder to read and sparing lots of storage space.
Your RAM might be faulty or need to be increased or replaced.
Your computer is overheated and you need to replace the fans.
Dust can affect the system's performance and can be a trigger to destroying the chips.
Of course, no matter which one makes your PC very slow after formatting, you can find the troubleshooting methods in the next part. Apart from that, you can rely on some third-party PC optimizer to improve the PC performance – MiniTool System Booster.
MiniTool System Booster is a tune-up utility with many useful features to automatically speed up CPU, and RAM, configure hard drive resources, and clear unnecessary clutters, so that your PC can be optimized to its fullest potential.
MiniTool System Booster TrialClick to Download100%Clean & Safe
Protect Your Data First – MiniTool ShadowMaker
Before you start the next solutions, you need to prepare a data backup first, because some of the next operations may cause data loss, such as BIOS updates, or hard drive upgrades.
You can use MiniTool ShadowMaker – free backup software – to back up files, folders, partitions, disks, or your system. It is highly recommended that you prepare an external hard drive for backup and recovery.
MiniTool allows you to perform an automatic backup at your scheduled time point and different types of backup, such as full, incremental, and differential backups, are available for users.
Download and install this program for a 30-day free trial and when you launch the program, click Keep Trial to enter the interface. If you want to back up to your external hard drive, please connect it before you launch the program.
MiniTool ShadowMaker TrialClick to Download100%Clean & Safe
Step 1: Go to the Backup tab and click the SOURCE section to select Folders and Files. Then choose those you want to back up and click OK.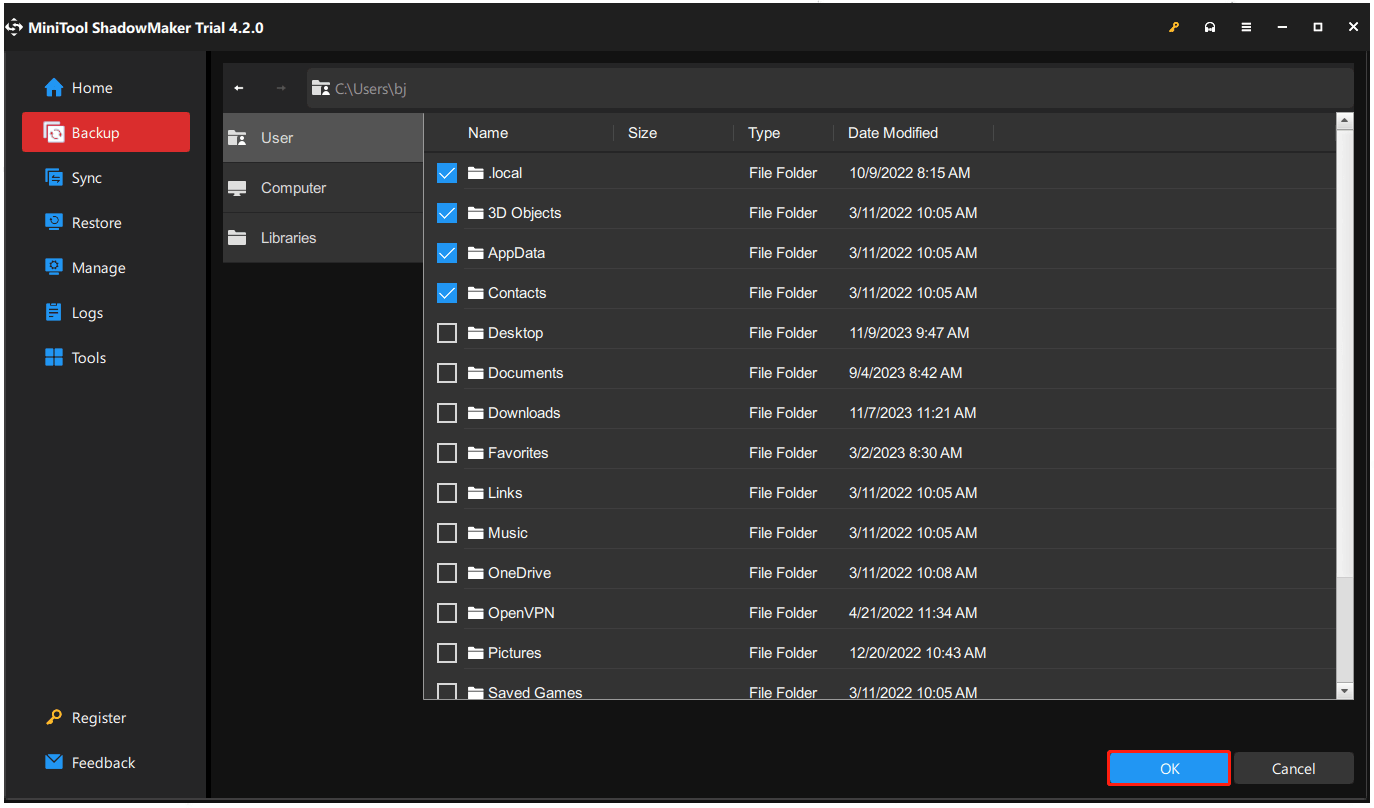 Step 2: Choose a place to store the backup from the DESTINATION section. You can click Options to configure your backup settings. when everything has been done, click Back Up Now.
How to Fix the Laptop Very Slow After Formatting Issue?
Fix 1: Clear Windows Cache
Windows cache is a set of temporary files used by a program or the operating system, which can slow down your PC. You can follow the next steps to clear the Windows cache.
Step 1: Open Settings by pressing Win + I and click System > Storage.
Step 2: Click Temporary files from the right panel and it will list some temporary files available for deletion. You can check the options and click Remove files.
Alternatively, you can use Disk Cleanup to clean up your temporary files. which files are available to delete in Disk Cleanup? You can refer to this post: What Is Safe to Delete in Disk Cleanup? Here Is the Answer.
Fix 2: Check Disk
Another method is to use the Check Disk utility, which is designed to scan your hard drive for file system errors. This kind of drive corruption can trigger multiple issues, including system slowdowns or crashes. It is worth trying to repair the bad sectors on your hard drive.
Step 1: Type Command Prompt in Search and choose Run as administrator.
Step 2: When the window pops up, type chkdsk c: /f and press Enter to execute this command. If you are using SSD, you can execute this command – chkdsk c: /f /r /x.
Note:
Please replace c: with the drive you want to scan and repair.
If the result asks you if the volume is to be checked the next time the system restarts, please type Y, close Command Prompt, and restart your system.
Fix 3: Restart SysMain Service
SysMain, also named Superfetch is used to improve your PC performance by preloading your frequently used apps in RAM. Some users may disable this function and you can check for that to restart it.
Step 1: Type Services in Search and open it.
Step 2: Scroll down to locate SysMain and double-click on it.
Step 3: Set Startup type to Automatic and click Start if the Service status is not running.
Then click Apply > OK to save the changes.
Fix 4: Update Hard Drivers
Outdated hard drives can affect the PC performance. With the updates, the efficiency can be optimized and some bugs fixed. Of course, if you have pending Windows updates as well, please perform that.
Step 1: Go to Start > Settings > Update & Security > Windows Update.
Step 2: Click View all optional updates from the right panel and expand Driver updates.
Step 3: Check the options you want to update and click Download and install.
Fix 5: Configure Some Settings
Windows provides some settings to balance your energy usage, you can set your power plan to high performance and adjust your appearance settings to unleash system resources.
1. Turn off Visual Effects
Step 1: Open Run by pressing Win + R and type sysdm.cpl to enter System Properties.
Step 2: In the Advanced tab, click Settings… in the Performance part.
Step 3: When a new window appears, click Adjust for best performance under the Visual Effects tab and then click Apply > OK to apply it.
2. Change Power Plan Settings
Step 1: Open Control Panel and click Hardware and Sound > Power Options.
Step 2: Under Hide additional plans, check the option of High performance.
Fix 6: Defrag HDD
Data fragmentation means your data, broken up into many pieces, is scattered in different locations, jeopardizing the storage capabilities and slowing down your computer. That can be the one reason triggering the "laptop very slow after formatting" issue.
Step 1: Type defrag in Search and open Defragment and Optimize Drives.
Step 2: Then you can select a drive to click Analyze, which can analyze the disk fragment rate. Then you can click Optimize to defrag your HDD.
Fix 7: Clean up Your Registry
You can clean up your registry because some left registry after the format can pile up in your system and make your PC very slow after formatting.
However, Windows Registry contains settings and databases for almost everything you operate in Windows. Any mistaken deletion or changes can make unrecoverable results. In this way, you may choose a professional tool to finish that. Fortunately, MiniTool System Booster can do so.
MiniTool System Booster TrialClick to Download100%Clean & Safe
The ActiveCare feature can give your system a full scan, including your registry issues. It can help clean and streamline the registry with just one click. For detailed steps and more efforts, you can refer to this post: How to Clean Windows Registry Safely? 4 Ways Available Here.
Fix 8: Update BIOS
BIOS updates can fix a bug or add support for a new model of CPU or graphics card. Therefore, it may be helpful to fix the "laptop very slow after formatting" issue. There are some tips to update BIOS.
1. Back up your important data.
2. Check the current BIOS version of your computer to see if it is already the latest version.
3. Check the computer model name or the motherboard model.
4. Locate the latest BIOS update from the manufacturer's website.
5. Download and unzip the BIOS file.
6. Copy the BIOS file to a USB flash drive.
7. Boot your computer into the BIOS screen.
8. Back up your computer's current BIOS file in case the BIOS update fails.
9. Launch the BIOS/UEFI firmware update or flashing tool, and select the new BIOS update file you copied to the USB flash drive to start the BIOS update process.
If you have any problems with the above process, you can read this post: How to Update BIOS Windows 10 | How to Check BIOS Version. It will give you a more detailed guide.
Fix 9: Increase Virtual Memory
Virtual memory is important for improving system performance, multitasking, and using large programs. It uses both the computer's software and hardware to work, aiming to solve memory's physical shortages by using secondary memory.
Therefore, if your storage space can't support the system running, you can follow the next steps.
Step 1: Open the System Properties window as we taught in fix 5 and under the Advanced tab, click Settings… in the Performance section.
Step 2: When the window opens, go to the Advanced tab and click Change… in the Virtual memory section.
Step 4: Uncheck the option of Automatically manage paging file size for all drives and choose a drive you want to edit the paging file size for.
Step 5: Check the Custom size option and type the size. Microsoft recommends that you set it to be a minimum of 1.5 times and a maximum of 3 times the physical RAM and you may refer to that.
Fix 10: Install More RAM
First of all, you can check if you have sufficient RAM for the PC running. Open System and in the About tab, here, you can see how much RAM is available for you. If you find it unable to support a better PC performance, you can replace or upgrade RAM.
Notice that you need to buy the right type of RAM the motherboard can accept and then you can start adding RAM.
Fix 11: Upgrade Your Hard Drive
If you are still using HDD, it is highly recommended that you replace it with SSD. Compared to HDD, SSD boasts faster speed and better durability, which can give you a better PC performance.
To upgrade your hard drive, MiniTool ShadowMaker allows you to use the Clone Disk feature to clone SSD to larger SSD or move Windows to another drive. Of course, cloning HDD to SSD is also available to you. With the help of this tool, you can quickly and safely replace the hard drive without data loss. It is worth trying!
MiniTool ShadowMaker TrialClick to Download100%Clean & Safe
Note:
System disk clone is not supported in MiniTool ShadowMaker Trial Edition. If you want to do this, you need to select the
Pro or a more advanced edition
.
Bottom Line:
Is your laptop very slow after formatting? How to fix this problem? After reading this post, you may have understood the causes and found the troubleshooting methods.
To prevent data loss, MiniTool ShadowMaker is an optimal choice to help prepare a data backup, which can be your last resort once the data loss happens. If you have any issues with MiniTool software, you can contact us via [email protected].