Nowadays, people are paying more attention to data storage security. This post from MiniTool introduces the definition and importance of security storage. Besides, you can know how to protect your data storage.
Security storage is essential for users that deal with sensitive data, both to avoid data theft and to ensure uninterrupted operation. The following content is about security storage.
What Is Security Storage
Security storage is referred to as manual and automatic calculation processes and techniques used to ensure the security and integrity of stored data. This can include the physical protection of the security software and the hardware that stores the data.
Security storage is suitable for static data systems stored on computer/server hard drives, portable devices (such as external hard drives or USB drives), and online/cloud, network-based storage area network (SAN) or network-attached storage (NAS).
Principles of Security Storage
There are 3 main principles of security storage.
Integrity – Data integrity in the context of data storage security means ensuring that data cannot be tampered with or changed.
Confidentiality – Maintaining data confidentiality by ensuring that unauthorized people cannot access the data through the network or locally is a key storage security principle to prevent data leakage.
Availability – In the context of data storage security, availability means minimizing the risk of deliberate destruction or inaccessibility of storage resources or accidents due to natural disasters, power failures, or mechanical failures.
Data Security vs Data Protection
Storage security and data security are related to data protection. Data security mainly involves preventing any unauthorized person from accessing private information. It also includes protecting data from other types of attacks, such as ransomware that prevents access to information or attacks that alter data to make it unreliable.
Data protection is more to ensure that data is still available after less serious events (such as system or component failures or even natural disasters).
However, the two overlap in the common need to ensure the reliability and availability of information and the need to recover from any incident that may threaten your data. Storage professionals often find themselves dealing with data security and data protection issues at the same time, and some of the same best practices can help resolve both issues.
Storage Vulnerabilities
There are many reasons for the increasing importance of data storage security, such as data growth, cyberattack growth, increasing data value, etc. Among them, vulnerabilities in storage systems is an important factor. They include the following items.
1. Lack of encryption
Although some high-end NAS and SAN devices include automatic encryption, many products on the market don't have these features. It means that you need to install separate software or encryption devices to ensure that your data is encrypted.
Also see: Hard Drive Encryption | How to Encrypt a Hard Drive
2. Lack of physical security
Some companies don't pay enough attention to the physical security of their storage devices. In some cases, they did not consider that internal personnel might be able to access physical storage devices and extract data.
3. Cloud storage
More and more people and companies choose to store some or all of their data in the cloud. Although some people think that cloud storage is more secure than local storage, the cloud adds to the complexity of the storage environment.
Related articles: 10 Best Free Cloud Storage Services to Back up Photos/Videos
4. Incomplete data destruction
When data is deleted from the hard drive or other storage media, it may leave traces that allow unauthorized individuals to recover the information. You had better ensure that any data deleted from storage is overwritten so that it cannot be recovered.
Also see: Top 10 Free Hard Drive/Disk Data Wipe Software for Windows 10/8/7
Data Storage Security Practices
To deal with the inherent security vulnerabilities in its storage system, it's recommended to follow the data storage security practices.
1. Access Control
Role-based access control is a prerequisite for secure data storage systems, and in some cases, multi-factor authentication may be appropriate. You should also change all default passwords on your storage devices and use strong passwords.
2. Encryption
Data at rest in the transmission process and in the storage system should be encrypted. Storage administrators also need to have a secure key management system to track their encryption keys.
3. Data Loss Prevention
Encryption is not enough to provide complete data security. It's recommended that you also deploy data loss prevention (DLP) solutions to help detect and stop any ongoing attacks.
4. Strong Network Security
Storage systems should be surrounded by strong network security systems, such as firewalls, anti-malware protection, security gateways, intrusion detection systems, etc. These measures should prevent most cyber attackers from gaining access to storage devices.
5. Strong Endpoint Security
Besides, you also need to ensure that you take appropriate security measures on PCs, smartphones, and other devices that will access stored data. These endpoints, especially mobile devices, might become weaknesses in the network defenses.
6. Redundancy
Redundant storage including Redundant Arrays of Independent Disks (RAID) technology not only helps improve availability and performance, in some cases, it can also help you reduce security incidents.
7. Monitor and report
It's recommended to implement effective monitoring and reporting functions, including enabling application and system logs to help detect and understand security vulnerabilities and prevent similar incidents in the future.
8. Backup and Recovery
Some malware or ransomware attacks can destroy the network and your data. The only way to retrieve the data is to recover it from the backup. You need to ensure that the systems and data you backed up are adequate for these types of incidents and disaster recovery purposes. In addition, they need to ensure that the backup system has the same level of data security as the main system.
Related articles:
Secure Data Storage Tool – MiniTool Software
Just now, you have known that you need to do the backup and recovery to protect the security of your data storage. To satisfy your needs, there is a piece of great software for you – MiniTool ShadowMaker.
It can back up OS, individual files and folders, hard disks and partitions to hard drive, external hard drive, USB drive, network drive, etc. You can use this free Windows recovery tool to restore Windows 10 system to a previous state from an external drive by using a backup when needed.
To keep Windows PC data safe, it's highly recommended that you back up your data on Windows computers to a different location. Once the data is lost, you can use the backup to restore the data. You can also do the universal restore when restoring to a different computer with dissimilar hardware.
Let's see how to back up and recover your data with MiniTool ShadowMaker.
MiniTool ShadowMaker TrialClick to Download100%Clean & Safe
Backup
Step 1: Download and install MiniTool ShadowMaker on your Windows computer.
Step 2: Choose Keep Trial. After entering its main interface, go to the Backup page. Then click the Source module to choose the backup source. As for data backup, please choose Folders and Files to continue and choose the files you want to back up.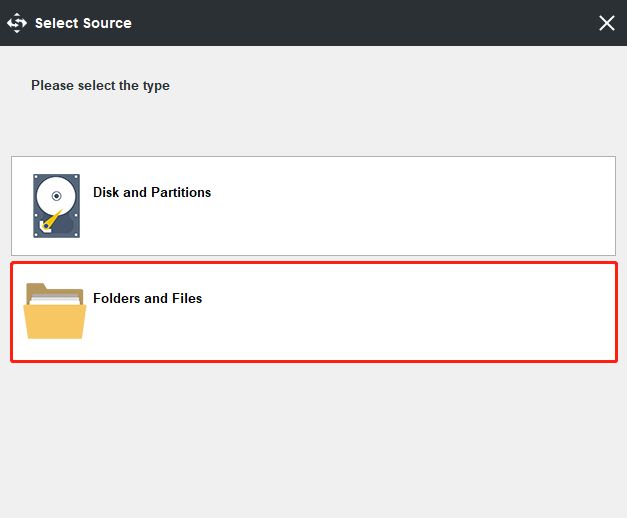 Tip: You can find that MiniTool ShadowMaker selects the operating system as the backup source by default. To directly create a system image backup, go to Step 3.
Step 3: Returning to the Backup page, click the Destination module to select the destination path to save the backup image. It is recommended to choose an external hard drive.
Step 4: After having successfully selected the backup source and destination, you can click the Back up Now button to perform the data backup action immediately.
When the process is finished, you have successfully backed up files and have protected your data.
Restore
Step 1: After entering the main interface, please go to the Manage page.
Step 2: Then you will find the backups are listed here. If not, you can click the Add Backup button to add it to here.
Step 3: Click the Menu button on the right side, and then you will get the context menu.
Step 4: In the context menu, click Browse or Restore. Next, you are required to select the backup version. Then click Next.
Step 5: In the pop-up window, you can expand the folder and choose the individual file to restore. Then click Next.
Step 6: Next, choose a location to save the restored file. Then click Next. The selective file restore process will begin. When the process is finished, you can click OK and Finish. Then close MiniTool ShadowMaker.
When you have finished all steps, you have successfully restored the individual file. You can find that it is convenient to recover files from a specific folder with MiniTool ShadowMaker.
In addition to MiniTool ShadoaMaker, the MiniTool team also has another recovery software – MiniTool Power Data Recovery.
If your data is permanently deleted because of the virus, malware, etc. You can use MiniTool Power Data Recovery to recover it. This software support recovering data from Windows PC or laptop, SD/memory card, USB flash/pen drive, external hard drive, solid-state drive, etc.  MiniTool Power Data Recovery features an intuitive interface and simple operation.
MiniTool Power Data Recovery TrialClick to Download100%Clean & Safe
Step 1: After installing MiniTool Power Data Recovery, launch it to enter its main interface.
Step 2: Select This PC from the left sidebar. Under the Logical Drives tab, you will see the list of the detected partitions. You need to choose the partition that contains the deleted files. Click Scan to scan the partition.
Step 3: Wait for the process to finish. Browse the scan results and select the files you want to retrieve. Click Save and set a storage location.
Step 4: At last, click OK to confirm and wait until the data recovery is completed.
[Case Study] How to Recover Lost Files in Multiple Cases
Bottom Line
To sum up, this post has shown the definition and principles of security storage. Besides, you can know information about storage vulnerabilities and how to protect your data storage. If you have any different ideas for the security storage, you can share them in the comment zone.
If you have any problem with MiniTool software, please feel free to contact us via the email [email protected] and we will reply to you as soon as possible.