No matter where you are, you are at risk of getting hacked. Luckily, there are all kinds of antivirus software on the market such as Webroot, McAfee, Bitdefender, Avast, Norton and more and they help to protect your computers or smartphones from malware, viruses, tracking and cyberattacks.
Each of the software can provide you with high-quality threat protection. Here comes the question: which one is better and which one should you choose? Almost every antivirus software offers a free or trial version so you can test them in all aspects.
In this article, we mainly rate and compare the antivirus service between two well-known software platforms for you – Webroot and Bitdefender. If you also wonder which one performs better, let me walk it through for you.
Brief Introduction to Webroot Antivirus vs Bitdefender
Bitdefender
Bitdefender is one of the top choices for Microsoft Windows users among massive anti-malware protection application vendors. It was founded in 2001 and its main services contain cloud & managed security, endpoint protection and IoT security.
Webroot
Webroot is less well-known than Bitdefender but its rapid scanning time is a lightweight security solution. Founded in 1997, it is a US-based private internet security company. At the same time, this company claims that it is the first company to utilize AI and cloud technology in the pursuit of security against 0-day threats in real-time.
Bitdefender vs Webroot
To further the understanding of the differences between Webroot and Bitdefender, we will compare Webroot and Bitdefender from their features, malware protection, system performance, user experience and pricing.
Webroot vs Bitdefender in Features
Webroot and Bitdefender do have some similar features like firewall, anti-phishing, identity theft protection and so on. Webroot only protects the webcam while Bitdefender can protect both the webcam and microphone.
In predictive prevention, Webroot makes use of its machine learning, and substantial data to monitor and identify malware activities to prevent it before destroying your system.
Webroot depends on cloud-based management while Bitdefender is an on-premise deployment. The former can automatically keep up to date and it is accessible from a single console which spreads across different locations. The latter can protect several internet-connected devices from one product.
The table below shows more features of the two presentive products:
| | | |
| --- | --- | --- |
| Features | Bitdefender Premium Security | Webroot Complete Security |
| Antivirus & antispyware | √ | √ |
| Firewall | √ | √ |
| Webcam protection | √ | √ |
| Password manager | √ | √ |
| Anti-phishing | √ | √ |
| Ransomware protection | √ | √ |
| Encrypted storage | √ | √ |
| Identity theft protection | √ | √ |
| File backup | √ | √ |
| Banking & payment protection | √ | × |
| Parental control | √ | × |
| Network attack protection | √ | × |
| Automatically update apps | √ | × |
| VPN service | √ | × |
| File shredder | √ | × |
| Performance optimization | √ | × |
| Cloud-based management | × | √ |
| Predictive prevention | × | √ |
Conclusion: Bitdefender wins out because it offers a wider spread of more useful features. Webroot also has advantages for some unique utilities like cloud-based management and predictive prevention.
Webroot vs Bitdefender in Malware Protection
Malware protection matters most for any antivirus software. To know how well Bitdefender and Webroot protect your device from malware including Trojans, rootkits, spyware, worms and ransomware, we have collected some tests from a reliable and well-known company, AV-TEST.
Bitdefender
Here are the test results of Bitdefender's malware protection in May and June 2022:
Bitdefender shows its excellent malware protection capability in these tests with a perfect 6 out of 6 rating.
Bitdefender ensures your device's safety from the attacks of malware and phishing websites by securing your online browsing activities through VPNs while Webroot doesn't own this technique.
Webroot
As for Webroot, it also gets 6 out of 6 rating in May and June of 2022. It performs better than Bitdefender because its industry average index even reaches 100%.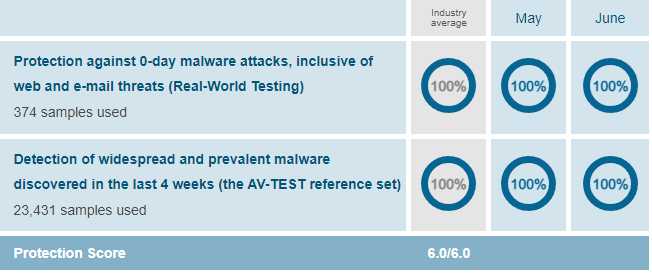 Webroot provides you with an instant remedy to any files tagged as malicious by monitoring the endpoints of your system. Also, it ensures that your system is protected from malware attacks before causing any damage. Webroot products expose data on malware activities from its initial entry to its final remediation while Bitdefender doesn't.
Conclusion: Both Bitdefender and Webroot get a full mark but Webroot performs better in malware protection because its industry average index is a little better.
Webroot vs Bitdefender in Impact on System Performance
You can know the impacts on system performance of the two antivirus software by performing a scan on them. Different from the full scan, the quick scan only checks malware in the most common area of a device. Webroot has more impact on memory utilization but less impact on CPU usage. It only takes 1 second to perform a quick scan in Webroot while you need to spend about 3 minutes in Bitdefender because its scan is deeper.
Bitdefender
According to the tests from AV-TEST, Bitdefender receives a full mark because it receives a very fast and less-impacted rating for almost all tasks.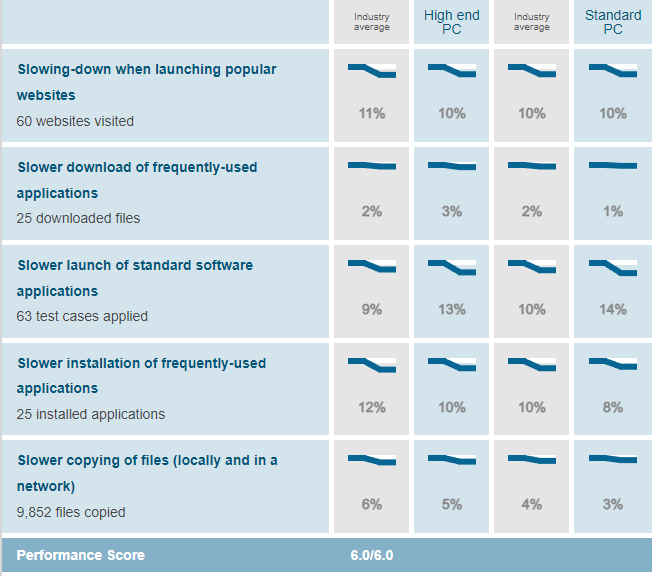 Webroot
Webroot also get a perfect 6 out of 6 rating but on the whole, its influence on the computer is deeper.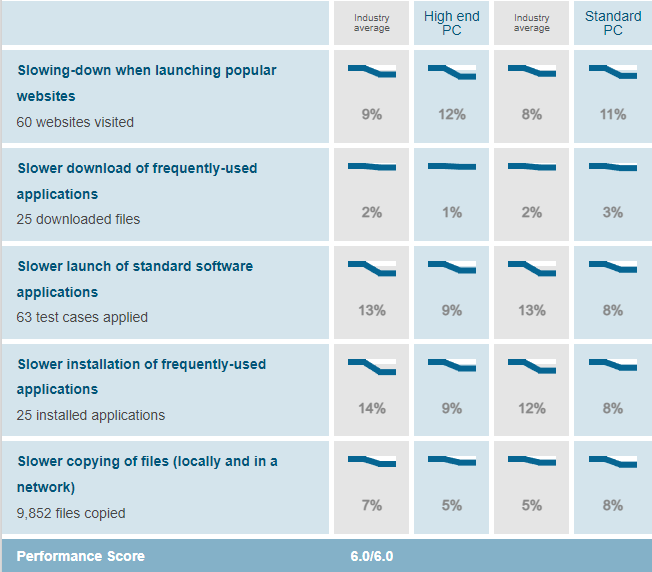 Conclusion: The winner in system performance is Bitdefender for fewer impacts on the system.
Webroot vs Bitdefender in User Experience
1. Interface
Bitdefender
The main attraction of Bitdefender is the Quick Action option which is small and changeable tiles. These tiles act as hotkeys that you can blind your preferred actions. Also, you can arrange your tasks and scanning functions according to personal desires and routines.
Compared with Webroot, the interface of Bitdefender looks much simpler and clearer. It is easy to use and understand, especially more friendly to those who are not good at computers. At the same time, for those who would like to streamline their weekly security activities or customize their experience, it is also a good option.
Webroot
As for Webroot, its interface is also very clear and it is easily to perform a scan.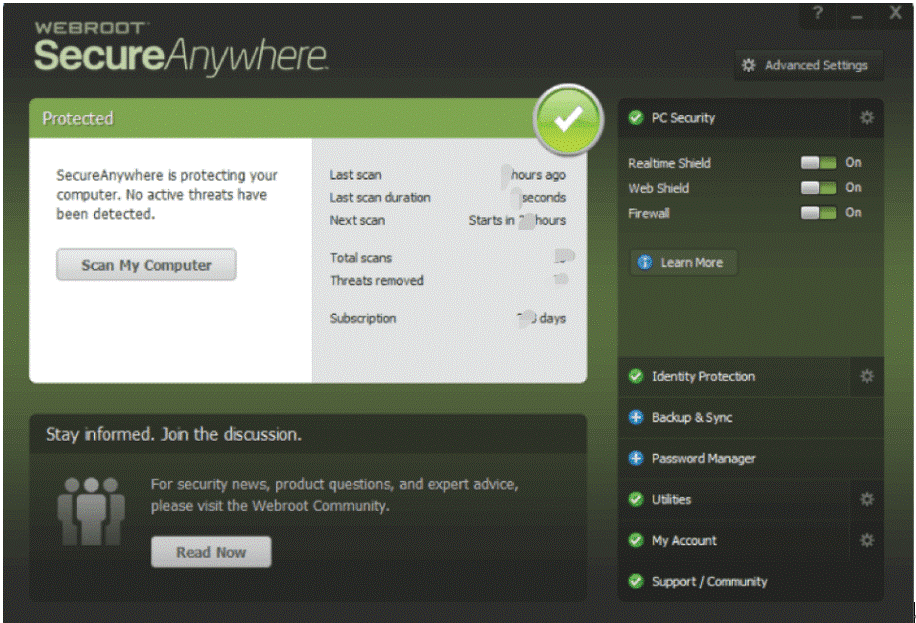 2. Customer Support
Bitdefender - combines an array of supports like email, phone live support and training to its customers.
Webroot – only supports email, phone and tickets.
3. User Scores
Better Business Bureau (BBB) and Consumeraffairs.org are both professional rating companies which are devoted to collecting customer reviews and scores so as to know the real comment of some companies.
Here are the results of the two companies:
| | | |
| --- | --- | --- |
| Rating Companies | Bitdefender | Webroot |
| Better Business Bureau | C | A+ |
| Consumeraffairs.org | 4 Stars | 3 Stars |
Conclusion: In user experience, it is a tie. If you like more control over your interface, Bitdefender suits you more. If you just want a simple antivirus solution, you can choose Webroot.
Webroot vs Bitdefender in Pricing
When you decide to purchase an antivirus service, pricing must be an important factor that influences your influence.
Bitdefender
There are mainly 5 types of best-selling products in Bitdefender and they are:
Bitdefender Antivirus Plus – it offers essential real-time protection for Windows PCs against all ransomware and viruses.
Bitdefender Internet Security – it is a good option to protect your Windows PCs and keep all kinds of internet threats away.
Bitdefender Total Security- this is a multi-platform compatible product and it has licenses for 5 devices at a minimum & with a maximum total coverage potential for 10 devices.
Bitdefender Family Pack – it can protect multiple devices for a big family (including PCs, Macs and even smartphones).
Bitdefender Antivirus for Mac – this product is designed for Mac users to protect their devices.
Their prices are shown as follows:
| | |
| --- | --- |
| Bitdefender Products | Price |
| 30-Day Free Trial | 0 |
| Bitdefender Antivirus Plus | $59.99 per year |
| Bitdefender Internet Security | $79.99 per year |
| Bitdefender Total Security | $89.99 per year |
| Bitdefender Family Pack | $119.99 per year |
| Bitdefender Antivirus for Mac | $59.99 per year |
Webroot
Webroot Antivirus – this is the most basic product offered by Webroot Company.
Webroot Internet Security Plus – it has 3 device licenses.
Webroot Internet Security Complete – this product is cloud-based and it is also the most premium tier from Webroot (support 5 devices including mobile phones).
Webroot Business Products – it protects business users from devastating and multi-layered cyberattacks.
Their prices are shown below:
| | |
| --- | --- |
| Webroot Products | Price |
| 14-Day Free Trial | 0 |
| Webroot Antivirus | $39.99 per year |
| Webroot Internet Security Plus | $59.99 per year |
| Webroot Internet Security Complete | $79.99 per year |
| Webroot Business Products | $150.00 per year |
Conclusion: Although the prices of Bitdefender products seem higher, it is more economic for supporting more devices.
Suggestion: Back up Your Files on the Computer
Although both Bitdefender and Webroot are very powerful to protect your computer, sometimes, antivirus software may stop working. Therefore, you need to rely on other software to back up your personal data to prevent unexpected file loss.
How to back up your important files? It is advisable to use the professional backup software, MiniTool ShadowMaker. It enables you to create a daily/weekly/monthly/on-event backup for your files, folders, systems, partitions and even the whole disk. Now, let's see how to create a file backup with this useful tool.
Step 1. Download, install and launch MiniTool ShadowMaker.
Step 2. Tap on Keep Trial and then you can use it for free within a month.
Step 3. Go to the Backup page > hit Source > Folders and Files and select the files you would like to back up.
Step 3. Return to the Backup page and go to Destination to choose a target disk to save the backup image.
Step 4. Click Back up Now in the lower right corner of the Backup page to start the backup task immediately.
After the backup process is done, you will not be afraid of file loss anymore because you can use the backup image to restore the files when they are missing or corrupted.
This article shows how the differences between Webroot & Bitdefender and an easy way to back up your files. If you like this article, click here to share it with your friends on Twitter. Click to Tweet
Wrapping Things up
Is Bitdefender better than Webroot? The answer is obvious. From the 5 aspects below, Bitdefender seems a better antivirus solution due to its more comprehensive features, overt independent lab tests, affordable prices and fewer impacts on the computer.
Webroot is also convenient to use because of its rapid scanning time, simple interface, powerful malware protection ability and some unique features like cloud-based management and predictive prevention.
If you also want to know more information about our product, MiniTool ShadowMaker, make a comment below or send an email via [email protected].