Have you ever heard of Webroot or McAfee? Have you ever used either of them to protect your PC? Do you know what their differences are? If you are looking for answers to the questions mentioned above, this article on MiniTool Website will show you details about that.
Computer malware and viruses are everywhere. Every time you access the open internet, your device will risk being infected by them. Besides, hackers can also steal your sensitive data as soon as your operating system is infected.
Fortunately, there are a lot of high-quality antivirus software packages in Microsoft Store and you can install them on your computer or mobile phone to protect your device against infection. However, it is hard for you to choose from the list of antivirus software because you have no idea which one is better and which one is the most suitable for you.
Today, we will compare two of the most famous antivirus software for you: Webroot vs McAfee. As a PC user, you cannot be too careful when choosing software for your device and you need to take many things into consideration, for example, features, pricing, ease of use, compatibility and more. Don't worry! We will present detailed information from these aspects above for you.
McAfee vs Webroot
Before analyzing the differences between Webroot vs McAfee, let me show you a basic understanding of their background first.
Basic Background
Webroot
Webroot was founded in 1997 and its core product is called Webroot SecureAnywhere. In 2019, Webroot was acquired by OpenText, one of the Canadian top employers. Webroot provides multi-device protection and is always considered the fastest and lightest antivirus software in the market.
McAfee
McAfee antivirus is developed by Intel Security and it is one of the largest providers of antivirus software in the world. Its most popular product is McAfee Antivirus Plus which can offer protections against malware and viruses on multiple devices.
In this part, we will show you 5 different aspects of Webroot vs McAfee: system performance, malware protection, user experience, features, compatibility and pricing. If you wonder which one is better, you can get the answer after looking through the following content.
Webroot vs McAfee in System Performance
Antivirus suits used to occupy 90% of your system resources while Webroot and McAfee have a little system-performance impact because they hog fewer system resources without slowing down your computer. At the same time, they can constantly monitor cyber threats for you.
McAfee is built for both protection and performance. It offers optimization tools that you can use to boost the performance of your device. Additionally, its background and active scan have a low-performance overhead.
According to the tests on some daily computer operations such as browsing the internet, installing & downloading programs, launching applications and so on, we find that the time McAfee scan takes is nearly two times of the Webroot's while McAfee delivers a more in-depth result for you.
According to the latest evaluations of AV-Test, McAfee performs well.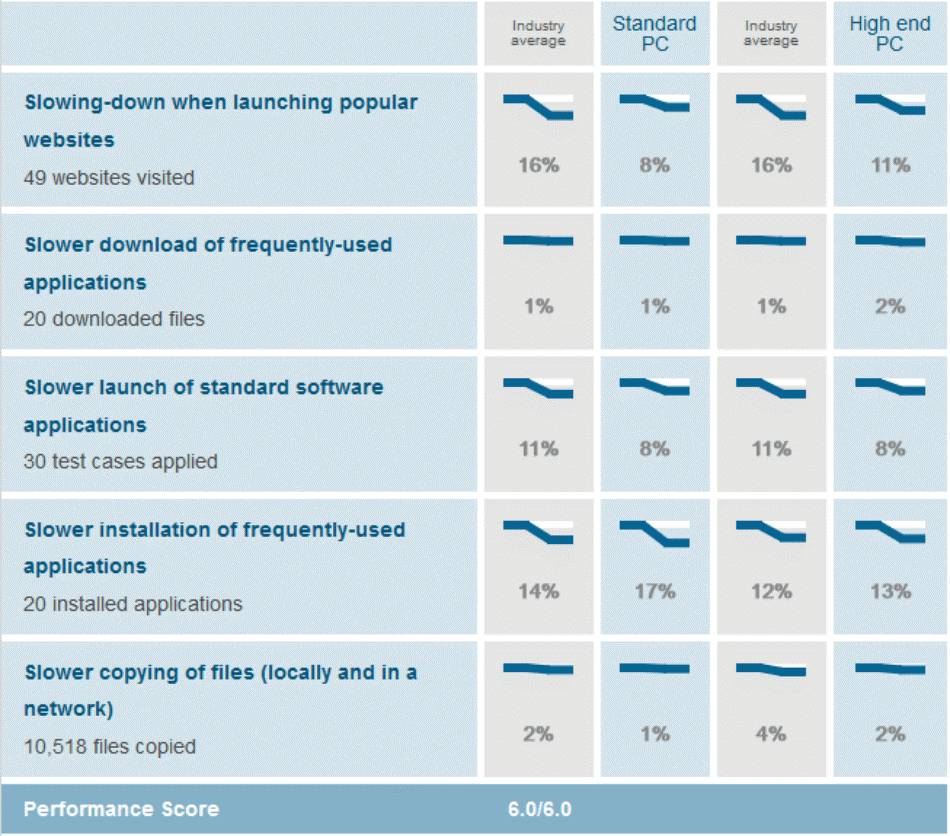 Webroot declares that it is 60 times faster than McAfee and its 20 seconds scanning beats McAfee's. These tests also indicate that Webroot has a lighter impact than McAfee on system performance but McAfee is more effective when protecting your system from threats because its scanning process is much deeper.
McAfee experiences massive independent lab tests while Webroot doesn't participate in them. The conclusion above related to Webroot is collected by its official website.
Webroot vs McAfee in Malware Protection
Both Webroot and McAfee provide excellent protection against all kinds of viruses and malware including phishing scams, ransomware, spyware, keylogger, rootkit, identity theft and other digital threats.
But some threat types that they can protect against are different:
| | | |
| --- | --- | --- |
| Threat Type | Webroot | McAfee |
| Anti-Spyware | Support | Support |
| Anti-Worm | Support | Support |
| Anti-Trojan | Support | Support |
| Anti-Rootkit | Support | Support |
| Anti-Phishing | Support | Support |
| Email Protection | Support | Support |
| Anti-Spam | Not Support | Support |
| Chat/IM Protection | Not Support | Not Support |
| Adware Prevention | Not Support | Not Support |
Webroot is always improving its security product all the time and it offers robust protection which depends on the cloud analysis and threat library intelligence. Webroot has a sandbox environment that deals with new threats and records their activities. At the same time, the real-time cloud-based protection will determine whether these threats are harmful or not.
McAfee antivirus software takes advantage of multi-layered protection with machine learning which helps McAfee to provide total protection, a faster detection rate and fewer false positives. Moreover, McAfee's antivirus engine also helps you to prevent "fileless" threats that hide in your system memory and legitimate files.
Overall, McAfee is the winner in malware protection because it offers stellar protection against all kinds of malware threats.
Webroot vs McAfee in Features
In addition to antivirus protection, most security products also offer all sorts of security elements. These essential components are unified with the antivirus function to make an integrated suite. They are called features and the more advanced features an antivirus suite has, the better it is. Here are some typical features of Webroot and McAfee:
Webroot
Webroot boasts as the pioneer of AI and machine learning tech. Not only does it offers straightforward and economic endpoint protection for home users but also Webroot is a threat intelligence provider for many famous companies. You can depend on Webroot to keep your device from advanced attacks because it is experienced in this aspect.
It provides you with three levels of security products: an entry-level security suite, an advanced security suite and standalone antivirus. Antivirus is the most basic package and it contains most features like:
Sandbox
Real-time anti-phishing
System optimizer and cleanup
Secure browsing
Password manager
Webcam protection
A fast antivirus engine
Firewall with a network monitor
On-device identity protection
Online privacy
25GB online storage
McAfee
The single suite of McAfee is divided into four tiers that imitate traditional standalone products. The tiers are packed with many advanced features and every tier has additional features. The four tiers are Single Device, Individual/Couples, Family, and Ultimate.
The low-end tier, also called Single Device offers protections to a single device and its features contain:
A license of a secure VPN
Performance optimizations
Online support from security experts
Home network security
Award-winning antivirus engine
Encrypted storage
McAfee shredder
Password manager
Safe web browsing
The Individual/Couples tier has more additional features including:
Five licenses of secure VPN
Muti-device compatibility
Identity theft protection essentials
The Family tier has an additional feature compared to the Couples tier: Parental Control via Safe Family.
The Ultimate tier retains all the features that the Family tier has and it offers Identity Theft Protection Plus.
For extra features of Webroot and McAfee, we have listed a form for you:
| | | |
| --- | --- | --- |
| Extra Features | Webroot | McAfee |
| Personal Firewall | Support | Support |
| Gamer Mode | Support | Support |
| VPN Service | Not Support | Support |
| Device Tune-up | Not Support | Support |
| Safe Browser | Not Support | Support |
| Smartphone Optimizer | Not Support | Not Support |
From the form, we can obviously see that McAfee supports more extra features than Webroot. McAfee supports VPN Service, Device Tune-up and Safe Browser while Webroot doesn't support any of them.
In conclusion, McAfee is better in features because it has more extra security and privacy-enhancing features that Webroot doesn't have such as Device Tune-up, Identity Theft Protection, Secure VPN and so on.
Webroot vs McAfee in User Experience
Webroot
First, let's look at the main interface of Webroot. Although it is well-organized, it seems complicated and you may feel at loss. The left box shows your protection status and the detailed information of your last scan. You can launch a quick scan by clicking the Scan My Computer button.
In the right pane, you can see a list of functions including PC Security, Identify Protection, Backup & Sync, Password Manager, Utilities, My Account and Support/Community.
McAfee
The main interface of McAfee seems more brief and clear. There are five modules at the top of the interface – Home, PC Security, Identity, Privacy and Account. You can also find Settings, Support, Alerts and Tips on the right side of the bar.
The default view is Home which shows you the protection status and provides you with different types of scans. At the bottom, you can see several toggles which contain different functions.
After showing you the main interface of Webroot and McAfee, I will introduce their support service.
For Webroot, it just supports email support and ticket support while McAfee supports live support, phone support and email support. In this respect, McAfee is a winner because it is more efficient and timely when you need help.
Webroot vs McAfee in Pricing
Webroot
Webroot has four corresponding plans for its products. It supports a multi-device service, a 70-day refund guarantee service and a 14-day free trial period.
| | |
| --- | --- |
| Webroot Product | Price |
| Webroot Antivirus | $39.99 per year |
| Webroot Internet Security Plus | $59.99 per year |
| Webroot Internet Security Complete | $79.99 per year |
| Webroot Business Products | $150.00 per year |
McAfee
McAfee offers you a 30-day money-back guarantee, a 100% virus removal guarantee and a 30-day free trial period.
| | |
| --- | --- |
| McAfee Products | Price |
| McAfee Total Protection (1 Device) | $79.99 per year |
| McAfee Total Protection (5 Devices) | $99.99 per year |
| McAfee Total Protection (10 Devices) | $119.99 per year |
Webroot vs McAfee in Compatibility
Both products of Webroot and McAfee support multiple devices and cross several platforms. They are compatible with Windows, Macs, Android and iOS devices. Since Macs and iOS have a closed system, their operating systems are less susceptible to malware and viruses. The corresponding products for Mac and iOS devices are fewer.
In summary, here are the advantages and disadvantages of McAfee and Webroot:
McAfee's Advantages
Many independent lab scores with excellent results
Powerful protection against phishing websites
McAfee's Disadvantages
Runs more slowly
Takes up more storage space
Webroot's Advantages
Fast and lightweight (The installation takes only 6 seconds and the executable file requires little space.)
Excellent protection against malware and ability to decrypt ransomware
Webroot's Disadvantages
Limited lab tests
Less effective in detecting phishing websites
Is Webroot free? Is McAfee free? Is Webroot as good as McAfee? What's the difference between them? In this article, I get a full picture of the differences between them in system performance, malware protection, features and pricing. Click to Tweet
Suggestion: Back up Important Files with 3rd Party Software
McAfee and Webroot are both so powerful that they can prevent most attacks of malware and viruses. However, the cyber-attacks can occur anywhere and you should always be ready for them to avoid any unexpected loss such as files missing, system crashes and more.
As a result, it is necessary to create a backup of your important files with a third-party backup tool so that you can minimize the loss.
Some of you may ask: which backup tool should I choose? Here comes the answer – MiniTool ShadowMaker. It is a professional and free backup software that allows you to back up files, folders, partitions, disks and systems in Windows. Now, create a file backup with the steps below:
Step 1. Download and install the program from the button below, and you can back up & restore files, folders, partitions, disks and systems for free within 30 days.
Step 2. Double-click on the shortcut of MiniTool ShadowMaker to launch it and press Keep Trial.
Step 3. Go to the Backup page, and hit Source > Folders and Files to choose the files that you intend to back up.
Step 4. Hit Destination to choose a destination path for your backup task and tap on OK.
Step 5. You can either hit Back up Now at the lower-right corner of the screen to start the task at once or delay the task by hitting Back up Later.
Wrapping Things up
McAfee and Webroot are both effective antivirus software that protect your device against the infections of malware and viruses. If you prefer a fast scan and less storage space, you can choose Webroot. If you are inclined to choose a product that has more independent tests, McAfee suits you more.
For more puzzles about Webroot vs McAfee or the service of our product, don't hesitate to leave a comment below or send us an email via [email protected].